Legends Course Co-Owner Owns World's Biggest Classic Golf Car Collection • Several Metro Golf Courses Report Cart Thefts • Is Your Main Ride a Golf Cart? • Compass Pointe Holds Parade for Most Patriotic Golf Cart • Evansville Police Department Using New Golf Cart • 3 Arrested in Golf Cart Theft Ring in The Villages • Golf Carts Taking to Chase's Streets • Golf Carts Only for Pembroke Homecoming
---
Legends Course Co-Owner Owns World's Biggest Classic Golf Car Collection
Some People Collect Stamps, Coins, Comic Books or Even Bars of Soap
By Curtis Stock, Edmonton Journal, Published on May 22, 2017
Edmonton, Alberta – But nobody collects what Ron Lyons does: golf carts – or, as they were first known, golf cars.
"I started collecting them in 2009. The plan was to buy four or five of them and line them up on the start of the Champions Nine," said Lyons, who co-owns the 27-hole Legends Golf Course with Edwin Chan.
"Then it got a little out of hand. It was like rabbits. Five cars became 10. Ten became 20. "Before I knew it, I ended up with 84 golf cars," said Lyons, who has them on display in his golf 'museum,' which he made in a renovated maintenance facility on the Legends course. It's the only collection of golf cars in the world — all dating from 1949 to 1969.
"The first golf car I purchased was the single-seater Bobcat golf scooter that was produced between 1957 and 1962 and which used Bob Hope in their advertisements," said Lyons of the scooter which had the clubs facing forward and between the driver's legs. "Whether the Bob in Bobcat is significant, I don't know." Lyons also owns the Arthritis Special — the first commercial golf car, patented in 1949 — which held four sets of clubs and four golfers, three up front and one behind and which would be driven by a caddy, who would sit in the middle.
"That model quickly went out of fashion because it was not conducive to maintaining the proper pace of play," said Lyons. "If your foursome consisted of a hooker, a slicer, and both a long and short hitter, one can only imagine the chaos that sharing the same golf car would bring."
Initially called neighborhood electric vehicles (NEVs), five companies produced the vehicles to transport wounded soldiers shortly after the end of World War II.
"Then two brothers, Bev and Bill Dolan, got the idea that those small cars would be great for golfers — especially those that had physical ailments which limited their mobility," said Lyons.
"The Dolan Brothers saw an ailing Bobby Jones using one at the 1954 Masters. With only $200 between them, they started E-Z-GO, which is still the No. 1 manufacturer of golf cars in the world."
Perhaps not surprisingly, Lyons has an E-Z-GO car, too.
He also has a BMW Chadwick from the 1950s that was built for the 'rich and famous' and could go 100 km/h (approx. 60mph). The first one from that company was used by John F. Kennedy.
He's got the Master Caddy, which had bucket seats; a Terra car, which had three 18-inch wide tires; the first car designed for Club Car in 1962, a Toro which could be steered from either side with its rack and pinion steering system; a folding golf car that could fit in the trunk of a 1965 Mustang; and a Par Pony car which towed its own beer cart.
All painstakingly restored and refinished by Lyons himself, he's got them all.
"At first, golf cars were not easily accepted," said Lyons. "Course superintendents were worried that golf cars would wreck their grass, and purists didn't like the noise they made."
The invention of golf cars also pretty much ended the use of caddies.
"It killed the caddie but saved the game," said Lyons, who also has a very extensive collection of golf clubs — mostly hickories – which he started compiling in 1992, plus tees, books and golf maintenance equipment.
"The theme of the golf course is to preserve and promote the history of the game and honor its legends," said Lyons, who annually holds a Legends tournament which recognizes Alberta's top players and executives, using pre-1935 wooden clubs.
The Legends, which is always in great condition, opened their first nine, the Old Hickory, in 1994. The following year, they added the Traditions Nine, and in 2004, unveiled their Champions Nine. ❂
---
Several Metro Golf Courses Report Cart Thefts
By Maury Glover, Producer, Published on May 16, 2017
Minneapolis, Minn. (KMSP) – Golfers come to Heritage Links Golf Club in Lakeville to hit the links. But, lately, it's the course that's been hit by thieves targeting the club's golf carts.
"It's like a punch in the gut. It's like the worst feeling," Heritage Links Golf Club employee Brett Martinson said. "It's just disheartening because you think you are doing the right things, and you're just not."
A couple of weeks ago, someone made off with a dozen golf carts in the middle of the night.
It's the third time the course has been targeted since last fall, losing a total of 20 carts, worth about $6,000 a piece.
"I'm sure it's some sort of band that is doing it and moving them south to a retirement community in the southern United States. That's what they are, golf cart communities… and, hey, cheap golf cart," Martinson said.
At least three other courses, Deer Run in Victoria, Bent Creek in Eden Prairie and Phalen in St. Paul, have had golf carts stolen over the last few weeks.
One local golf cart dealer said the number of thefts has exploded over the last three-to-five years because, unlike cars and trailers, golf carts don't have titles to transfer. So, they are virtually untraceable and they can sell for a couple of thousand dollars cash quickly on sites like Craigslist or Ebay.
"It takes a toll on you. Even if you have insurance, you have a deductable. You have an interruption of your business. You feel violated. What am I doing wrong?" Versatile Vehicles owner Gaby Accad said.
Heritage Links is upping its game by tightening security again, but employees hope this is the last time thieves try to make some green off of them.
"It's like a home to us, and they are taking things that are personal from us and that violation is sad," Martinson said.
Accad said he would like a law requiring golf carts to
be licensed.
He believes that would cut down on thefts because then the carts would be traceable. ❂
---
Is Your Main Ride a Golf Cart?
Here are the rules you need to know to cruise SC legally
By Ashley Jean Reese, Published on May 24, 2017
Beaufort, SC – Many Low-country residents rely on golf carts for their daily transportation. Golf carts seem less dangerous than the typical motor vehicle. They can't go nearly as fast, for one.
But don't be fooled. Golf carts can still cause serious injuries, according to the Beaufort Police Department. The carts typically aren't equipped with the safety features one would find on a motor vehicle — seat belts and air bags among them.
Despite what you may have heard, those driving a golf cart on public roads are subject to the basic traffic rules and regulations that apply to larger vehicles.
Here are some things to know:
Trying to avoid a DUI?
Better find a designated driver or walk home. According to South Carolina state law, it's illegal to operate a golf cart while under the influence.
How old do you have to be?
In South Carolina, drivers must be at least 16 years old and have a valid driver's license.
Do you have to register the cart?
Golf carts must be registered and permitted. These permits must be renewed every five years, according to the South Carolina Department of Transportation. Permits can be purchased at any SCDMV office. Owners must fill out a registration form, provide a valid driver's license and pay a $5 fee.
What about insurance?
Golf cart owners must have liability insurance if they want to drive on the road. Proof of insurance is also required to obtain a permit from the DMV.
Once a permit is obtained, golf carts can be driven:
During daylight hours only.
On secondary streets with speed limits lower than 35 mph within four miles of the registered address.
On secondary street with speed limits lower than 35 mph within four miles of a point of ingress or egress to a gated community.
On an island not accessible by bridge for normal
motor vehicles.
While golf carts are supposed to remain on roads with a speed limit under 35 mph, drivers are allowed to use intersections to cross streets where the speed limit is higher.
When driving a golf cart on a public street or highway, the driver must carry:
Their driver's license.
Proof of liability insurance.
The SCDMV registration certificate.
Golf cart drivers should follow traffic laws when driving on the street — stay off the sidewalks, stop at stop signs and stop lights, and drive on the right side of the road. ❂
---
Compass Pointe Holds Parade for Most Patriotic Golf Cart
By Lucas Nelson, Published on May 29, 2017
BRUNSWICK COUNTY, N.C. (WECT) – Compass Pointe Veterans Club held a Memorial Day celebration Monday with a parade of the best patriotic decorated golf carts.
It's the fourth year the Compass Pointe Veterans Club put this event together and the first time a sheriff's helicopter flew in to kick off the parade.
The Lerch family won the contest last year and said the community has been a big help to make this event a tradition.
"There are a lot of veterans here, and they are so supportive of the neighborhood and the community. I don't think I could ask for a better place to be," Brigid Lerch said.
Vietnam veteran Edward Husler said he's proud to see the year-by-year progression of the event.
"It's very heartwarming. I feel it deep in my heart, and we love it every year," Husler said. "It gets bigger and better every year. I truly love it." After the parade, fallen soldiers were honored with a moment of silence and a rendition of Taps. ❂
---
Evansville Police Department Using New Golf Cart
By Kenny Douglass, WFIE, Published on May 16, 2017
EVANSVILLE, Ind. (WFIE) – From cars to bicycles, to motorcycles, the Evansville Police Department has many ways of patrolling the city. But now, thanks to a donor who wishes to remain anonymous, you may soon see EPD officers out in a golf cart. No, they won't be hitting the links at Fendrich, but they'll use it to patrol festivals and community events. They also plan to use it to visit schools and just to get out and interact with people. The gas-powered cart has all the bells and whistles, including a Kenwood stereo, LED lights, and it seats four. ❂
---
3 Arrested in Golf Cart Theft Ring in The Villages
SUMTER COUNTY, Fla. (May 16, 2017) – The Sumter County Sheriff's Office arrested multiple suspects in connection with a golf cart theft ring that they said has been operating in and around The Villages.
Deputies said the suspects stole golf carts from Sumter, Lake and Marion counties and sold them for cash ranging from $600 to $1,200. An undercover detective in the Sumter County Sheriff's Office on May 11 contacted James Logan, who deputies said offered to sell a recently stolen golf cart for $600.
The undercover detective met with Logan in a Lowe's parking lot and said he ran when he was confronted by deputies. A taser was used to stop Logan, who was taken into custody. Detectives learned that the golf cart had been stolen a few hours before the meeting at Lowe's.
Logan, Heather Senn and Johnny Hurst III were arrested in connection with the theft of the golf cart. Logan is facing charges of grand theft of a motor vehicle, dealing in stolen property, possession of burglary tools and resisting arrest without violence. Senn and Hurst are charged with dealing in stolen property for their involvement in the sale of the stolen golf cart.
Logan told deputies that he stole the golf cart, and deputies linked him to two other stolen golf carts, authorities said.
During questioning, deputies said Logan told them that he steals about 30 golf carts a month. Logan is also charged with possession of a short-barreled shotgun after he sold a sawed-off shotgun to an undercover detective from the Sumter County Sheriff's Office, deputies said. Logan was already out on bond on theft charges out of Pinellas County. He is being held without bond in Sumter County.
Investigators identified multiple locations in Sumter, Marion and Lake counties where golf carts were taken after they were stolen.
Before the May 11 arrests, Jessie Lee Curtis was arrested in connection with the theft of three stolen golf carts March 24, in Sumter County.
Detectives recovered four more stolen golf carts after arresting Curtis. The Sumter County Sheriff's Office said it plans to continue to crack down on golf cart thefts. ❂
---
Golf Carts Taking to Chase's Streets
The Village of Chase a Guinea Pig for a New Provincial Plan
By Martha Wickett, Published on May 25, 2017
Chase, B.C. – Some smaller, softer wheels will soon be plying the streets of Chase. Come June 5, Chase will be the only town in B.C. where golf carts will travel on its roads in the company of cars and trucks, with provincial and municipal government blessing.
Back in August 2016, the provincial government announced it was going to go ahead with a pilot project in Chase and in Qualicum Beach on Vancouver Island.
"This project will improve the daily lives of people in small communities," said Transportation Minister Todd Stone at the time. "This is not for everyone and not for every community, but for a community like Chase, it makes good sense for their citizens. I look forward to the increased use of low-emission vehicles as we work towards our greenhouse-gas reduction goals and aim to increase accessibility in B.C."
However, the pilots weren't without road blocks. Qualicum Beach decided not to go ahead. The town's chief administrative officer, Daniel Sailland, says a lot of people felt the layout of the town wasn't favorable for putting golf carts on the road.
"Based on citizen reactions, we opted out. We decided there was no point proceeding if people weren't going to use it." He said the intent was to get people into the downtown core, but that wasn't going to be easily achieved because the most direct routes had higher-speed roads to navigate.
Instead, he explained, the town is looking at bike lanes and connector trails and paths, and the province supported a new bus loop.
Chase's pilot project was not without obstacles either. Drivers of more conventional vehicles in the village were not thrilled with the initial idea of having to adhere to 30 km/h a little under 20 mph) speed limits in town to match the pace of the carts.
"We were supposed to get it up and running last September," said Joni Heinrich, chief administrative officer for Chase. "The way it was set up, we had a lot of pushback from the community. The province had said, everybody and their dog, whether a golf cart or not, had to go 30 km/h. Council said, hold the phone, we're getting some feedback from the community. Put it on hold till spring."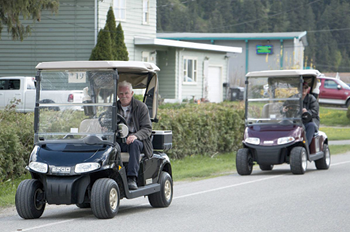 The province then agreed to change the regulation, she said, so other drivers have to slow down to 30 km/h when they see a golf cart.
The project is scheduled to last two years, but, says Heinrich, "we'll try it this year, see how it goes, and if it works out we'll just say it's not a pilot anymore."
Chase passed a bylaw earlier this month approving the use of golf carts, so potential drivers on Chase roads need to get a $25 permit from the village office as well as insurance from ICBC.
The bylaw doesn't permit golf carts on Chase streets after Nov. 15, or if there's snow, ice or slush on the roads. They are restricted from driving on a couple of roads, such as the entrances to town. They also can't be on the roads up to a half hour before dawn and a half hour after dusk.
As for modifications, the golf carts have to be souped-up a little. They'll need seat belts, a horn, lights, signals and a rear-view mirror.
Heinrich doesn't expect Chase roads to be overrun with the carts, at least not at first. "I suspect when it's in place, we'll see two or three around, per day, and then see more and more and more. I think it's going to be cool. I hope everybody can kind of harmonize on the roads." ❂
---
Golf Carts Only for Pembroke Homecoming
By Mike Gellatly, Published on June 6, 2017
PEMBROKE, N.C — Town leaders want the estimated 30,000 people attending Lumbee Homecoming to know that golf carts will be the only acceptable motorized means of riding around the festival. The event will accommodate about 2,000 golf carts for which permits must be obtained. No all-terrain vehicles, utility vehicles, motorbikes, dune buggies or side-by-sides unless they have been registered and properly plated with North Carolina Department of Motor Vehicles. "State law does not allow ATVs or side-by-sides so we cannot allow it," Town Attorney Gary Locklear said Monday. "In the past ATVs have been allowed, this was in error. They will not be sold (permits) from now on. It is the law. State law says we can regulate golf carts. We can't regulate these other vehicles." The festival, in its 49th year, celebrates the Lumbee community through cultural and artistic events, It will be held June 23 through July 8. In the past, festival attendees have used many different types of vehicles to move between events in the summer heat. "All Pembroke police officers have been instructed to take appropriate action in the event of any person found operating an all-terrain, utility vehicle or other similar vehicle within the town of Pembroke," reads a public service announcement the town plans to advertise. "Such persons will be subject to citations and/or towing." ❂