United Kingdom Company Developing Semi-Autonomous Golf Cars Baro Vehicles Preparing to Launch First Cart by End Of 2017 • In Touching Gesture, Arnold Palmer's Golf Cart is Parked in His Favorite Spot • Mayor's Masters Reception Moves Inside • Golf Carts Are Legal to Drive on Roads in Port Neches • Chop Shop Discovered After La Quinta Man Advertises Stolen Golf Carts on Craigslist • American Rockers 'Poison' Buy Golf Cart on Way to Grand Rapids Show • Smart Carts Hit Mishawaka's Eberhart Golf Course GPS Unit Keeps Score and Keeps You Out of Trouble
---
United Kingdom company developing semi-autonomous golf cars Baro Vehicles preparing to launch the first cart by end of 2017
By Adam Silverstein, CBS Sports Staff
Baro Vehicles, the developer of semi-autonomous compact vehicles, has set up its business in the United Kingdom as it prepares to develop its prototype vehicle BARO One Golf Car.
The start-up company has taken new workshop space at MIRA Technology Park, the UK's leading automotive technology park and Enterprise Zone, where it plans to develop a semi-autonomous golf car.
Choosing to locate its business in the UK due to the ready availability of materials and the well-established skills infrastructure on offer, Baro Vehicles aims to launch its first semi-autonomous golf cart by the end of 2017. The vehicle, BARO One Golf Car, is designed for closed neighborhoods, such as golf courses, technology parks, and university campuses. BARO One Golf Car's software contains a pre-loaded map of the course or campus, enabling safe navigation between holes on a golf course or campus buildings.
BARO One Golf Car will have a fully adjustable electronic steering system which can be operated on either the left or the right seat, as well as a dual suspension system that is primarily used in performance cars. The front double wishbone suspension and rear Panhard rod will provide comfort and stability to enable a smooth ride over the rolling terrain of a golf course. The vehicle also uses perimeter sensors and a camera, connected to a central computer, for autonomous driving as well as driver assistance. Baro Vehicles aims to make its technology fully autonomous by 2020.
Over the next five years, Baro Vehicles hopes to expand its team by 50 new employees with a mixture of engineers and administrative staff.
"The UK and the Midlands, in particular, has a strong reputation for software skills with local universities specializing in connected and autonomous vehicle technology," Baro Vehicles CEO and co-founder Gabriel Giani said. "These skills will be essential as we look to significantly grow our business over the next five years."
Baro Vehicles were introduced to MIRA Technology Park by the Invest in Warwickshire team, part of Warwickshire County Council's Economy and Skills group. The Invest in Warwickshire team has a proven track-record in helping the UK and International businesses to find suitable premises in Warwickshire to set up new operations, relocate to or expand their business. They also help businesses to connect to new networks, universities and support providers.
"We're really pleased we were able to help make Baro Vehicles' setup in the UK a reality, and to welcome them to our growing technology park," said Terry Spall, commercial director at MIRA Technology Park. "The business has an exciting future ahead and we look forward to seeing them develop their prototype further and bring it to market. Choosing to move to the Midlands, and indeed to MIRA Technology Park, demonstrates how strong the region is performing in connected and autonomous vehicle technology and this will only continue to grow as more and more businesses like Baro harness the skills and expertise the region has to offer."
Learn more at www.barovehicles.com. ❂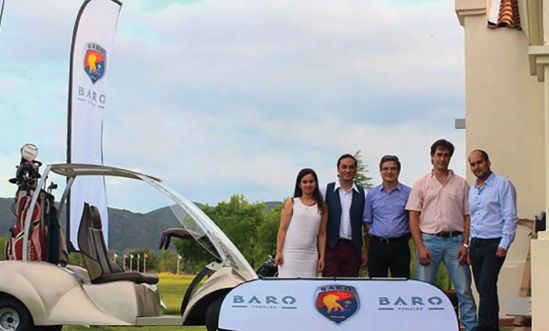 ---
In touching gesture, Arnold Palmer's golf cart is parked in his favorite spot
The touching tributes to Arnold Palmer continue at Bay Hill this weekend
By Adam Silverstein, CBS Sports Staff
The Arnold Palmer Invitational officially kicked into gear Thursday, but the three days prior were filled with tributes from some of the world's top golfers.
From special Palmer-engraved wedges to two-of-a-kind golf shoes, some of the game's biggest stars did what they could to let the world know how much Palmer meant to them.
The tournament itself has honored The King throughout the week as well. Most notably, it announced that it will award one of Palmer's favorite red sweaters – instead of the tournament's traditional black jacket – to the 2017 winner. It also unveiled a new statue of Palmer, placed his signature umbrella on the range and has now parked Palmer's golf cart in his favorite spot – on the tee box at 16.
Losing Palmer in 2016 was especially difficult for the world of golf, a sport once considered purely elitist that he popularized with the common man.
To see the outpouring of affection for Palmer this week in Orlando, Florida, is certainly touching and just a reminder of how much he still means to the game. ❂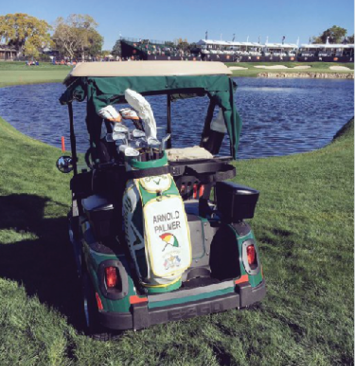 ---
Mayor's Masters Reception moves inside
By Susan McCord, The Augusta Chronicle on April 3, 2017
Each year the Augusta Mayor's Masters Reception honors individuals who've contributed to the game of golf. This year, the event honored three of Augusta's own.
At an event hastily relocated to James Brown Arena due to damaging thunderstorms, Mayor Hardie Davis presented a key to the city to Laura Coble, one of the most decorated golfers in Georgia history; Bev Dolan, the co-founder of E-Z-GO; and Jeff Knox, the noncompeting marker who rivals the pros when called on to play in a Masters Tournament.
"I grew up in Augusta and this is my hometown and I love it here," said Coble, a 2013 Georgia Golf Hall of Fame inductee and the only three-time winner of the Tommy Barnes Award, given to the Georgia State Golf Association's player of the year. "I can only hope that I can bring honor to the game that I love," she said.
Dolan, 89, described founding the golf cart manufacturer with his brother, Billy, on Greene Street in 1954 before relocating it to Grovetown, then to the current headquarters on Marvin Griffin Road.
Now employing 1,000 people at the location, E-Z-GO Textron continues to expand, he said. "You're going to see E-Z-GO really grow into one of our major manufacturers here in Augusta," Dolan said. "I am very proud of E-Z-GO and what it has stood for in this community."
Knox, raised in Thomson and head of the Knox Foundation, said golf has had a huge impact on the city's economy.
"You just heard it there, with E-Z-GO, and Club Car, and so many others, the Masters golf tournament, and so many benefactors that have helped the city of Augusta," he said. "I look forward to continuing the promotion of Augusta through my golf and civic duty," Knox said. "Thank you, mayor, and thank you, Augusta, for this terrific recognition."
Another golf legend, Arnold Palmer, was honored Monday with artist Jace McTier's unveiling of two paintings. McTier recalled his first encounter at age 15 with Palmer, who died Sept. 25, at the 1996 Masters. "The interaction between Tiger Woods, Jack Nicklaus, and Arnold Palmer was unbelievable," McTier said."It was one of those Augusta moments."
Several dozen vendors relocated to the arena from Augusta Common to serve free samples that are part of the reception, which cost $10 to enter.
Ethan Brock, with Summerville Ace, said the crowd was better than he expected. "I'm very impressed they managed to put this together so quickly, considering the weather," Brock said.
Reach Susan McCord at (706) 823-3215 or susan.mccord@augustachronicle.com. ❂
---
Golf Carts Are Legal to Drive on Roads in Port Neches, Police Say
By Eleanor Skelton on April 4, 2017
The Port Neches Police Department (PNPD) frequently gets calls from citizens about whether or not operating golf carts on City streets is legal, the Department posted on their Facebook page. The answer is "yes" but with restrictions, PNPD said.
On June 2, 2011, The City of Port Neches City Council approved Ordinance 2011-07, regulating the operation of golf carts within the City.
An operator may drive a golf cart on a City Street for which the posted speed limit is not more than 35 miles per hour under the following circumstances:
Driver must be licensed to operate a vehicle,
The golf cart is covered with liability insurance,
All passengers must be seated while the golf cart is in motion,
No more passengers than the golf cart is designed to seat. (No passengers in lap), and
Can cross highway or street with speed limit greater than 35 miles per hour only at an intersection.
Allowing someone to operate a golf cart in violation of state law or city ordinance is a violation, subject to fine. A golf cart operated under these guidelines must have headlamps, tail lamps, reflectors, parking brake, mirrors, display a slow-moving-vehicle emblem.
Vehicles such as Polaris Rangers, Razors, Kawasaki Mules and other recreational off-highway vehicles (ROVs) cannot be operated on city streets or highways. As always, you can contact the Port Neches Police Department at (409) 722-1424 if you have additional questions. If you need to report a violation, call Central Dispatch at (409) 722-3122. ❂
– Port Neches Police Department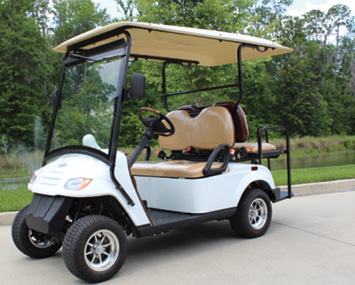 ---
Chop Shop Discovered After La Quinta Man Advertises Stolen Golf Carts on Craigslist
By Colin Atagi, The Desert Sun
A La Quinta man is suspected of running a chop shop and stealing two custom golf carts worth at least $15,000 each.
Justin Schultz, 28, was taken into custody about 7 p.m. Wednesday at his home in the 53-000 block of Avenida Rubio in La Quinta, according to the Riverside County Sheriff's Department. He was arrested following an investigation that began last month.
A $17,000-golf cart was stolen Feb. 15 from Indian Wells Country Club and its owner found it being advertised for sale on Craigslist.
Officials with the Riverside Auto-Theft Interdiction Detail contacted the person who posted the advertisement and they learned the golf cart was sold to a high desert resident. The San Bernardino County Auto Theft Task Force recovered the vehicle.
Schultz was identified as a suspect in the theft and sale. Investigators searched his home and found a $15,500-golf cart that was reported stolen Feb. 21 from the La Quinta Resort & Club, according to the sheriff's department.
Investigators also discovered golf cart parts that had been repackaged for sale.
Schultz was arrested on suspicion of operating a chop shop, vehicle theft, possessing stolen property and possessing methamphetamine.
He's being held at the Riverside County jail in Indio in lieu of $25,000, according to jail records. He's scheduled to appear in Riverside County Superior Court Friday.
Investigators want anyone with information to call (951) 955-2770. ❂
---
American Rockers 'Poison' Buy Golf Cart on Way to Grand Rapids Show
By Brandon Champion, MLive – April 18, 2017
FENNVILLE, MI – The staff at Saugatuck Golf Carts had a surprising customer roll into its location in Fennville on Monday, April 17.
At around 12:45 p.m., the tour bus for the American rock band Poison stopped by and drummer Rikki Rocket emerged with aspirations of purchasing a golf cart.
Owner Bill Wester said his shop found out around 8 a.m. that the band would be stopping by and that Rocket wanted a golf cart to drive around venues from stage to stage.
Poison, which has sold more than 50 million records worldwide, performed with Def Leppard and Tesla at Van Andel Arena in downtown Grand Rapids on Monday night.
Rocket chatted with staff, took some pictures and signed drumsticks and drum tops during his short visit at the West Michigan business. Rocket purchased a standard club car with LED lights and rear seat.
"They didn't pull the fame game on me," Wester said. "He was very nice and really polite. It was very cool." Wester admitted he had never heard of Poison before the visit. His mechanics even had to tell him who they were. Regardless, it was a neat experience, he said. "He was very gracious," Wester said.
"A heck of a guy."
Poison, headed by front man Bret Michaels, achieved great commercial success in the mid-1980s to the mid-1990s. The band has charted 10 singles to the Top 40 of the Billboard Hot 100, including six Top 10 singles and the Hot 100 number-one, "Every Rose Has Its Thorn." ❂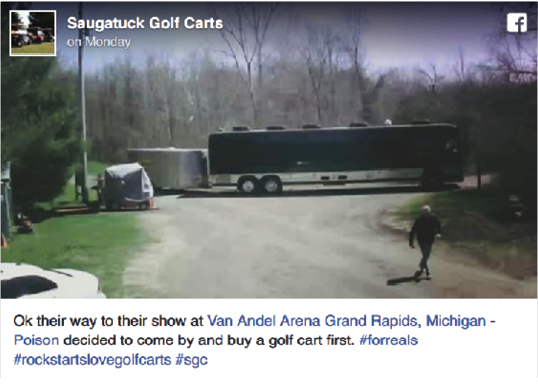 ---
Smart Carts Hit Mishawaka's Eberhart Golf Course GPS Unit Keeps Score and Keeps You Out of Trouble
By Joseph Dits, South Bend Tribune – April 15, 2017
MISHAWAKA — Now, when you check out a golf cart at the city's Eberhart-Petro Golf Course, you've got GPS and a touchscreen on board. It'll keep your score, tell you where you are and even place a food order at the clubhouse so that it's ready when you return.
"It tells you everything you're doing, so you don't have to write it down," said Corey Poth, of Mishawaka, as he played around Wednesday.
But the GPS will also stop the cart from driving into a restricted area, like an area of grass that has been flooded. Drew Roop, director of golf, said he can set the restricted areas daily at the clubhouse.
Dave Anderson, of Mishawaka, likes being able to drive wherever he wants, but, as he headed out for a sunny round, he said, "They're just protecting their course, so it's understandable."
Such GPS units can be found on some other local golf courses, though their features vary.
The GPS units were installed on all 52 golf carts at Eberhart-Petro before the spring season began. It also came as the municipal course replaced 26 of the carts, Roop said. The other half will be replaced next year. The course replaces the carts every two years.
It's all paid for, he said, through golfers' fees.
Before this, players kept score on paper or used a smartphone app. And they had to squint into the horizon to see where the next golfers were.
Roop said it's a time saver for the staff, too. On the computer, he said, staff can now track where each of the carts is, so they don't have to drive through the course at day's end. They can also spot a golf cart whose battery is running low — and replace it before the golfers get stranded.
"It's like having an extra employee who can do multiple things," Roop said. ❂