New Columbus rideshare service transports passengers with golf carts – Seriously • GSP gives tips on golf cart safety after accident • Man's wife inspires him to initiate test case for golf carts on Broomfield trail • National Night Out educates on safety, promotes community • Golf carts are a popular way to get around Cape Fear region • Golf cart shuttle service to launch in Auburn on Saturday • Airless car tires may shake and rattle, but at least they roll • SC Carts brings new golf cart to life in Canada
---
New Columbus rideshare service transports passengers with golf carts – Seriously
By Sara Stacy, Published on August 21, 2017
Columbus, OH — Students now have a new way to get around town in style: golf carts.
FreeRide LLP, a startup that began operations in May, uses golf carts that can transport up to six passengers around downtown, the Short North and the campus area.
"One of the benefits is that we've found it's kind of deterred parking and parking problems; you can park a little further away and catch a ride to your destination," said Nate Milliken,
co-founder of FreeRide.
Since the carts are able to venture all the way to Lane Avenue Bridge, students can use them if they need to make it back to campus from the Short North or downtown. However, the carts are currently unable to go onto campus property.
On Jan. 1, Columbus began allowing golf carts on residential streets with a speed limit of 35 mph or less, which is what helped lead Milliken to the idea for the company.
After seeing an article about golf carts being allowed on city streets in Columbus, and being a customer for a similar service in Nashville, Milliken and his business partner, Micah Myers, decided a golf-cart rideshare would be a lucrative business to bring to Columbus.
"We worked together doing heating and cooling, and we were just looking for ideas on how to venture off on our own," said Milliken. "We were just having a conversation and I had happened to read the article and it kind of hit me and we just went with it from there."
FreeRide officially rolled its fleet onto the streets of Columbus on May 1. Milliken said they currently have 10 employees and two carts, but are looking to secure more with football season approaching.
Mike Dobronos, a third-year in finance and a driver for FreeRide, said the service is not only convenient, but an exciting way to get around town. "It's a safer way to go rather than getting in your car after having a few drinks," he said. "We have a ton of people say how fun it is. There are no doors on it and you're flying down High Street."
The company currently does not have an app, so the easiest way to get a ride is to just flag down a driver, similar to waving down a taxi.
Unlike more popular rideshare services like Uber and Lyft or taxis, FreeRide drivers get their income solely from tips.
However, according to Milliken, drivers are still averaging $14 to $16 per hour, despite not receiving a baseline pay.
"There's no cap on earning potential, so what you put into it — the hours you want to put into it, and obviously your personality and how personable you are — will factor into what your tips are like," Milliken said.
Milliken said he hopes to be able to make a connection with Ohio State at some point so that the carts are permitted to go onto campus property. The service could look a little different on campus than it does in the Short North, with carts taking passengers to class instead of to bars.
"We would like to form a relationship with the university and get through whatever lines we have to cross there," Milliken said. "Then hopefully we'll be able to be on campus providing students with a little different experience as far as traveling around campus or to and from wherever they want to go around town." ❂
---
GSP gives tips on golf cart safety after accident
By Alexandria Ikomoni, Published on October 20, 2017
ALBANY, GA — Officers are asking people to follow golf cart rules after a cart accident that put two people in the hospital.
Late Thursday night, a car hit two people in a golf cart on Highway 19 in Lee County.
According to Georgia State Patrol, golf carts should stay in designated areas, not main roads and highways. A cart is not allowed on a street with a speed limit of more than 35 miles per hour.
When riding one especially at night, you need to make sure you have headlights, taillights and brakes.
"It's very important to take those safety precautions because they could save your life, and that's what it's all about," Cpl. Andrew McKenzie, Georgia State Patrol, said.
"You'll get to your destination safely and get back safely."
It's highly encouraged to wear bright clothing when riding at night so other cars can see you before it's too late. ❂
---
Man's wife inspires him to initiate test case for golf carts on Broomfield trail
By Jeremy Moore, Published on October 20, 2017
BROOMFIELD, CO. — Scenic golf cart rides for disabled nursing home residents, at no charge. That idea seems like a no-brainer, especially when those views are just across the street. At least that's what Rick Nierman, the husband of a nursing home resident in Broomfield, thought four months ago when he first pitched the idea.
"We're trying to promote the use of a golf cart with accessibility for handicapped or disabled people on an open space trail that they normally wouldn't be able to access," Nierman said. "Get them out of their normal setting. Get them in the outdoors, out in the sun. Let them enjoy life."
Nierman soon found out, golf carts on open space trails is not yet a thing, so he submitted a three-page proposal. That turned into a city council resolution. It passed by a vote of 7 to 2, making Broomfield a test case.
The test began Thursday morning, with Nierman finally able to legally take his wife and other nursing home residents on golf cart excursions across the street in Broomfield Commons Open Space.
Nierman, a 71-year-old Colorado native who was raised in Holyoke and now lives in Denver, majored in recreation, with a minor in special education. He says he knows the value of physical and mental stimulation.
"You put yourself in a four-wall room, 24/7, with no stimulation, no motivation, you kind of lose interest in everything," Nierman said. "Their tax dollars paid for these parks. Why can't they use them now?"
Nierman is retired, and says he has a lot of extra time for little projects like this. "You might say there's no cost," Nierman said. "No investment, just the donation of the cart, donation of the trailer, my gas money, I guess – but I'm willing to do that."
He's considering calling the service "Kathy's Karts", after his wife, a resident at Broomfield Skilled Nursing and Rehabilitation Center. The service, however, is not just for residents of that facility.
"Anybody handicapped, in a wheelchair or walker – if you love the outdoors and want to walk a trail but you can't, come on out, we'll take you around," Nierman said. "If your mind's not being used, you're going to lose it."
Nierman says he would like to see the service start in other Colorado communities and across the country.
Not just anyone can take a golf cart out on the trails in Broomfield. Nierman's permit applies just to him, for use at this one park. He can take the cart out once a month, between June and October. ❂
---
National Night Out educates on safety, promotes community
By Julia Vergara, Published on October 11, 2017
Chattanooga, TN — The Baylor University Police Department hosted its second annual National Night Out event at Fountain Mall on Tuesday to encourage partnerships between the police and the community and to educate on safety through fun activities.
At the event, students, faculty and staff were given the opportunity to experience the dangerous effects of driving while intoxicated through two activities.
The first activity was a video simulation called "Watch Ur BAC" — or blood alcohol concentration. The alcohol awareness program looked similar to an arcade racing game, which allows participants to take control of a steering wheel, gas pedal and brake while the monitor displays their driving.
However, participants wore "beer goggles" that helped mimic how difficult it would be to maintain control of the vehicle while driving under the influence of alcohol. Many participants had difficulty staying inside their lane — often crashing into the sides of buildings and other cars.
San Antonio senior Julie Clark said she has never driven while intoxicated, but as soon as she put on the goggles she was able to see how scary it is to drive under the influence.
"I normally would never try to drive like that. It was very intense," Clark said. "You have to focus a lot harder than you normally would have to."
Another activity that demonstrated the effects of driving under the influence was a golf cart course which participants would try to navigate wearing the beer goggles. Many had trouble getting through the course without running over the traffic cones.
After completing the golf cart course, participants, still wearing the goggles, were asked to walk forward and backward in a straight line and balance on one foot — tasks that did not come easily.
Amarillo first-year student Heath Holland struggled to stay in a straight line and instead walked diagonally until a police officer helped him get back on the
straight path.
"The goggles are crazy," Holland said. "But I think it's really important to see this and see how dangerous and impaired you can get actually being drunk because there's no way you'll actually be able to stay in control."
The topic of car safety went beyond the two activities. At one of the informational booths, there was a model that portrayed what would happen during a crash if a person was wearing a seatbelt versus if they were not. When the seatbelt was not in use, the "person" in the model would be launched from their seat upon impact.
In addition to car safety, BUPD also offered some tips on fire safety by teaching students how to use a fire extinguisher. In the green space on Fountain Mall, students had the opportunity to put out a fire pit using a fire extinguisher.
"It's interesting because most college students have never used a fire extinguisher before and they're finding that enjoyable," Baylor Police Chief Brad Wigtil said.
Apart from the safety focused activities, National Night Out also had a corn hole tournament, bounce house, free food and a lot of door prizes.
Louisburg, Kan., senior Amelia Baumgardner said that even though she sees the police officers around campus all the time, she had never gone up to talk to them – but this event made that much easier by allowing students to interact with officers on a more casual basis.
Wigtil said that being able to interact is a great experience for not only the officers but for students, faculty and staff as well.
"It's always good when there's a context for the community to meet their officers and get to know them as individuals," Wigtil said. ❂
---
Golf carts are a popular way to get around Cape Fear region
Business is booming as golf cart use increases.

By Terry Reilly, Published on October 1, 2017
SOUTHEASTERN NC – Brierwood Golf Club in Shallotte closed this summer. Echo Farms is set to shut down this fall. And the Masonboro and Belvedere golf courses are for sale. Local golf links may be disappearing or changing hands, but golf carts continue to proliferate in the Cape Fear region. Beach towns are driving demand for these low-speed vehicles along with new residential communities.
Our area reflects a national trend. As of 2013, more than 350 cities and counties have adopted laws that allow golf carts on public roads, according to the International Light Transportation Vehicle Association. Over 75,000 golf carts were sold in the U.S. last year, part of a $1.1 billion global business.
In July, Pete's Golf Carts started selling golf carts on Oak Island. For decades, the business provided only parts and service – but owner Pete Marley believed the timing was right to start selling carts on the island.
Marley's hunch paid off. "We've sold about a dozen street-legal golf carts in two months – bought by first-time buyers. You've got to have a golf cart on Oak Island to go to the beach," he said.
A street-legal cart requires seat belts, turn signals, headlights, brake lights, windshield wipers and more to meet the N.C. law for low-speed vehicles (LSVs). An inspection, insurance and registration tags makes the process similar to owning a car. Once street-legal, owners can drive on any public road with a speed limit of 35 mph or less.
Marley started tinkering with the carts as a hobby and then went full-time over 30 years ago. His carts sell for $6,500 to $7,500. Golf carts are also popular on Carolina Beach, where over
1,100 carts are permitted by the town, which doesn't require street-legal carts.
"When they get in a golf cart, there's an attitude change," said Jay Antonelli, general manager of Golf Carts of Coastal Carolina on Carolina Beach Road. "People are no longer in a hurry. It's a fun feeling and a different mindset."
But it's not just Carolina Beach fueling Antonelli's four-year-old business.
"Golf cart friendly communities like RiverLights, Beau Rivage, Tidal Walk and many little hamlets have more people using golf carts for a variety of activities," he said.
Meanwhile, Coastal Golf Cart Sales, with outlets in several Brunswick County locations, is thriving on sales to Compass Pointe residents.
"It's a gated community with its own golf cart rules, not regulated by the state. We do a ton of business there," said Gary Aycock, general manager. Aycock said that 85 percent of customers who buy refurbished golf carts are first time buyers who are northern retirees.
"Coastal Golf Cart and other area companies obtain carts from golf courses when their leases end," Aycock said. The three-to five-year-old carts are then stripped down to the frame and converted to street-legal carts. "We sell them as 'refurbs.' We explain to customers that the carts are not new. Converting a new cart to street-legal standards would cost from $12,000 to $14,000," he said.
Shawn Harper, manager at Golf Cart Outlet's Wilmington location, said his business has declined. But it's not for lack of demand.
"There are definitely more customers today but also more competition. Three competitors have opened in the last few years. As a result our business has slowed down," he said.
But he said his company's stores in Southport and Sunset Beach "are selling carts like crazy."
Southport does not require street-legal carts, but recently tightened permit requirements. Last year, the city issued 34 permits. In the last three months, the city has already processed 70 permits – a rising trend that is expected to continue, Harper said. ❂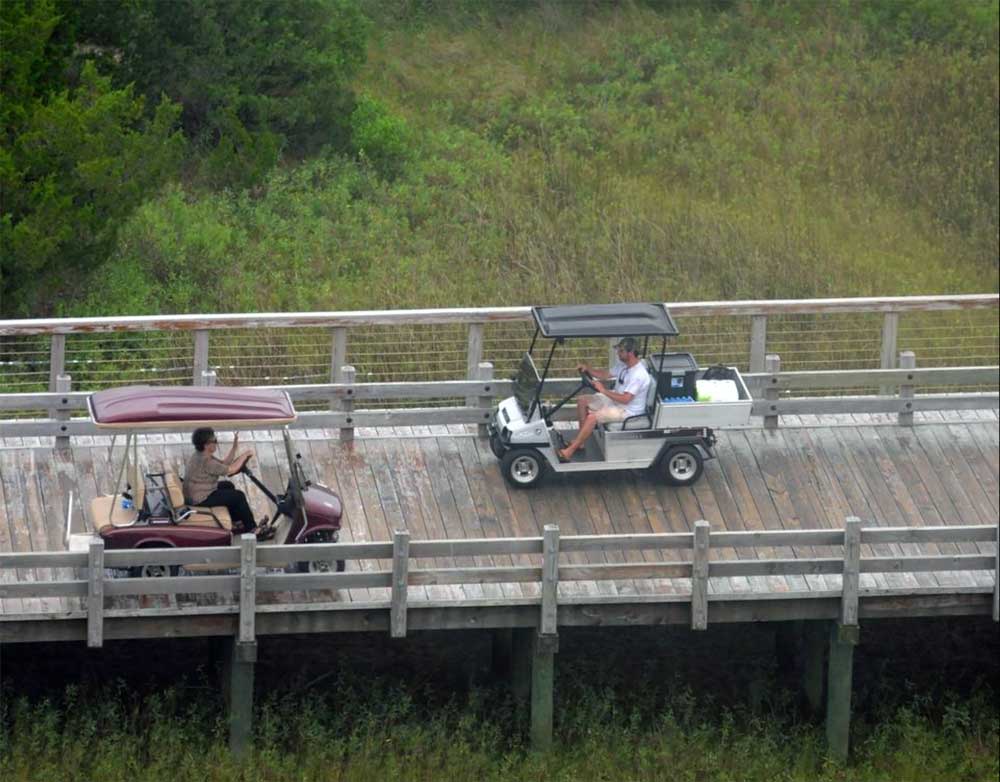 ---
Golf cart shuttle service to launch in Auburn on Saturday
By Kara Coleman, Published on August 31, 2017
Auburn, AL – An Auburn businessman who has been organizing a golf cart shuttle service for downtown will launch the business Saturday.
Grab-a-Cart will consist of 15 street-legal golf carts that can pick up people from various locations in downtown Auburn, owner Mathan Holt said this week. "We have gotten all our credentials now, all our licenses and insurance and paid all our fees, and we are ready to operate," he said.
With a top speed of about 25 miles per hour, the carts will operate in a restricted service area downtown and in certain areas on or around the Auburn
University campus.
Grab-a-Cart vehicles will be spread out around the downtown and campus area.
"We'll have one on the north, probably around the Highway 14/Martin Luther King-Donahue intersection, because lots of cars park there on game day," Holt said. "And probably around the downtown area on Glenn Avenue probably around Samford Avenue, and Gay Street-Wrights Mill Road. And then somewhere on the south side of town, probably around Lem Morrison and Donahue."
Getting the green light
In July, Holt approached the Auburn City Council, requesting the government body approve an ordinance allowing low-speed vehicles to operate legally as taxi cabs on city streets. The council voted 8-1 to pass the ordinance.
To operate legally, each cart in the fleet must have an identification number, headlights, taillights, brake lights, windshields and seatbelts.
"My idea is to provide an alternative method for people to get to and from downtown and support our downtown businesses. And of course, on game day," Holt told the city council last month. "Sometimes, as we all get a little older, we don't want to walk as far as we used to."
After getting a green light from the city, Holt said he spoke with the parking services director at Auburn University, requesting permission to operate the carts on university-owned campus roads. "I went straight to the university to see if I could get authorization to be on campus," he said. "They loved it."
The businessman hired Curt Cope Jr. to act as manager of Grab-a-Cart. Cope, an Auburn native, was living in Richmond, Va., when someone told him about an article detailing Holt's plan for the golf cart shuttles. "I read that, picked up the phone, and called Mr. Holt to see if he needed some help," Cope said. "He did, so I decided to come on down."
To request a ride on the Grab-a-Carts, passengers can call or text 334-707-3006.
"Other than calling, we will be taking flag downs," Cope said. "If a cart's cruising by, people can raise their hand and hop in." Because carts will be driving on campus, Holt said he hopes people will be able to view Grab-a-Cart through the university's website, where they would be able to track the carts in real time to see where they are. Holt and Cope intend to develop a mobile phone application that will allow people to track the carts from their phones.
"We'll have our own app, and all the drivers will have cellphones that can be tracked on this app, and you can tell where the carts are," Holt said. "You still have to call or text the main dispatch number to request a ride."
Transit of the future
Grab-a-Cart is still in the process of hiring drivers to operate the shuttles. Interested persons should call the same number used to book or request a cart.
"All our drivers should have a clean driving record and be a minimum of 21 years old," Holt said. "We're going to do a criminal background check. We're going to do an initial drug test and then random drug testing as we go. That way, the general public can be as confident as possible that we're hiring good drivers and safe drivers."
Local businesses also have the opportunity to advertise their company logos on the carts. Different packages are available.
Holt's intent for the shuttle service is to help curb the issues about parking in the downtown area. Saturday's launch is an experiment to see how well it is received.
"We've got to recover from Saturday and see how everything goes," Holt said, when asked what days and hours Grab-a-Cart will operate moving forward. "Our ultimate goal is to be in town year-round. Whether that's every day, we don't know yet. It all depends on how the public responds to this and if they're willing to use the service. If nobody wants to ride except during certain times, that's when we're going to operate."
Grab-a-Cart drivers will begin picking up passengers by noon Saturday, Holt said, and he anticipates they will continue taking people to their vehicles after the game until about midnight. He added that while there likely will be a charge for the service in the future, the Saturday launch is operating on tips only.
The company's full website is still under construction, but a map displaying the Grab-a-Cart service area is online at www.grab-a-cart.biz.
"This past year, there's been a lot of discussion about parking downtown, and getting to and from," Holt said. "We can't fix the whole problem, but we might be a part of the solution to get people downtown. I saw a need there that I could possibly try to fill. Ultimately, I'm in business. When you have a business that provides a service and makes money, it's good for the whole community." ❂
---
Airless car tires may shake and rattle, but at least they roll
Submitted by Satoshi Shinden, Published on September 27, 2017
Japanese wheel makers are finding developing airless puncture-free tires a bit of a bumpy ride. The tires would help prevent accidents from blowouts and would also reduce the weight of cars because no spare would be required. But comfort is the issue. It's not much fun negotiating a pothole-filled road without air in the tires to soften the blows from the bumps, especially if one has just consumed a substantial meal. Even if the air-free tires are not preferred by drivers, they could be used in self-driving vehicles.
A small vehicle running on new airless tires called "noair" was unveiled by Toyo Tire & Rubber Co. at the Expo '70 Commemorative Park in Suita, Osaka Prefecture, in a demonstration on Sept. 8. The wheels appeared to work normally when taking curves or braking suddenly, but the
vehicle shook violently at times and the wheels made a noise. The tires are filled with 100 thin resin rods instead of air to support the weight of vehicles and absorb shocks. Toyo Tire & Rubber began developing the puncture-free tires in 2006, and their rotation and braking performance are now almost comparable to that of normal tires.
"The new tires have the potential of replacing long-established air-filled wheels," said Satoru Moriya, head of the No. 1 technical department of Toyo Tire & Rubber, referring to the future commercialization of the tires. "We are now opening the door to that future."
The lower weight from not carrying a spare tire will also result in higher fuel efficiency. Electric cars will also have more space to install batteries, enabling them to go longer distances. The safety of self-operating cars can also be improved with airless tires because automatic driving systems do not need to take countermeasures against punctures. Bridgestone Corp. and Sumitomo Rubber Industries Ltd. are also developing airless tires. But many hurdles remain to make them commercially available for passenger automobiles.
Shock absorption does not match that of air-filled wheels. They are also not strong enough to run at high speeds, and the auto industry would have to draw up new standards. Airless tires have already been used for vehicles other than passenger automobiles. While Bridgestone is going to market air-free tires for bicycles, France's Michelin sells airless tires for construction and agricultural machines in the United States. Sumitomo Rubber is testing its puncture-free tires on golf carts.
Toyo Tire & Rubber is looking to spread the use of its airless tires first for one- or two-seater super-compact cars and compact vehicles, as those types of car rarely run at high speeds. ❂
---
SC Carts brings new golf cart to life in Canada
The Vernon-based golf cart company expands its product line — the carts are no longer just for golf
Submitted by Bob Wester, Published on October 22, 2017
Vernon, BC – More than seven years ago, SC Carts jumped into the golf cart scene and began building custom carts.
Since its inception, SC Carts has been growing and offering unique custom carts for many different applications, from resorts to work carts.
"Golf carts are no longer just for golf," said Jeffery Holomis, president of Vernon-based SC Carts. "With custom cart orders year-round, we have found a niche in the custom cart segment and are continuing to grow with our newest offering."
SC Carts has just launched the NXT, a brand new offering to the Western Canada golf cart scene. The NXT custom cart exterior features bold styling and the interior feels more like an automobile, with its creature comforts, than a golf cart.
"We felt there was an opportunity in the market to provide customers with a fully-loaded, sport-based golf car at an exceptional value, and the NXT is just that," said Holomis.
The NXT comes loaded with standard features which include an onboard charger, dual-speed switch, Bluetooth stereo, headlights (high/low), brake lights, signal lights, daytime running lights, reverse lights, SC Drive system (350 amp 5kw AC drive) and more, at a retail price that compares with a basic cart from one of the three big cart manufacturers.
"We are really excited about this significant milestone," said Holomis. "We've spent the past two years working on the NXT and bringing it to market.
"There isn't just one thing that sets these carts apart from most other carts.
Not only do they come loaded at an exceptional price point, the NXT also offers an exceptionally smooth ride with independent coil over suspension, braking via mechanical drum brakes or upgraded four-wheel hydraulic discs, with the option of an automatic parking brake on all models. All the customer has to do is pick the colour, and let SC Carts take care of the rest to create one cool ride." ❂