News about golf carts in local communities.
Little Ambulance to Stand at the Ready for Emergencies at State Fair in West Allis
By Jane Ford-Stewart, Published on July 25, 2017
WEST ALLIS, WI — The little ambulance that could will stand at the ready for health emergencies at the Wisconsin State Fair this year for the first time.
The little ambulance only arrived at the West Allis Fire Department in late winter equipped with all-terrain capability, winches and other equipment to help rescue people in hard-to-get-at places. But it holds everything that a paramedic could want.
The West Allis medical emergency service is happy to have the little ambulance because being only about as wide as golf car, it can thread through heavy crowds at the state fair. The open vehicle that is used now can do that also, but the new little ambulance is enclosed and air-conditioned. Normal city ambulances can't get through the dense state fair crowds.
It's definitely a significant upgrade because it's enclosed for privacy and air-conditioned, which is much better for the patient, said West Allis Assistant Fire Chief Kurt Zellmann who heads the city's emergency medical service.
Privacy is important, too, as medical procedures sometimes need to be done. Paramedics have even performed CPR on someone as they drove past children at the fair, Zellmann said.
Be Busy
It will see use every day at the state fair, Zellmann said, even though the station West Allis sets up at the fair is geared to advanced care. That includes conditions needing pain control or heat-related problems such as difficulty breathing, heat exhaustion or heat stroke, abdominal pain and chest pain.
We only do the bad stuff, said Zellmann.
Trips and falls, sprains, and cuts are usually handled by Bell Ambulance, that has an installation at the north end of the fair or by the American Red Cross station in the center of the fair, he said. However, all three work as a team, he said.
Even though the West Allis paramedics handle more serious problems, It can get extremely busy, Zellmann said. The record is 50 patients needing help in just one shift, he said.
South End
The new all-terrain ambulance will be stationed at the south end where the West Allis Fire Department will set up an actual temporary fire station. If a fire breaks out, the fire department doesn't want fire trucks to be delayed battling through the clogs of cars headed for the fair, Zellmann said.
"Probably the most unusual injury the West Allis paramedics have treated over the years is the occasional kick by horses or other animals," Zellmann said.
"Probably the most unusual injury the West Allis paramedics have treated over the years is the occasional kick by horses or other animals," Zellmann said.
"However, by far the most common problems are heat-related," he said.
Every year, there is a series of chest pain evaluations, he said.
Expert Advice
Zellmann advised people to know their limits, and if it's hot to sit and rest often, to cool down in air-conditioned buildings and to drink plenty of fluids.
The Red Cross has an air-conditioned area for overheated fair-goers to cool down.
"And wear comfortable shoes. Beware of open-toed shoes, you're asking for tripping and trouble with those. That's my opinion, he said.
If fair-goers think they need help, they can go to any of the three medical stations, call 911, or stop any security or police officer, Zellmann said.
"Especially if people have chest pain or difficulty breathing. We do not want to have people ignore that, he said.
West Allis chipped in $5,000 toward the $73,000 cost of the ambulance. State and private grants paid the rest.The little ambulance is available to all area departments.
"Already, it has seen service at the recent train derailment in West Allis," Zellmann said. "It carried officials to inspect the accident scene." <span class="CharOverride-73″>❂
An all-terrain ambulance that's no wider than a golf car so it can get through heavy crowds but that still holds equipment paramedics need will be on duty at this year's Wisconsin State Fair.
---
100+ Bluffton neighbors square off in massive water fight
By Graham Cawthon, Published on July 25, 2017
HILTON HEAD, SC — The video tells the tale: Filling up water guns. Hoses on full blast. Catapults launching water balloons. Golf cart drive-bys.
The footage shot and edited by Bluffton's Michael Rapoport, documents an hours-long water fight among well over 100 neighbors at Bluffton Park on Sunday.
"It was planned a couple weeks in advance," Rapoport said of the four-hour showdown. "If you were wearing one of the headbands, you were free game anywhere in the neighborhood. People used balloons, guns, even power washers." The water hadn't even dried before there was
People used balloons, guns, even power washers." The water hadn't even dried before there was talk of doing it again.
"People are already clamoring for the next one," he said.
---
UPS New Vehicles Are Tiny — and Teamsters Object
By David A. Mann, Published on June 30, 2017
Louisville, KY — United Parcel Service Inc. is planning to use golf carts to make package deliveries in suburban and residential areas when needed. The new delivery option comes as Kentucky law was recently loosened up on these vehicles. But Teamsters Local 89, which represents many UPS employees in Louisville, is speaking out against it.
UPS is planning to use golf carts to make package deliveries in suburban and residential areas when needed.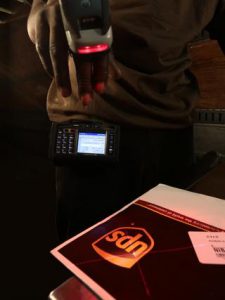 House Bill 404, approved by the Kentucky General Assembly in March and signed by Gov. Matt Bevin in April, allows commercial delivery personnel to use golf carts and low-speed vehicles in residential areas. Such vehicles had been allowed in some parts of the state already. The carts in question would have seat belts and turn signals but would not be enclosed or heated. They'd be modified to make room for more packages and be marked with a UPS logo, said Jim Mayer, public relations manager for UPS. UPS would rent PODS or other portable storage units to store the carts in a given neighborhood. Packages would be delivered to the storage unit and a driver would take them to homes using the cart. These would primarily be used during the company's peak season, between November and January, Mayer said.
Last year, the company delivered more than 700 million packages between Thanksgiving and New Year's Eve. A lot of that volume came through Louisville, where the company operates its largest air-sorting hub, called WorldPort. UPS also has an expanding ground operation here called Centennial Hub.
The union opposed the legislation that allowed golf carts and it argues that these vehicles put them at risk, according to this story from the Wall Street Journal. James DeWeese, a member of Teamsters Local 89, also spoke out against the idea in that article because cart drivers will make less than traditional truck drivers.
I reached out to DeWeese for more information on this but have not heard back yet. Mayer confirmed that the carts would largely be used by seasonal employees, who are part-time and therefore earn less.
As to the safety concerns, he said the drivers would be trained to use them and they'd be marked, titled and registered. He pointed out that children ride bikes at low speeds on residential streets too.
It's just another small, low-speed vehicle (on the roads), he said. Mayer couldn't say exactly which cities these vehicles would be used but said it's possible in Louisville. This wouldn't be the first time UPS has used carts to make deliveries. The company does this in Georgia, Florida and South Carolina.
---
Family-Owned Business Provides the Golf Carts for Milwaukee's Many Festivals
By TaTiana Cash, Published on July 24, 2017
The city of Milwaukee is known as the City of Festivals, with every week celebrating at least one of the various cultures, arts, and musical acts of the world.
Planning for these events can take anywhere from a few weeks to over a year. But the one staple that's necessary to help keep festival organizers going may be unexpected – golf carts.
Golf carts aren't just for courses. Whether it's a small church festival or Festa Italiana, there are different carts that are needed to pull off every event. Just ask Midwest Golf Cart business owner Gary Gorski, who has been in business for 26 years.
The golf cart business is seasonal, from June to October. The Gorski family has owned carts since 1980. Gorski bought the company and started out with six carts and his two kids. Together he and his wife grew the cart fleet to 75 and his son, Brad Gorski, became the operations manager.
Gorski is one of five golf cart companies that work Milwaukee festivals, and though it's seasonal, it's busy. For more than 20 years, Midwest Golf Carts has done business with almost every festival on the Summerfest grounds.
For safety, all of our cars that go on Summerfest grounds have to have: a light, horn, and strobe, says Gary.
Brad has worked the family business, since he was six. He says it has its perks, especially since he has two sons of his own, who he hopes will help him run the business after Gary retires.
We get essentially three generations of it. So it makes it more enjoyable…It's more rewarding than doing something for something else and not enjoying the final product of it, says Brad.
While Summerfest is the largest festival they cater to every year, the two second biggest festivals are German Fest and Festa Italiana. The Gorskis are sure every organizer agrees that these carts are a safe, reliable lifesaver.
Sarah Pancheri, the vice president of sales and marketing for Summerfest, says it's a small piece you wouldn't think of, but without a golf cart, things are a bit harder.
You've done all that planning. You've worked so hard to get everything in place, The necessity of a golf cart, to really make sure it pulls off the right way is critical, says Pancheri.
Pancheri says there can never be too many carts. The more the better, because everything tends to move at once, and always in different directions, when running a festival. A golf carts is essential because it's versatile – moving security or musicians, or numerous products.
I can tell you walking the 75 acres every day for 11 days, you're sure grateful to have a golf cart to set up certain places at certain times, says Pancheri.
So while golf carts may seem unnecessary to even mention, Summerfest uses close to 100 golf carts every year to help run that 11-day event. Additionally, German Fest and Festa Italiana use almost 40 carts each for their events. <span class="CharOverride-73″>❂
---
Cops: Drug Raid in Fla. Retirement Community Uncovers Possible Golf Cart Chop-Shop
From LeoAffairs.com, Published on June 27, 2017
THE VILLAGES, FL – A drug raid within the confines of Florida's most famous retirement community resulted in five arrests, with officers finding drugs and… a golf cart chop-shop?
Kenneth Ray Padgett, 53; Charlotte L. Gajewsky, 45; William Anthony Wade Romska, 38; Kathleen Unrath, 43; and Michael Edward Witkowski, 63, were arrested last Wednesday after a Sumter County Sheriff's Office SWAT raid turned up a cache of drugs and stolen property, including golf cart parts.
According to CBS News, charges include possession of methamphetamine with intent to sell; keeping or maintaining a drug shop; possession of heroin; and possession of paraphernalia.
Nearby residents and deputies had referred to the residence -owned by Unrath's ailing uncle- as a "problem location," which had been a bane for many residents in the area due to unkempt property and constant coming and going of individuals.
Deputies obtained a search warrant after an informant helped orchestrate three drug purchases. Following the warrant, the raid did not disappoint – drugs were found in plain sight and investigators uncovered an entire attic full of golf cart parts, leading authorities to believe the location was used as a golf cart chop-shop. Other items found in the home were reported stolen in locations as far as Georgia.
Golf carts are a popular mode of transportation in The Villages, with local infrastructure designed to accommodate golf cart traffic, including an overpass road. The community is known for its beautiful golf courses and the vibrant lifestyles of its residents.
While Unrath's uncle -who is in poor health- is not believed to have been involved in any illicit activities, the arrested individuals face Charges of possession of methamphetamine with intent to sell; keeping or maintaining a drug shop; possession of heroin; and possession of paraphernalia.
---
Golf Carts Run in Local Parade
Submitted by Bob Wester, July 4, 2017
Saugatuck, MI – Saugatuck is a small west Michigan town that has a ton of fun! Saugatuck Golf Carts was lucky enough to to participate in the Fourth of July parade, taking the annual route through downtown!
Our company is family-owned and operated. Our carts are loved by many folks around here! Happy 4th of July!