CTEK BRINGS BATTERY CHARGING TO OFF-ROAD, OFF-GRID VEHICLES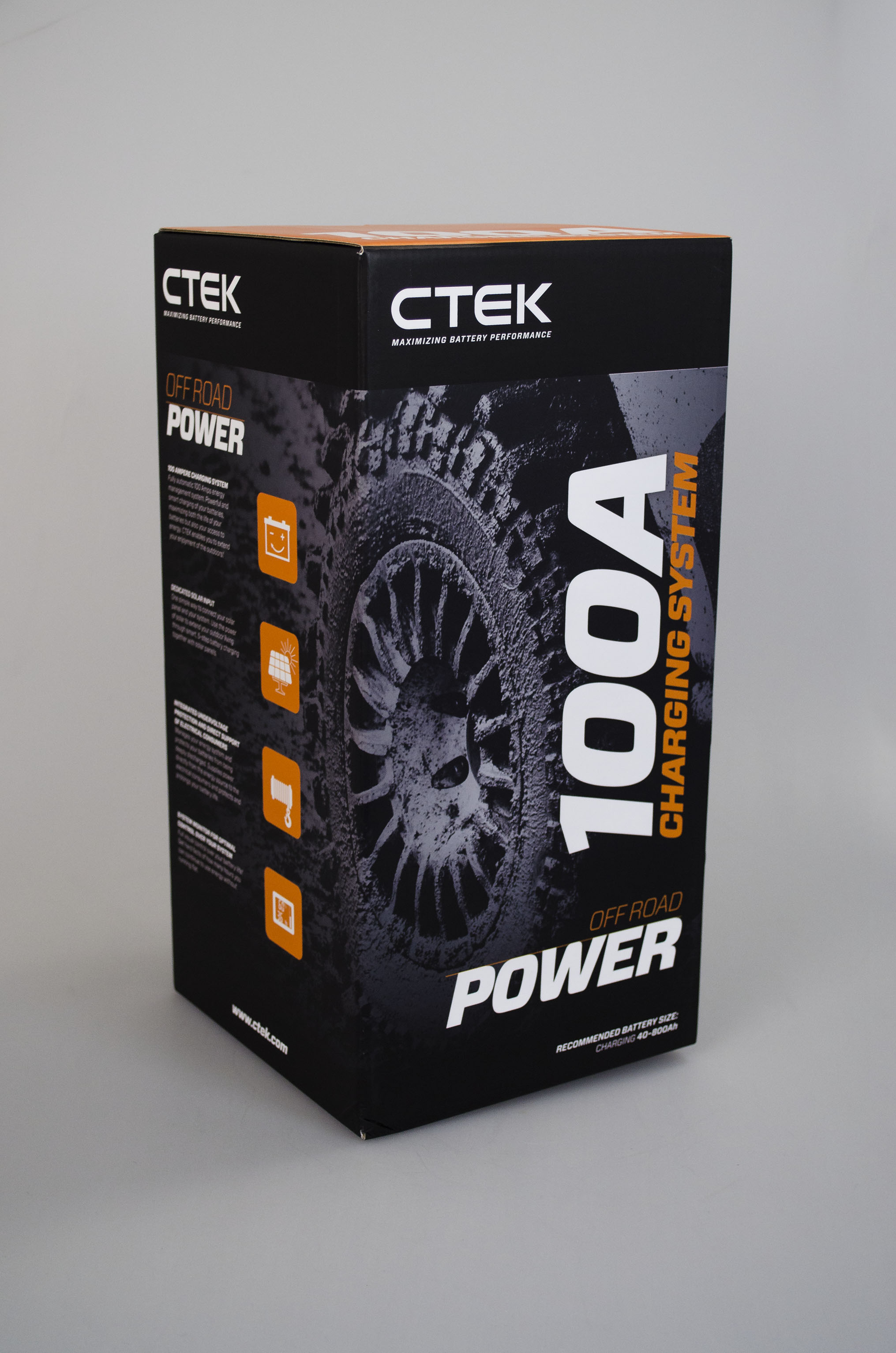 Planning to head into the wilderness this summer? Are you going off-grid to unwind from the pressure of a busy working week? If so, you'll want to ensure you can relax and enjoy necessities such as lights, music and personal electronics, which is where the CTEK 100A Off Road Power System comes in.
With overland adventures becoming ever more popular, CTEK – the leading innovator and provider of smart Battery Chargers and Maintainers – has created the 100A Off Road Power System – a bundle of high-tech chargers and monitors to simplify your electrical charging system and maximize the service potential of any dual battery system.
The bundle of CTEK charging components is designed to ensure that a vehicle's batteries are kept in optimum condition when venturing off-road and off-grid, especially for extended periods. This way, you can keep the lights on after dark, maybe enjoy a movie, or sit back and listen to an undiscovered album without needing to worry if the vehicle will start in the morning.
The bundle includes a 20-amp CTEK D250S Dual charger and 80-amp Off Road SmartPass charger. This complete solution combines these powerful chargers with a system monitor that continually checks battery voltage and current. A digital display provides the current state of charge, together with the number of hours of power available at current usage rate to ensure users know how long it will take to charge or deplete the batteries. This way, you won't be surprised by the lights suddenly going out, or risk being left stranded with a truck that won't start.

For more information, please visit http://smartercharger.com
FLEET OF LUXURY GOLF CARS ARRIVES ON FISHER ISLAND
Buy a condo – and get a custom-designed golf and leisure car from the luxury brand Garia in the deal. That's the offer to buyers of new luxury residences at Palazzo Del Sol on Fisher Island, the famed private island community off the coast of Miami Beach, F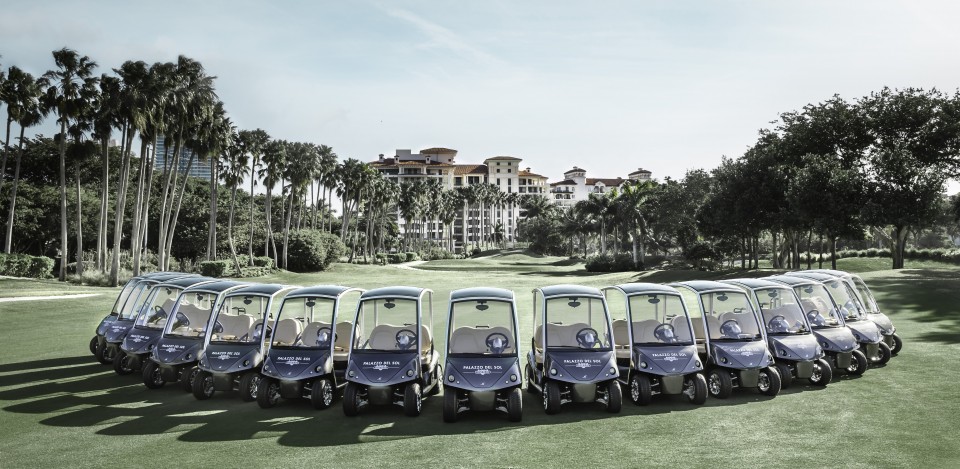 lorida.
Upon purchasing a residence in the island's newest and most exclusive boutique building, Palazzo Del Sol, buyers will receive a custom-designed golf and leisure car from Garia, the world's leading manufacturer of golf cars in the luxury class. Each golf car has been individually numbered and corresponds with one of the newly completed development's 43 waterfront residences, which are priced from $6.5 to 35 million.
"Golf cars are the preferred method of transportation on Fisher Island and our buyers are thrilled when we hand them the keys to their new custom Garia," says Palazzo Del Sol's developer Heinrich von Hanau. "They are as much about function as they are about form and they symbolize the superior level of design and quality Palazzo Del Sol brings to the island."
Accessible only by auto-ferry or private yacht, Fisher Island represents one of the wealthiest zip codes in the U.S. – and it is one of the most sought after destinations in the world when it comes to exclusivity, luxury and privacy. The island's luxury homes, golf course, tennis facility and Club are of the highest and most exclusive standards, attracting many of the world's wealthiest to its shores for more than two decades. The island is also known as the former winter retreat for William K. Vanderbilt and a string of American pioneers of industry in the years following.
Garia CEO Jakob Holstein calls the partnership with Palazzo Del Sol a milestone for the company in the U.S. market."Our cars on Fisher Island are shining examples of Garia's ability to deliver custom-designed cars that match our high-end customers' needs. The Palazzo Del Sol cars are designed so they can be used both for golf and regular transport around the island – and they luxuriously reflect the expression and exquisite design line of Palazzo Del Sol," says Jakob Holstein.
Garia has for many years delivered golf cars to golf courses and leading country clubs around the world. The partnership with Palazzo Del Sol exemplifies a new market that is rapidly growing for Garia – namely golf and leisure cars that are designed to be used for normal driving on holiday resorts.
"Our cars are of such high quality and design that they are ideal for transport on roads. You do not have to play golf to have fun and get a great quality experience in one of our cars," says Jakob Holstein.
The custom golf cars delivered to Fisher Island feature sleek graphite grey metallic paint, chrome rims, a built-in refrigerator and sport seating for four.
Read more about Garia online:
www.garia.com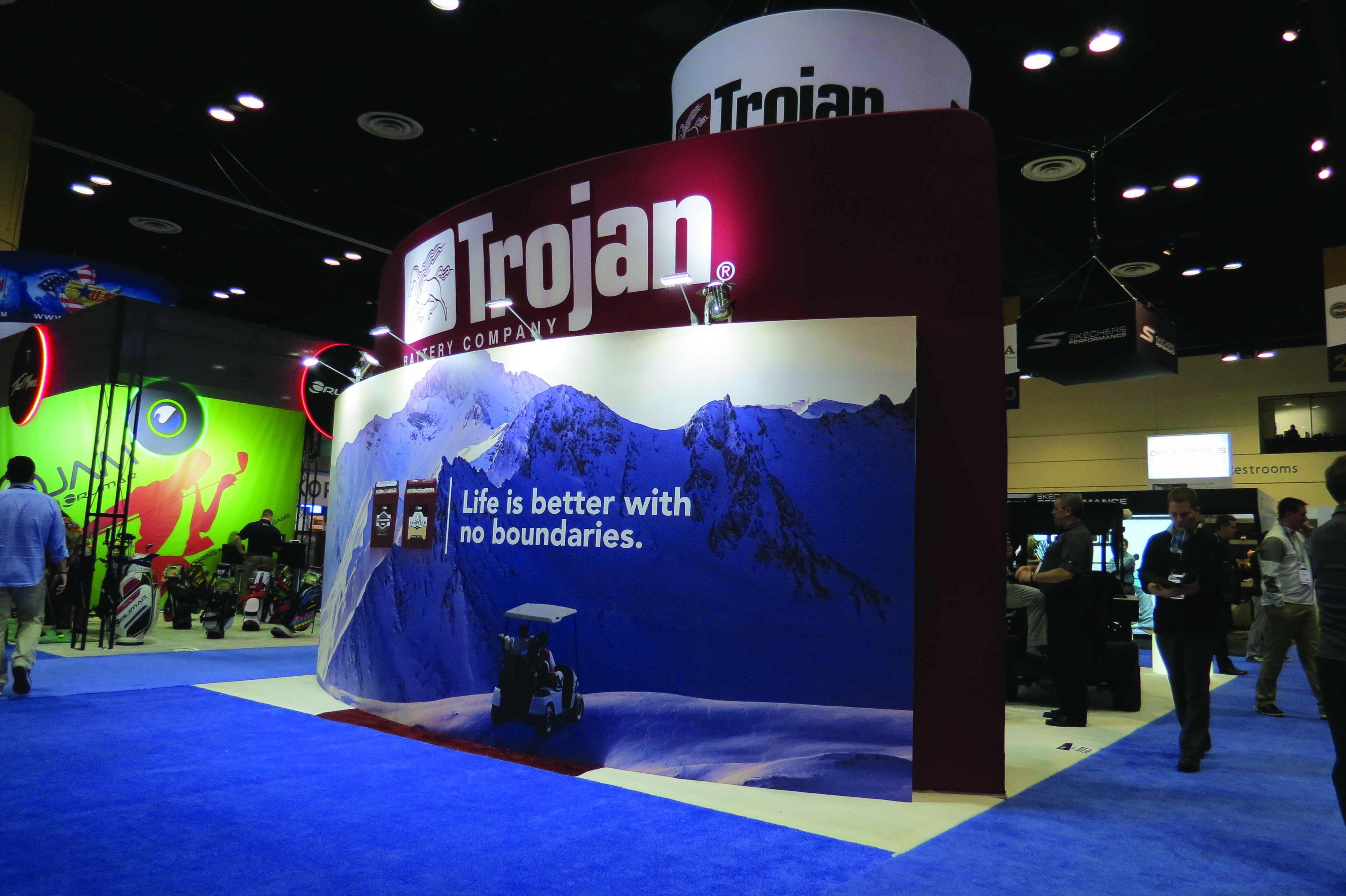 TROJAN BATTERY SALES OPENS NEW DISTRIBUTION CENTER IN ORLANDO, FLORIDA
Providing Factory Direct Dealer Service in the Region
SANTA FE SPRINGS, Calif., May 3, 2016 – Trojan Battery Co., LLC, the world's leading manufacturer of deep-cycle batteries, today announced the grand opening of its new Trojan Battery Sales, LLC distribution center in Orlando, Fla.  The new 31,000-square-foot facility is the first in Trojan Battery's continued expansion strategy in the southeast.
In addition to Trojan branded deep-cycle batteries, the Trojan Battery Sales Orlando distribution center carries several other battery brands, as well as chargers and accessories to address all customer needs.  The Orlando location supports various battery-powered applications including automotive, floor machine, golf cars, aerial work platforms, industrial, marine/RV, motorcycle, mobility, renewable energy and utility vehicles.
"The new Trojan Battery Sales distribution center enables us to continue to provide high-quality products and responsive service to our customers throughout the central and eastern regions of Florida," said Brian Jaibur, director of sales for Trojan Battery.  "As Trojan Battery Sales continues to grow with our customers, the addition of this large facility in Orlando offers increased service and support levels for quick order fulfillment, an extensive product line, competitive local pricing, and a knowledgeable Trojan Battery Sales team to provide technical service and support."
The Trojan Battery Sales Orlando distribution center is located at 2900 Titan Row Suite 126 Orlando, FL 32809, and can be reached by telephone at 800-282-3750.
For more information on Trojan Battery visit www.trojanbattery.com.
CLUB CAR INTRODUCES NEW TIRES, WHEELS AND LIFT KIT FOR PRECEDENT® GOLF CARS
Give New or Pre-owned Vehicles a Lift and Create a More Comfortable Ride. Club Car is now offering new wheels and tires for Precedent golf cars as well as a four-inch lift kit for electric models.
"The new, competitively priced products let customers and dealers upgrade their cars, create unique vehicles and enjoy true performance while staying with the Club Car name they know and trust," says Aftermarket Parts and Accessories Manager Brian Marion.
Unlike competitive products, these are made specifically for Precedent golf cars and tested to meet Club Car's rigorous quality standards. They deliver superior quality, fit and performance. 
Time to Re-tire? The new tires are made exclusively for Club Car by Kenda under the names Kraken and Loadstar.    
The Kraken tires feature a patent-pending tread pattern that increases off-road grip and reduces noise on the street. Available in 10-, 12- or 14-inch sizes, they pair perfectly with Club Car's new Precedent electric four-inch lift kit.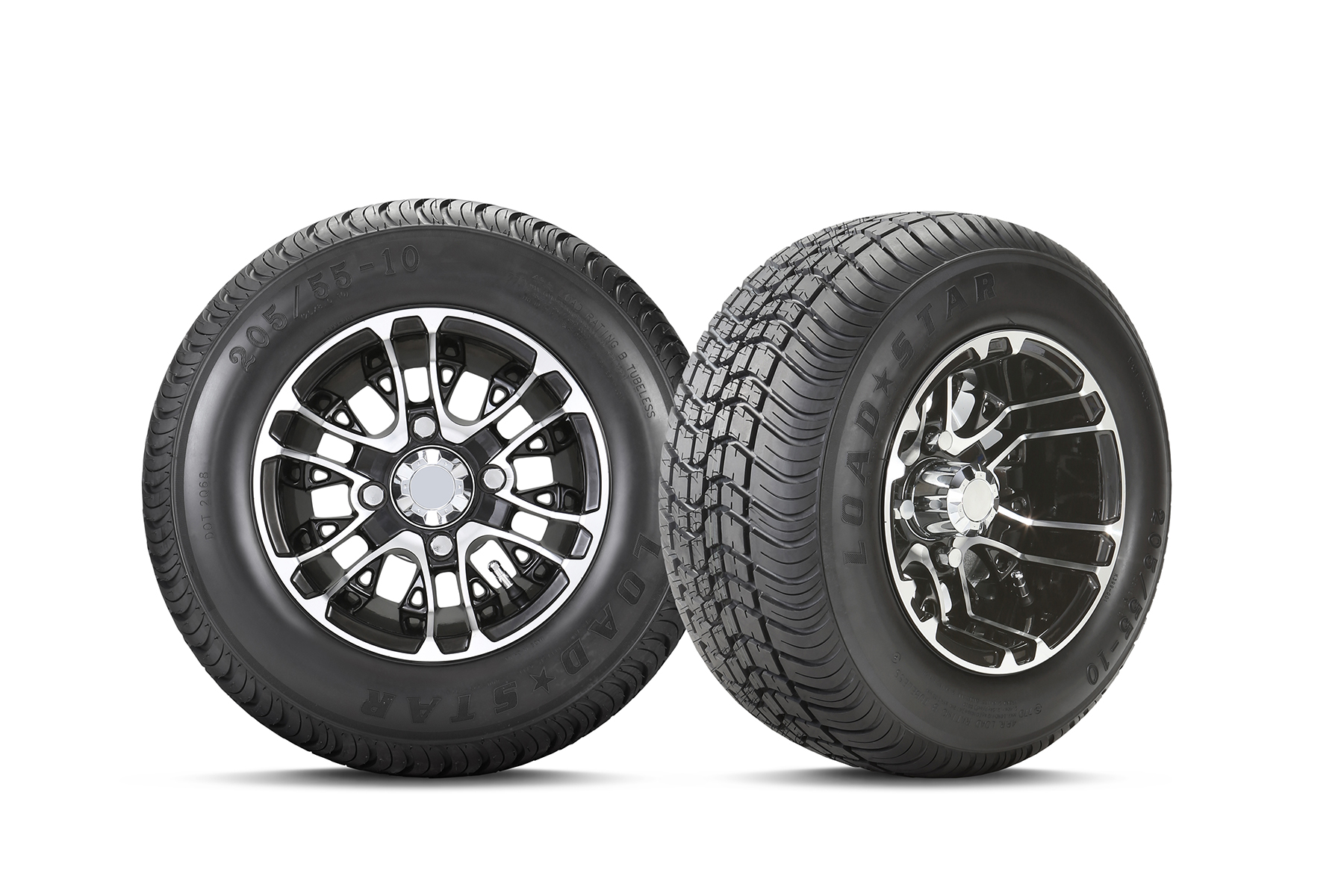 The Loadstar tires are DOT approved and available in 205/55-10 size to provide the highest possible ground clearance, without a lift kit, for Precedent golf cars. They also increase comfort. Both models:

Are made with premium compounds that increase durability and overall tread life. 
Meet or exceed Club Car standards for stability, durability and reliability while delivering a comfortable ride. 
Are ozone tested and resistant to weather rot. 
Be a Big Wheel. Finish the look with Atlas or Mercury gloss-black wheels with machined accents, chrome center caps and standard four-bolt hole patterns.
Available in 10-, 12- and 14-inch sizes, their design eliminates the need for wheel spacers when used with the new Precedent lift kit. The wheels:
Come with everything needed for quick and easy installation, except lug nuts. (Sold separately.)
Meet SAE automotive aftermarket industry standards for durability.
Need a Lift? For greater ground clearance and to really dress up your ride, add the only four-inch lift kit designed and approved specifically for the electric Precedent golf car. The kit: 
Is tested by Club Car for durability.
Features improved hardware and components, A-arms and control arm mounts.
Wider track width and longer wheelbase than competitive models.
Accommodates tires of up to 23 inches.
Offers superior handling compared to the market-leading six-inch lift kit, when  tested using AE
and NHTSA methods.
For more information, please visit www.clubcar.com.
U.S. Battery's Celebrates 90 Years Of Service In The Energy Marketplace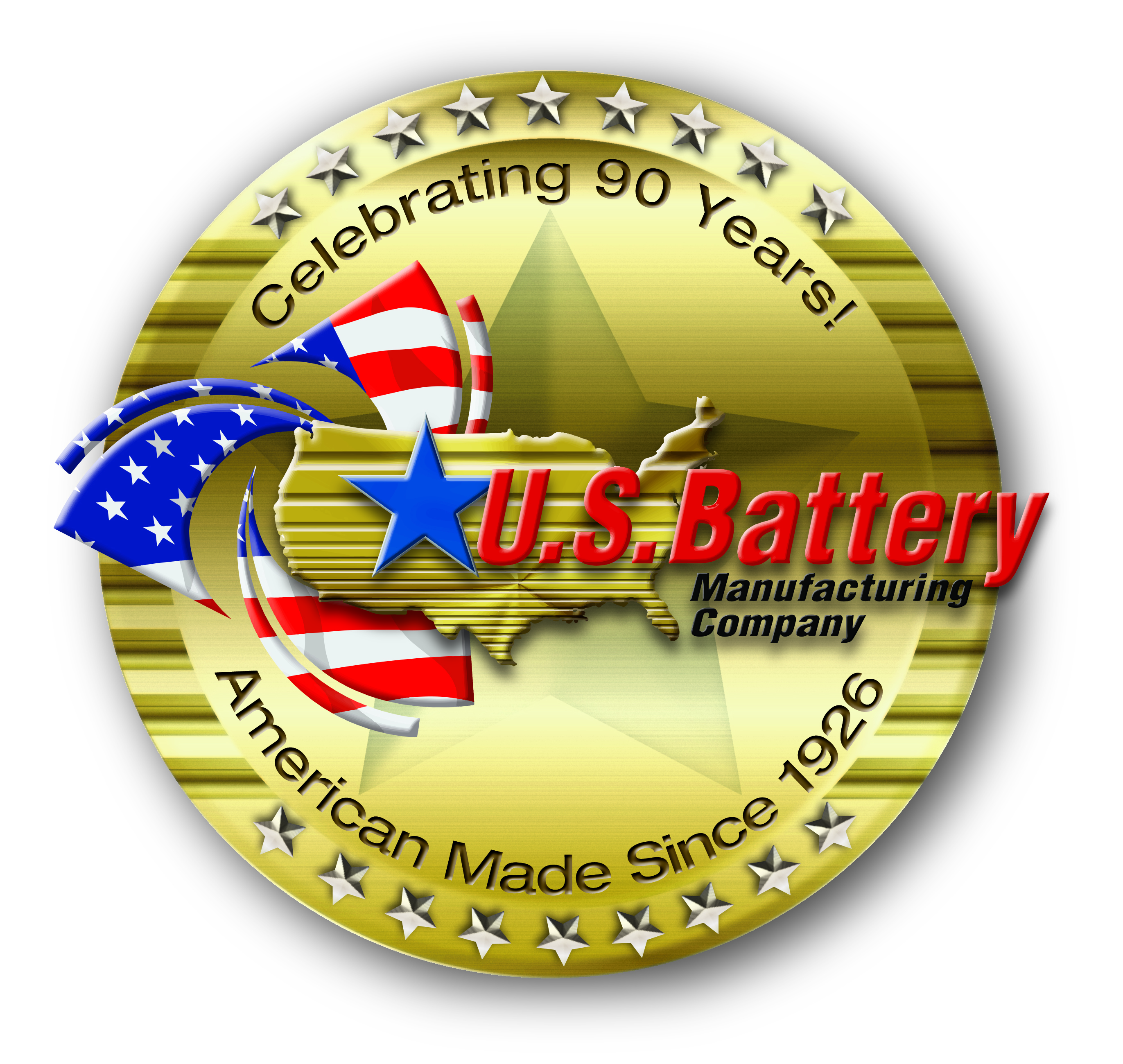 Corona, CA – U.S. Battery is celebrating its 90th anniversary manufacturing deep-cycle batteries for a variety of worldwide markets. The company was founded in Southern California in 1926, and was subsequently purchased by John Anderson. Anderson had a long established career in the battery industry; which began with companies such as Nickle Silver Battery, Trojan Battery, McCullough Battery, Battery Plates, and Alco Battery.
From the company's inception, Anderson focused on the deep-cycle battery market with a commitment to providing customers with the best quality product available. In time, the company has grown to include three manufacturing and distribution plants in Corona, CA, Augusta, GA, and Evans, GA; as well as a global distribution network.
Despite the growth and changes in leadership, U.S. Battery maintains Anderson's commitment to providing its customers with a high-quality, reliable product that speaks for itself. Because of this, U.S. Battery has developed a worldwide reputation for providing the industry's most efficient and reliable deep-cycle battery products to a number of national and international industries.   

After 90-years, U.S. Battery continues to look to the future. By continuing to introduce the longest lasting deep cycle batteries available, U.S. Battery products have become the choice for markets such as Golf Car, Electric Vehicle, Floor Cleaning Machines, Access Lifts and Cranes, Recreational Vehicles, Marine, Military and Alternative Energy. "We're very proud to continue John's legacy. As we celebrate this anniversary, we are laying the foundation for the next 90 years through the introduction of new and innovative products, as well as the formation of many new partnerships," says U.S. Battery CMO/Executive Vice President Donald Wallace. "U.S. Battery remains committed to providing customers with a reliable, economical, and environmentally responsible product that is still made here in the United States." 
U.S. Battery products are Original Equipment for a variety of manufacturers, and are the primary power source for vehicle and industrial fleets and dealers worldwide.
For more information about U.S. Battery visit www.usbattery.com.

Nivel participates in jacksonville's annual corporate 5k to benefit duval county track teams

Jacksonville, FL –  On May 19, 2016 Nivel Parts particpated in the 5K Corporate run hosted by the city of Jacksonville. Held at Metro Park in downtown Jacksonville, the 3.2 mile journey hosts over 4,000 participants annually. Running for a cause, the yearly event was held to benefit Duval County High School Cross Country and Track Programs. Providing a fun way for local businesses and corporations to help support students of the greater Jacksonville area, the 5K has also become an annual affair for employees at Nivel Headquarters.
Billed as the la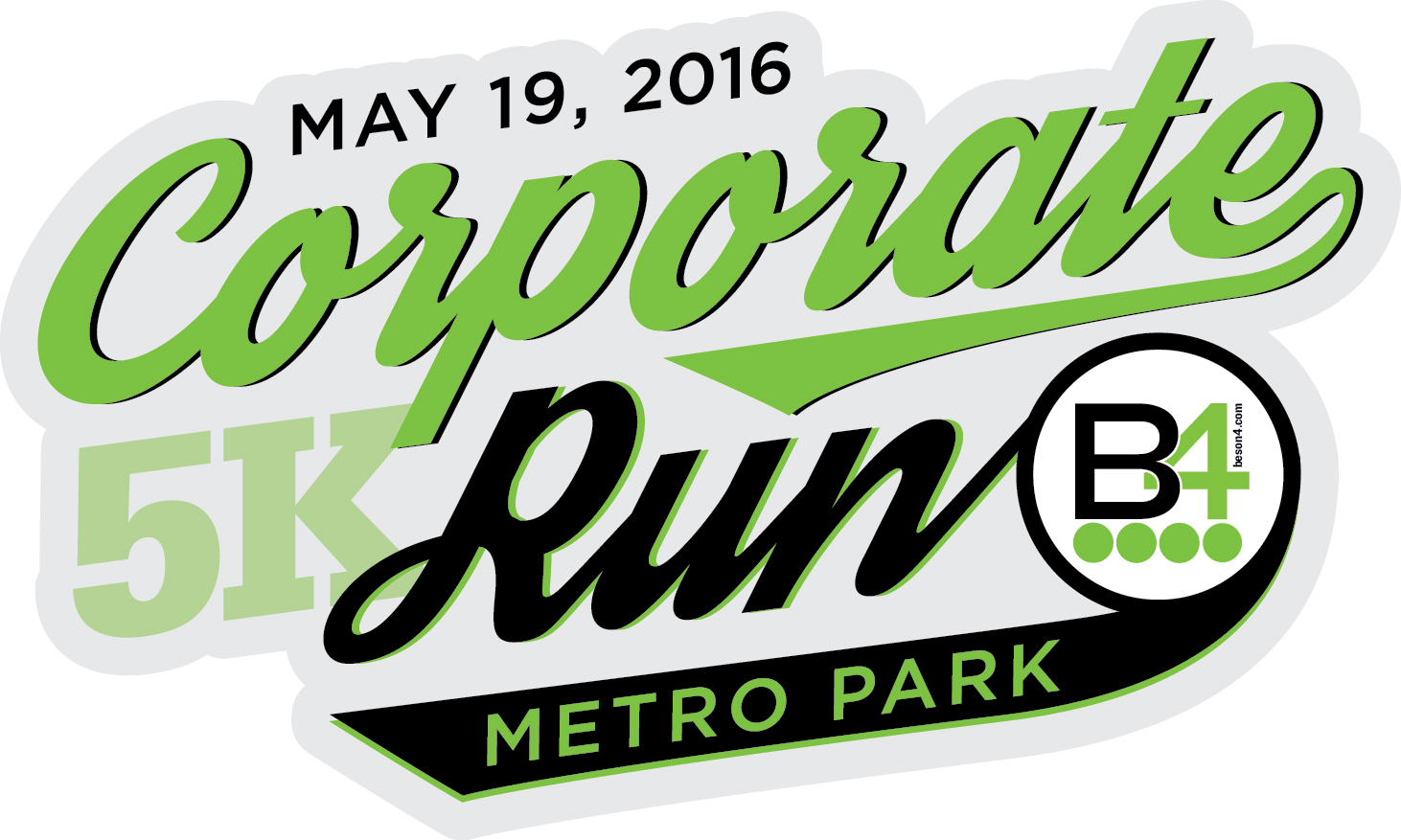 rgest office party in Jacksonville, the run included a post-race party complete with live music, free beverages and free food. Team Awards, Individual Awards, Team Spirit Awards, CEO Competition and T-Shirt Contest Awards were all given out at the conclusion of the race. In addition, all participants received a free t-shirt for coming out to the event.
Attendance this year boasted an impressive turnout, in spite of the deluge Mother Nature brought the evening of the event. Runners faced a downpour at the start of the race, and subsequent muggy conditions. One runner commented, "It was like running through mud, it was tough!"
However, Team Nivel's spirits were not dampened. A group of 20+, employees along with their significant others, braved the inclement weather to participate in the annual run. Runners got into the spirit of the event by sporting their Nivel blue t-shirts and other fun accessories. Whether running or walking, a good time was had by all.