E-Z-Go Honors Five Star Golf Cars & Utility Vehicles • Golf Stars "Tea Up" At Great Wall of China • Yamaha Promotes Brooks West to National Sales Manager • Nivel Supports Dealer at 2nd Annual Golf Cart Show • Nivel Participates in Jacksonville 5k Corporate Run • "We Are Golf" Celebrates National Golf Day's 10th Anniversary on Capitol Hill • Strategic Growth in Nivel's Senior Leadership Team • Tim Dewitt Joins Red Hawk Sales Team
---
E-Z-GO honors Five Star Golf Cars & Utility Vehicles
New Hampshire-based Distributor Serves Facilities Throughout New England and Upstate New York
May 16, 2017 – E-Z-GO has recognized Five Star Golf Cars & Utility Vehicles as its Distributor of the Year. E-Z-GO and Five Star have enjoyed a strong partnership for almost a decade. Headquartered in Laconia, N.H., Five Star offers the full line of E-Z-GO and Cushman products, serving golf facilities and individual owners throughout New England and upstate New York. "To achieve Distributor of the Year, Five Star Golf Cars & Utility Vehicles exceeded its performance in several sales and new business objectives measured by our business," said Sandy Baggiano, director of distributors for Textron Specialized Vehicles' Golf business, which sells E-Z-GO and Cushman products to golf courses and resorts worldwide. "We are thrilled to honor Five Star with this distinction and recognize its dedication and commitment to the customer." Five Star Golf Cars & Utility Vehicles also won three additional awards presented at a recent distributor meeting. "2016 was a pinnacle year for our business, and this award demonstrates the remarkable efforts of our team," said Matt McDonald, owner of Five Star Golf & Utility Vehicles. "I am exceptionally proud of the customer relationships we have built over time. "E-Z-GO and Cushman vehicles offer unmatched performance and savings benefits to our golf customers, and for us that's important," McDonald said. "We look forward to continuing our relationship with the E-Z-GO and Cushman brands for many years to come." ❂
---
Golf Stars "Tea Up" At Great Wall of China
Beijing, China (April 25, 2017) – Six of the biggest golfing names competing in this week's Volvo China Open made sure of their "tea time" during a special visit to the Great Wall of China on April 25.
Defending champion Li Hao-tong and fellow Chinese stars Wu Ashun and Zhang Lianwei joined England's Chris Wood and Danish duo Thorbjorn Olesen and Thomas Bjorn for a traditional Chinese tea ceremony on a watchtower of the nation's most recognizable landmark.
Flanked by armed ceremonial guards, the six star players were given a special introduction to the art of tea making during the countdown to the 23rd Volvo China Open, which got underway at Beijing's Topwin Golf and Country Club on Thursday, April 27. The six joined 150 other players for the RMB 20 million tournament, China's national Open Championship with European Ryder Cup Captain Bjorn particularly delighted to be back on Chinese soil.
"I was delighted I was able to fit the event in to my schedule as there is a long-standing relationship between Volvo and The European Tour," said Bjorn, winner of 15 tournaments on The European Tour. "As European Tour players we enjoy and value the relationship we have with Volvo so it's great to be back." While it was not a first visit to the Great Wall for the Great Dane, for Wood – who made his Ryder Cup debut in 2016 – it was a memorable introduction to the Great Wall at Mutianyu.
"The scale of it is unbelievable," said Wood. "I've been playing tournaments in China for many years but this is the first time I have had a chance to see the Great Wall. It's mind-blowing and I'm delighted to have had this opportunity to see it for myself." But while the players were happy to play up to the cameras during their visit to an historic section of the Great Wall that dates back to the mid-6th century, they were all focused on the job at hand in Beijing that week. Chinese golfers led the way with four different winners in the 22-year history of the Volvo China Open and 2015 champion Wu Ashun saw no reason why they couldn't add to that tally at the Topwin Golf and Country Club.
"The weather is perfect, it is great to be here and I believe all of our leading players are in good shape," said a smiling Wu. "There is no reason why another Chinese player can't win again this week – it really doesn't matter who it is."
The 23rd staging of the Volvo China Open took place from April 27-30 at Topwin Golf and Country Club, Beijing. Volvo was the first western brand to engage with golf in China in 1995, and this was Volvo's 86th tournament on the European Tour. The prize fund was RMB 20 million. The tournament was organized by the China Golf Association with Volvo Car Event Management as co-organizer and promoter and is co-sanctioned by the European Tour and OneAsia. ❂
---
Yamaha Promotes Brooks West to National Sales Manager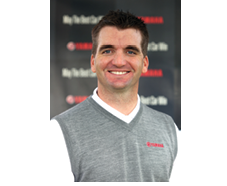 Kennesaw, Ga. (May 23, 2017) – Yamaha Golf-Car Co. has announced the promotion of Brooks West, PGA, to national sales manager – U.S. direct sales, according to company president Tom McDonald.
West most recently served as Yamaha's seven-state, East Coast regional sales manager, during which he was nominated to Yamaha's Regional Executive Program, where future leaders within the global Yamaha family are tapped for accelerated growth and training. Prior to that he was Yamaha's district sales manager for Tennessee, northern Mississippi and northern Alabama.
He had previously caddied on both the PGA TOUR and Nationwide Tour, where he was on the bag for Jerod Turner's win at the 2009 Soboba Classic. Prior to that West served as a sales representative for AHEAD, a premium customized headwear, apparel and accessories brand.
West began his management career in golf as the head golf professional at Dorado Beach Resort, a stunning oceanfront property west of San Juan, Puerto Rico.
"The Yamaha family couldn't be more proud of Brooks for his tireless dedication to advanced learning, compelling management and presentation skills, and upbeat client interaction," said Yamaha President Tom McDonald.
McDonald added that, "Brooks will be overseeing Yamaha Golf-Car Company's direct sales team, taking over for Kevin Norcross who previously held the position for the last 12 years. This move allows Kevin more time to focus his efforts on Yamaha's extensive marketing initiatives while also continuing to oversee national accounts and export sales."
A native of Jackson, Miss., West is a graduate of Mississippi State University with a Bachelor of Business Administration in marketing, with an emphasis in professional golf management. He was elected to PGA Membership in 2004 and has held various service roles in PGA Section Leadership, including the awards committee chairman for the Middle Tennessee PGA Chapter. He and his wife Ashley are active at Midtown Fellowship and are expecting their first child this summer.
For more information about Yamaha Golf-Car Co., call 770-420-6084 or visit online at www.yamahagolfcar.com. ❂
About Yamaha Golf-Car Co.:
The Yamaha Golf-Car Co., headquartered in Newnan, Georgia since 1988, manufactures the most highly engineered, highest quality golf cars, utility, and specialty vehicles in the industry. The company was the first to develop Electronic Fuel Injection technology in a golf car, producing the best gas mileage and smallest carbon footprint, the first golf car with fully independent four-wheel suspension producing the smoothest ride in the game, as well as the first gas-powered car that is almost as quiet as an electric. Yamaha Golf-Car Company's sales and marketing headquarters are located in Kennesaw, Ga.
---
Nivel Supports Dealer at 2nd Annual Golf Cart Show
Hammond, LA (May 6, 2017) – Nivel was present at Interstate Golf Cars' 2nd Annual Golf Cart Show. Mark Mildenberger, Nivel's regional territory manager for the Gulf States, said this year's event doubled in growth from the previous year.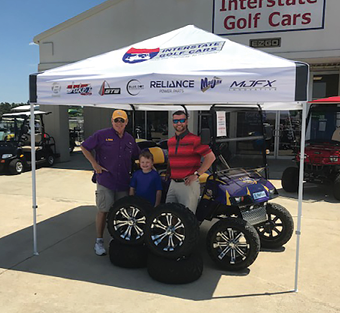 Having a sales representative at the Golf Cart Show helped Interstate Golf Cars stand out as a dealer. The store's tire and wheel raffle helped raise product awareness and increase sales. According to Mark, "These events are key to many things because we get to interact with our dealers more. We also receive feedback and provide expert advice on products to their direct customers. Shows like this also solidify and strengthen our relationship with our dealers." ❂
---
Nivel Participates in Jacksonville 5k Corporate Run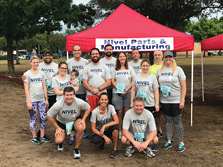 Jacksonville, Fla. (May 4, 2017) – Nivel had representatives from all departments present at the 2017 Corporate Run 5K, including CEO, David Coolidge. The run which attracted over 4,000 participants, is an event open to employees of corporations, government agencies, financial institutions and individuals. All levels of runners and walkers are encouraged to participate. The team sported t-shirts made just for the occasion. The message on the back of the shirt appropriately reads, "You're following the leader in golf cart parts & accessories."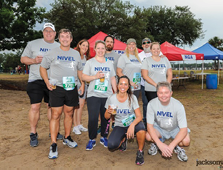 Just like last year, Mother Nature let loose on the runners, soaking everyone, but the runners said it helped with the heat. The race was sponsored by Montoya & Associates, benefiting Duval County High School Cross Country and Track Programs. ❂
---
"WE ARE GOLF" Celebrates National Golf Day's 10th Anniversary on Capitol Hill
Record 175 Congressional Meetings, Nearly 200 Attendees from 35 U.S. States Showcase the Game's Benefits in D.C.
WASHINGTON, D.C. (April 26, 2017) – WE ARE GOLF – a coalition of the game's leading associations and industry partners – visited Capitol Hill for the 10th annual National Golf Day to discuss the game's nearly $70 billion economic impact, $4 billion annual charitable impact, environmental value to local communities and fitness benefits. A record 175 Congressional meetings were scheduled and nearly 200 attendees from 35 U.S. states participated.
Industry leaders met with members of Congress, the executive branch and federal agencies to highlight the two million jobs impacted by golf and the nearly $4 billion raised for charitable causes through 143,000 philanthropic events annually. Throughout the day, participants shared stories about the game's 15,000-plus diverse businesses, tax revenue creation, accessibility, tourism, ecological value and the fact that one in 75 U.S. jobs is impacted by the industry.
New for 2017, more than 100 golf industry leaders participated in a community service initiative on the National Mall the morning of April 25. The initiative focused on beautification, preservation and helping the National Park Service with turf deferred maintenance.
"I look forward to National Golf Day every year. It's a chance to visit with the folks at WE ARE GOLF here on Capitol Hill to talk about the positive impact the game has on our economy, worthy charities and personal fitness," says Congressman James E. Clyburn, assistant Democratic leader (D-SC). "I especially appreciate the opportunity to discuss expanding diversity throughout every aspect of the game of golf."
This year's event also included Mike Davis, executive director of the United States Golf Association (USGA), the PGA TOUR's Billy Hurley III, and Olympic gold medalist Dan Jansen.
"The influence of the game continues to grow. Golf continues to lead the way, in terms of not just physical strength but also mental strength and character," says Senator John Barrasso (R-WY). "Golf is a worldwide, growing global activity."
Organizations participating were the Club Managers Association of America, Golf Course Superintendents Association of America (GCSAA), Ladies Professional Golf Association (LPGA), Links to Freedom, National Alliance for Accessible Golf, National Golf Course Owners Association, PGA TOUR, Salute Military Golf Association, The First Tee, U.S. Golf Manufacturers Council, USGA, World Golf Foundation and several others.
"Celebrating our 10th anniversary was an historic moment and significant milestone for the golf industry," says Steve Mona, CEO of World Golf Foundation and administrator of WE ARE GOLF. "The game's economic, charitable, environmental and fitness benefits echoed throughout Capitol Hill as we shared golf's contributions, both locally and nationally, with our country's decision-makers."
National Golf Day featured a day-long exhibit in the Rayburn Foyer with live lessons for Congressional members and staff from 2012 PGA Teacher of the Year Michael Breed, host of "The Golf Fix" on Golf Channel and LPGA teaching professional Karen Palacios-Jansen, founder of Cardiogolf, a golf-specific fitness system. Special exhibits and activities included a "Closest to the Pin" contest on an aboutGolf simulator; state-of-the-art swing analysis from GolfTEC; a Republican vs. Democrat "Putting Challenge;" and interviews with attendees on SiriusXM PGA TOUR Radio.
Across America, Topgolf partnered with WE ARE GOLF to offer free five-minute lessons at each of its 27 U.S. locations with slow-motion video swing analysis through its Topgolf U instructional program.
Visit the social media hub to continue following the action. Through April 30, #NGD17 and tag @wearegolf were used on Facebook, Twitter and Instagram to show support for the golf industry. ❂
About WE ARE GOLF
WE ARE GOLF, created in 2010, is an industry coalition that communicates the economic, charitable and environmental impact of golf, as well the health and wellness benefits of the game and the affordability and accessibility of golf, to members of Congress, the executive Branch and regulatory agencies. The goal of WE ARE GOLF is to ensure that laws and regulations that impact the golf industry are fair and appropriate to an industry that generates nearly $70 billion in economic impact annually, impacts close to two million American jobs and generates nearly $4 billion in charitable giving each year.
For more information, please visit www.wearegolf.org.
---
Strategic Growth in Nivel's Senior Leadership Team
Jacksonville, Fla. – Scott Howat was brought on as vice president of marketing for the Specialty Vehicle Division at Nivel Parts & Manufacturing in May 2017. Howat's responsibilities will include leading the strategy, development, and activation of all product management, brand marketing, sales promotion, communications and technical support.
"Scott brings exceptional experience in all phases of product, marketing and sales support," said Brent Moore President of Nivel's SV Division. "His leadership in building growth strategies, driving positive customer experiences and creating new sales opportunities for our business will be a key asset in our future success."
Howat is an auto parts industry veteran of over 25 years and most recently was the director of NAPA sales and marketing for the Gates North American Aftermarket having joined Gates in July of 2014 as the director of marketing. Prior to joining Gates, Scott had a long and successful career in sales, marketing, product management, brand strategy, and corporate communications at Affinia Group, Dana, and Echlin and BWD. Scott is a graduate of the University of Southern New Hampshire with a Bachelor of Science degree in marketing.
In April 2017, James Seargent joined Nivel as the director of sales, B2B, specialty vehicles. James comes to Nivel with 20 years' experience in the automotive aftermarket industry, including 13 years with Robert Bosch, LLC, as a territory manager, senior marketing analyst and workshop sales team manager. His career also includes experience as an auto parts specialist and ASE certified technician. Graduating with a Bachelor of Science in automotive technology, James' experience in the automotive industry secures him as a strategic asset to the Nivel team. Outside the office, James enjoys road course racing and mountain bike racing in his spare time.
In April 2017, Sanjay Tumula joined the Nivel team as the director of business analytics, overseeing and implementing Nivel's entire data, reporting and analytics process. With more than 20 years' experience leading large scale (5PB+) data/reporting/analytics initiatives,
Sanjay is a trusted advisor for all things relating to data. He has established enterprise architecture standards, managed enterprise data integration and data quality, and developed and monitored corporate strategy. Sanjay holds a Master of Science degree in computer science from Shippensburg University of Pennsylvania and has a Certificate of Data Science from Johns Hopkins University. ❂
---
Tim DeWitt Joins Red Hawk Sales Team
Red Hawk proudly welcomed to their Outside Sales team in April of 2017. Tim's solid industry expertise and relationship-building talents will be a strong addition to Red Hawk's expanding West Coast presence. When asked about his plans for complementing the customer-centric culture of the Red Hawk team, DeWitt states, "I've been in the business for over 25 years (and) worked for some of the biggest suppliers in the industry.
I understand the difficulties faced by dealers, including the need for quality parts, service/repair and accessories at decent prices. I love that Red Hawk is focused on helping the dealers succeed, not on pushing product; it's refreshing and not common in this industry. It is great to be part of the Red Hawk team."
Lending to his unique understanding of dealer challenges and goals, Tim comes to Red Hawk with a decade of experience as the owner/operator of Apache Golf Car Company, a full-service Club Car and Columbia Par Car dealership in Mesa, AZ.
Tim enjoyed hands-on involvement in all technical aspects of the custom, owner-specific builds in which Apache Golf Cars specialized, as well as performed research and development for motor and controller manufacturers. After selling the thriving dealership, Tim got deeper into product R&D and testing, working with several large manufacturers and distributors.
Red Hawk is excited to add Tim's expertise to their growing team of responsive outside sales representatives. ❂