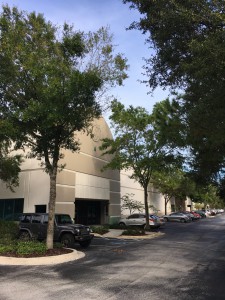 Red Dot Enclosures Hosts Open House Event Showcasing Their New Facility in Tampa
Sewing machines were whirring as the staff at Red Dot Enclosures ramped up on a Saturday, for Red Dot's Open House. September 24th was the day that Red Dot opened up its doors and invited dealers from all over the country to see how enclosures are made.
It was an all encompassing event, with the opportunity to get an up close look at the retail displays offered for Madjax and Jake's products. Tim Wyche, Vice President of Marketing, was on hand to answer questions and explain that these retail displays "are like a salesman you don't have to pay". They are in your showroom, selling, 24 hours a day.
After previewing the showroom displays, dealers were then treated to a tour of the sewing plant. The tour started at the Gerber Automated Cutting Machine. All of Red Dot's patterns are digitized and cut on the automated cutter. Computer-controlled cutting produces more accurately cut parts. Manufacturers that utilize hand cutting consistently deal with parts that are miss cut, which leads to sewing errors and products that do not fit properly. From the Gerber Cutter, the guests were able to follow an enclosure down the sewing line. They were able to witness sewers that have been on the line for over 30 years. Many have been with Red Dot since the first day and are happy to now be a part of the Nivel family. From the sewing line to the inspection area, dealers were able to see the hard work and dedication put into manufacturing Red Dot Enclosures.
Once the tour was complete, there was a demonstration of the DOOR MAX Enclosure system and a preview of the NEW Chameleon Yamaha DRIVE2 enclosure, seat cover and bag cover. There is nothing like seeing the DOOR MAX in person and understanding how easy it is to install. The New Yamaha DRIVE2 enclosure complements the luxuriousness of the car. From its new curved zipper,  to the modern design of the side panels, the New DRIVE2 Chameleon enclosure is sure to be a top seller.
The New Facility showed well at the Open House and dealers were treated to a buffet of breakfast and lunch items. Red Dot's sales manager, Eric Schneider, was there to tout the benefits of the Door Max, along with enclosure specialist Dennis Beinborn. Regional Territory Managers Steve Almerico and Mark Mildenberger were also on hand to answer any questions.
For more information on Red Dot Enclosures, call 800-328-7711.
Greg Bradley Joins Red Hawk Sales Team

Red Hawk LLC introduced Greg Bradley to the Red Hawk sales team in April of 2016. Greg's focus is to uphold and cultivate relationships between Red Hawk and the dealers as the company grows throughout the marketplace. Bradley's dealer experience includes several years working in primarily outside sales and marketing roles for companies such as Harley Davidson, E-Z-Go, Bombardier and Yamaha Motorsports.
 "I am excited and fortunate to have the opportunity to join the Red Hawk team. This is a company that displays absolute passion for the industry we serve and the individual dealer/distributor who partners with us," Bradley said. "Working in the recreational and utility product business for almost 29 years, I helped many dealers work through significant fluctuations in their operations and in sales. I hope to share my experiences with Red Hawk dealers and help each of them achieve continued growth for the next several years."
Bintelli LLC and CitEcar Electric Vehicles Ranks No. 2807 on the 2016 Inc. 5000 (the highest of any powersport manufacturer/distributor) with Three-Year Sales Growth of 124%
NEW YORK, September 12, 2016 – Inc. magazine today ranked Bintelli LLC / citEcar Electric Vehicles NO. 2807 on its 35th annual Inc. 5000, the most prestigious ranking of the nation's fastest-growing private companies. This is the highest ranking on the list for any powersports manufacturer, distributor, or dealer. The list represents a unique look at the most successful companies within the American economy's most dynamic segment— its independent small businesses. Companies such as Microsoft, Dell, Domino's Pizza, Pandora, Timberland, LinkedIn, Yelp, Zillow, and many other well-known names gained their first national exposure as honorees of the Inc. 5000.
"To be honored by Inc. 5000 as the leading powersports manufacturer and distributor is an exciting accomplishment for our team," says Bintelli President, Justin Jackrel. "It validates all of the hard work our team puts in every year to continue to better our products, offerings, and dealer network. Additionally, our newest program released this year – the Flagship Dealership Program – has been created to bring young entrepreneurs into the powersports dealership industry. We assist them with fundraising, training, and the setup and daily operation of their dealership, along with providing inventory and coaching them on a daily basis to ensure they enter the ranks of the top tier dealers nationwide. With the Flagship Program, that will continue to infuse new talent into our industry, and the never-ending quest for internal improvement, Bintelli and citEcar Electric Vehicles are only beginning to scratch the surface of the contributions we can bring to our industry. I would like to thank Inc. 5000 for this prestigious honor, as well as all of our amazing staff and members of our dealer family!"
The 2016 Inc. 5000, unveiled online at Inc.com and with the top 500 companies featured in the September issue of Inc. is the most competitive crop in the list's history. The average company on the list achieved a mind-boggling three-year growth of 433%. The Inc. 5000's aggregate revenue is $200 billion, and the companies on the list collectively generated 640,000 jobs over the past three years, or about 8% of all jobs created in the entire economy during that period. Complete results of the Inc. 5000, including company profiles and an interactive database that can be sorted by industry, region, and other criteria, can be found at www.inc.com/inc5000.
"The Inc. 5000 list stands out where it really counts," says Inc. President and Editor-In-Chief Eric Schurenberg. "It honors real achievement by a founder or a team of them. No one makes the Inc. 5000 without building something great – usually from scratch. That's one of the hardest things to do in business, as every company founder knows. But without it, free enterprise fails."
The annual Inc. 5000 event honoring all the companies on the list will be held from October 18 through 20, in San Antonio, TX. Speakers include some of the greatest entrepreneurs of this and past generations, such as best-selling author and strategist Tony Robbins, SoulCycle co-founders Elizabeth Cutler and Julie Rice, Cornerstone OnDemand founder, president and CEO Adam Miller, Marvell Technology Group director and co-founder Weili Dai, and New Belgium Brewing co-founder and executive chair Kim Jordan.
Bintelli LLC is a powersport manufacturer and distributor that represents Bintelli Scooters, Adly Scooters, and citEcar Electric Vehicles. Headquartered in Charleston, South Carolina, Bintelli fully and proudly builds a complete line of  citEcar electric vehicles in Charleston, while also distributing high quality scooters produced in both China and Taiwan to Bintelli's specifications. All vehicles are backed by industry leading warranties and are supported by dealerships nationwide. The company offers more than 40 customizable electric vehicles to include electric golf carts, electric shuttles, commercial electric vehicles, street legal golf carts, low-speed vehicles, and Americans with Disabilities Act (ADA) compatible shuttles, along with a full line of parts and accessories. Dealership applications are being taken for territories in all fifty states. Dealerships are fully supported by American parts support, GE Flooring, and financing options for all of its products. Any entrepreneurs interested in opening a Powersports dealership are encouraged to apply for the Flagship Program, aimed to take start-ups from the concept phase to the levels of a tier-1 dealership.
Cushman® Unveils New Hauler® Utility Vehicle
Lineup — Vehicles Feature Ability for Superintendents to #BuildItYourWay

AUGUSTA, Ga. – Cushman, a Textron Specialized Vehicles brand, is proud to introduce a new line of Hauler utility vehicles built with golf-specific features to give superintendents the ability to customize vehicles to their course's specific work demands. The new Hauler 1200, Hauler 1200X, Hauler PRO and the Hauler PRO-X offer a truck-inspired design, practical dash, large bed and affordable accessories.
Cushman vehicles are designed and manufactured by Textron Specialized Vehicles Inc., a Textron Inc. (NYSE: TXT) company.
"Extensive research with superintendents steered the design of the new Cushman Hauler line and highlighted the need for a new level of versatility and performance that could tackle a variety of jobs," said Michael R. Parkhurst, Vice President, Golf for Textron Specialized Vehicles. "We worked hard to incorporate their feedback to deliver a vehicle centered on customization without sacrificing the must-have features for which our Hauler vehicles are known."
When customizing the new truck-inspired Hauler, superintendents can select from a sound-dampening 12-cubic-foot durable roto-molded polyethylene bed, or upgrade to the 15-cubic-foot fully aluminum bed for extra space. The standard poly bed includes integrated divider slots to allow for increased organization and customizable bed storage. The aluminum bed features an L-track bed system that can accommodate hooks and brackets for convenient tie-down locations and space-saving accessories. Superintendents have the option to purchase affordable Cushman genuine bed accessories, or create their own custom solution.
Functionality extends beyond the bed in the new Hauler design. New features include:
• A standard rear hitch receiver to help crews tow whatever the day demands;
• Upgraded premium turf tires that provide traction without damaging turf;
• Optional power dump for heavy lifting;
• A unique storage pocket and net within the poly bed to store a stimp meter or other small equipment;
• Optional 12V or USB outlets, to ensure tablets and smartphones don't lose power.
All Hauler PRO and Hauler PRO-X models feature a powerful 72-volt AC electric drive that can go 50 miles on a single charge. Additionally, the Hauler PRO can be equipped with an optional IntelliBrake™ system. The patented system encompasses two technologies: a motor brake that automatically slows the vehicle when traveling up or down steep grades, and a parking brake that automatically engages when the vehicle stops. This system also delivers full-time regenerative braking, redirecting energy back into the vehicle's batteries whenever the brakes are applied, recharging the batteries during use and further extending the vehicle's energy efficiency and range.
The new lineup of Hauler utility vehicles includes a highly functional dash that provides a clean, unobstructed line of sight for anyone behind the wheel. The new dash centralizes the control panel that houses everything from the directional key switch and standard horn to the optional state-of-charge meter and bed-lift switch.
Functionality of any new Hauler utility vehicle can be enhanced with customized bells and whistles. Additional affordable and versatile accessories include:
• Bed Dividers
• Brushguard
• Canopy Storage Net
• Cargo Mesh Net
• L-Track Aluminum Bed System
• Color Options
• D-Loops (for tie-downs)
• Flexible Tool Clamps
• Ladder/Hoop Rack
• Long-Handled Tool Holder
• Rearview Mirror
• ROPS-Certified Cab
• ROPS-Certified Ball Cage
• Weather Enclosure
• Ball Cage Attachment
For more information, or if you a Superintendent and would like to schedule a demonstration go to HaulerDemo.com