Global Golf Cart Market Report 2017-2025 • Red Hawk Strengthens Administrative Team • Nivel  Partners with United Way on Golf Car Build-Off • Club Car, LLC has extended a contract to Cart Mart, Inc. • M & M Golf Cars finally opens Wichita-area store • Jim Noland Remembered for His Contributions to the Golf Car Industry
---
Global Golf Cart Market Report 2017-2025:
Advance Technology Research, Key Manufacturers, Competitive Analysis and Development Forecasts
Press release from: The Insight Partners
July 25, 2017 – The Insight Partners Global Golf Cart Market Analysis to 2025 is a specialized and in-depth study of the golf cart industry with a focus on global market trends. The report aims to provide an overview of the global golf cart market with detailed market segmentation by product/application and geography. The global golf cart market is expected to witness high growth during the forecast period. The report provides key statistics on the market status of the golf cart players and offers key trends and opportunities in the market.
The report provides a detailed overview of the industry, including both qualitative and quantitative information. It provides overview and forecast of the global golf cart market based on product and application. It also provides market size and forecast until 2025 for overall golf cart market with respect to five major regions, namely: North America, Europe, Asia-Pacific (APAC), Middle East and Africa (MEA), and South America (SAM), which is broken down into respective countries and segments. The report evaluates dynamics affecting the market during the forecast period i.e., drivers, restraints, opportunities and future trends and provides exhaustive PEST analysis for all five regions.
Also, key golf cart industry players influencing the market are profiled in the study along with their SWOT analysis and market strategies. The report also focuses on leading industry players with information such as company profiles, products and services offered, financial information of last three years and key development in past five years.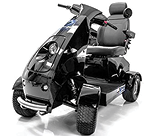 Key Company Profiles:
Club Car, LLC
EverGreen Electrical Vehicles
E-Z-GO
Columbia ParCar Corp
Yamaha Golf-Car Company
Xiamen Dalle Electric Car Co., Ltd
Hitachi Chemical Co., Ltd.
Maini Material Movement Pvt. Ltd.
Garia Luxury Golf Car
Cruise Car, Inc.
Reasons to Buy

Highlights key business priorities in order to assist companies into realigning their business strategies
Indicates crucial progressive industry trends in the golf cart market, thereby allowing players to develop effective long-term strategies
Develop/modify business expansion plans by using substantial growth offerings in developed and emerging markets.
Scrutinizes in-depth global market trends and factors driving the market, as well as those hindering it
Highlights the strategies that underpin commercial interest with respect to products, segmentation and industry verticals
Contact:
Call: +1-646-491-9876 • Email: sales@theinsightpartners.com
About:
The Insight Partners is a one-stop industry research provider of actionable intelligence, helping our clients obtain solutions to their research requirements through their syndicated and consulting research services. The Insight Partners is a specialist in technology, media, and telecommunication industries.
505, 6th floor, Amanora Township,
Amanora Chambers, East Block,
Kharadi Road, Hadapsar, Pune-411028
This release was published on openPR.
Request Sample Copy
View Complete Report
---
Red Hawk Strengthens Administrative Team
Red Hawk's promise to deliver "Good People, Great Parts" continues, with the announcement of two internal staff improvements to their existing team of committed professionals. These most recent changes are in keeping with their ultimate commitment to provide the industry's finest service and support to ensure satisfaction to their valued dealer partners.
Jen Wollschlager has been promoted to customer service manager. As a standout member of the customer service team for the past five years, Jen has consistently delivered impressive professionalism, conscientious attention to detail and a cooperative demeanor with each of her contacts. Jen will take on full responsibility for the Customer Service group.
Susan Thomas was newly hired in May as the accounts receivable and credit manager. Susan has an accomplished background in receivable and credit management and will use this expertise as she oversees invoicing, credit extension and collection efforts for Red Hawk.
Both employees will work in conjunction with the dedicated efforts of the sales team, building and contributing to Red Hawk's valued dealer partnerships going forward.
---
Nivel Partners with United Way on Golf Car Build-Off
Jacksonville, FL. (June 14, 2017) – Nivel hand-delivered a check to the United Way of Northeast Florida with proceeds donated from their 2016 Golf Car Build-Off. The Build-Off was developed as a team-building event and to educate Nivel employees about the products they manufacture and sell.
Each donation of $10 entered one chance to win a custom-built golf car. Annie Tutt, head of corporate engagement of United Way of Northeast Florida and Chipper Hoffman, head of Tocqueville/leadership giving of United Way of Northeast Florida, accepted the check on behalf of the organization. After the event, Annie and Chipper were given a tour of the Jacksonville facility.
---
Club Car, LLC has extended a contract to Cart Mart, Inc. that will expand Cart Mart's Dealership Sales and Service operations to include Los Angeles, CA.
Forms a powerful partnership in serving the world's largest market.
SAN MARCOS, CA (July 31, 2017) – Cart Mart, Inc. today announced that it has entered into an agreement with Club Car, LLC, an Ingersoll Rand company, to expand Cart Mart's dealership operations with a contract to distribute Club Car-and Carryall-branded gas-and electric-powered commercial and transportation vehicles into Los Angeles County. The company, already with three locations in Southern California, will focus on the area specifically referred to as North Los Angeles County.
Considered the #1 market in the world for small gas and commercial, electric-powered transportation, utility and street-legal low-speed vehicles, this new contract fills a gap in coverage formally maintained by Club Car as a direct market territory.
This change further expands Cart Mart's coverage to include Los Angeles, San Diego, Orange, Imperial and Riverside Counties.
In March 2016, Cart Mart completed a massive expansion into Riverside County with the opening of its third location in Rancho Mirage. Also considered one of the largest markets for private (consumer) golf cars and resort vehicles in the nation, Cart Mart's success in the desert provided much of the momentum needed to fuel its growth into the Los Angeles market. Cart Mart's Rancho Mirage facility has since assembled a world-class team, operating from a 29,000 sqft. facility that houses the largest retail golf car showroom in the country with 15,000 sqft. of showroom floor. With this new expansion, Cart Mart continues to leverage its experience of nearly 60 years in business by embracing technology and mirroring automotive industry-best practices to improve its sales and service operations. Cart Mart will continue to invest in adding people and improving its technology to support its growth and will leverage its leadership team and proprietary systems to offer world-class service to thousands of commercial and consumer customers in the L.A. area. This expansion accelerates Cart Mart's push for centralization of its service, parts, finance and HR departments under one roof and will serve as a platform for future growth.
Cart Mart's past performance for growth, profitability, its management, and proven sales and operations plans have demonstrated to Club Car that Cart Mart can support major markets and was vital to Club Car in its decision to award the
contract. It was critical that both companies share a similar vision and appetite for growth and self-improvement.
Brian Rott, president and CEO, said, We are honored to be designated for this incredible opportunity to support the Los Angeles market, and I am pleased to have the full confidence and support of Club Car through this expansion. My staff and I are excited to expand our partnership with Club Car in supporting the world's #1 brand in golf and utility vehicles.
We are fully operational and ready to support the market needs today. This is an outstanding partnership because both Cart Mart and Club Car have an aligned vision for the future of small vehicles, and Club Car already offers some of the most comprehensive, task-oriented vehicles available in the marketplace today. They are literally changing the way consumers and businesses deal with materials management and short distance, urban transportation. Los Angeles is a very important and influential market for small vehicles, and we take immense pride in supporting it."
About Cart Mart, Inc.
Cart Mart, Inc., based in San Marcos, with four locations in Southern California, first began marketing electric golf cars in 1959 and has grown to become a leading dealer/distributor in the golf and commercial vehicle industry through its neverending commitment to customer service and drive for self-improvement and growth. The company specializes in the sales, service, OEM and aftermarket replacement parts and special event rentals of golf, transportation, commercial, industrial and low speed vehicles (LSVs).
Representing top-tier brands like Club Car, Polaris, GEM, Taylor-Dunn, Brutus, Yamaha and Garia, Cart Mart supports thousands of customers throughout Southern California and Baja California, Mexico.
An award-winning organization, Cart Mart has been honored with many industry and community awards such as Club Car's Black & Gold Award given to only the very top performing dealers (2014-2017), Business of the Year for the City of San Marcos (2015), Top 150 Fastest Growing Companies in the City of San Diego (2016) and was recently honored as one of the Inc. 5000 Fastest Growing Companies (2017).
Customers include universities, amusement parks, schools, military bases, hospitals, golf courses, shopping centers, apartment communities, stadiums, hotels, resorts, airports, manufacturing plants, distribution facilities, builders and countless private individuals who require a specialized vehicle to move passengers or product in the course of work or play. Cart Mart currently employs 85 full-time and part-time employees between three locations in San Diego, Orange County and Rancho Mirage, CA, and when fully operational in our new Los Angeles location, we will employ 100+ employees.
For more information on Cart Mart, Inc., visit www.cartmart.com. For media inquiries please contact Brian Rott at (760) 744-4420, ext. 3076 or brian@cartmart.com.
---
M & M Golf Cars finally opens Wichita-area store
From Carrie Rengers, Published on June 14, 2017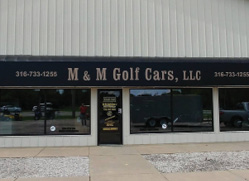 Andover, KS. – You may not know the name M&M Golf Cars, but as owner Mark Miller says, "We have been in and out of the Wichita area for 30 years."
Now, for the first time, the Mexico, Mo., company is opening its own store at 1508 E. Kellogg in Andover. The 6,000-square-foot store will be in the former Andale Lumber building.
This makes the fifth store for M&M, a Club Car distributor. Club Car makes what are better known as golf carts. Miller says the difference is a cart is something you pull, and a car is something you drive.
Miller's company has Club Car distribution rights in all of Kansas, most of Missouri and some of Iowa and Illinois. Miller says Club Car was interested in him opening a store here.
The store, which opens July 1, will have sales, parts and service.
---
NOLAND TRIBUTE
Jim Noland Remembered for His Contributions to the Golf Car Industry
Jim Noland, his wife Betty and his brother Dale Noland started Noland Car Company in the mid-1970s. Prior to starting their own golf car manufacturing business, they were a Pargo golf car dealer. When Pargo went out of business, Noland and his family began building their own vehicles since they had a solid customer base and orders.
As Noland Car Company grew, Noland and his family successfully built a large dealer network in the United States, including Hawaii, as well as international dealers. For a while, E-Z-GO® private-labeled several of Noland Car Company's vehicles and called them "People Movers" and "The Bar Car."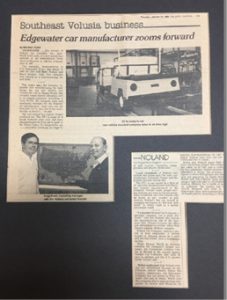 One of the largest customers of Noland Car Company was Walt Disney World in Orlando, Florida. Almost every resort on the property had Noland's vehicles, and the cars were designed according to the theme of each resort. Some notable Noland Car dealers who are still in business today, either making their own vehicles or carrying other brands, are: M&M Vehicle Corp. in Missouri, B & W Golf Cars in Florida, Satch Sales in New York and Country Club Enterprises in Massachusetts.
In 1987, Cushman purchased Noland Car Company. They continued to build their vehicles in Edgewater, Florida, for several more years and then moved the facility to Lincoln, Nebraska. Eventually, Cushman was sold to E-Z-GO in 1998.
Jim Noland passed away on June 26th at the age of 74. Mr. Noland is survived by his wife Betty, brother Dale, daughters Carrie Welsh and Deanna Ford, four grandchildren, and three great grandchildren.
His family is still in the golf car business in Florida. Now a fourth-generation small-family business, Carrie Noland Welsh, her husband Greg Welsh and their son Jimmy Welsh own Gulf Atlantic Vehicles in New Smyrna Beach. They are factory-authorized Club Car®, E-Z-GO® and Polaris/GEM dealers.
Golf Car News wishes to express our heartfelt condolences to the Noland family. The contributions that Mr. Noland made created a lasting impact on our industry.