The PGA Show is back live and in person, and organizers are anticipating a big turnout.
The PGA of America and PGA Golf Exhibitions are projecting that more than 600 golf brands will connect in person with thousands of PGA Professionals, golf buyers and industry leaders through their participation in the 2022 PGA Show, Jan. 25-28 in Orlando. The PGA Show is annually the largest gathering of PGA Members and will reunite the global golf community at the Orange County Convention Center for the 69th edition of golf's longest running, most influential business gathering.
Returning as an in-person event for the first time since January 2020 due to the global COVID-19 pandemic, the PGA Show will follow all health and safety standards, based on CDC guidelines, local public health guidance and host venue protocols, to support a safe and comfortable experience at the 2022 PGA Show.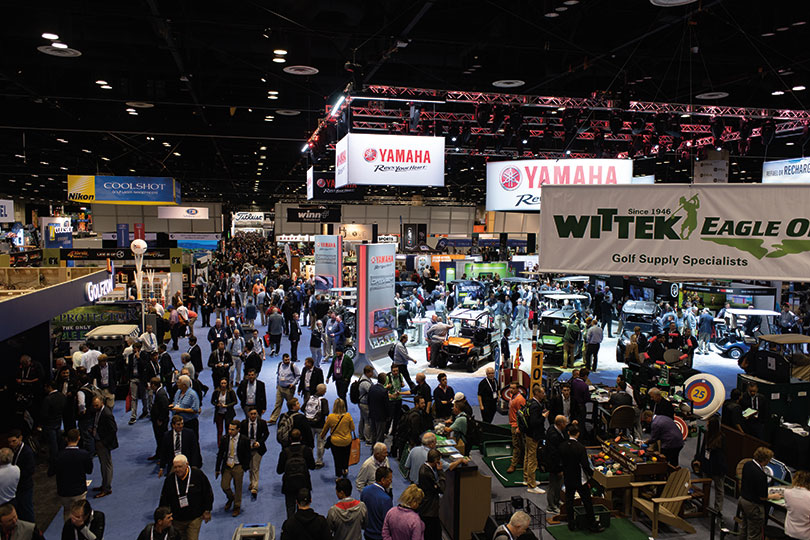 "As we transition from the pandemic, there is an especially heightened value in coming together to find better ways of doing business, uncovering products to make the game more enjoyable and personally connecting with people who share a passion for the sport and the business of golf," said PGA of America President Jim Richerson. "The PGA of America greatly values the companies who are coming to Orlando to connect personally with our Membership and align with our Association to grow the game. We are keenly focused on addressing critical industry issues and offering timely solutions for our professionals at the PGA Show to help the business of the sport move forward. It will be a welcome reunion for our Membership and the industry, and we look forward to engaging with and supporting our PGA Partners and the hundreds of other companies who have committed to helping thousands of PGA Professionals advance their business objectives at the 2022 PGA Show."
"Much has changed since we last gathered in January 2020 and the PGA Show is changing too in order to help tackle issues unique to this current business climate," said PGA Golf Exhibitions Vice President Marc Simon. "While we anticipate a temporary contraction in participation this year, we are pleased to share that we are on course to welcome more than 600 golf brands and thousands of industry stakeholders to the 2022 PGA Show. Buyers have expressed a pent-up demand for merchandise and services and miss the in-person experience with products and company leadership. There is a desire to return to peer networking and national-level education and industry programming that only PGA Show Week can provide through the collaborative efforts of the PGA of America with allied partners such as the NGCOA, AGM and others. We look forward to providing the golf community with an exceptional event experience."
---
An Emphasis on Education:
The last 18 months have seen a tremendous rise in consumer interest in golf resulting in growth and new business challenges for PGA Professionals and golf executives. The 2022 PGA Show educational and industry programming will offer solutions to the current business climate during education sessions from industry experts and during panel best practices from top performing peers. PGA Show Week will begin again with the National Golf Course Owners Association Golf Business Conference, Jan. 24-26, followed by the AGM Golf Retail Conference on Jan. 25. The world's largest professional demo day returns on Jan. 25 at the Orange County National Golf Center with a new emphasis on clubfitting education and demonstrations, moving forward with a new event name, the PGA Show Demo & Fitting Day. The PGA Education Conference also begins on Jan. 25 with outdoor coaching and clubfitting workshops at the Demo & Fitting Day and golf operations and executive management education sessions at the Convention Center. Complimentary PGA Professional workshops on Membership topics will be offered in the PGA Member Business Center during Show days. All PGA Education sessions Jan. 26-28 will be scheduled with less overlap during Show Floor hours, and most PGA Education programs will be available virtually after the event on the PGA Show 365 platform, PGA Show Connects.
---
A Return to In-Person Product Experiences and Peer Networking
After more than 18 months of virtual business dealings, many PGA Professionals and buyers are ready to return to in-person product experiences and peer networking at the PGA Show. The PGA of America and PGA Golf Exhibitions have reimagined many event aspects to enhance product discovery and testing, and opportunities for peer interactions. PGA Professionals can look forward to a new PGA of America pavilion, the PGA Hub, featuring an industry presentation stage, a PGA Professional Lounge, PGA Coaching demonstrations, PGA Career Services and activations for Association initiatives and business partners. The popular Equipment Test Center will feature new technology enhancements and relocate the putting green and short game area near the indoor driving range to create one centralized equipment experiential and testing area. The Fashion Buyer Lounge will be more centrally located in the Apparel Hall and accommodate the annual live Fashion Show. Attendees can also look forward to a return of popular Show floor destinations including the New Product Zone, Golf Travel Pavilion, Inventors Spotlight Pavilion, a new Racquet & Paddle Pavilion, Golf Fitness, Wellness & Instruction Pavilion and the Adaptive Golf Center.
Event details, hotel reservations and registration information are available at PGAShow.com.
---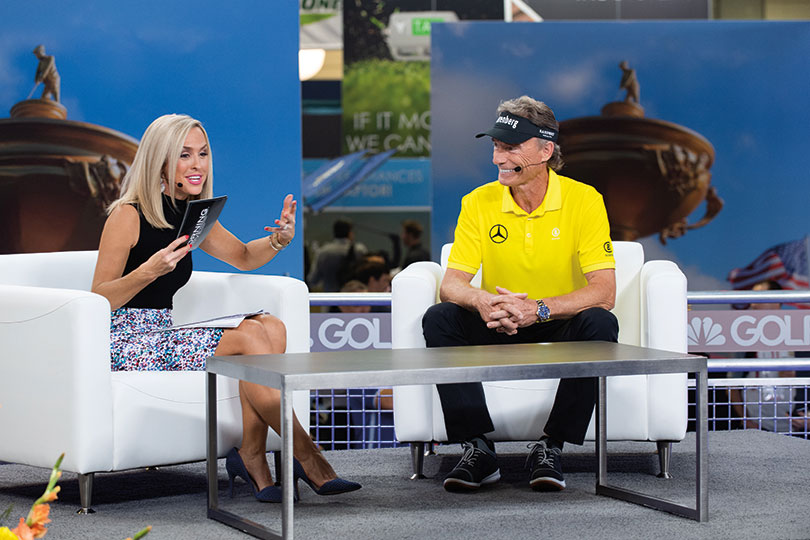 About PGA Golf Exhibitions
The PGA Show, PGA Buying & Education Summit and PGA Show Connects are organized in partnership by PGA Golf Exhibitions and the PGA of America. Since its inception in 1954, the PGA Show has grown into the largest annual business event for the global golf industry. Regional PGA Show Buying & Education Summits and the PGA Show Connects digital platform connect the industry year-round and drive business leading up to the annual PGA Show. Learn more at PGAShow.com and follow us on Twitter, Instagram and Facebook.
---
About the PGA of America
The PGA of America is one of the world's largest sports organizations, composed of nearly 28,000 PGA Professionals who work daily to grow interest and inclusion in the game of golf. For more information about the PGA of America, visit PGA.com and follow us on Twitter, Instagram and Facebook.
---
Participating Golf Brands
Many of the most recognizable brands in golf have announced their participation and support, including Bridgestone Golf, Cleveland Golf, COBRA PUMA Golf, PING, Srixon and XXIO within the PGA Equipment Forum. They will join veteran companies and those new to the golf marketplace to create a dynamic Show floor with a multitude of in-person product experiential exhibits featuring more than 600 brands. Current participating brands include:
• aboutGolf
• Bridgestone Golf
• Bushnell Golf
• Cleveland Golf
• COBRA Golf
• FlightScope
• Full Swing
• Garmin
• Golfzon
• Nikon Golf
• PING
• Srixon
• Trackman
• US Kids Golf
• XXIO
• 7Diamonds
• AHEAD
• Antigua Sportswear
• Boston Scott
• Bugatchi Uomo
• Columbia Golf
• Dunning Golf
• ECCO
• Greg Norman Collection
• Holderness & Bourne
• Imperial Headwear
• J. Lindeberg
• Johnston & Murphy
• Lyle & Scott
• Mizzen & Main
• PUMA Golf
• SanSoleil. UV50
• Apparel Skechers
• Smathers & Branson
• Straight Down
• Under Armour
• Club Car
• Corkcicle
• Easy Picker Golf
• E-Z-GO
• Fiberbuilt
• NBC Sports Next/GolfNow
• Prestwick
• Range Servant
• Stentens Golf
• Cart Accessories
• Sterling Cut Glass
• Supreme Golf
• Synthetic Turf
• Technogym
• Trugolf
• Wittek Golf Supply
• Yamaha Golf Car
---
Participating Golf, Resort, Retail and Golf Management Companies
Pre-registration and official event hotel reservations are currently open at PGAShow.com. Thousands of PGA Professionals and key buyers have pre-registered and are making plans to attend the 2022 PGA Show. A sampling of resorts, management companies and top private and public golf shops pre-registered to attend include:
• Ballybunion Golf Club
• Bel-Air Country Club
• Bellerive Country Club
• Boyne Resorts/Bay Harbor Golf Club
• Brentwood Country Club
• Carnoustie Golf Links
• Club Corp
• Congressional Country Club
• Desert Mountain
• Dick's Sporting Goods
• Escalante Golf Club
• Fairmont Banff Springs Golf Course
• Four Seasons Golf Club
• Golf Galaxy
• Golf Headquarters
• Golf USA
• GOLFTEC
• Greystone Country Club
• Haggin Oaks
• Hamilton Golf and Country Club
• Horseshoe Bay Resort
• Hudson National Golf Club
• Hyatt Lost Pines Resort
• Indigo Golf
• Innisbrook Resort
• Kiawah Island Golf Resort
• Ko Olina Golf Club
• Kohler Co.
• Muirfield Village Golf Club
• Nantucket Country Club
• OBS Sports
• PGA Tour Superstore
• Pinehurst Resort
• Reunion Resorts Club
• Riviera Country Club
• Royal County Down GC
• Royal Portrush Golf Club
• San Antonio Country Club
• The Belfry Hotel & Resort
• The Breakers
• The Broadmoor
• The Golfers Warehouse
• The Sea Pines Resort
• TPC Sawgrass
• Treetops Resorts
• Troon
• Turning Stone Resort Casino
• Wailea Country Club
• Walt Disney World Golf
• Whistling Straits