Welcome To The Industry's Premier Publication
Golf Car News Magazine started in 1972 and is the oldest and original publication for the golf, turf and industrial vehicle dealer network worldwide. Each issue is sent to over 3,000 qualified golf car dealers and does not accept subscriptions from retail
users. GCN is published once bi-monthly.
Golf Car News is considered a rich reference resource for golf car dealers. From insights into top news and events; product information, profiles and key trends, GCN offers you an easy source of reference for your business. Each issue features important news from the manufacturers in our Industry News section, our staff Guru answers readers' questions and concerns about the care and maintenance of their vehicles. GCN also features a highly-anticipated annual theme each issue, including industry guides and contests.
Look forward to new editorial, new departments, and better-than-ever coverage!
---
Release Calendar
Issue
Annual Features
Jan. / Feb. 2019
Ad Space: 12/12/2019
Ad Art: 12/17/2019
BUSINESS STRATEGIES ISSUE
Get your business in shape with strategies to help you into the New Year and beyond.
Mar. / Apr. 2019
Ad Space: 1/21/2019
Ad Art: 2/4/2019
GOLF CAR BATTERY ISSUE
Model specifications for batteries used in the Golf Car industry.
May / Jun. 2019
Ad Space: 3/18/2019
Ad Art: 4/1/2019
GCSAA/GIS & PGA TRADE SHOW REPORTS
Report from the trade show floor on developments in golf car, turf and
industrial vehicle industries.
Jul. / Aug. 2019
Ad Space: 5/20/2019
Ad Art: 6/3/2019
GOLF CAR ACCESSORIES GUIDE / 11th ANNUAL CUSTOM GOLF CART CONTEST
The complete dealer's guide for golf car accessories. The complete dealers' guide for golf car accessories. Readers submit photos of the cars that they have modified. Featuring several categories such as: Best of Show, Best Paint, Best Theme and Most Creative.
Sept. / Oct. 2019
Ad Space: 7/22/2019
Ad Art: 8/5/2019
INDUSTRIAL / TURF VEHICLE GUIDE
Complete guide listing features and specifications of current year
industrial and turf vehicles.
Nov. / Dec. 2019
Ad Space: 9/23/2019
Ad Art: 10/7/2019
ANNUAL GOLF CAR GUIDE ISSUE
Complete guide featuring photos and specifications on all the latest model gas and electric gold cars.
Editorial: Contact us if you would like to contribute content to be published in Golf Car News.
Display Ad Sizes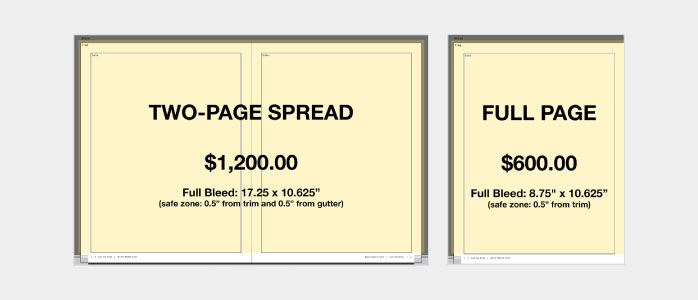 | Display | Per Issue | Dimensions |
| --- | --- | --- |
| Two-page spread | $1,200.00 | Full Bleed: 17.25 x 10.625" (safe zone: 0.5" from trim & 0.5" from gutter) |
| Full page | $600.00 | Full Bleed: 8.75" x 10.625" (safe zone: 0.5" from trim) |
| 1/2 page | $300.00 | Horizontal: 7.5" x 4.875" / Vertical: 3.625" x 10" |
| 1/4 page | $150.00 | 3.625" x 4.875" |
Classified Ad Sizes

| Classified | Per Issue | Dimensions |
| --- | --- | --- |
| Large | $125.00 | 4.90" x 2.40" / Vertical: 2.40" x 4.90" |
| Small | $50.00 | 3.58" x 2.58" |
Inserts/New Product Spotlight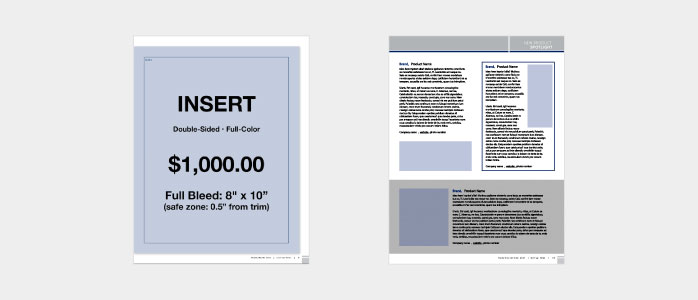 | Insert | Per Issue | Dimensions |
| --- | --- | --- |
| 1 insert | $1,000.00 | Full Bleed: 8" x 10" |
| Product Spotlight | Per Issue |
| --- | --- |
| Base Price | $150.00 |
| Discount if advertising a Display Ad (excluding classifieds) in same issue | $75.00 |
Send advertising materials via Dropbox.
Please contact us if you have an issue with uploading content.
Art Formats
We accept the following formats: InDesign, Illustrator, Photoshop and Acrobat PDF. All ads must be 300 dpi or higher and include any graphics, fonts or outlined logos used. Ads should be submitted as CMYK color, if not, we are not responsible for any changes during the conversion process.
Ad Design
For art production assistance is available, please contact us for help.
Pre-Printed Inserts
A limited amount of single sheet or multi-page inserts are available, please contact us for rates.
Advertising Terms
New advertisers MUST prepay with the first advertisement.
Advertisers and advertising agencies are bound by all conditions outlined in current advertising rate card. 10% Agency discount if paid within 30 days from the date of invoice.
Cancellations MUST be received in writing three weeks prior to publication. Prior to each issue the publisher will e-mail or fax requesting ad changes or cancellations. If we do not receive a written notification or cancellation response back from you, your ad will run "as is".
Late ads received after the materials deadline may be subject to a $50.00 late fee per page.
Payment is due in full 30 days from invoice date. Failure to do so will result in your ad automatically being canceled in any upcoming issues. The Publisher will not publish an ad if there are any invoices 60 days past due.
The Publisher reserves the right to reject any advertising. The Publisher has the right to add the word advertisement to any ad which creates the illusion of being editorial matter.
The position is at the discretion of the publisher unless a specific position is requested and available.