Join us at the PGA Merchandise Show and GIS
The beginning of the year marks expo season for the golf industry. To help with your planning, we've put together a quick reference guide for both the 2019 PGA Merchandise Show and the Golf Industry Show. Tear out our handy list of exhibitors in the golf car industry, accurate as of GCN's print date, and use it as you network at these events. We hope to see you there!
The countdown is on for the premier global golf merchandising event. It's time to pack your bags and join us at the 2019 PGA Merchandise Show in Orlando!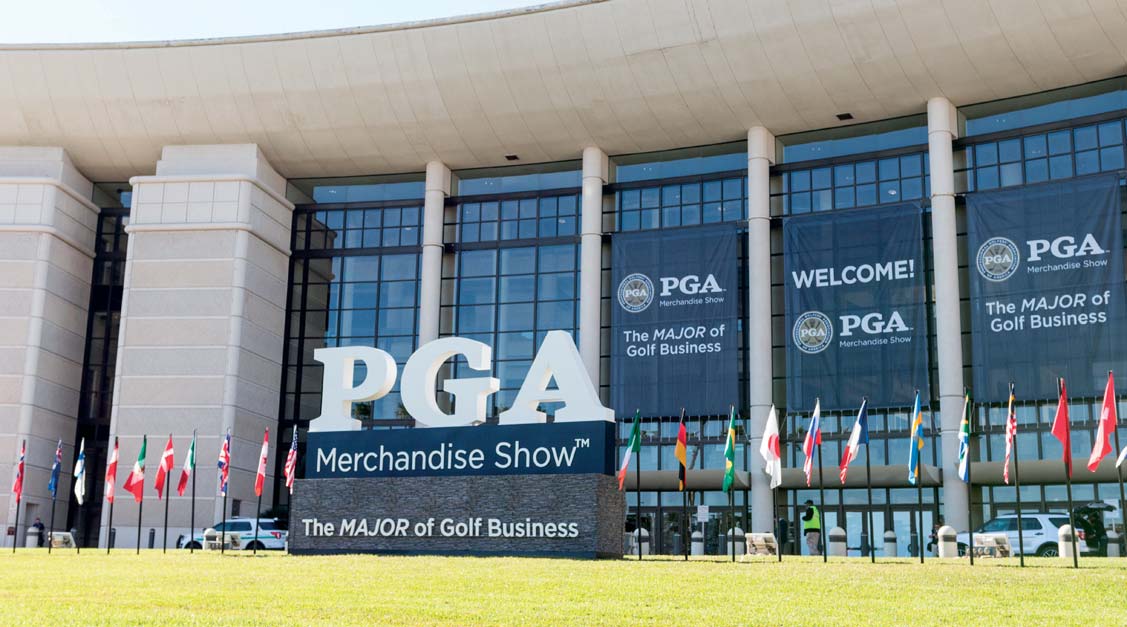 GOLF CAR INDUSTRY EXHIBITORS
---
ClickCaddie
Booth: 3518
clickcaddie.com
---
Club Car, LLC
Booth: 2928
www.clubcar.com
---
Club Pro MFG
Booth: 2453
www.clubpro.com
---
Club Protector, Inc.
Booth: 2434
www.clubprotector.com
---
Cushman
Booth: 2431
https://cushman.txtsv.com
---
Dongguan Excellence Golf & Sightseeing Car Co., Ltd
Booth: 3205
www.excar.com.cn
---
Eagle Parts and Products
Booth: 3019
www.eagleproducts.us
---
Etech Electric Vehicle Co., Ltd., a Dantin Company
Booth: 3022
www.excar.com.cn
---
E-Z-GO
Booth: 2431
www.ezgo.com
---
Flight Systems Industrial Products
Booth: 3007
www.fsip.biz
---
Garia
Booth: 2423
www.garia.com
---
GPS Quick Clip
Booth: 2204
www.gpsquickclip.com
---
Star EV (JH Global Services, Inc.)
Booth: 2357
www.starev.com
---
Nivel Specialty Vehicles
Booth: 2129
www.nivelparts.com
---
Pro-Fit
Booth: 2412
www.pro-fitparts.com
---
Silver Wolf Vehicles
Booth: 2313
www.silverwolfmotors.com
---
Stenten's Golf Cart Accessories, Inc.
Booth: 2401
www.stenten.com
---
Textron Golf
Booth: 2431
www.textrongolf.com
---
Tomberlin c/o Columbia Vehicle Group
Booth: 1623
http://tomberlin.net
---
Trojan Battery Company
Booth: 3024
www.trojanbattery.com
---
U.S. Battery
Booth: 2121
www.usbattery.com
---
Yamaha Golf Car Company
Booth: 2243
www.yamahagolfcar.com
---
Zeus Battery Products
Booth: 2012
www.zeusbatteryproducts.com
Schedule
Tuesday, January 22
PGA Show Demo Day
World's largest outdoor golf demo event

9:00 am – 5:00 pm
PGA and LPGA professionals,
media and invited guests only
Noon – 5:00 pm
All other PGA show attendees
Wed., January 23 – Friday, January 25
PGA Show and Education Conference & Exhibits
Wed., January 23: 8:30 am – 6:00 pm
Thurs., January 24: 8:30 am – 6:00 pm
Fri., January 25: 8:30 – 3:00 pm
Orange County Convention Center
West Concourse – 9800 International Drive,
Orlando, FL 32819