Cover photo courtesy of Club Car®. The car pictured is a lifted Onward™ PTV. It has premium seats, Bluetooth sound system, and 14" wheels. All Onward PTVs have LED headlights and metallic paint as standard. Build your own and become a dealer at www.clubcar.com.
---
FEATURE: James Bond: Golf Instructor
Read about How Adaptive Golf Carts Are Changing the Game for Amputees and Paraplegics with our featured article this month!
Here's an excerpt:
Krauss and Bond named Paramobile/Paragolfer and SoloRider as the carts used in their programs. Both are single-ride carts with seats that can stand you up to swing a club. While golf courses are required by law to have accessible golf carts available for players with disabilities, Bond states not enough courses follow the guidelines because they don't see a demand. But the demand is out there. Read More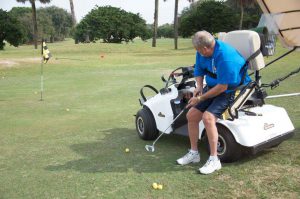 ---
GUIDE: 2017 Annual Golf Car Guide
View the latest models and specification for recreation and neighborhood uses in the Annual Golf Car Guide.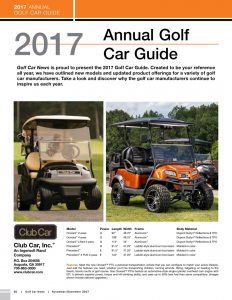 ---
2018 PGA Merchandise Show Pre-Show Planner
Check out who's going to be there and get a printable floorplan!
2018 PGA Merchandise Show Pre-Show Planner
---
NEW ADVERTISING OPPORTUNITIES
Our New Product Spotlight section highlights your New Releases, Models, and Accessories!
The In-folio Insert is a removable double-sided, full-color flyer, allowing your ad to be easily saved or posted.
View the media page for more information.