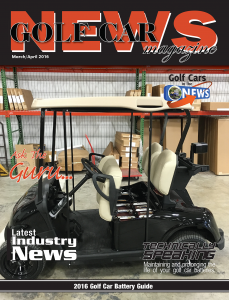 WELCOME TO THE INDUSTRY'S PREMIER PUBLICATION
Golf Car News Magazine, started in 1972, and is the oldest and original publication for the Golf, Turf and Industrial Vehicle dealer network worldwide. Each issue is sent to more than 4,700 qualified golf car dealers ONLY of this industry. The magazine is NOT sent to any end retail users. Please see the "About Us" tab for more information.
LATEST NEWS
Advertising space reservation date for the May/June 2016 issue featuring our 2016 PGA/GIS Show Reviews will be Friday April 1, 2016, all advertising material will be due Thursday April 7, 2016.
THIS MONTHS COVER PHOTO
Cover photo: Which golf car battery is best suited for your needs? See pages 42-44 for our 2016 Golf Car Battery Guide.