By Lucas Nelson
BRUNSWICK COUNTY, N.C. (WECT) – Compass Pointe Veterans Club held a Memorial Day celebration Monday with a parade of the best patriotic decorated golf carts.
It's the fourth year the Compass Pointe Veterans Club put this event together and the first time a sheriff's helicopter flew in to kick off the parade.
The Lerch family won the contest last year and said the community has been a big help to make this event a tradition.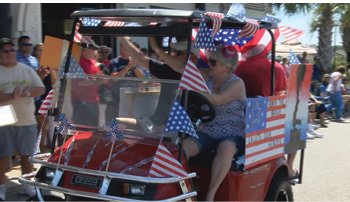 "There are a lot of veterans here, and they are so supportive of the neighborhood and the community. I don't think I could ask for a better place to be," Brigid Lerch said.
Vietnam veteran Edward Husler said he's proud to see the year-by-year progression of the event.
"It's very heartwarming. I feel it deep in my heart, and we love it every year," Husler said. "It gets bigger and better every year. I truly love it." After the parade, fallen soldiers were honored with a moment of silence and a rendition of Taps. ❂