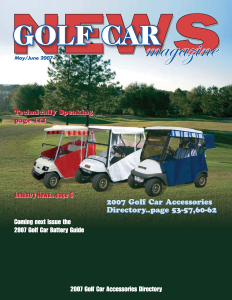 TAMPA g MANUFACTURING HAS YOU COVERED
Tampa g Manufacturing has been manufacturing and supplying the golf car industry with quality products since 1967. In 1986 Jerry Showalter purchased Tampa g from the original owner and even today, still oversees all aspects of the business. Along with Jerry, Tampa g is operated by his son Tracy and his daughter Shea.
In 2005 Tampa g moved into a beautiful 40,000 square foot, state of the art facility located in Tampa, Florida. It's under this one roof that they are able to design and manufacture all of their enclosures, windshields, and seat covers. Tampa g also distributes coolers, floor mats, wheel covers, and most other golf car accessories.
 As the recognized leader in the industry with their patented products: i.e. pocket enclosure, "tuck-a-way" valance enclosure, zipper enclosure, hinged windshield, and the floor saver, you know that Tampa g products are innovative and functional. Tampa g carries a huge selection of products for Club Car, E-Z-GO, Yamaha, Par Car, and, recently, the Fair Play and Tomberlin.
Tampa g has 35 employees who, along with the Showalter family, are committed to providing the best customer service and producing the best products on the market.
Give Tampa g a call and you'll see why Tampa g has "got you covered".