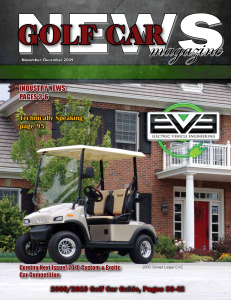 FAIRPLAY'S NEW EVE LSV
Over the last few years, more and more people have embraced Neighborhood Electric Vehicles (NEV's) and now commonly referred to as Low Speed Vehicles (LSV's).  Unless you have been living in a vacuum, you know the Federal Government has significant tax credit in place through the end of this year for qualified LSV's.  Many "Golf Car Dealers" have jumped on the band wagon while others are sitting on the sidelines.
If you are now motivated to get going, we suggest you contact a LSV supplier and find out if your market is available.  One of the benefits of being a licensed dealer is that most states protect dealers' territory with restrictions on how close another dealer with the same brand can be located.   One way to determine a quality dealer is networking.  Contact some of your trusted colleagues in the business that have LSV's already and get their opinions.  Surf the web and make some calls.
The EVE by Fairplay (on the cover) is one of the more popular LSV's offered.  Fairplay has been in the electric vehicle business for over 5 years.  There home office is in Colorado, where all the sales, marketing, tech support and new production development.  The cars are assembled in California facility with a fair amount of US content.
The EVE LSV comes in two models. The ECO is the base model with a lower cost and more basic features. The DELUX (featured on the cover) has added features, such as custom aluminum wheels with upgraded tires, side turn indicator lights, Suite Seats with the distinctive embroidered EVE logo, in dash analog clock, and upgraded trim packages with burl wood or carbon fiber on the dash and steering wheel. Both models feature DOT approved safety features to keep you and your passengers safe such as four wheel brakes, one piece windshield, three point harness seat belts, side turn signals, DOT approved wheels and tires, side mirrors and a 100% electric motor capable of speeds of up to 25 mph to keep up with traffic.
To help market the EVE LSV line, Fairplay offers a variety of ways for dealers to promote the brand. An example is an attractive, prominent sign for display at the dealers business and a smaller "Electric Car Parking Only" sign, both of which are made from UV stable vinyl mounted on an aluminum plate to allow years of use. Other marketing support includes; co-op dollars for yellow pages advertising and print media to assist dealers in aligning their name with the EVE products and draw the growing number of consumers looking for an alternative form of transportation.
One of the popular selling features of the Fairplay EVE vehicle is the 44% US parts content and assembly work done right here in the USA. They use D&D motors made in New York state, front hydraulic brake system from Jake's in Pennsylvania, Curtis controllers from the Dominican Republic, Trojan batteries are made in Georgia, with seats made by Wise Seats in Arkansas and Suite Seats from Minnesota, and Stretch Plastics manufactures the DOT windshield in California, just to mention a few.
Fairplay is developing more LSV models using both high speed DC and AC configurations. They are working more competitively priced commercial vehicles that will be similar to their popular HOSS and TRANSPORT vehicle.
The EVE LSV web site is www.evelsv.com, the full Fairplay line at www.fairplaycars.com.