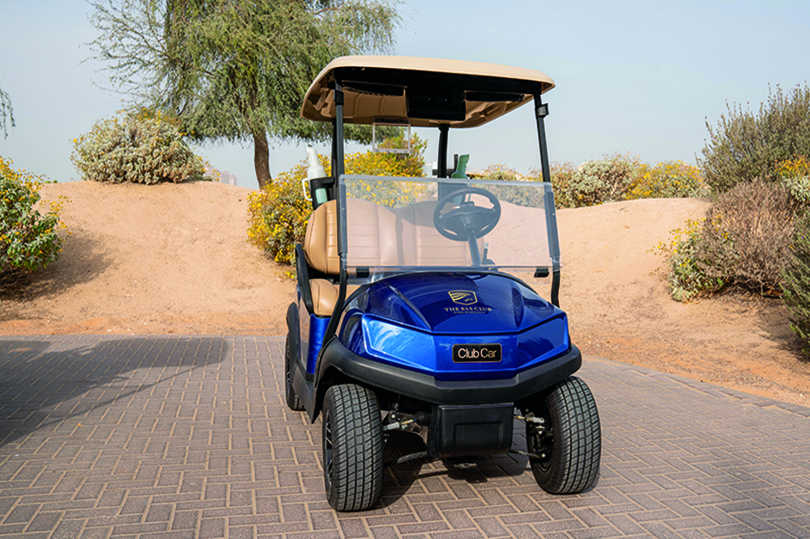 A new Club Car fleet is operating in a prestigious venue.
The Els Club Dubai is capitalizing on its new 80-strong fleet of vehicles equipped with Club Car Connect technology, as demand continues to surge for rounds of golf in the United Arab Emirates.
The Els Club, managed by Troon Golf International, personalized its new Tempo vehicles with premium sports seats and a distinctive blue metallic finish, to meet growing customer demand for first-class experiences.
"Golf is in high demand currently and at The Els Club we have always looked to select the best-in-class products for our members and guests," said General Manager Tom Rourke.
"As long-standing Club Car customers, we know we are getting market-leading vehicles that are sturdy, reliable and perform well in the Middle East's testing conditions. We are already receiving incredible feedback from both visitors and members over the quality, performance and additional accessories, including the cars' Bluetooth speakers and USB ports.
"Club Car Connect allows us to monitor in real time where golfers are on the golf course and to communicate directly with the vehicles out on the course, as well as allowing golfers themselves to contact the pro shop and clubhouse while out on their round.
"From pace of play to the golfers' needs, this makes the player assistants' role on the course considerably more efficient. It really is the next level of fleet automation and optimization."
In addition to providing a personal user experience, the Connect GPS-based technology also enables clubs to define course boundaries, geofencing out-of-bound zones and no-go areas, as well as monitor each car's battery life and the overall health of the fleet.
Tom Rourke praised Luxury Carts, Club Car's Middle East distributor, for the team's assistance, support and going "above and beyond when the new fleet was delivered, meticulously readying the vehicles to go into operation."
Designed by four-time major champion Ernie Els and opened in 2007 as part of the $3 billion Dubai Sports City project, Dubai's The Els Club quickly received worldwide acclaim for its playability and conditioning, US magazine Links naming it 'best new international course'.
Club Car, the world's largest manufacturer of small-wheel electric cars, supplies many of the world's leading golf destinations with its wide range of vehicles, and is an official supplier to the DP World Tour, the 2023 Ryder Cup, the Professional Golfers' Association (PGA) and St Andrews Links Trust.
The news came not long after Club Car completed its aquisition of Garia, a Denmark-based manufacturer of electric street legal low-speed vehicles for the utility, consumer and golf markets. The acquisition was first announced earlier in the year.
The acquisition also includes Melex, which Garia acquired in 2021 to accelerate its growth in the utility space. Melex is a manufacturer of lightweight utility vehicles based in Poland.
"We are incredibly excited that Garia and Melex have joined Club Car. Together, we share a passion for innovation, design, and commitment to our customers," said Club Car president Mark Wagner.
"We look forward to increasing the global reach of the combined brands. We see the acquisition as an opportunity to mature our go-to-market strategies and tap into new offerings—like street-legal utility and last-mile delivery. "With the most extensive line-up of low-speed electric vehicles in the industry, we anticipate a strong growth trajectory for years to come," Wagner added.
Both the Garia and Melex businesses will continue to be led by Jakob Holstein. Holstein, who will report to Wagner, said, "Club Car is known for their extensive dealer network. This, combined with their operational expertise and commitment to delivering high-quality products, will take our brands to a new level."
This acquisition is an important step in delivering on Club Car's future growth. "We will continue seeking more opportunities to grow the business organically and through additional acquisitions," said Platinum Equity Partner Jacob Kotzubei and Platinum Equity Managing Director Matthew Louie in a joint statement. "We look forward to the combination of these businesses and the great potential this unlocks for us all."