Congratulations to all our Winners! 

BEST OF SHOW

– Gulf Coast Golf Carts
Description of Build:
USA Air Brush Body
6 inch Madjax Lift Kit
Blue Rims
Custom Seats
Lights
Rear Flip Seat
---

BEST LIFTED CAR

– Fast Custom Carts & Accessories
Cart Name: "Goliath II" — Modeled after the owners Dodge Ram Truck

Description of Build:
Club Car Precedent stretched 48v
Custom paint
Lazy Life seats with integrated head rests
Armor front bumper with winch
Pioneer/Kicker sound system
80″ top with 360 LED light bars for lighting up the Cornhole Tournaments
Alltrax XCT 500 Amp Controller with a Plum Quick motor
LED Glow Interior and Exterior ground effects light kits
Max5 Rear Seat
Two Interior ceiling fans
6″ Jake's Spindle Lift with heavy duty front and rear springs
14″ black Dominator Wheels & 23″ Tires
---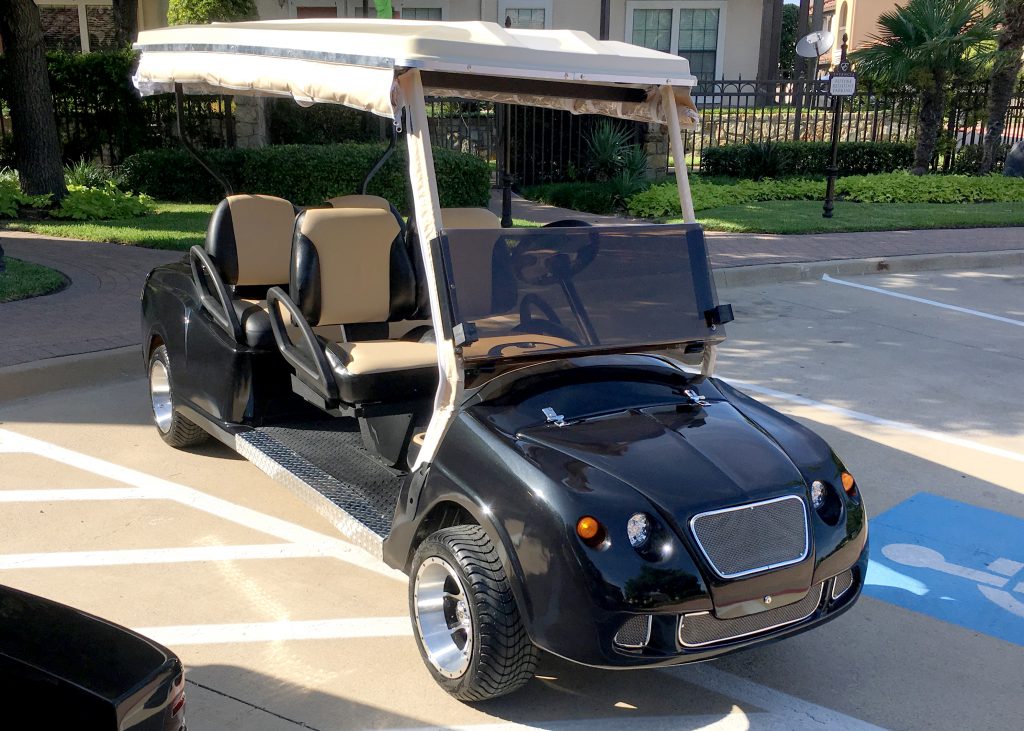 BEST 4-PASSENGER

– DFW Golf Cart Warehouse, LLC

Description of Build:
Stretch Kit with Custom Bentley Body
600 Amp Programmable Torque Controller
Custom Seats
Custom Dash
Custom Wheels
2 inch Lift
---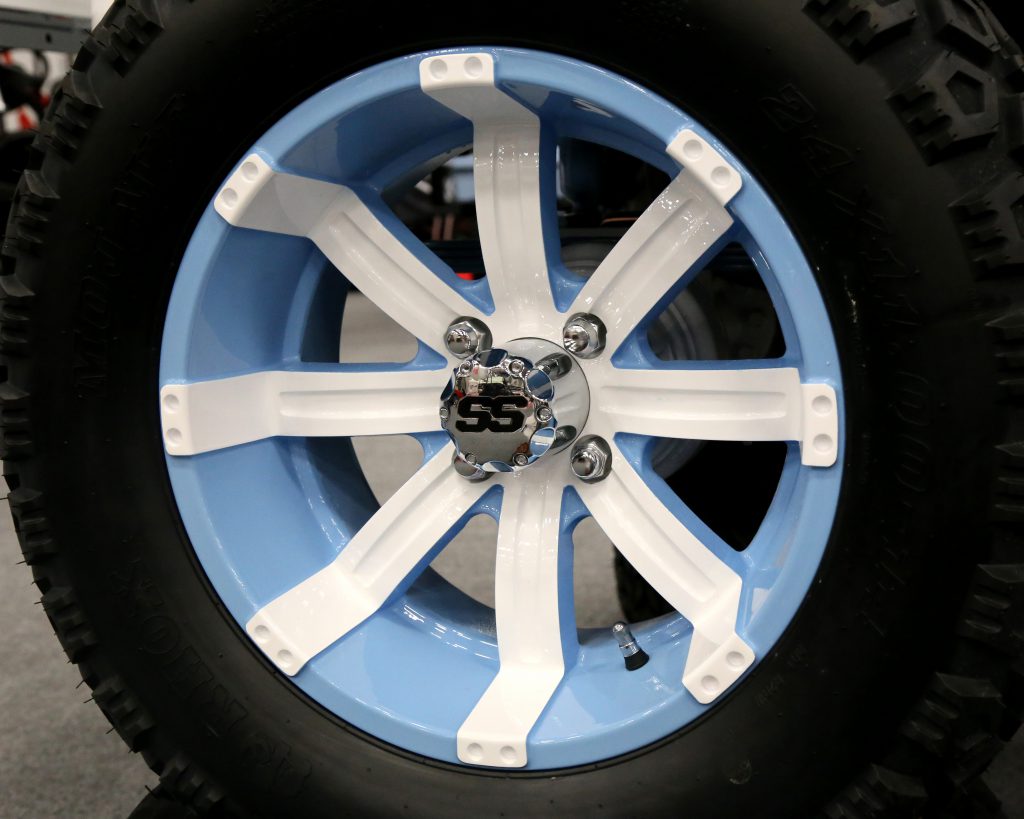 BEST WHEELS

– Golf Cart Zone


Description of Build:
14" Tempest wheels were painted to coordinate the entire look and wrapped with 24" X-Trail Tires.
---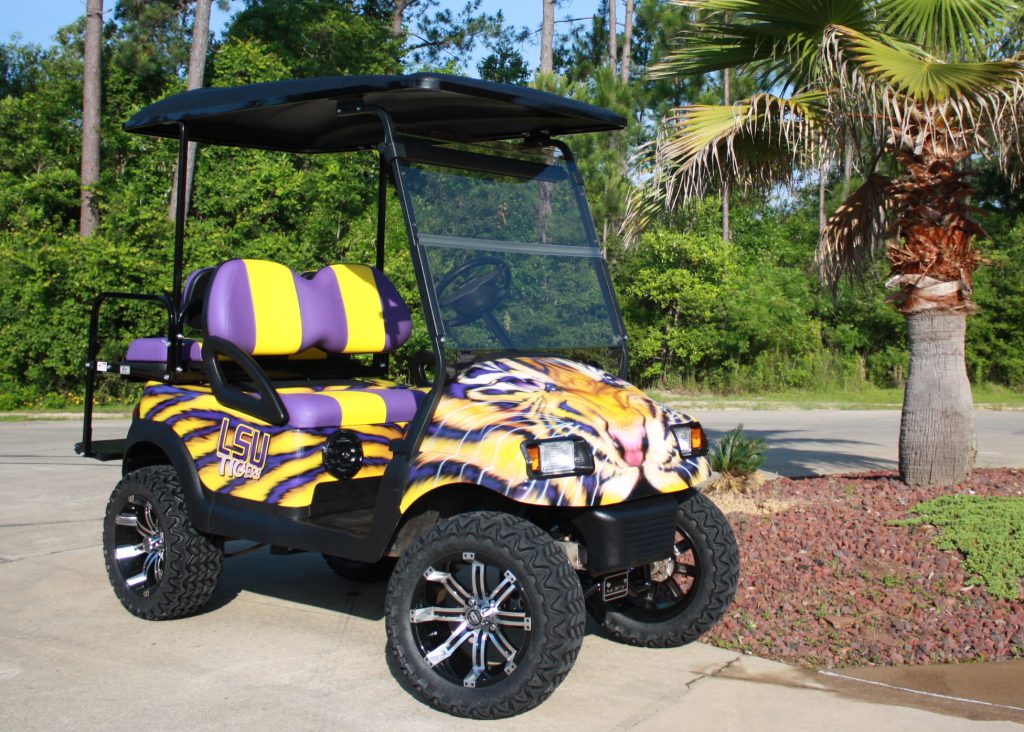 BEST THEME

– Gulf Coast Golf Carts


Description of Build:
Club Car Precedent
LSU cutom air brush body
Custom t/t Purple and
Yellow Seats
6 inch A-Arm Lift Kit
Rear Flip Seat
Lights
14″ Tempest Wheels on All-Terrain Tires
---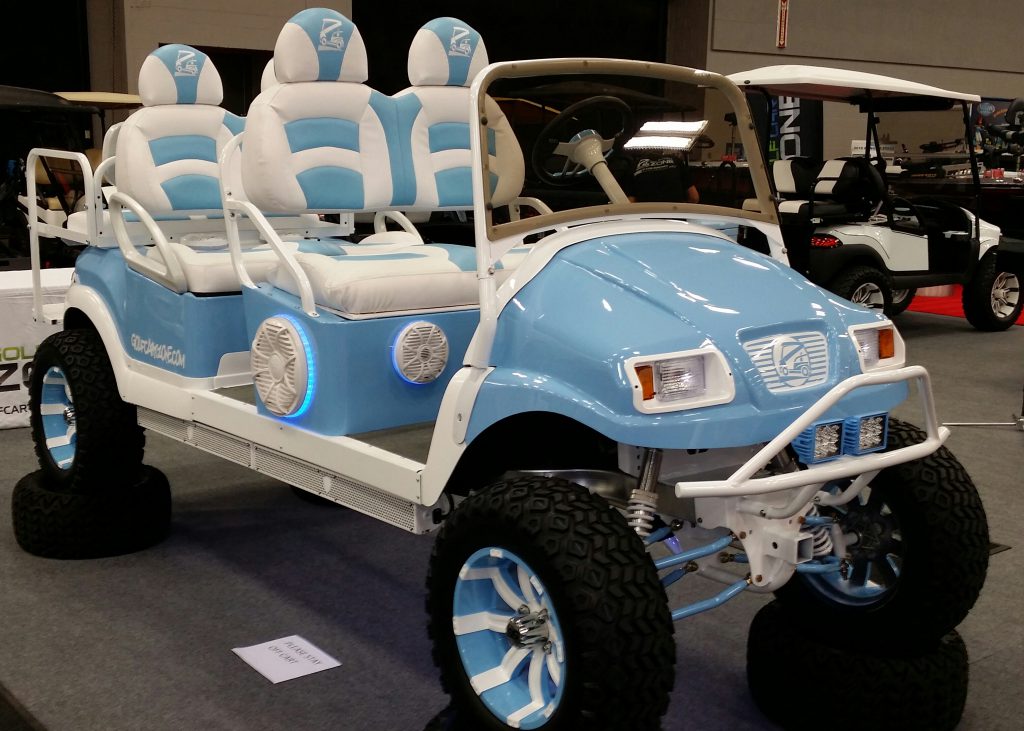 MOST CREATIVE

– Golf Cart Zone


Description of Build:
2010 Club Car Precedent Gas Powered Golf Unit stretched to a six passenger, with a rigid frame extension, fully welded
Custom painted body and accessories from the top to bottom
Long Travel Independent Front Suspension, Rear Axle, Springs, Shocks and more all feature custom two-tone paint
14″ Alloy wheels wrapped with 24″ Tires feature custom two-tone paint
Equipped with Bluetooth Audio System, running to (4) Four Channel Amplifiers,which power, (4) 12″ SUBS, (8) 6.5″ Coaxials, and (4)10 Driver (speakers per bar)
Custom painted Sound Bars under Rocker Panels
Three AGM Batteries feed Sound System for Hours of Non-Stop Action.
Equipped with a P. A., that runs throughout the Sound System, for DJ on demand.
RGB LED Lights surround speakers and enhance underneath the car
Matching Custom Seats finish the look
---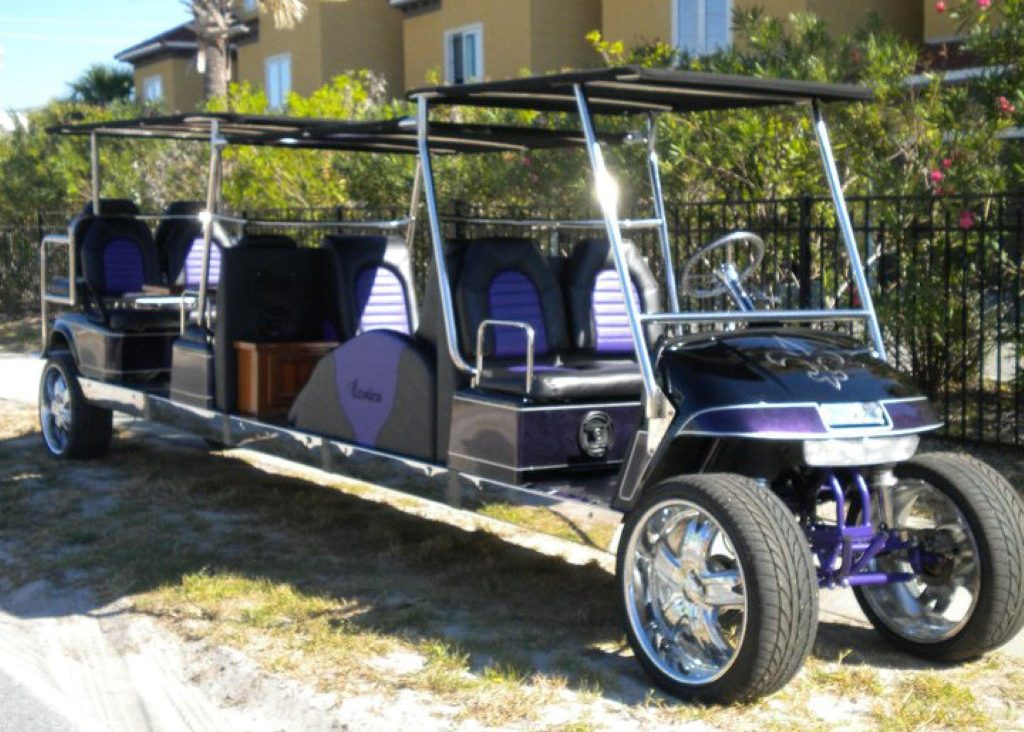 MOST UNIQUE

– Kool Cart, Inc.
Cart Name: Exotica

Description of Build:
Originally an EZ-GO TXT golf cart that has been stretched and greatly enhanced.
Dubbed "The World's Longest Golf Cart" this cart has a lot of personality as well as functionality
Cart seats 10 adults comfortably.
Custom front seats, two custom lounge seats with DVD monitors on opposite sides, custom four seat lounge area with custom wood table, and rear seat.
Customized with new paint, specialized roof system and stainless steel accents.
EXOTICA is a one-of-a-kind golf cart uesd for parades and other public outings. Nearly 24' long in length, this golf cart is hard to miss. Entertainment can be provided both inside and outside of the cart with great ease.
---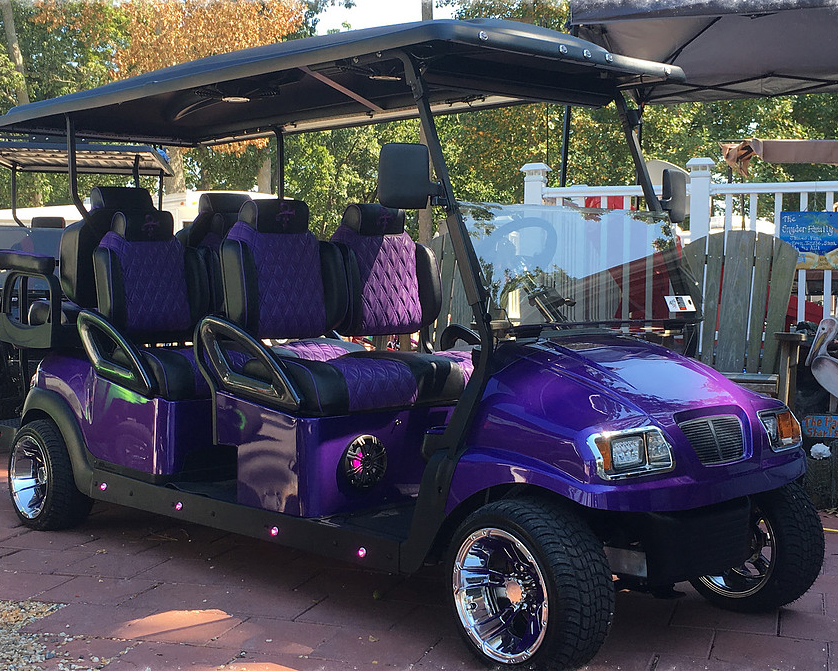 BEST 4-PASS PLUS

– Fast Custom Carts & Accessories
Cart Name: Purple Rain – A Tribute

Description of Build:
Club Car Precedent 48v Stretched
Purple Rain Custom Paint
Lazy Life seating with integrated head rests and custom embroidered logo, double diamond stitching and piping
80″ top with LED Button Lighting
Rocker Panels with LED Button Lighting
Sentry Dash modified for Stereo Unit
Interior & Exterior LED Glow effects lighting
Max5 Rear Seat Kit with Custom Armrests
Two Overhead 12v Ceiling Fans
LED Head/Tail Lights
Chrome Wheels with Purple accents and Low-Profile Radial Tires
Sound System: Pioneer BT headunit, WetSounds Stealth Soundbar, Kicker Speakers and Kicker Subwoofer2 inch Lift
---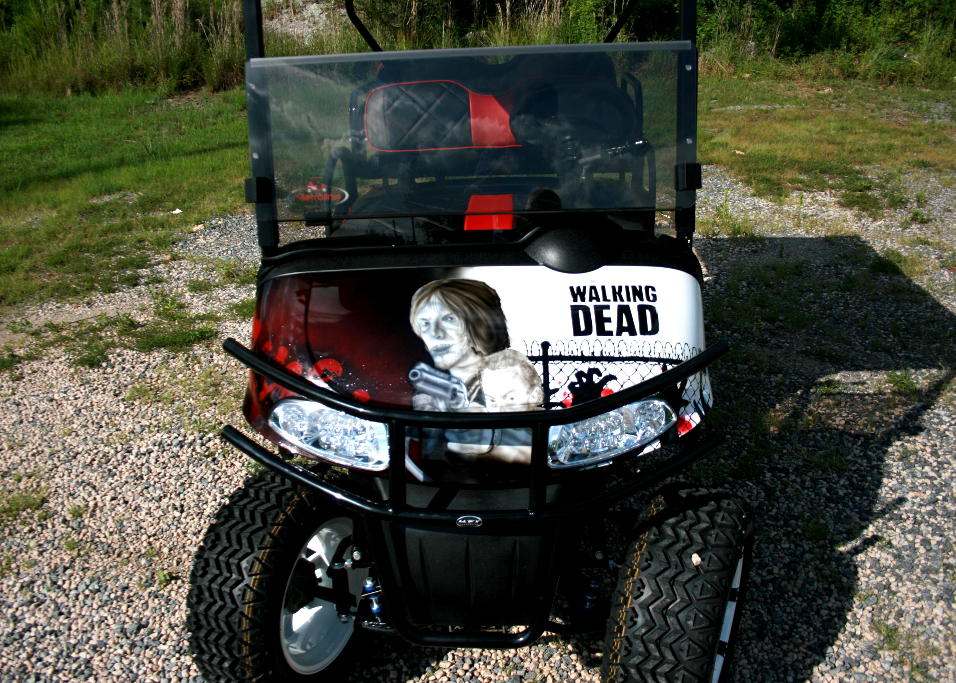 BEST PAINT

– Metrolina Carts
Cart Name: Walking Dead Cart

Description of Build: 
2013 E-Z-GO RXV with 2016 Trojan T-1275 Batteries
Custom painted Walking Dead themed body with attention to detail of the characters.
Cart also features an Ultimate light package with turn signals, Brake lights, and horn from Stenten Golf Car Accessories
Madjax Genesis 150 flip seat with Elite Golf Cart Seats and custom Diamond stitched seat covers
80" Top is Black from Custom Golf Car Supply
Madjax 6" A-Arm lift kit
14" White and Black Tempest Wheels on Desert fox tires from Nivel Parts
Madjax Tinted Windshield
Madjax Black Brush Guard
5 panel mirror
State of charge meter. Programmed to Freedom Mode for fastest speed and acceleration!
---
Don't Miss the 2018 10th Annual Custom Car Contest – Keep checking back for details.
Categories: Best Of Show, Best Lifted Car, Most Unique, Best 4-Passenger, Best 4-Pass Plus, Best Paint, Most Creative, Best Theme and Best Wheels
---
More of our 9th Annual Custom Car Participants.
[huge_it_gallery id="4″]