By Kara Coleman
Auburn, AL – An Auburn businessman who has been organizing a golf cart shuttle service for downtown will launch the business Saturday.
Grab-a-Cart will consist of 15 street-legal golf carts that can pick up people from various locations in downtown Auburn, owner Mathan Holt said this week. "We have gotten all our credentials now, all our licenses and insurance and paid all our fees, and we are ready to operate," he said.
With a top speed of about 25 miles per hour, the carts will operate in a restricted service area downtown and in certain areas on or around the Auburn
University campus.
Grab-a-Cart vehicles will be spread out around the downtown and campus area.
"We'll have one on the north, probably around the Highway 14/Martin Luther King-Donahue intersection, because lots of cars park there on game day," Holt said. "And probably around the downtown area on Glenn Avenue probably around Samford Avenue, and Gay Street-Wrights Mill Road. And then somewhere on the south side of town, probably around Lem Morrison and Donahue."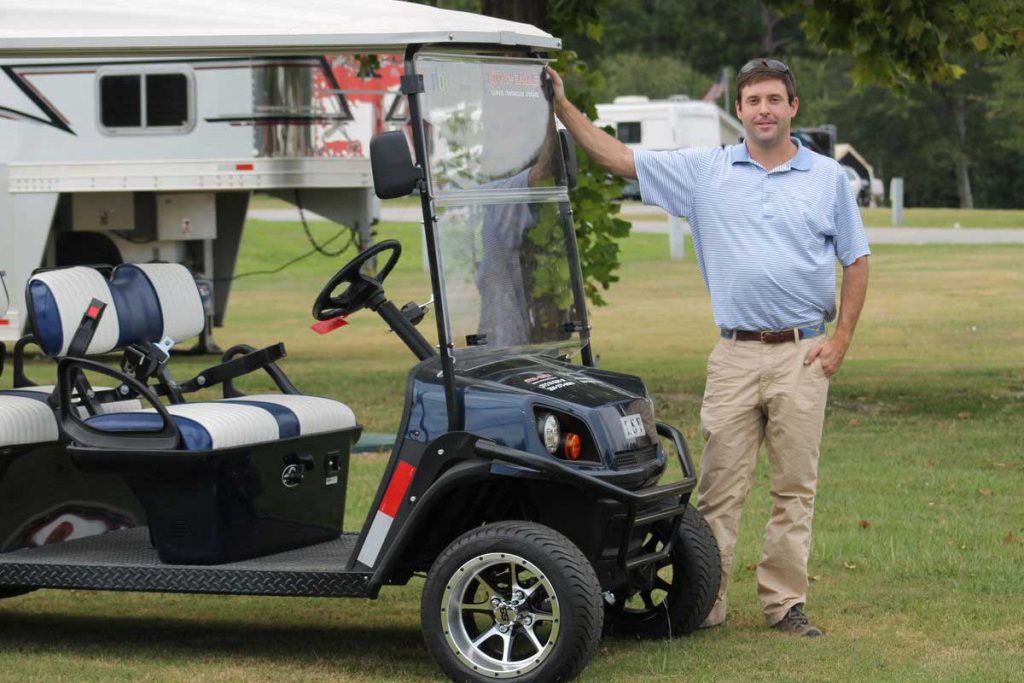 Getting the green light
In July, Holt approached the Auburn City Council, requesting the government body approve an ordinance allowing low-speed vehicles to operate legally as taxi cabs on city streets. The council voted 8-1 to pass the ordinance.
To operate legally, each cart in the fleet must have an identification number, headlights, taillights, brake lights, windshields and seatbelts.
"My idea is to provide an alternative method for people to get to and from downtown and support our downtown businesses. And of course, on game day," Holt told the city council last month. "Sometimes, as we all get a little older, we don't want to walk as far as we used to."
After getting a green light from the city, Holt said he spoke with the parking services director at Auburn University, requesting permission to operate the carts on university-owned campus roads. "I went straight to the university to see if I could get authorization to be on campus," he said. "They loved it."
The businessman hired Curt Cope Jr. to act as manager of Grab-a-Cart. Cope, an Auburn native, was living in Richmond, Va., when someone told him about an article detailing Holt's plan for the golf cart shuttles. "I read that, picked up the phone, and called Mr. Holt to see if he needed some help," Cope said. "He did, so I decided to come on down."
To request a ride on the Grab-a-Carts, passengers can call or text 334-707-3006.
"Other than calling, we will be taking flag downs," Cope said. "If a cart's cruising by, people can raise their hand and hop in." Because carts will be driving on campus, Holt said he hopes people will be able to view Grab-a-Cart through the university's website, where they would be able to track the carts in real time to see where they are. Holt and Cope intend to develop a mobile phone application that will allow people to track the carts from their phones.
"We'll have our own app, and all the drivers will have cellphones that can be tracked on this app, and you can tell where the carts are," Holt said. "You still have to call or text the main dispatch number to request a ride."
Transit of the future
Grab-a-Cart is still in the process of hiring drivers to operate the shuttles. Interested persons should call the same number used to book or request a cart.
"All our drivers should have a clean driving record and be a minimum of 21 years old," Holt said. "We're going to do a criminal background check. We're going to do an initial drug test and then random drug testing as we go. That way, the general public can be as confident as possible that we're hiring good drivers and safe drivers."
Local businesses also have the opportunity to advertise their company logos on the carts. Different packages are available.
Holt's intent for the shuttle service is to help curb the issues about parking in the downtown area. Saturday's launch is an experiment to see how well it is received.
"We've got to recover from Saturday and see how everything goes," Holt said, when asked what days and hours Grab-a-Cart will operate moving forward. "Our ultimate goal is to be in town year-round. Whether that's every day, we don't know yet. It all depends on how the public responds to this and if they're willing to use the service. If nobody wants to ride except during certain times, that's when we're going to operate."
Grab-a-Cart drivers will begin picking up passengers by noon Saturday, Holt said, and he anticipates they will continue taking people to their vehicles after the game until about midnight. He added that while there likely will be a charge for the service in the future, the Saturday launch is operating on tips only.
The company's full website is still under construction, but a map displaying the Grab-a-Cart service area is online at www.grab-a-cart.biz.
"This past year, there's been a lot of discussion about parking downtown, and getting to and from," Holt said. "We can't fix the whole problem, but we might be a part of the solution to get people downtown. I saw a need there that I could possibly try to fill. Ultimately, I'm in business. When you have a business that provides a service and makes money, it's good for the whole community." ❂