Beijing, China – Six of the biggest golfing names competing in this week's Volvo China Open made sure of their "tea time" during a special visit to the Great Wall of China on April 25.
Defending champion Li Hao-tong and fellow Chinese stars Wu Ashun and Zhang Lianwei joined England's Chris Wood and Danish duo Thorbjorn Olesen and Thomas Bjorn for a traditional Chinese tea ceremony on a watchtower of the nation's most recognizable landmark.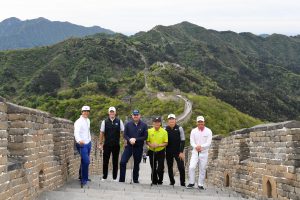 Flanked by armed ceremonial guards, the six star players were given a special introduction to the art of tea making during the countdown to the 23rd Volvo China Open, which got underway at Beijing's Topwin Golf and Country Club on Thursday, April 27. The six joined 150 other players for the RMB 20 million tournament, China's national Open Championship with European Ryder Cup Captain Bjorn particularly delighted to be back on Chinese soil.
"I was delighted I was able to fit the event in to my schedule as there is a long-standing relationship between Volvo and The European Tour," said Bjorn, winner of 15 tournaments on The European Tour. "As European Tour players we enjoy and value the relationship we have with Volvo so it's great to be back." While it was not a first visit to the Great Wall for the Great Dane, for Wood – who made his Ryder Cup debut in 2016 – it was a memorable introduction to the Great Wall at Mutianyu.
"The scale of it is unbelievable," said Wood. "I've been playing tournaments in China for many years but this is the first time I have had a chance to see the Great Wall. It's mind-blowing and I'm delighted to have had this opportunity to see it for myself." But while the players were happy to play up to the cameras during their visit to an historic section of the Great Wall that dates back to the mid-6th century, they were all focused on the job at hand in Beijing that week. Chinese golfers led the way with four different winners in the 22-year history of the Volvo China Open and 2015 champion Wu Ashun saw no reason why they couldn't add to that tally at the Topwin Golf and Country Club.
"The weather is perfect, it is great to be here and I believe all of our leading players are in good shape," said a smiling Wu. "There is no reason why another Chinese player can't win again this week – it really doesn't matter who it is."
The 23rd staging of the Volvo China Open took place from April 27-30 at Topwin Golf and Country Club, Beijing. Volvo was the first western brand to engage with golf in China in 1995, and this was Volvo's 86th tournament on the European Tour. The prize fund was RMB 20 million. The tournament was organized by the China Golf Association with Volvo Car Event Management as co-organizer and promoter and is co-sanctioned by the European Tour and OneAsia. ❂