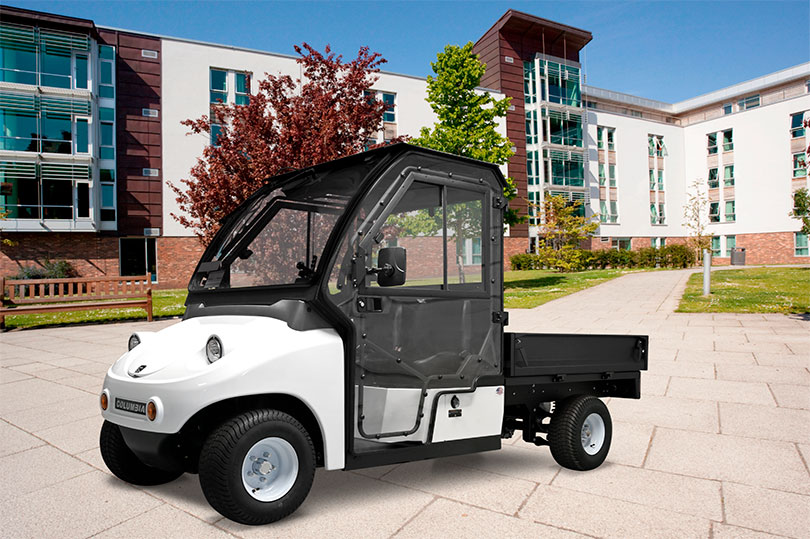 Columbia offers vehicles that can help in the hospitality industry and beyond.
The hospitality industry has been quite a roller coaster in the last few years. With the COVID-19 pandemic, resorts and hotels became virtually vacant overnight, and the advancement to a new normal has been a long, gradual transition. As travel accelerates to a familiar pace, occupancy rates have soared, but staffing numbers have not picked back up at nearly the same rate. As with numerous industries, the hospitality industry is experiencing a significant staffing shortage, which makes serving guests a tall task.
Luckily, Columbia's lineup is engineered to serve many functions in the hospitality industry. Whether you need a work vehicle equipped with grounds tools to keep your resort looking its best, a housekeeping cart for maintained cleanliness, or a guest transport vehicle to offer a comfortable ride, Columbia has curated solutions.
Transport
You work hard to give your guests the best possible experience. You strive to accomplish this by offering reliable transportation and a sharp, comfortable vehicle along with your roomy lodging. Don't desert these principles with your transportation services. Provide a pleasant ride for your guests and their luggage all in an appealing package with Columbia's Utilitruck and Journeyman.
Housekeeping
There are few aspects in hospitality that are more important than swift, thorough housekeeping service. But with vast facilities and grounds to clean and maintain, finding a vehicle that can do it all without having to stop for a charge can be difficult. Add staffing shortages, and your team absolutely needs to employ a vehicle fleet that increases your range and productivity. Columbia's Utilitruck and Journeyman can both be equipped with van boxes, cleaning supply storage, and more to handle your equipment needs. Beyond storage, opportunity charging will give your team confidence all day in your fleet and take advantage of the extensive range of up to 40-miles offered in both the Utilitruck and Journeyman.
Grounds
Columbia's Utilitruck and Journeyman are the perfect models providing equipment storage options for your tools with plenty of deck space left for bags of soil, mulch or other materials. While robust enough to perform your heavy-duty work tasks, Columbia still recognizes how important aesthetics are to you and your guests, and throughout your facilities. For this reason, these vehicles are sharp and available with several color/branding options to best suit your resort. Keep your resort grounds immaculate with a grounds fleet starting today.
Columbia provides cohesive, yet flexible fleet solutions through its commercial models. With sharp aesthetics and reliable performance, the Utilitruck and Journeyman can handle all of your team's tasks to go above and beyond for your guests.
Then there's Columbia's Chariot, the smallest transport vehicle on the market today. It has an extremely short turning radius and fits through standard doorways. Operators will love the stand-up operation of the chariot, which provides a low center of gravity and higher visibility through busy facilities or tight tunnels.
Popular options include: reverse switch, pole-mounted strobe light, hour meter, in-motion beeper, various tire/wheel combinations, and high capacity batteries.
The Chariot is packed with the features you need on the job, starting with its best-in-class sturdy frame of 14-gauge smooth steel. It's also equipped with an efficient 12-volt DC motor, extremely short turning radius, and narrow width of 29 inches, allowing you to glide through a standard doorway.
The capabilities of the Chariot don't stop there. As with their entire lineup, Columbia excels in providing custom-engineered solutions specifically for your fleet needs.