INDUSTRY NEWS
The Latest News, Press Releases and Updates from Golf Car Industry Leaders
---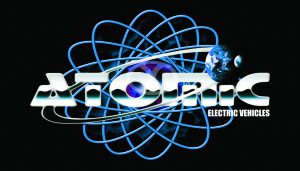 The Atomic Electric Vehicle Difference
At Atomic Electric Vehicles we wanted to solve some of the shortfalls that we had seen with golf carts. So we designed our Luxury Line of Vehicles with a tubular style frame to give better protection to the occupants. And to provide a sports car feel we have incorporated an automotive suspension with 12″ alloy wheels and tires. We used a sealed battery so there is no need to add water. The battery charger is a smart charger that assures the batteries receive a balanced charge. To keep the occupants comfortable in all weather conditions we have introduced the first Golf Car and Lsv with Air Conditioning and Heat!
New for 2017 we are introducing a Feature Rich, Value Driven Golf Cart Line called the E-Series. This E Series is manufactured in a 2 seater 4 seater and 6 seater. With Standard features like Tilt Steering Column, Speedometer, Turn Signals, Brake Lights, Hi & Low Beam Headlights and Aluminum Frame. Another Unique Feature is the capability to add a 23" tall tire with out the addition of a lift kit. For more information visit Atomic.
---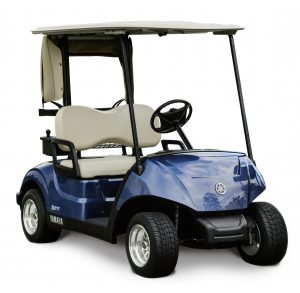 YAMAHA SELECTED AS GOLF CAR PROVIDER TO THE FOUR COURSES AT JEKYLL ISLAND GOLF CLUB
Newnan, Ga. (November 14, 2016) – Yamaha Golf-Car Company reports that it has been chosen as the golf car provider to the four courses at the Jekyll Island Golf Club in Georgia, according to company president Tom McDonald.
Yamaha recently installed 180 of its innovative new Drive2 electric golf cars at all three 18-hole courses at Jekyll Island – Pine Lakes, Indian Mound and Oleander – plus the nine-hole Great Dunes course just in time for the 37th Annual Georgia-Florida Golf Classic where 200 players got the chance to experience the brand new fleet equipped with the all-new YamaTrack GPS system. Additionally, Yamaha will provide 18 multi-passenger, beverage units and utility vehicles as part of the agreement.
Jekyll Island, whose golf heritage dates back to 1898, is the southernmost in a string of barrier islands called the Golden Isles, located off the Atlantic coast of southeast Georgia. Recognizing that Jekyll Island's natural beauty and vibrant history set it apart from any other coastal retreat, in 1947 the governor and the Georgia State Legislature established the island as a state park and entrusted its care to the Jekyll Island Authority. Today, the Jekyll Island Golf Club is a vital department of the Jekyll Island Authority.
In addition to golf, the amenities on Jekyll Island include 10 miles of pristine beaches, tennis, croquet, miles of biking trails, fishing and boating, horseback riding, dolphin cruises and a variety of ecotourism options. The island boasts a rich history, including the Jekyll Island Club, the original winter retreat built in 1886. It served as a private retreat for such influential families as the Vanderbilts, Rockefellers and Pulitzers. Today, the Queen Anne-style structure is nestled in the heart of the Jekyll Island National Historic Landmark District.
Yamaha President Tom McDonald was quoted, "We are so pleased to welcome Jekyll Island to our growing golf car family. Both Yamaha and Jekyll Island are excited to work together towards the common goal of providing an unforgettable experience for people who play at this wonderful facility."
The golf cars installed at Jekyll Island's 18-hole courses are equipped with Yamaha's innovative new YamaTrack GPS high-resolution touch screen system, which provides vivid hole diagrams, precise golf course yardages, two-way messaging with the golf shop and a menu from McCormick's Grill in the clubhouse. Future software updates will include the ability to order food in advance.
YamaTrack is a cloud-based fleet management utility that allows the course to monitor pace-of-play, ensure proper fleet rotation and security and even set geofences to control golf car traffic around greens and tees, as well as around Jekyll Island's many eco-sensitive areas.
For more information about Yamaha Golf-Car Company, call 770-254-4154 or visit online.
---
SWIFT/ALLMOBILE SINGLE RIDER GOLF CARS, THE GENESIS
Our business had been successfully supplying custom engineered power equipment for many years to diverse industries including construction, aerospace, pharmaceutical, aviation ground support, etc.
In 2012 Chris, a friend and trusted college of nearly thirty years was becoming increasingly immobilized because of diabetes. Chris a former golfer, hockey player, equestrian and fiercely independent man was depressed about his future reliance on others to do the simple life tasks. We ruminated about his situation and devised a plan to capitalize on our long historic expertise in electromechanical, hydraulic and pneumatic servo systems. We designed an integrated power transport chair and transfer lift which would enable him to dramatically extend his mobility and self-reliance.
During the development of Chris's "New Freedom" visitors to our facility seeing his prototype, related enthusiastically to its capabilities and we began to hear personal stories about their family members, friends and loved ones. We were introduced to a wife with Multiple Sclerosis, sons suffering from military related injuries, brothers crippled by work place accidents and a young nurse who could no longer fulfill her duties because of an ergonomic incident lifting a patient. We became excited by the prospect of applying our life long experience helping people who required enhanced mobility. We formed ALLMobile Technology LLC as a separate business entity to develop and produce products designed to improve personal mobility.
A major component of the business model we developed was to supply products that extend the mobility of people who have enjoyed active lifestyles. The growing population of young wounded veterans injured in Iraq, Afghanistan and of aging baby boomers emphasized this need.
We discovered the Swift single rider adaptive golf cars while searching for a platform to expand our business model. The Swift company had successfully provided safe, high quality single rider cars but was in danger of discontinuing its great work due to the untimely death of one of the partners. We conducted the normal due diligence, including test driving carts, performing technical analysis of the product and a review of the business history and track record.
Most significantly we interviewed golfers and club officials who enthusiastically endorsed the product, the company and the future of the single rider golf car's expanding role in the entire golf scene.
We were convinced.
In late August, we transported inventory and other physical assets of the Swift company from Illinois to our Western New England facility. Adding Swift carts to our product purview is fortuitous and extremely exciting.
The original reason for the existence of single rider carts was based on a reaction to regulatory demands. Single rider carts certainly enhance any club's ADA compliance capabilities whether they are private, or public access. More significantly the rapidly expanding necessity for mobility enhancement supersedes the regulatory specifics of the golf business.
The general population of the US includes record numbers of 50 to 80+ years of age. Many are dedicated to continuing their life long physical activities despite the infirmities and limitations which often occur with advancing age.
People of all age groups suffering from the effects of accident, illness and other misfortunes passionately fight for the quality of life they desire. Ironically young people severely injured by participation in sport activities constitute a large portion of this category.
Anne, 32 years old with severe spinal injury resulting from a freak bicycling accident recently acquired an adaptive golf cart. Anne before her accident played tennis, hiked mountain trails and was an avid golfer. Her new adaptive cart is enabling her reentry onto the links and is transporting her to favorite places along the wooded trails near her Berkshire Mountain retreat.
Perhaps the most significant group of people benefitting from single rider adaptive carts are our wounded warriors. For maturing Viet Nam era or young veterans of Iraq and Afghanistan, Golf is the game of pleasure, engagement and proven therapy.
The goals of developing significant new business and providing life changing solutions rarely run on the same track. Golf clubs, public and private have begun to achieve both goals by installing adaptive single rider carts into their fleets.
Regulations may come and go but expanding the golf universe keeping our existing players active and opening the game to new players is our common responsibility. Additionally, it never hurts to be prepared for enforcement of regulatory statutes.
Swift ALLMobile is ready to assist you. We have the products and support services to closely match your requirements.
We offer lease/finance plans, service contracts and consulting services to help prepare your facility for best adaptive cart utilization.
For more information visit All Mobile or call us toll free in the US at 1-888-3280 or 518-798-7211.
---
KRIS STEVENS TO TAKE ON KEY TERRITORIES AS REGIONAL SALES REP FOR NIVEL
In an effort to continue the highest level of customer service and company visibility to our loyal dealers, Nivel strives to perfect its business daily. In doing so we have identified key territories that will benefit from a dedicated account focus and these are the Southeastern states of Kentucky, Tennessee, Mississippi, Alabama and the Florida Panhandle.
We are therefore pleased to introduce a new addition to our hard working Outside Sales Team, Kristopher Stevens, who will be your Nivel representative. Kristopher will begin his duties January 2nd, 2017.
I am confident his work ethic and customer service skills will be an asset to our team and will give each of our valued customers' greater access to someone that sits on the front lines, listens to requests and ideas to ensure mutual success. Stevens is quoted as saying "One of my strongest characteristics is being able to get the job done" and goes on to add, "If there's an issue, I want to know about it and I want to fix it."
These are the traits of service and determination that forge successful, long term relationships and that will support your business and our ultimate goal to be your valued partner.
For more information visit Nivel.
---
RED HAWK ELF NIGHT VOLUNTEERS
For the third year in a row, Red Hawk adopted several Salvation Army Angels, children in need of basic goods at Christmas. Employees collect clothing, shoes, coats and toys for Angels as well as having an additional shoe and coat drive. After collection, volunteers participate in the Salvation Army Elf Night, where they provide hands, energy and people to organize and allocate all of the donated items received from the community to each Angel. Red Hawk believes in giving back to the community and their employees are happy to help provide families with the items they want and need during the holiday season.
For more information visit Red Hawk.
---
SUITE SEATS RELEASES CUSTOM GOLF CART REPLACEMENT SEAT FOR THE NEW YAMAHA DRIVE 2
Newnan, Ga. (November 14, 2016) – Yamaha Golf-Car Suite Seats recently began manufacturing custom golf cart replacement seats for the newly released Yamaha Drive 2. Designed to fit the updated chassis on the new generation Yamaha Drive 2, these seats are a perfect complement for the new series QuieTech gas powered and PowerTech electric golf carts. Built with the same high quality marine grade substrate, biocide treated foam and marine grade vinyl Suite Seats is known for, dealers can now choose from 3 styles of seating for the new Yamaha Drive 2 – the original Suite Seat, the comfortable and stylish Touring Edition, and the value priced OEM Legacy Line. Every style of seating is available in 40 standard colors and can be easily customized with a wide variety of options in just 10 working days. Suite Seats are sold through a network of over 700 dealers in the United States. For more information on becoming a dealer, call 507-359-2277 or visit www.ucuinc.com.