Garia's Newest Ambassador, Racing Legend Emmerson Fittipaldi • Red Hawk Introduces the Industry's Only Steel Belted Radial Tire • E-Z-Go® Launches Innovative Elite™ Series Vehicles To Industry • Red Hawk Is Proud to Announce Employee Promotions • Garia Golf and Leisure Cars Launch Webshop • Club Car Introduces Onward at PGA Show • Yamaha Unveils the Next Generation of Fleet Golf Cars With Its New Drive2 Lineup

---
Garia's Newest Ambassador, Racing Legend Emmerson Fittipaldi
Innovative Drive2 Gas Car Mirrors the Quiet Ride of an Electric Car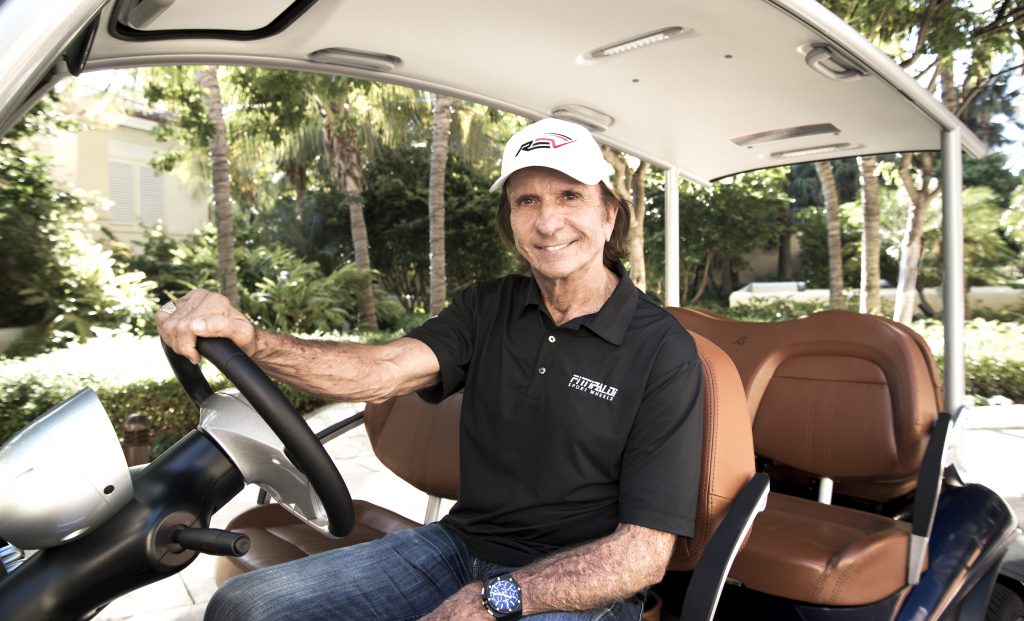 Emerson Fittipaldi, the racing legend who has won Indy 500 and Formula One championships is now a brand ambassador for Garia, the Scandinavian golf car brand that has more in common with a luxury car than a typical golf cart.
Garia offers luxury details such as a refrigerator, sport seats, and dual-wishbone suspension, which makes for superior handling and a smooth ride. Fittipaldi says of his Garia, "With everything I know about racing, everything I know about cars, you realize there is big heritage from the automotive industry in a Garia. The grip, the design of the steering wheel, the details on the dashboard, the seats, the comfort. It feels like a car, not a golf cart. And that's what makes all the difference."
Anders Lynge, Co-Founder of Garia says, "At Garia we have always taken pride in the quality of our cars. We look to the best luxury cars when designing Garia products, and that is what makes a Garia, a Garia".
Jakob Holstein, Garia CEO, says "We are honored to have such an esteemed member of the racing community such as Emerson Fittipaldi onboard with Garia. It's a great partnership as we share the same passion for cars and motor racing."
Fittipaldi resides in Key Biscayne, Florida an area known for its large golf cart population. "The Garia is perfect for Key Biscayne. I can take it everywhere, even to go shopping. Every family here has a golf cart as a car to use in the community, and I feel safer in the Garia than any other golf car."
Emerson Fittipaldi drives the 6-seater Garia Courtesy, in a Sapphire blue metallic finish, complete with refrigerator and Oak sport seats.
Garia will be launching an online shop (www.shop.garia.com) which offers their complete lineup of cars available for purchase, including a 6-seater Courtesy model, similar to Fittipaldi's.
Fittipaldi's Garia Courtesy Car Specs:
12" Chrome Wheels
Walnut Sport Seats
Sapphire Blue Metallic Finish
Refrigerator
Automotive style shocks and springs
Gloss black rear mudguards
Entry panels in brushed stainless steel
Self-retracting automotive turn signal stalk operating lights, turn signals and horn
Hi/Lo Bi-Halogen headlights, E-mark certified
E-mark certified tail lights
Windshield – automotive safety glass.
Storage space under front bonnet, fitted with electric lock
Hazard lights
Flat-bottomed sports steering wheel with hand-sewn black genuine leather
Standard bench seat, oak, walnut or cherry
Ergonomically placed direction selector
Hot dip galvanized steel frame
Scorecard and penholder on steering wheel
Golf ball and tee holder mounted on dashboard
Two storage compartments in dashboard
Double cup holders for second row passengers. Fitted with rubber grip inserts, for regular and extra-large bottles/cans
Storage room/ice box with lid mounted in dashboard
Digital cluster with all relevant driver information
Removable bin/storage bucket in same material as the seat
Soft-touch automotive style dashboard
Pre-wired GPS power outlet inside dashboard
Off, reverse, neutral and forward gears operated by ignition key
Hydrolink® water filler system
LED taillights
Reverse warning indicator
12 V output in dashboard
---
Red Hawk Introduces the Industry's Only Steel Belted Radial Tire
After 18 months of research and development, Red Hawk is proud to bring to the market the new RHOX Road Hawk 205/65R10 Steel Belted Radial Tire. This tire will revolutionize the industry; finally giving golf car owners the exceptional ride quality they deserve. The RHOX steel belted radial offers superior ride comfort, better wear resistance and decreased rolling friction leading to long run time. Red Hawk prioritized the need for this street design tire to meet golf course approval. 2017 will bring the expanded development of the steel belted radial line in a 205/55R10 size.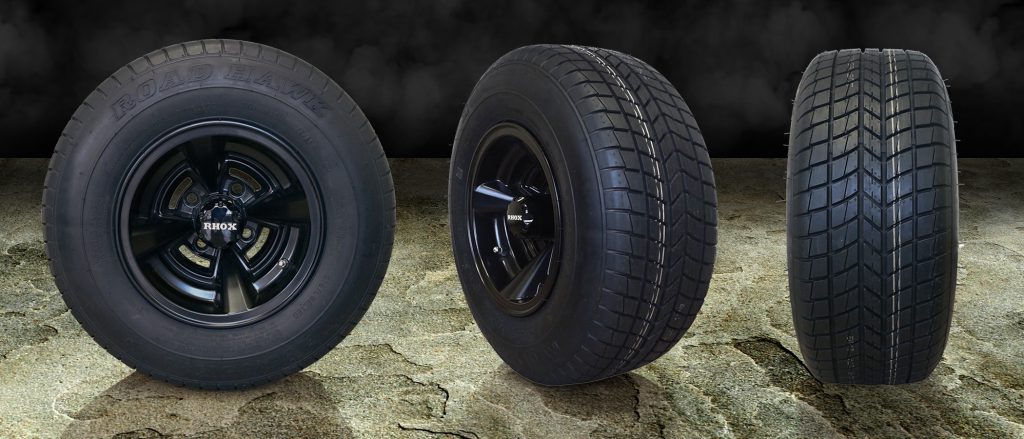 ---
E-Z-Go® Launches Innovative Elite™ Series Vehicles to Industry
Lithium-Powered Golf Fleet Vehicles Developed in Partnership with Samsung SDI
AUGUSTA, Ga. (January 26, 2017) — E-Z-GO, a Textron Specialized Vehicles business, is proud to yet again revolutionize electric golf cars with the introduction of its ELiTE Series lithium golf cars as a fleet offering. Activated by Samsung SDI lithium technology, ELiTE vehicles offer zero-maintenance batteries with a five-year unlimited amp-hour warranty and increased energy efficiency.
E-Z-GO vehicles are designed and manufactured in Augusta, Ga. by Textron Specialized Vehicles Inc., a Textron Inc. (NYSE: TXT) company.
"The E-Z-GO partnership with Samsung SDI resulted in a giant step forward for the industry when it comes to high-efficiency vehicles and zero-maintenance battery power," said Michael R. Parkhurst, Vice President, Golf for Textron Specialized Vehicles. "ELiTE Series vehicles are the biggest advancement in golf car technology since E-Z-GO introduced the E-Z-GO RXV® golf car, with its groundbreaking AC drive and IntelliBrake™ technology."
New ELiTE Series vehicles are powered by hundreds of Samsung SDI lithium cells that are loaded into a single battery pack. The battery pack is controlled by an advanced Battery Management System that monitors efficiency, temperature, state of charge and the health of the batteries. These batteries are used to safely and reliably power electric cars, e-scooters, power tools and many other electrically powered vehicles, equipment and appliances.
The revolutionary ELiTE Series vehicles are powered by zero-maintenance lithium batteries that don't require watering, terminal post checkups and cleaning like traditional lead acid batteries do. This means less time in the shop for maintenance and repairs, and more play time for the vehicles.
ELiTE Series vehicles are 59 percent* more efficient than the Club Car Precedent and 52 percent* more efficient than the Yamaha Drive AC. Charging time is significantly reduced, and ELiTE vehicles allow courses to "opportunity charge," plugging vehicles in for quick charging sessions between rounds that can rapidly restore significant levels of energy to the battery system, as opposed to the lengthy recharge cycles required by lead-acid batteries.
With less power required to charge ELiTE Series than leading lead-acid competitors, golf course managers can cut energy costs while enjoying the extra revenue that comes from all-day uptime.
The batteries in ELiTE vehicles are also lighter than traditional lead acid batteries. ELiTE Series vehicles batteries are half the size and a fraction of the weight of lead-acid batteries, reducing turf damage and soil compaction due to vehicle weight.
E-Z-GO is confident in the reliable and enduring performance that ELiTE vehicles will bring to courses, which is why the vehicles' batteries are backed by a five-year, unlimited amp-hour warranty.
E-Z-GO ELiTE Series vehicles were tested at Tijeras Creek Golf Club, in Rancho Santa Margarita, Calif., where last year, 73,000 rounds of golf were played. The award-winning course is known for its challenging hilly, brutal terrain. Tijeras Creek Golf Club regularly rotates vehicles in the current lead-acid golf car fleet in and out of service daily to allow for ample recharge time.
"From day one, the ELiTE Series vehicles have been going around our golf course anywhere from 36 to 54 holes a day, and during that time frame, we aren't having to recharge them," said Rob Heslar, Director of Golf at Tijeras Creek Golf Club. "There's a confidence factor in the ELiTE Series lithium car for me. I'm not concerned about putting my customers in an ELiTE Series golf vehicle because I know they won't worry about becoming stranded in an uncharged vehicle."
The exclusive ELiTE lithium technology will be available in the following 2017 models: RXV® ELiTE, Freedom® RXV ELiTE, Freedom RXV 2+2 ELiTE, TXT® ELiTE, Freedom TXT ELiTE
and Freedom TXT 2+2 ELiTE.
ELiTE Series vehicles will be on display during the PGA Merchandise Show in Orlando, Florida. Learn more about ELiTE Series vehicles, by visiting www.ezgo.com/elite.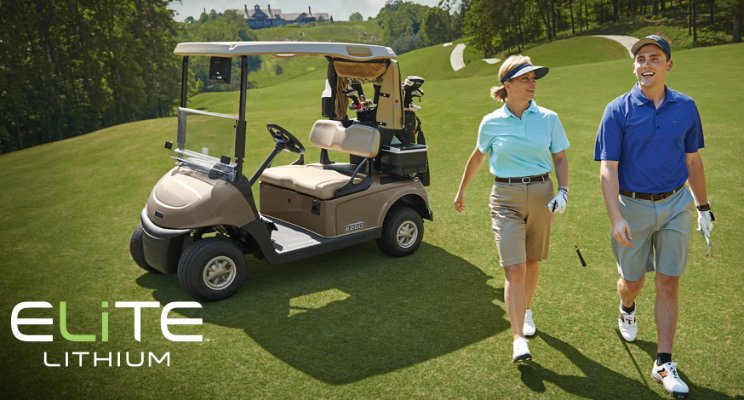 Contact: Brandon Haddock • Director, Communications • 706. 772.5931 • bhaddock@textron.com
*Externally endorsed testing. Results determined comparing the RXV vs. the Precedent and Drive AC models. Results vary according to course terrain and conditions.
2. Compared to Yamaha Drive AC
*Based on RXV technology–net energy inclusive of regen.
About E-Z-GO
E-Z-GO, a Textron Specialized Vehicles brand, is a leading global manufacturer of golf cars, utility and personal transportation vehicles, and ground support equipment. Products sold under the E-Z-GO brand include RXV and TXT fleet golf cars, Freedom RXV and Freedom TXT personal golf cars, E-Z-GO Express™ personal utility vehicles, and the 2Five® street-legal low-speed vehicle. Founded in 1954 in Augusta, Georgia, E-Z-GO became part of Textron Inc. in 1960, and today operates as part of the company's Textron Specialized Vehicles division.
About Textron Specialized Vehicles Inc.
Textron Specialized Vehicles Inc. is a leading global manufacturer of golf cars, utility and personal transportation vehicles, professional turf-care equipment, and ground support equipment. Textron Specialized Vehicles markets products under the E-Z-GO®, Cushman®, Textron Off Road, Jacobsen®, Dixie Chopper®, Ransomes®, TUG™, Douglas™, Premier™ and Safeaero™ brands; Its vehicles are found in environments ranging from golf courses to factories, airports to planned communities, and theme parks to hunting preserves.
About Textron Inc.
Textron Inc. (NYSE: TXT) is a multi-industry company that leverages its global network of aircraft, defense, industrial and finance businesses to provide customers with innovative solutions and services. Textron in known around the world for its powerful brands such as Bell Helicopter, Cessna Aircraft Company, Jacobsen, Kautex, Lycoming, E-Z-GO, Greenlee, Textron Off Road and Textron Systems. More information is available at www.textron.com.
Certain statements in this press release may project revenues or describe strategies, goals, outlook or other non-historical matters; these forward-looking statements speak only as of the date on which they are made, and we undertake no obligation to update them. These statements are subject to known and unknown risks, uncertainties, and other factors that may cause our actual results to differ materially from those expressed or implied by such forward-looking statements.
---
Red Hawk Is Proud to Announce Employee Promotions

Duffey Pitzer promoted to Vice President of Sales & Marketing. Duffey is a 25-year veteran in the golf car industry. He joined Red Hawk in 2007 after owning and operating a golf car dealership for 15 years. Duffey's focus is to provide industry leading customer service. He will lead the inside & outside sales teams, the marketing team and collaborate with the product development team for Red Hawk.
Charlie Neuman promoted to Outside Sales Manager. Charlie joined Red Hawk in 2014 with over 20-years in the golf car industry. He has experience running his own golf cart dealership as well as long tenure with E-Z-Go. Charlie will lead the Outside Sales Team while continuing to focus on new business development and growing the Red Hawk value proposition throughout the marketplace.
Amanda Ibex promoted to Sales Operations Manager. Amanda joined the Red Hawk team in 2010 with a background in sales, marketing and customer service. She will continue to work closely with the sales and marketing team in a leadership position to ensure customer satisfaction.
Rhonda Cadorette promoted to Director of Purchasing & Technology. Rhonda joined Red Hawk in 2004. She has worked in many roles through the years gaining industry, system and process knowledge. Rhonda will lead the purchasing and technology departments continuing to develop Red Hawk's internal and external systems and improve processes.
---
Garia Golf and Leisure Cars Launch Webshop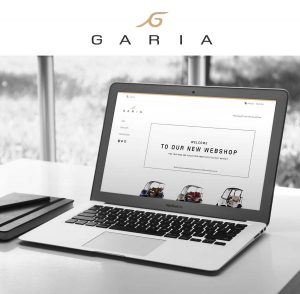 Garia luxury golf and leisure cars has opened a webshop which features Garia car models for purchase. The Garia Via, Golf, Courtesy and Monaco models are available for purchase in preconfigured combinations, some of which include refrigerators and features such as 12"chrome wheels.
A Garia Special Edition is also for sale, which is inspired by the Mercedes Benz Style Edition Garia Golf car that was released this past summer. The Garia Special Edition and is an elegant, street legal, 4-passenger car that offers few of the same luxurious features at the Mercedes Benz Style Edition Garia Golf Car, but in signature Garia style.
Cars are available at various price points, with a car for every taste. Worldwide shipping is available for all models. Visit webshop: shop.garia.com.
ABOUT GARIA
Garia is the world-renowned luxury golf and leisure car manufacturer, created through a visionary innovation and development process and built from the very best materials of the automotive industry.
Garia is a privately held company, founded in 2005 – headquartered in Denmark, with a subsidiary in the U.S. and Sales offices in UK and Asia Pacific.
All Garia golf and leisure cars offer a unique combination of design, quality and passion. Fundamentally different from traditional golf carts, Garia represents a paradigm shift in the industry, created through innovation and development process. The sporty and dynamic look that challenges current golf cart conventions originates in changes to the contour of the vehicle, resulting in a dramatic overall effect, and puts the Garia in a league of its own. With a Garia golf and leisure car, you can expect a unique combination of luxury details.
The innovative design with great details and user-friendly solutions has been awarded with an 'Honorable Mention' in the prestigious Red Dot Design Award Competition.
Contact: Marketing@garia.com
---
Club Car Introduces Onward at PGA Show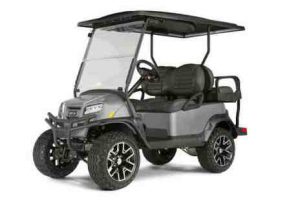 Club Car™, the world's largest manufacturer of small-wheeled, zero-emission electric and utility vehicles and a brand of Ingersoll Rand, expanded its suite of product offerings at the 2017 PGA Merchandise Show.
Club Car had a variety of vehicles at its booth, including the PRECEDENT®, Transporter XL™, CARRYALL® and Café Express.™
Club Car displayed its extensive portfolio of utility and turf utility vehicles, which highlights its commitment and ability to provide holistic solutions that satisfy all of the needs of golf course owners and resort operators.
"We continue to innovate with an eye toward the future and understand that our customers' wants and needs are changing," said Marc Dufour, president of Club Car. "We are proud of our 24-year partnership and to be an Official Partner of the PGA of America and look forward to sharing our new products at the PGA Merchandise Show."
In addition to utility and turf utility vehicles, Club Car will for the first time reveal the Onward,™ a personal transportation vehicle (PTV). A lifted, 4-passenger version will be on display at the booth. The Onward™ is Club Car's first major product launch in 10 years and offers a highly customizable platform. It is designed for master planned communities and open neighborhoods.
Club Car also announced its recent partnership with LG Chem, the world's leading automotive lithium-ion battery supplier, to develop an advanced, next generation lithium ion solution that will be scaled and used across the range of Club Car's vehicles. The introduction and use of lithium-powered vehicles is expected in 2018.
To learn more, please visit clubcar.com. For more about the Onward™ PTV, visit clubcarinfo.com/onward
About Ingersoll Rand and Club Car
Ingersoll Rand (NYSE:IR) advances the quality of life by creating comfortable, sustainable and efficient environments. Our people and our family of brands—including Club Car™, Ingersoll Rand®, Thermo King® and Trane®—work together to enhance the quality and comfort of air in homes and buildings; transport and protect food and perishables; and increase industrial productivity and efficiency. It is a $13 billion global business committed to a world of sustainable progress and enduring results. Club Car has been one of the most respected names in the golf industry for more than half a century. The Club Car product portfolio has grown to include much more than golf cars, now encompassing golf and commercial utility vehicles, multi-passenger shuttle vehicles, rough-terrain and off-road utility vehicles and street legal low-speed vehicles for commercial and consumer markets. For more information, visit www.ingersollrand.com or www.clubcar.com
---
Yamaha Unveils the Next Generation of Fleet Golf Cars with Its New Drive2 Lineup
Innovative Drive2 Gas Car Mirrors the Quiet Ride of an Electric Car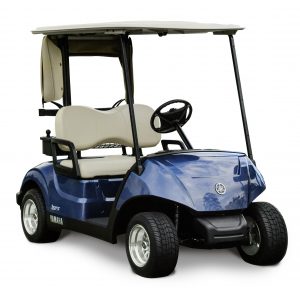 Newnan, Ga. – Yamaha Golf-Car Company has unveiled The Drive2, its next generation of gas and electric golf fleet vehicles, and the company's latest expression of refined, luxurious technology.
Designed and manufactured by Yamaha to ensure a more agile, engaging and memorable driving experience, the Drive2 golf cars are the product of ongoing enhancements to the original Drive Series introduced in 2006, combined with striking new technological innovations across all four models (EFI, Carbureted, AC & DC).
"The Drive2 lineup of golf cars is our answer to the golf industry that relies on Yamaha to continuously develop cost-saving solutions while enhancing the player's experience at their course," according to Yamaha Golf-Car Company President Tom McDonald. "The Drive2 was so named as our way of acknowledging all of the best features that we took from the Drive lineup, while creating something new and innovative that will serve the golf industry for years to come. As with all of the other great products that Yamaha produces, the Drive2 embodies Yamaha's singular dedication to being the leader in creating a lifetime of exciting and memorable experiences, as well as being a committed partner to the future of our industry."
Drive2 Fleet Vehicle Improvements
Building on 10 years' worth of continuous improvements made to the Drive line of cars, Yamaha incorporated significant improvements when designing the Drive2 lineup. Yamaha already had an advanced fully-independent automotive front suspension, but they improved the ride even further with performance-tuned rear suspension on the two electric and carbureted models. New design lines are seen on the body panels, while the rear access lid has been greatly enlarged enabling easy access to the engine and transaxle saving time during routine maintenance. The revolutionary automotive dash has been redesigned to be 34% larger, including built-in storage areas for mobile devices, range finders and multiple sized drinks. Yamaha also added no-slip mats in the front storage compartments to keep personal items more secure during the round.
Drive2 QuieTech Gas Golf Car
With QuieTech, Yamaha creates a new category of golf car combining the quietness and ride of its electric car with the profitability and performance of its gas car. In the new Drive2 QuieTech model, Yamaha engineers have developed a gas golf car that is dramatically quieter than the competition and almost as quiet as an electric car. Additionally, QuieTech is equipped with the first independent rear suspension system ever built for use in a golf car; technology inspired from Yamaha's renowned all-terrain vehicle line. It is also equipped with Yamaha's electronic fuel injection system (EFI) which Yamaha first introduced to the industry in 2014. EFI technology affords superior gas mileage, easier cold starts, and the industry's smallest carbon footprint. This model will appeal to both gas and electric customer fleet courses looking to lower their total purchase price or lease payments significantly due to the longer term and higher residual that gas cars allow for. The Drive2 gas car is also available in their proven standard carbureted fuel engine.
Drive2 PowerTech Electric Golf Car
At the heart of the Yamaha Drive2 PowerTech electric car is its dynamic alternating current (AC) engine introduced in 2015. This motor provides the most horsepower in the industry capable of handling steep hills with speed, with a great ride, and with more efficiency than a standard DC electric engine. For flat terrain courses that do not need extra power, The Drive2 electric car is also available in a standard DC engine.
For more information about Yamaha Golf-Car Company, call 770-254-4154 or visit online at www.yamahagolfcar.com.
About Yamaha Golf-Car Company:
Yamaha Golf-Car Company, headquartered in Newnan, Georgia since 1988, manufactures the most highly engineered, highest quality golf cars and utility vehicles in the industry. The company was the first to develop proprietary Electronic Fuel Injection technology, producing the greenest gasoline-powered golf car available, and with the industry's smallest carbon footprint, as well as the first with Independent Rear Suspension, a technology that offers the best ride possible in a golf car. Yamaha also offers a complete line of transportation and specialty vehicles.