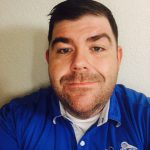 In an effort to continue the highest level of customer service and company visibility to our loyal dealers, Nivel strives to perfect its business daily. In doing so we have identified key territories that will benefit from a dedicated account focus and these are the Southeastern states of Kentucky, Tennessee, Mississippi, Alabama and the Florida Panhandle.
We are therefore pleased to introduce a new addition to our hard-working Outside Sales Team, Kristopher Stevens, who will be your Nivel representative. Kristopher will begin his duties January 2nd, 2017.
I am confident his work ethic and customer service skills will be an asset to our team and will give each of our valued customers' greater access to someone that sits on the front lines, listens to requests and ideas to ensure mutual success. Stevens is quoted as saying "One of my strongest characteristics is being able to get the job done" and goes on to add, "If there's an issue, I want to know about it and I want to fix it."
These are the traits of service and determination that forge successful, long-term relationships and that will support your business and our ultimate goal to be your valued partner.
For more information visit Nivel.