Some People Collect Stamps, Coins, Comic Books or Even Bars of Soap
By Curtis Stock, Edmonton Journal
Edmonton, Alberta – But nobody collects what Ron Lyons does: golf carts – or, as they were first known, golf cars.
"I started collecting them in 2009. The plan was to buy four or five of them and line them up on the start of the Champions Nine," said Lyons, who co-owns the 27-hole Legends Golf Course with Edwin Chan.
"Then it got a little out of hand. It was like rabbits. Five cars became 10. Ten became 20. "Before I knew it, I ended up with 84 golf cars," said Lyons, who has them on display in his golf 'museum,' which he made in a renovated maintenance facility on the Legends course. It's the only collection of golf cars in the world — all dating from 1949 to 1969.
"The first golf car I purchased was the single-seater Bobcat golf scooter that was produced between 1957 and 1962 and which used Bob Hope in their advertisements," said Lyons of the scooter which had the clubs facing forward and between the driver's legs. "Whether the Bob in Bobcat is significant, I don't know." Lyons also owns the Arthritis Special — the first commercial golf car, patented in 1949 — which held four sets of clubs and four golfers, three up front and one behind and which would be driven by a caddy, who would sit in the middle.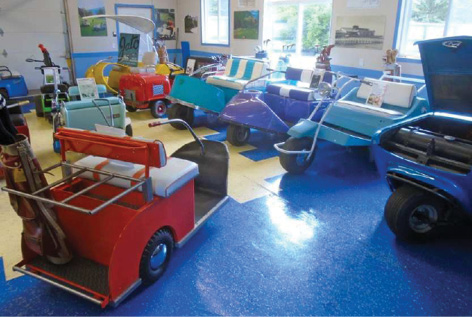 "That model quickly went out of fashion because it was not conducive to maintaining the proper pace of play," said Lyons. "If your foursome consisted of a hooker, a slicer, and both a long and short hitter, one can only imagine the chaos that sharing the same golf car would bring."
Initially called neighborhood electric vehicles (NEVs), five companies produced the vehicles to transport wounded soldiers shortly after the end of World War II.
"Then two brothers, Bev and Bill Dolan, got the idea that those small cars would be great for golfers — especially those that had physical ailments which limited their mobility," said Lyons.
"The Dolan Brothers saw an ailing Bobby Jones using one at the 1954 Masters. With only $200 between them, they started E-Z-GO, which is still the No. 1 manufacturer of golf cars in the world."
Perhaps not surprisingly, Lyons has an E-Z-GO car, too.
He also has a BMW Chadwick from the 1950s that was built for the 'rich and famous' and could go 100 km/h (approx. 60mph). The first one from that company was used by John F. Kennedy.
He's got the Master Caddy, which had bucket seats; a Terra car, which had three 18-inch wide tires; the first car designed for Club Car in 1962, a Toro which could be steered from either side with its rack and pinion steering system; a folding golf car that could fit in the trunk of a 1965 Mustang; and a Par Pony car which towed its own beer cart.
All painstakingly restored and refinished by Lyons himself, he's got them all.
"At first, golf cars were not easily accepted," said Lyons. "Course superintendents were worried that golf cars would wreck their grass, and purists didn't like the noise they made."
The invention of golf cars also pretty much ended the use of caddies.
"It killed the caddie but saved the game," said Lyons, who also has a very extensive collection of golf clubs — mostly hickories – which he started compiling in 1992, plus tees, books and golf maintenance equipment.
"The theme of the golf course is to preserve and promote the history of the game and honor its legends," said Lyons, who annually holds a Legends tournament which recognizes Alberta's top players and executives, using pre-1935 wooden clubs.
The Legends, which is always in great condition, opened their first nine, the Old Hickory, in 1994. The following year, they added the Traditions Nine, and in 2004, unveiled their Champions Nine. ❂