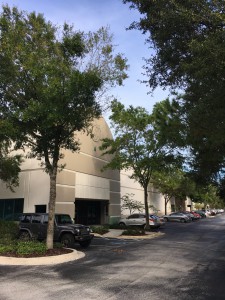 Red Dot Enclosures Hosts Open House Event Showcasing Their New Facility in Tampa
Sewing machines were whirring as the staff at Red Dot Enclosures ramped up on a Saturday, for Red Dot's Open House. September 24th was the day that Red Dot opened up its doors and invited dealers from all over the country to see how enclosures are made.
It was an all-encompassing event, with the opportunity to get an up-close look at the retail displays offered for Madjax and Jake's products. Tim Wyche, Vice President of Marketing, was on hand to answer questions and explain that these retail displays "are like a salesman you don't have to pay". They are in your showroom, selling, 24 hours a day.
After previewing the showroom displays, dealers were then treated to a tour of the sewing plant. The tour started at the Gerber Automated Cutting Machine. All of Red Dot's patterns are digitized and cut on the automated cutter. Computer-controlled cutting produces more accurately cut parts. Manufacturers that utilize hand cutting consistently deal with parts that are miss cut, which leads to sewing errors and products that do not fit properly. From the Gerber Cutter, the guests were able to follow an enclosure down the sewing line. They were able to witness sewers that have been on the line for over 30 years. Many have been with Red Dot since the first day and are happy to now be a part of the Nivel family. From the sewing line to the inspection area, dealers were able to see the hard work and dedication put into manufacturing Red Dot Enclosures.
Once the tour was complete, there was a demonstration of the DOOR MAX Enclosure system and a preview of the NEW Chameleon Yamaha DRIVE2 enclosure, seat cover and bag cover. There is nothing like seeing the DOOR MAX in person and understanding how easy it is to install. The New Yamaha DRIVE2 enclosure complements the luxuriousness of the car. From its new curved zipper to the modern design of the side panels, the New DRIVE2 Chameleon enclosure is sure to be a top seller.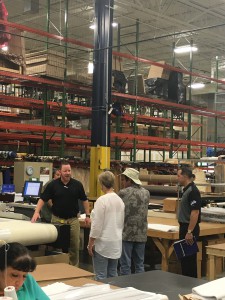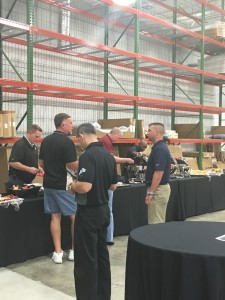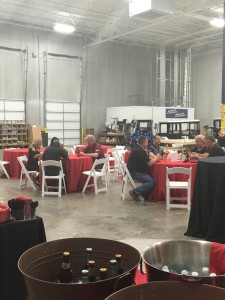 The New Facility showed well at the Open House and dealers were treated to a buffet of breakfast and lunch items. Red Dot's sales manager, Eric Schneider, was there to tout the benefits of the Door Max, along with enclosure specialist Dennis Beinborn. Regional Territory Managers Steve Almerico and Mark Mildenberger were also on hand to answer any questions.
For more information on Red Dot Enclosures, call 800-328-7711.