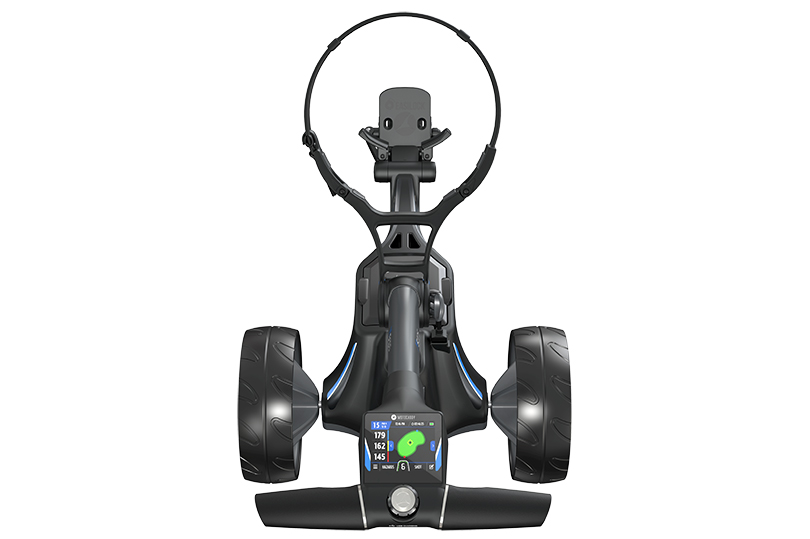 Motocaddy's rolling out the innovations.
British company Motocaddy has unveiled what it is calling the world's first cellular-enabled trolleys. The models, which are part of the brand's 2021 range of compact, folding electric trolleys, was revealed in British publication Today's Golfer.
According to Today's Golfer, Motocaddy will expand its GPS range to five models and add a high-performance GPS system to its luxury M-TECH model.
Today's Golfer reports that: "Cellular capability will be switched on this summer across the new M5 GPS, M5 GPS DHC and M-TECH models, taking the fast, accurate GPS to another level with access to more advanced golf course mapping, real-time updates and performance tracking data directly from the trolley display screen.
"A sim card and cellular aerial antenna – much like that used to connect to mobile data networks on smartphones – were also installed into all Motocaddy M5 GPS trolleys sold last year, enabling existing owners to also take advantage of the exciting new features made possible by real-time data access."
Motocaddy CEO John Helas told Today's Golfer it's next-level stuff.
"It's another world first for golf trolleys and we're really excited to build on the impressive features already offered by the M5 GPS model," he said."The M5 GPS raised the bar last year, with its user-friendly and ultra-responsive touchscreen technology combining with the unprecedented reliability offered by our M-Series range. Cellular connectivity is something entirely new for electric trolleys and with real-time data connectivity, the opportunities for future development are endless."
Annual subscribers will be able to access premium cellular features such as greenside hazard depictions, full-hole mapping, scoring statistics and round summaries.