By David A. Mann
Louisville, KY — United Parcel Service Inc. is planning to use golf carts to make package deliveries in suburban and residential areas when needed. The new delivery option comes as Kentucky law was recently loosened up on these vehicles. But Teamsters Local 89, which represents many UPS employees in Louisville, is speaking out against it.
UPS is planning to use golf carts to make package deliveries in suburban and residential areas when needed.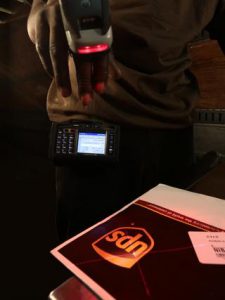 House Bill 404, approved by the Kentucky General Assembly in March and signed by Gov. Matt Bevin in April, allows commercial delivery personnel to use golf carts and low-speed vehicles in residential areas. Such vehicles had been allowed in some parts of the state already. The carts in question would have seat belts and turn signals but would not be enclosed or heated. They'd be modified to make room for more packages and be marked with a UPS logo, said Jim Mayer, public relations manager for UPS. UPS would rent PODS or other portable storage units to store the carts in a given neighborhood. Packages would be delivered to the storage unit and a driver would take them to homes using the cart. These would primarily be used during the company's peak season, between November and January, Mayer said.
Last year, the company delivered more than 700 million packages between Thanksgiving and New Year's Eve. A lot of that volume came through Louisville, where the company operates its largest air-sorting hub, called WorldPort. UPS also has an expanding ground operation here called Centennial Hub.
The union opposed the legislation that allowed golf carts and it argues that these vehicles put them at risk, according to this story from the Wall Street Journal. James DeWeese, a member of Teamsters Local 89, also spoke out against the idea in that article because cart drivers will make less than traditional truck drivers.
I reached out to DeWeese for more information on this but have not heard back yet. Mayer confirmed that the carts would largely be used by seasonal employees, who are part-time and therefore earn less.
As to the safety concerns, he said the drivers would be trained to use them and they'd be marked, titled and registered. He pointed out that children ride bikes at low speeds on residential streets too.
It's just another small, low-speed vehicle (on the roads), he said. Mayer couldn't say exactly which cities these vehicles would be used but said it's possible in Louisville. This wouldn't be the first time UPS has used carts to make deliveries. The company does this in Georgia, Florida and South Carolina.