YMMC Manufactures Yamaha ATV, Side-by-Side, Water Vehicle and Golf Cars in USA
CYPRESS, CA – (Marketwired – November 09, 2017) – Yamaha Motor Corp., USA (YMUS), is announcing that Mr. Mike Chrzanowski has been named the new President of Yamaha Motor Manufacturing Corporation of America (YMMC), effective November 1, 2017.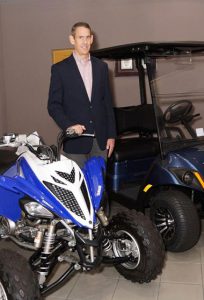 YMMC, a state-of-the-art production facility located in Newnan, Georgia, manufactures all of Yamaha's full-size ATV and Side-by-Side vehicles, as well as WaveRunner Watercraft, and Golf Cars for U.S. and worldwide distribution.
Mr. Chrzanowski, who has been promoted from his previous position of Executive Vice President at YMMC, will oversee the company's three manufacturing plants and more than 1,000 employees. Chrzanowski joined YMMC in 2001 as a plant manager, bringing with him previous experience leading and managing key operations in the automotive industry.
"Mike has been instrumental in facilitating many milestone production accomplishments during his tenure at YMMC including the 1 millionth Golf Car, 1 millionth ATV, and the production of more than 3 million vehicles in total," said Mr. Terry Okawa, President of Yamaha Motor Corporation, USA, parent company of YMMC. "We are indeed honored to have Mike now lead our Newnan Manufacturing Team and labor force as we prepare for a strong future together for our diverse line of products."
"Everyone at Yamaha is proud of our U.S. manufacturing and the quality, reliable, performance-driven products produced at YMMC," Chrzanowski said. "YMMC production provides an exceptional level of responsiveness to U.S. market needs and streamlines our U.S. distribution. I'm excited to lead YMMC into the future as our product lines continue to innovate and our
manufacturing practices continue to meet the highest quality, environmental manufacturing, and safety standards for our employees, our community, and our customers."
Mr. Mick Okumura, most recent past President of YMMC, will be returning to Japan and assuming a new position at Yamaha Motor Company, Ltd. (YMC).