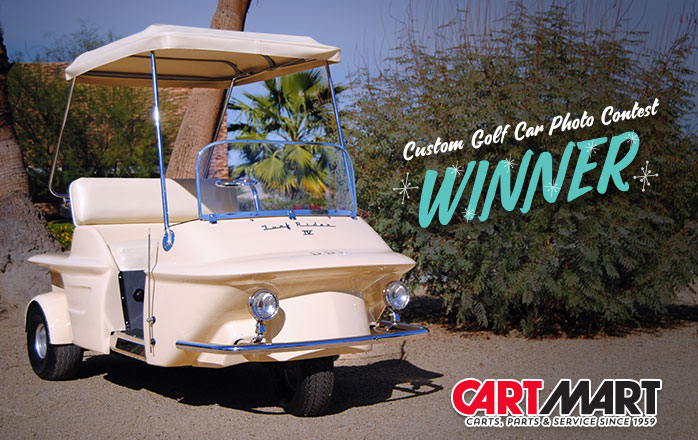 Best In Show: The "Presidential Treatment" – Cart Mart, Inc.
A complete restoration of President Dwight David Eisenhower's 1969 Turf Rider IV by Ride Around Golf Carts.
Completely restored from the frame up
Including motor rebuild from Fat Man Motors
Canopy and seat upholstery from P&M Upholstery
Chromed, painted, and built by Cart Mart, Inc.
History of the Build:
Cart Mart was contacted by a board member of the Eisenhower Medical Center, in Rancho Mirage, CA, on a "special project" they wanted to discuss. Someone had been clearing out a storage container and noticed there was an old golf car in the container that looked of value and seemed to have some historical significance. The person contacted the Eisenhower Medical Center to confirm the cart, with the initials D.D.E. painted on the front hood, was in fact, a cart belonging to the late President Dwight D. Eisenhower. When the CEO of Cart Mart heard of this great find, he offered to donate the restoration project as a goodwill contribution. "It's not every day that you are commissioned to work on a piece of history. It was a great honor to be called on for this restoration and I knew my team was up to the challenge" said Brian Rott, CEO. The vehicle has undergone a full top to bottom restoration and now runs in like new condition. Cart Mart was even able to preserve the hand painted, gold lettering with D.D.E.'s initials that were on the original car, thus maintaining its true originality. Mr. Rott said, "I am proud of Lane Sabel and Chris Lara for their hard work and contribution and thankful to our partners who donated time and resources to the success of this project." This vehicle is available for viewing at Cart Mart's new golf car museum located in Rancho Mirage, CA.
For more information on Cart Mart visit www.cartmart.com