Allied Battery continues to improve dealer and end-user experience with the Allied Remote Suite.
Allied Remote Suite (ARS) will include GPS Security, Remote Fleet Management, Geo-Fencing and other key capabilities that are essential for fleet managers and end-users.
"If you manage a fleet for rental, golf, warehouse, etc., the Allied Remote Suite is an amazing tool to have. ARS is a single dashboard that will manage battery charge, location and Geo-fencing for every cart in your fleet," said Jeff Poole, Lead Engineer at Allied Battery.
Improving the dealer and end-user experience continues to be the number one priority for Allied Battery. Allied Remote Suite is currently being tested across the U.S. and is expected for wide release by the end of 2022.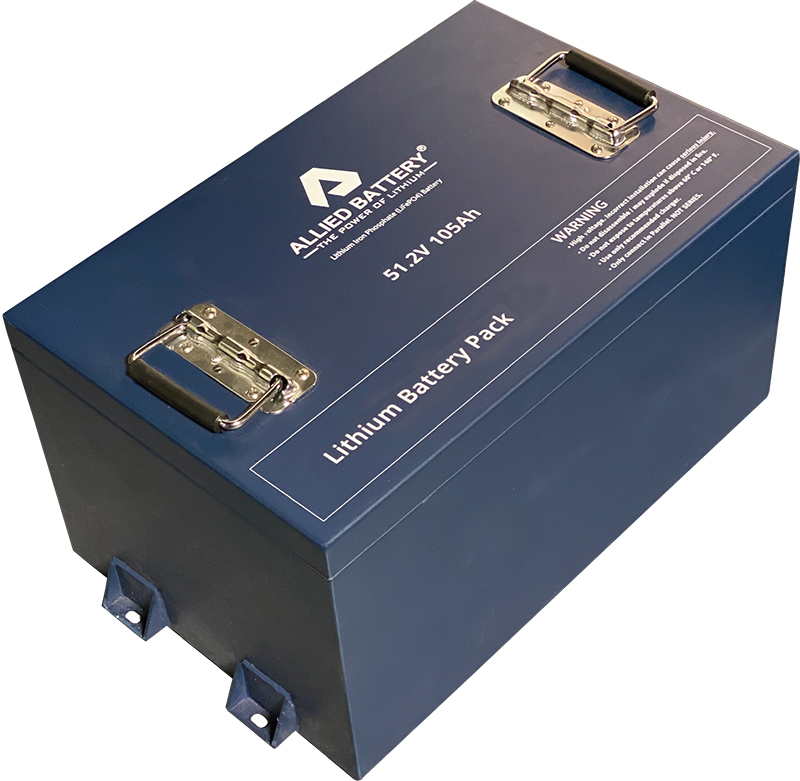 Features of the "Commercial" Line
The four models are available 51.2V 65AH, 105AH, 150AH and 200AH. The wide range of amp hours allows the correct setup for recreational users all the way up to power users whose golf car is their main method of transportation.
Features of the "Commercial" Line
• Bluetooth – Allied's signature BMS includes Bluetooth which pairs directly to the Allied Battery IOS and Android App. This app allows users and dealers to monitor real time voltage, amp hours and active balancing at the cell level.
• Communication Port with Digital Tablet – For dealers or fleet owners who need to manage multiple cars a digital tablet can be hooked up directly to the communication port on the batteries.
• Includes Mounting Brackets, SOC Meter and Waterproof Charger
"Drop-in-Ready" Line
Allied Battery's "Drop-in-Ready" product line includes 36V, 48V and 72V batteries.
Dealers can convert a golf car to lithium in less than 30 minutes by simply removing the 6V, 8V or 12V lead-acid batteries, replace with Allied batteries and secure using the existing mounting brackets.
Allied "Drop-in-Ready" batteries connect in parallel allowing dealers to adjust the amp hours to the customer needs.
Safety
Allied batteries are designed and engineered by an in-house team of electrical and mechanical engineers. All products are tested, and safety certified. The LifePO4 cell chemistry is proven to be very safe. The smart and rugged BMS works great with high powered aftermarket controllers and motors.
These sealed batteries are non-combustible and non-flammable.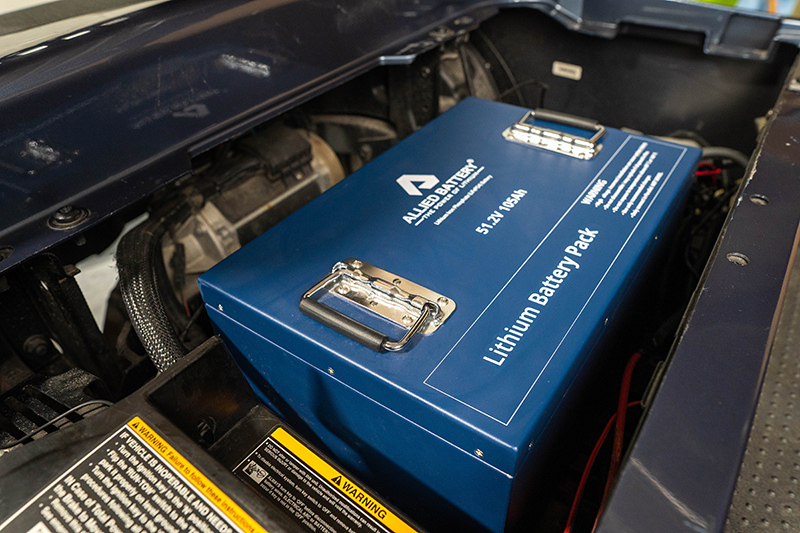 Free Shipping to your Store
Because of how safe LifePO4 batteries are, FedEx and UPS have approved them for both air and ground. All "Drop-in-Ready" batteries ship free to your door in the continental U.S.
The "Commercial" line includes free shipping on any order of 6 or more. They ship LTL and are crated securely to ensure they arrive in perfect condition.
National Sales Support
Allied has a dedicated in-house support team as well as a national sales organization to support and work directly with the dealer network. No more texting and emailing an oversees representative and waiting answers. Dealers expect timely and quality support for which Allied is proud to provide.
Summary
Many dealers have experienced the reliability and power of Allied Battery. By offering the "Commercial" and "Drop-in-Ready" lines they are positioned to be your single source for lithium batteries.
Please visit AlliedLithium.com or call (800) 625-5110.