This year's PGA Merchandise Show might have been virtual rather than in-person in Orlando, but that didn't stop the golf industry from showing off the full range of its creativity and innovation. Golf Car News picked out some of our favorite golf car and golf car-adjacent products that were "on display" at this year's virtual show.
CLUB CAR SHOWS OFF NEW TECH
Club Car headed to the 2021 PGA Show with its new, industry leading second generation Tempo Lithium-ion vehicle, Tempo Walk autonomous caddie and connectivity solutions on display.
"The PGA Merchandise Show is an event we look forward to every year," said Mark Wagner, President of Club Car. "The ability to connect with our customers, highlight our support of the game and showcase our product offering is a great way to start the year."
The new, second generation, Tempo Li-ion vehicle that launched last summer was on display. The all new battery system boasts industry leading range in a zero maintenance package; ensuring golf course operators have confidence in the single-charge range while reducing their total cost of ownership.
Throughout 2020 the golf industry had to react to COVID-19 and the social distancing requirements. Club Car's Tempo Walk instantly became a big success for golf course operators by adding a unique golfer experience and new revenue opportunity; the stylish, hands free caddie ensured golfers were able to enjoy the game while adhering to CDC guidelines.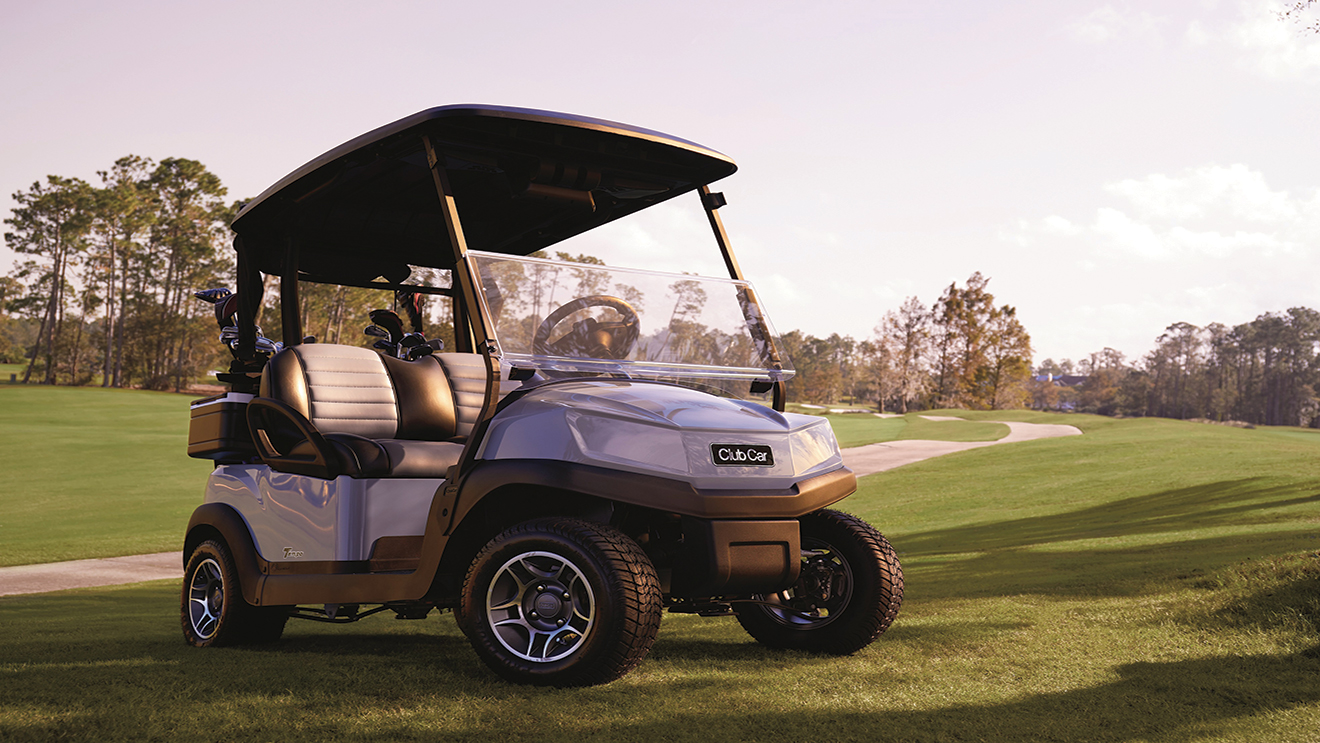 Demand for in-vehicle entertainment and connected golf cars continued to rise during the global pandemic. Club Car Connect saw record growth in 2020 with more cars equipped with GPS connectivity and in-car entertainment through the Shark Experience. Golfers have taken to on course entertainment with 1 in 4 golfers streaming music on course per the National Golf Foundation, Club Car's Shark Experience provides golfers with the industry's most comprehensive entertainment offering, from music to video.
Lastly, Club Car is pleased to announce their title sponsorship of the Club Car Championship at The Landings Club. "We are excited to deepen our relationship with the PGA TOUR by the addition of the Korn Ferry Tour event title sponsorship," said Club Car President Mark Wagner. "The Club Car Championship at The Landings Club allows us to showcase our Onward line of consumer vehicles within The Landings Club, the greater Savannah area and to all the fans of the PGA Tour." This title sponsorship builds on their 30-year relationship with the PGA TOUR, and creates a new opportunity to reach golf enthusiasts.
For more than 60 years Club Car has been an integral part of the game of golf. As the official golf car of the PGA of America, TPC Network, and US Kids Golf, Club Car is active in a wide variety of grow the game initiatives and industry partnerships.
---
BAT-CADDY OFFERS AFFORDABLE ELECTRIC GOLF CARTS
Bat-Caddy, an industry leader in affordable, electric golf carts for more than 15 years, is showcasing its newest models with several Lithium Battery options. The Bat-Caddy X8R is available in both Remote and Non-Remote controlled models. Bat-Caddy also carries low-priced entry-level models that come with SLA type batteries. Bat-Caddy also has an attractive fleet of electric rental caddies that represent good income potential for facilities, since electric caddies are ideal to promote social distancing. batcaddy.com
---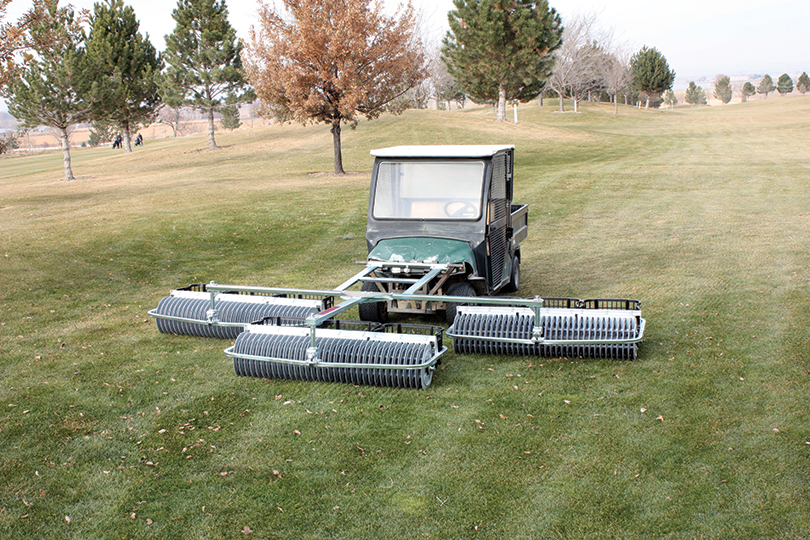 INNOVATOR PLUS PICKS RANGE EFFICIENTLY EVEN IN SNOW
The Innovator Plus Golf Ball Picker by Thrasher Golf is an all-purpose range picker originally designed for picking in the snow. The 15-foot-wide Innovator Plus, made in the USA of electroplated steel, provides the coverage area of a five-gang picker with only three gangs, allowing all gangs to be in front of the driver for improved visibility. The 14-inch extreme durability discs provide greater ground clearance and each section uses a split-drum to improve turning radius. It is designed without a front wheel and uses adjustable components to extend the life of the picker. thrashergolf.com
---
RIDER SOLUTION
Winner of the PGA Merchandise Show's Best New Product Award in 2014, GolfBoard has continued to advance, leading the field as a fun way to navigate any golf course. The GolfBoard Pro (pictured) features 13X5-inch tires for optimal traction on any terrain, with a wider wheel base and a maximum speed of 12.5 mph. A master key switch with removable key for theft protection, a thumb throttle with one-touch speed control, and high-low and forward-reverse switches are among the many features that contribute to easy handling, along with a protective bumper with custom branding options. A beverage cup holder in front and a cooler holder on the rear bumper are among many features that have made the GolfBoard Pro a favorite mode of transportation on and off the golf course. Safe, easy to use, and gentle on turf, GolfBoard hits the sweet spot when it comes to single-rider social distancing and quick pace of play on the golf course. golfboard.com
---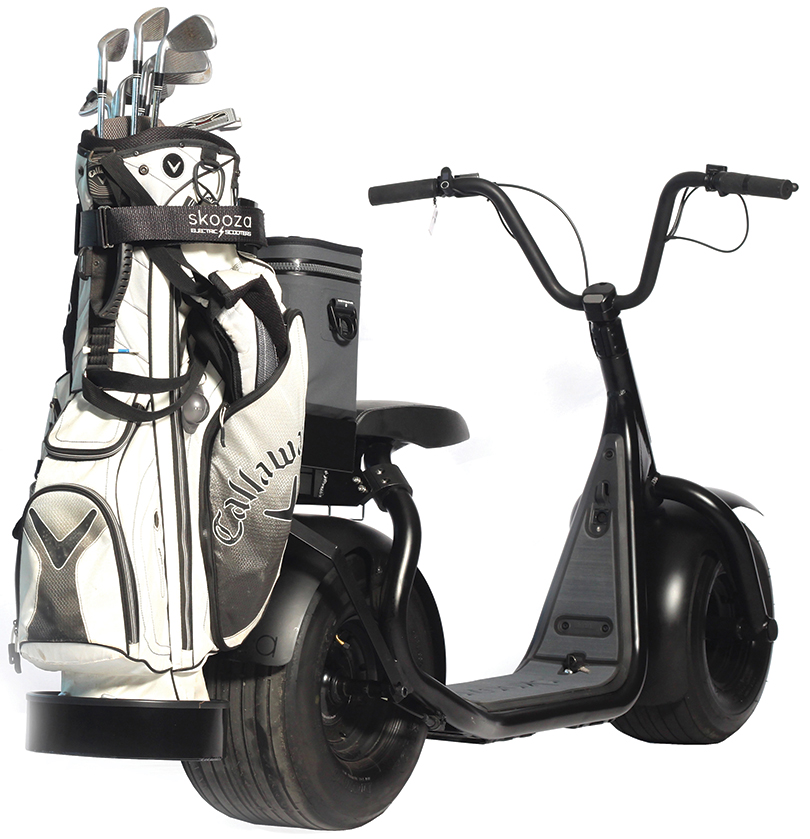 KAASPEED LAUNCHES K1S FAT WHEEL ELECTRIC GOLF SCOOTER
The new Kaaspeed K1S Fat Wheel Electric Golf Scooter is a fun, easy way to navigate any golf course with golf bag in tow. The low-maintenance K1S features a lightweight aircraft aluminum frame, a car-grade LG18650 Cell Lithium Battery that has a 35-mile range between charging. The unit is self-balanced for easy parking, easy steering and safer and fun riding. Quick Release Adapter provides easy connection of multiple accessories, while the Golf Bag Rack fits all sizes of bags. Each K1S Fat-Wheel Electric Golf Scooter comes with an RFID Key Card for security and ease of use. kaaspeed-usa.com
---
TOURER – A REAL CHAMPION ON THE TURF
A real champion on the turf The Australian based company GSC™ has been a major player in the golf industry for over 10 years. Following the success of the Golf Skate Caddy, it is now showcasing its latest innovation, the GSC Tourer, a standing position personal golf transporter, here to revolutionize the way we play.
Not only is it fun to ride but golfers of all ages will experience a faster paced game. The rider can "ride the turf," cruising to their own ball, without having to wait for their co-player as in a traditional golf cart. In these crazy times of COVID and social distancing it makes it the ideal golf transporter.
The GSC Tourer charges quickly and efficiently making it green. It is engineered to carry a single player, plus a 44 pounds (20kgs), 10-inch (25cm) diameter pro-golf bag with ease over 18 holes on a grassy surface before it needs charging. Then, it simply plugs in to a normal power socket and charges like a mobile phone. The dual folding mechanism has also been engineered to fold down to fit in most family vehicles using our stainless steel "eagle claw" combined with a heavy-duty aluminum pole. This allows the quick release mechanism to ensure no time is wasted before the game starts and none when it is time to return to the clubhouse.
Gentle on the turf due to the relatively small ground contact area and a ground force pressure equal to a golfer on foot, it has been demonstrated that the GSC Tourer offers a significant reduction in course wear and tear and less maintenance compared to current popular modes of vehicular transport. The actual impaction per square meter compared to a golf cart is potentially a massive 82% less on the surface area of the golf course and similar or less than a golfer walking with a pull cart.
---
ALPHARD CLUB BOOSTER V2 TURNS PUSH CARTS INTO REMOTE-CONTROLLED CARTS
The Alphard Club Booster became a star of the COVID-19 pandemic by transforming push-pull carts into remote-controlled carts to make walking the golf course effortless and easy. The Alphard Club Booster Version 2 (V2) adapts to all major cart manufacturers and models. Once set up, the remote control does all the work. A built-in gyro keeps carts tracking straight and the removable battery makes recharging a breeze. Hill brake, redesigned remote with new cart mount and new smart phone app make the Club Booster V2 a great value. The new Tether Follow Sensor (TFS) accessory turns your Club Booster into a follow behind cart. Retail $799.99. TFS $119.99. proactivesports.com
---
GOLFBOARD – THE SINGLE E-Z-GO ELITE LITHIUM GOLF CAR COSTS LESS TO OPERATE
Powered by advanced Samsung SDI Lithium Technology, the E-Z-GO ELiTE Lithium golf cars have become the industry leader in efficiency while providing unmatched performance. ELiTE Lithium E-Z-GO vehicles use half the out-of-wall energy as a lead-acid golf car, with longer battery life, lower cost of operation and now featuring a lighter, more compact battery design. With up to 15 percent greater efficiency than other electric golf cars, ELiTE Lithium vehicles still have enough charge after 36 holes to play another round. www.EZGO.txtsv.com