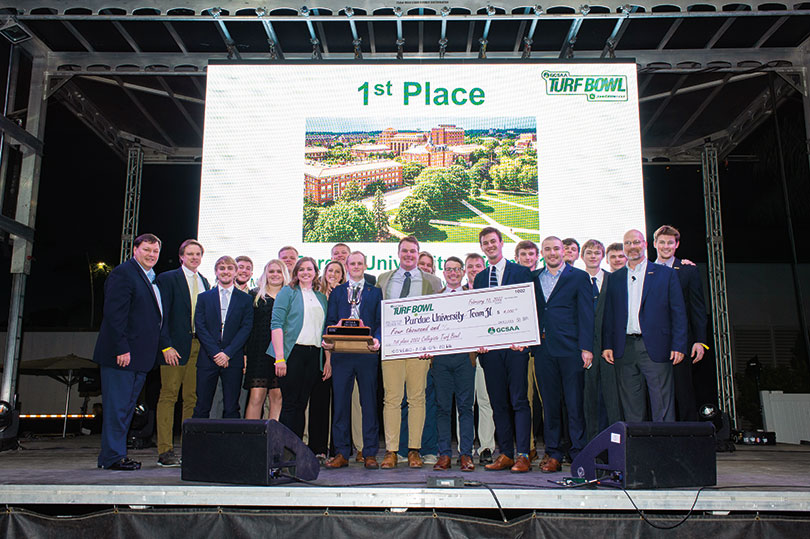 Purdue took home first place in a prestigious competition sponsored by John Deere.
Purdue University was named the winner of the 2022 GCSAA Collegiate Turf Bowl, earning a $4,000 cash prize and the opportunity to complete a paid employment assignment at the Desert Mountain Golf Club and Community in Scottsdale, AZ.
More than forty teams from across the United States competed in the judged competition, showcasing their industry knowledge and skills, for their chance to win.
Purdue competed against 41 student teams representing 21 colleges and universities from across the United States. The competition judged teams on overall industry knowledge and problem-solving skills in high-pressure situations, demonstrating what superintendents can face daily. This year, a total of $10,000 in cash and prizes were awarded to the top teams in the competition.
"Seeing the next generation of superintendents and golf professionals thrive is always exciting and we are honored to support and uplift them as they pursue futures in the field," said Manny Gan, global director of golf of John Deere. "The students from Purdue University showcased the dedication and skills needed to succeed within the golf industry. Through GCSAA, we are privileged to see the future in action and look forward to seeing where their careers take them."
To learn more about John Deere and its commitment to the game of golf, please visit JohnDeere.com/Golf.