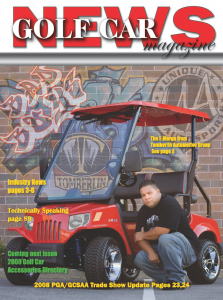 TOMBERLINE AUTOMOTIVE GROUP "THE BAD BOYS OF GOLF" LEAD THE WAY IN LOW SPEED VEHICLES
Tomberlin Automotive Group has created a totally new way of looking at the game of golf.  We understand that not everybody is able to play like Tiger Woods or Phil Mickelson, but with the 2008 Tomberlin E-Merge, you do not have to.  In Augusta, Georgia, Tomberlin's home, there is an old adage about two gentlemen in the woods who come upon a bear.  One man says, "We can't outrun that bear."  The other man says, "I don't have to outrun that bear, I just have to outrun you."  As funny as that story is, there is a similar story in the game of golf.  "The one with the fastest golf car has the best lie."
A friend of Tomberlin Automotive Group, Will Castro, Owner and CEO of Unique Autosports in Long Island, New York, took notice of the E-Merge and its prowess and asked if he could do a special version for his close friend and celebrity client "50 Cent," renowned hip hop artist and entrepreneur. Will is known in the automotive community as being the "end all, be all" of the car customizing game.  His celebrity clientele is includes tennis star Jennifer Capriati, Nascar phenomenon, Tony Stewart, Best Selling Author, Tom Wolfe, and almost any athlete you can imagine .  Needless to say the collaboration for the hip hop icon was a success. Fifty loved his E-Merge so much that he drove it all around his estate in the recently aired edition of MTV's "Cribs."  You can see Will and the whole Unique crew at their website, www.uniqueautosport.com. Currently there are no plans for a Unique Edition E-Merge in stone, but who knows what the future will bring.
Tomberlin Automotive Group resides in the most competitive and productive golf car manufacturing area in the country: Augusta, Georgia.  Augusta is the "Detroit" of golf cars, "the electric motor city."  With over 100 years of experience in golf car production and some of the most talented people in the industry under its umbrella, it's no wonder Tomberlin Automotive Group has risen to be a world leader in the Low Speed Vehicle segment.  In fact we are not a golf car company at all.  "We make Low Speed Vehicles," said Tomberlin Automotive Group President, Dewey Holland.  "We are concerned more with the homes around the golf course rather than the course itself." With the ever-growing Tomberlin Team, they've add a new international force in the form of Al Chaney, a 15 year veteran of international golf car sales.  The E-Merge is revolutionizing the game of golf by enabling the patron to play a round of golf and then in the same vehicle, legally drive himself home; "Why should your golf car be limited to the course, when our E-Merge is capable of so much more."-Andy Johnson, Tomberlin Engineer.
At Tomberlin we do not encourage or endorse excessive speeds on the golf course and to the contrary, encourage all golf patrons to strictly adhere to the rules and regulations of their prospective courses.  That being said, there is no reason why you can't blow the other guy's doors off on the way home. The launch of the 48SS has only fueled the fire.  It comes standard with a 400amp controller, custom 12" aluminum wheels, and black seats with red piping.  There is not another model in the industry that combines performance and styling like the 48SS.
The Tomberlin  E-Merge travels at a government regulated top speed of 25mph while your standard golf car travels at 12-14mph.  Low Speed Vehicle laws enable the Tomberlin E-Merge to travel on all roads with posted speeds of 35mph and below.  You can tag, title, and insure your Tomberlin E-Merge the same as your Mustang or your Bentley. 
With all this talk of speed and agility, the conversation would not be complete without telling you why the Tomberlin E-Merge is first in its class in safety.  Three point safety belts, 4+wheel brakes (hydraulic disc fronts, Drum rear, and redundant parking), DOT regulated headlights, tail lights, turn signals, horn, tip-over protection, speedometer, odometer and regenerative braking bring you and your family safely home from the course or cruising the neighborhood.
Visit our website at www.tomberlin.net, or give us a call at 706-860-8880.