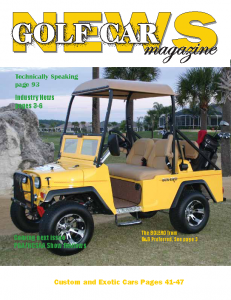 B&B PREFERRED BODY-SYSTEMS MAKE CUSTOMIZING GOLF CARS EASIER, AND MUCH MORE AFFORDABLE
B&B Preferred got it's start 7 years ago when Bobby Thomas of Electric Car Distributors in Rancho Mirage, California, and Britt Kennard were visiting one afternoon at Bobby's sales location. Bobby mentioned that he felt like he was having to pay more than he should for specialty cowls and body pieces, that were being offered to him at the time. So Bobby and Britt decided at that time to form B&B Preferred.
The B&B Product Line: B&B currently offer three complete body-systems and 2 front cowl kits that fit the Club Car, E-Z-GO, and Yamaha chassis. Avalon: The Avalon model is their 2-passenger cart that has more of a traditional golf cart look while providing the comfort and utility one would expect in a high-end cart. Bolero: Their Bolero is their newest of the body-systems and is a 2 passenger golf cart when used with their bag holders, but becomes a 4 passenger cart when the two bag holders are removed.  The Bolero gives their owners a different look in a golf cart while still providing the comfort of a traditional golf cart. Z-Sport: The Z-Sports (named after the artist/designer, Zarryl) was designed for those customers who prefer the look of a sports car but the practically of having a 4 passenger cart when needed, or a 2 passenger cart when golf is on the agenda. Bolero Packer: Is a cross between the body-systems described above and the cowls below because the Packer simply consists of a front cowl, rear bed or hauling items, and with roof supports and roof, no seats, carpets, or accessories are included with the kit. Prestige cowl: The Prestige cowl is their single largest seller because it is only a front cowl (with front storage compartment), has a very low cost of purchase, and can easily be mounted.  The Prestige cowl fits all three of the OEM chassis. Presidente Cowl: Same as the Prestige cowl above, except only fits the Club Car Precedent chassis and also has the much needed front storage compartment.  Both the Prestige and Presidente cowls come complete with mounting bracket, headlights, marker lights, and complete wiring for the front cowl.
The best thing about all their cowls and body-systems is that every hole and mounting location has been pre-drilled and pre-fitted at the point of manufacturing, using a jig that was specifically designed from the original OEM chassis that they have at their plant. By doing this, the purchaser does not have to drill holes and worry about correct alignment.  Also included with all cowls and body-systems is the correct mounting bracket, all bolts, nuts, washers, and screws that are needed for assembly are included.
For more information please contact: Sales: julie_bbpreffered@yahoo.com, 714-915-1385. Fax: 714-782-5634 or visit www.bbpreferred.com, www.nevsource.com.