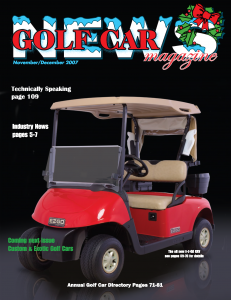 THE ALL NEW RXV FROM E-Z-GO
E-Z-GO, a Textron Inc. company and the world's leading manufacturer of golf cars and utility vehicles, today unveils its new, much anticipated fleet golf car –  engineered to deliver reliability, superior performance, operating efficiency and safety through an array of enhanced features and innovations.
The E-Z-GO RXV represents a major step forward in golf car technology. The new vehicle is expected to deliver exceptional value to golf course operators through reduced energy and maintenance costs, and an unsurpassed experience for golfers through best-in-class power, control, comfort and safety. The RXV's classic yet contemporary lines make it a smart addition to the E-Z-GO family.
The RXV is available in electric and gas models. The existing TXT model, introduced in 1995 and the best-selling fleet golf car in company history, will remain a key component in E-Z-GO's lineup.
"Years of intense work and dedication by E-Z-GO's marketing, design and engineering teams have produced what we believe is the finest golf car ever built," says John L. Garrison, President of E-Z-GO. "We consider the RXV to be a 'game changer' at all levels. Our golf course partners will see even quicker fleet turnaround times, lower energy, fuel and maintenance expenses, and easier upkeep. Golfers will discover a vehicle that rides, handles and stops unlike any golf car they've driven, with many new rider comforts. The E-Z-GO RXV delivers the reliability customers expect, the value their operation requires, and the experience their golfers demand."
The numerous RXV innovations, features and benefits include:
AC drive (electric): Unprecedented for an electric golf car, the RXV's drive train uses an alternating current motor, not the traditional direct current motor, generating more power and longer operating time between battery charges. The RXV is up to 30-percent more efficient than direct-current golf cars, boasting a 48-volt motor – enabling a 10-percent improvement in daily range.
Dual-braking system (electric): A fail-safe park brake automatically engages when the RXV stops – requiring no foot pedal engagement. The industry-first auto braking system brakes automatically on steep slopes when needed and can easily hold a 40-percent grade. This "drive-by-wire" system maintains constant speeds safely and easily. The system supplies recharge to the batteries whenever brakes are applied, enhancing efficiency by up to 30 percent, keeping the vehicle on the course longer and reducing long-term operating costs. 
Energy transfer bumpers (electric and gas): The RXV features front, back and side bumpers, positioned to minimize damage by absorbing and transferring energy from impacts into the frame rather than the engine or components. The front and rear bumpers are rated to withstand impacts of 5 MPH; side bumpers are rated for 5 MPH collisions.
Kawasaki high-performance 13-HP engine (gas): This engine sets new benchmarks for performance — even on the hilliest terrain.  With a larger cylinder and lower RPM, it delivers better fuel economy with less noise. And more miles per gallon mean greater savings for course operators.
Warranty: The reliability of the new RXV is backed by the most comprehensive warranty in the industry – four-year, bumper-to-bumper coverage. E-Z-GO's batteries are guaranteed to last for four years, 1,200 rounds or 21,500 amp hours – whichever comes first – for 36 holes of golf a day, every day.
Improved golfer experience: The RXV features an automotive-style, A-arm suspension with coil over spring shock providing a smooth, comfortable ride. It also features added storage space while cup and ball holders are within easy reach of driver and passenger. Redesigned hip restraints and thicker foam padding ensure a comfortable ride; a wider canopy prevents rain from dripping inside the vehicle; a larger bag well accommodates today's biggest golf bags.
Fresh exterior styling: Retaining the classic E-Z-GO look while incorporating up-to-date design elements, the RXV boasts a boldly elegant appearance. Its inviting style makes the RXV as visually appealing as it is enjoyable to drive.
Environmentally friendly operation: The RXV electric model requires less energy to charge and operate, minimizing the vehicle's "carbon footprint" and reducing hazardous waste. And its whisper quiet engine practically eliminates noise pollution. The RXV gas model is compliant with the stringent emissions standards of the California Air Resources Board (CARB) and improves fuel economy by up to 52 percent. The RXV's seats are made from 100-percent recycled foam.
Safety comes first: In addition to the advantages of dual braking and energy transfer bumpers, the RXV has many features designed to keep golfers safe and secure. Its limited slip differential delivers 25-percent better traction and is especially effective on wet or sandy soil. A slip resistant floormat gives golfers firm footing in wet conditions, while the RXV's canopy has double-wall construction and 50-percent thicker struts.
"Our passionate and talented E-Z-GO team considered every mechanical, ergonomic and safety element of the golf car, producing a vehicle of exceptional quality," Garrison says. "In designing the RXV, we listened to our customers and incorporated their feedback. Our goal was to completely re-imagine the golf car in a way that produced measurable results for course owners, along with performance that truly enhanced the golf experience. I'm proud to say our team has delivered on all counts."
In 1995 E-Z-GO introduced the groundbreaking TXT golf car, which became the best-selling fleet golf car in company history and is a staple at public, private and resort courses worldwide. E-Z-GO first began producing golf cars at its Augusta headquarters in 1954 and has introduced such industry innovations as rack-and-pinion steering, the Precision Drive System, regenerative braking, anti-rollback and diagnostic capabilities.