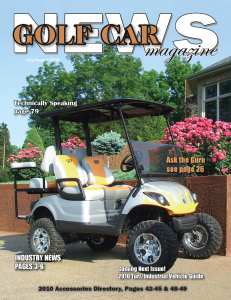 SUITE SEATS – A FAST, EFFICIENT WAY TO DRAMATICALLY IMPROVE THE APPEARANCE AND COMFORT OF A CUSTOM CART

When thinking of customizing a cart, the first thing that comes to mind for most cart dealers is "custom paint". While special paint is an attractive way to customize a cart, it is time consuming. Removing accessories, disassembling body components, and scheduling time for the body to go to the paint shop can add weeks to the time before a cart is ready for sale. After the cart comes back from the paint shop, customizers usually realize that "something" needs to be done with seats, because now they stick out like a sore thumb.
For years, the usual answer was to staple on some seat covers to color coordinate the seats to the new paint, or to hide some wear and damage to the old stock seats. But while covering the old seats may help the appearance, it does nothing to improve the comfort of the cart – you still have the old, worn out seats underneath. Stock seats are designed for fleet applications, where the most important criteria are utility and being inexpensive to produce, with little attention paid to comfort or lateral stability.
Cart customizers are increasingly turning to Suite Seats to finish their carts. Manufactured in Nicollet, Minnesota, Suite Seats are available for over 12 different cart models, and are offered as stock in 72 color combinations. Because Suite Seats are also offered in custom colors and fabrics, along with custom embroidery, the options available for customizers to set their carts apart from their competition are as broad as the customer's imagination. "My carts just never look complete without doing something with the seats", says Charlie Roden, owner of Caddy Shack located in the Lake of the Ozarks region of Missouri. "Because Suite Seats are so easy to install there's really nothing I can do to a cart that is as cost effective in terms of price and shop time." According to Charlie; "Once I hit my customer's hot button…what they are passionate about….then I am able to design a cart that they love and the additional accessory sales really help my bottom line."
Custom embroidery on Suite Seats helps draw out what a customer is passionate about, and is a valuable sales tool for cart customizers. Sports & hobbies such as golf, football, hunting, fishing, family names & crests, or even business names embroidered on Suite Seats make the cart owner feel that the cart has been truly personalized for them.
Suite Seats bolt in just like the stock fleet seats, with no special cutting or drilling, and are made to line up with the factory mounting holes. Suite Seats are also available for virtually every rear seat kit, in both flip and stationary models. With the investment of less than a half hour of installation time, carts can quickly be upgraded and be ready for the showroom floor.
Contact United Commercial Upholstery at (507) 232-4224 or www.ucuinc.com to find out more about what many cart dealers already know – Suite Seats great looks, comfort, and ease of installation help pave the way to increased sales.