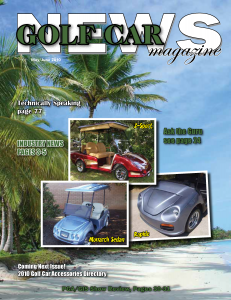 COVER STORY
B&B Preferred got its start 7 years ago when Bobby Thomas of Electric Car Distributors in Rancho Mirage, California, and Britt Kennard were visiting one afternoon at Bobby's sales location.  Bobby mentioned that he felt they were paying too much for specialty cowls and body pieces that were being offered at the time.  So Bobby and Britt decided at the time that they would form B&B Preferred.
Does the above sound familiar?  If it does, it's because the above paragraph ran in the January/February 2008 issue of Golf Car News.  After a couple of years of that partnership, Britt bought out Bobby's interest and built B&B Preferred to be the World's largest and most successful manufacturer of cowls and body-systems.   B&B Preferred now ships cowls and body-systems throughout the World from their manufacturing facility in Bangalore, India.  Two years ago, B&B started building private label cowls and body parts for the two largest manufacturers of golf carts.
The old saying of "what goes around–comes around" certainly applies here.  After directing B&B Preferred for about 6+ years now, Britt sold majority interest in March of this year to his good friend and former partner Bobby Thomas, his son J.R. Thomas, and their General Manager, Jason Stella.  In visiting with Britt, he told me that he felt that he had taken the business as far as he could and the business needed the expertise of the Electric Car Distributors group, to grow the business further.
Since the previous issue when B&B Preferred was featured on the Golf Car News cover, new models have been added to their very successful line of cowls and body-systems.  Since that time, B&B Preferred now offers 6 different styled front cowls for the Club Car Precedent chassis along with their very popular Bolero and Z-Sport models.  A year ago, they designed a new look for the industry, the Monarch Sedan as a third body-system.  For the Yamaha Drive chassis they have a new cowl the Rapide, along with the Monarch Sedan and Z-Sports for the Drive chassis.  In design now, are new bodies for the E-Z-GO RXV chassis, which will be debuting in the late summer of this year.
When asked how B&B Preferred rose to the position of the Worlds largest and most successful manufacturer, Britt credits Zarryl who does the design work and is responsible for quality at the manufacturing facility in Bangalore, some of his dealers that has continued to give him direction over the years, the ease of fitting their product to the chassis for which the body part was intended, and their very affordable product.  When pushed further as to what he felt was the single most and significant reason for their success, he said: "All of them!  Without all four, we would have never made it!"
Hopefully under the direction of the new partners, we will see more designs and offerings in the marketplace and with even better quality.