Sandy Chilewich designs products that last forever and look great doing it. And now, her company is getting involved with the golf car industry.
It's not hyperbole to call Sandy Chilewich an industry pioneer.
After first making a name for herself in textiles as co-founder of hosiery brand Hue, Chilewich branched into other areas. After designing and launching a popular and award-winning product called the Raybowl, she began working with woven fabrics, and in 2000 introduced her first home products, including floor mats and placemats, into the market. Using her proprietary woven vinyl, she created products that were remarkably durable but that also looked good.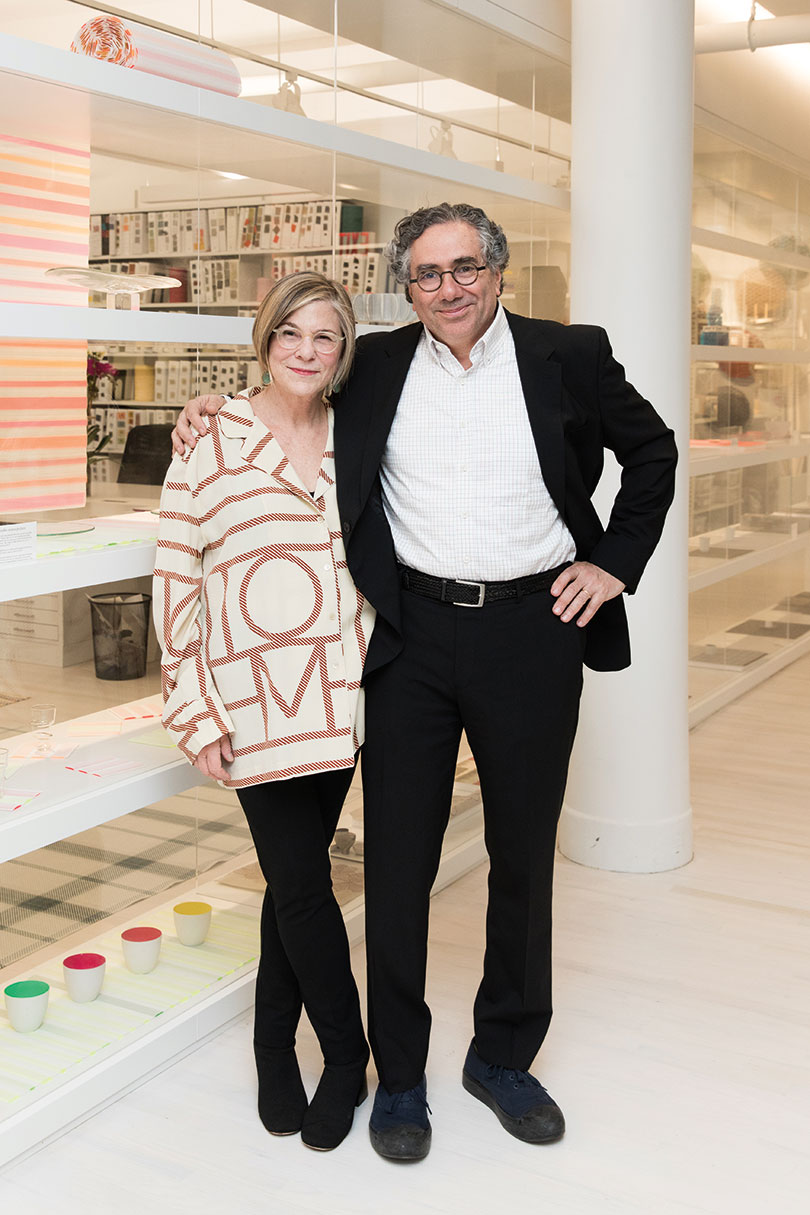 As the business grew, Chilewich's husband and business partner, Joe Sultan, recognized other potential uses – namely, wall-to-wall and tile flooring. "Plynyl" quickly became a big part of the Chilewich brand; Sultan has worked full-time with his wife since 2004.
Today, Chilewich products are in stores including Williams-Sonoma, Crate and Barrel, Neiman Marcus and Macy's. So far, so fascinating – but where do golf cars come in?
In recent years, the company has moved into the vehicle industries as well, with Chilewich custom interiors appearing in cars, boats, aircraft, RVs and now, in partnership with Nivel, golf cars.
Golf Car News had a few questions for Sandy Chilewich and Joe Sultan:
Q: Chilewich has grown remarkably in a quarter century. Please describe what you feel to be some important milestones in the company's development.
Joe Sultan, CEO: Chilewich is a design company founded by designers, and all of our energies have been focused on product innovation. The first innovation was Sandy Chilewich's in 2000, when she reimagined woven vinyl fabric, once only used for outdoor upholstery, as placemats and rugs. This launched the company into the consumer market. As an architect by training, I took the work Sandy started and in 2001 developed commercial flooring products using the same fabrics. We expanded to worldwide distribution in 2004, added tufted "Shag" floor mats in 2004, and brought our manufacturing in-house in 2008.
Sandy Chilewich, Founder and Creative Director: Over these many years in business, we have identified many additional applications for our textiles beyond what they were initially designed for. Floor tiles, carpeting, wall coverings, window coverings, and upholstery are some of these. Every new potential use requires tremendous R&D on our part to be certain that our textiles perform at the highest level for the task at hand. And for us, function alone is never enough! Our products must also be beautiful.
Q: Finding the magic spot where functional meets stylish is, I suppose, the great goal of any company involved in product design, and it's clearly a formula that Chilewich has figured out. Are there guiding principles on that? What tips do you have for creating products that work well and that people love to own?
SC: Unwavering, inspiring, and creative talent is the most essential formula for success. We have an amazing in-house textile design team. Design is also in the making, and we produce Chilewich products in our own factory in Georgia.This includes cutting machines for textiles to be cut into any shape, binding all of our floor mats by hand, designing unique ultrasonic equipment to make 40,000 placemats a week, and developing our own laminating machines to apply different backings to our textiles for different uses.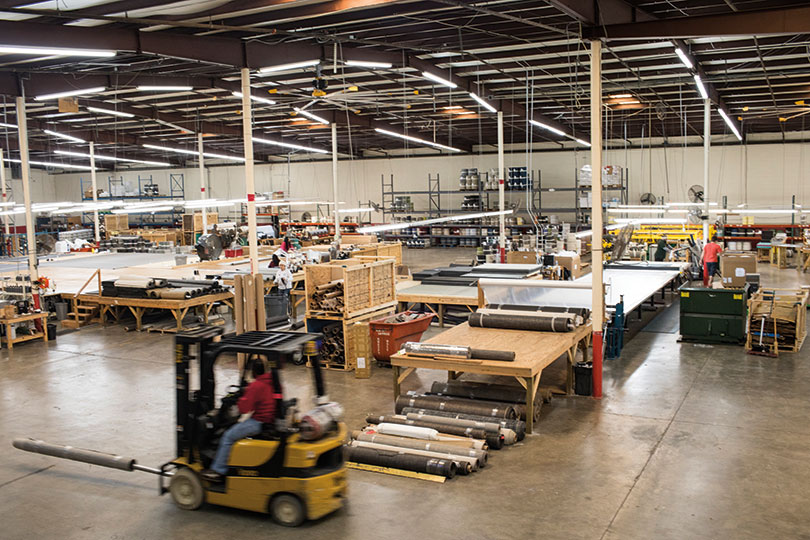 Q: The green ethos seems very important to Chilewich. In which ways does it manifest itself in what you do?
SC: Sustainability is the ultimate design challenge. The question we ask ourselves every day is: how can we maximize the beauty, performance, and longevity of our products and minimize their environmental impact? It's been a priority for many years, and it all starts with materials. We develop our own extruded yarns, which we call TerraStrand. These yarns are free of lead and phthalates–chemicals typically used to make vinyl soft and pliable. We've replaced all phthalates with a plasticizer made from soybeans, not petroleum. Using this renewable, bio-based compound results in a 40% reduction in greenhouse gases compared to other plasticizers.
JS: Because our products stand up to many years of daily use, indoors or outdoors, and they can be cleaned easily with just soap and water, they really cut down on energy consumption, which is an aspect of sustainability that is easy to overlook.
Our most recent stride on the sustainability front is making our company landfill free. All fabric scraps and excess material is diverted from landfills and used in a waste-to-energy process that generates electricity. We're also rolling out an initiative that makes it easy for customers to send back their used products so they don't end up in a landfill.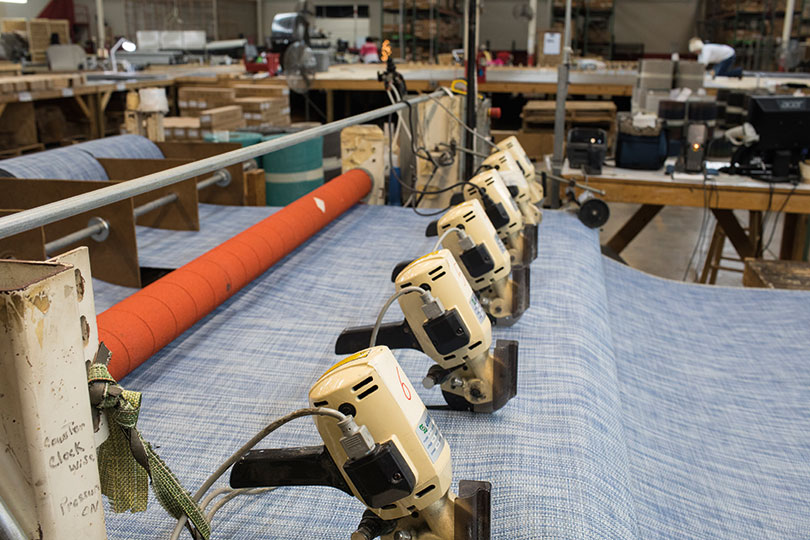 Q: Now let's talk about automotive and, in particular, golf car applications. How did this come about? Describe for me the research and development process that took you from considering a new potential market to bringing in specific products.
JS: We've been selling our flooring products to leisure boat manufacturers since 2011. We've also sold products to several small automotive and RV after-market accounts. In 2017, we entered into a distribution agreement with an aviation after-market supply company. In 2018, we decided to focus on these industries in a concerted way and launched our Transportation sales division. Golf carts fall naturally under this umbrella. What makes Chilewich special to our customers in these markets is our customization capabilities. Our manufacturing process allows us to tailor our offerings for a specific industry and even specific customers.
Q: As someone who comes to the golf car sector from a sector that is quite different, how do you find it? Is there are creative side of the industry that's appealing to you? How so?
JS: What's interesting to us as designers is finding ways to elevate everyday experiences into more meaningful ones. Our fabrics are beautiful, and one can see them naturally on a table as a placemat, or on the wall as a wall covering in a hotel, but they're totally unexpected in a golf cart. Our flooring personalizes the golf cart in a way that elevates it out of its utilitarian nature into a ride that is very much your own.