The PGA Merchandise Show brought the golf car industry's big guns to Orlando.
Photography by Julliarte Photography
The 67th PGA Merchandise Show, the industry's annual "MAJOR of Golf Business," came to a close Jan. 24, in Orlando, as it welcomed nearly 40,000 golf industry professionals from all 50 U.S. states and 80 countries. The 2020 edition delivered exciting product and industry announcements that energized the industry for the New Year. PGA Professionals and buyers uncovered the newest products, trends and technology from more than 1,000 exhibiting golf companies and brands. This included more than 250 companies new to the PGA Show, creating the world's largest business-to-business golf event, within 1 million square feet of interactive exhibit, demonstration and meeting space of the Orange County Convention Center (OCCC) West Concourse Exhibit Hall.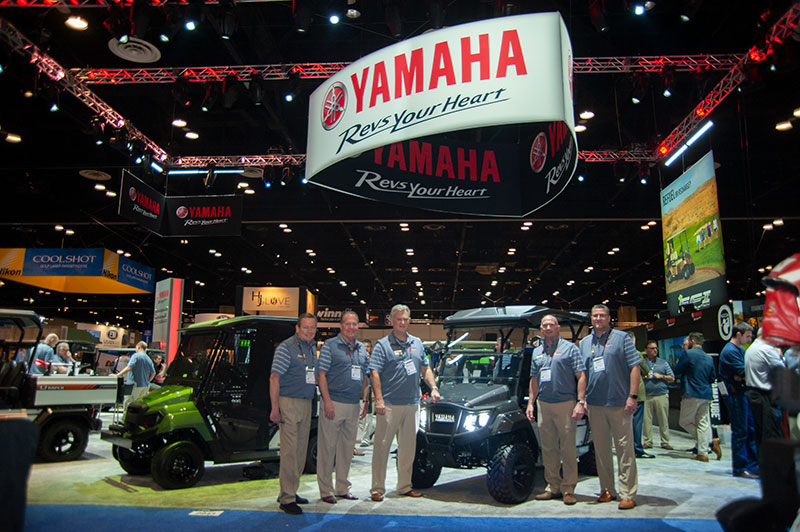 As the world's largest gathering of PGA Professionals, the 2020 PGA Merchandise Show attracted more than 7,800 PGA Professionals, an increase of five percent over 2019. The top five countries (outside of U.S.) represented in attendance were Canada, United Kingdom, Korea, Japan and China. The top five U.S. states represented in attendance were Florida, California, New York, Georgia and North Carolina.
The 2020 PGA Show was marked by significant industry announcements and product introductions, including Titleist's new T400 irons and TS1 driver; Cobra's Speedzone woods and irons, Callaway's MAVRIK driver, PING's G710 irons, Mizuno's ST200 metalwoods, XXIO's Eleven drivers; Bridgestone's new Tour B line of golf balls and the new Tour Edge EXS 220 line. (Learn more about equipment trends and manufacturer announcements.)
Golf lifestyle apparel and accessories were also well represented, with companies such as adidas Golf, AHEAD, Antigua, Bobby Jones, Callaway Apparel, Cutter & Buck, Dunning, FootJoy, Greg Norman Collection, Greyson, Levelwear, Oakley, Peter Millar, Ralph Lauren, PUMA Golf, Summit Brands (B. Draddy, Fairway & Greene, EP NY and Zero Restriction), Tory Sport, Travis Mathew, Under Armour and Vineyard Vines anchoring the PGA Merchandise Show apparel section. The newest fashions for the upcoming season featured plenty of prints – abstract, floral, geometric, conversational or graphic – in the majority of lines, with each company offering something unique to its brand DNA. More than a dozen companies showcased their newest collections in front of a standing-room only audience during an exciting live Fashion Show, presented by Polartec on the PGA Show Floor in the Apparel Hall Fashion Lounge on Jan. 23, which was followed by an Industry Happy Hour and Reception, sponsored by goodr Sunglasses. (Learn more about apparel trends and manufacturer announcements.)
Golf cars, simulators, GPS technology and gear accessories were abundant in the Facility Solutions Hall of the PGA Show Floor, with leading brands participating, such as Bushnell Golf, Club Car, Dynamic Brands, Easy Picker Golf Products, E-Z-GO, Foresight Golf, Full Swing, Garmin, Golf Buddy, Golfzon, Prestwick Golf Group, Range Servant America, SkyGolf, Tagmarshal, Toptracer, Wittek Golf Supply and Yamaha. In all, hundreds of thousands of products and services were showcased within nearly 10 miles of Show aisles in the Orange County Convention Center.
"The 67th PGA Merchandise Show kicked off 2020 with an exciting showcase of the latest golf innovations and merchandising strategies for the year ahead," said PGA Merchandise Show Event Vice President Marc Simon. "In addition to making important purchase decisions for the new season, PGA Professionals and buyers connected face-to-face to foster business relationships that will help to grow the business of the game moving forward."
"The PGA Merchandise Show brings the global golf industry together each year to drive forward our careers, our businesses and the health of the sport," said PGA President Suzy Whaley, PGA. "We thrive off the energy here at the PGA Show, as we collectively learn about golf's newest innovations, share best practices and connect as a community in the game."
---
NGCOA Golf Business Conference & Racquet & Paddle Sports Show Joins the Team
The 2020 PGA Show Week began with the new co-location of the National Golf Course Owners Association (NGCOA) Golf Business Conference (GBC) and the new Racquet & Paddle Sports Show, both held simultaneously at the OCCC. The GBC, golf industry's largest annual gathering of golf course owners, welcomed hundreds of influential owners to attend education seminars, industry presentations and networking events, Jan. 20–22, while taking advantage of PGA Show activities throughout the remainder of the week.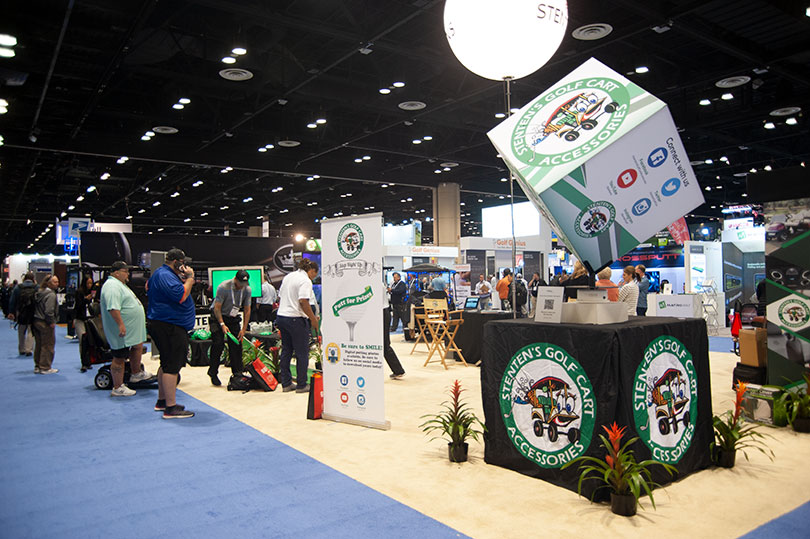 "Being in the same place over the same week with PGA Professionals and their leadership allows for organic and planned opportunities for collaboration," said NGCOA CEO Jay Karen. "The NGCOA is helping to promote to our audience the value that PGA Members bring to their facilities, as well as some of the most important programs, such as PGA Jr. League Golf. The more we can be in the same room together, talking about golf's biggest issues and opportunities, the better off we will all be."
The NGCOA Golf Business Conference will be held in concert with the PGA Merchandise Show in Orlando for the next four years.
Additionally, the new Racquet and Paddle Sports Show welcomed more than 4,000 attendees, including racquet industry professionals and crossover attendance by golf and resort professionals at the PGA Show. The co-located event featured nearly 100 racquet sport related exhibits; a Main Stage for industry presentations; a multi-sport NEXT-Court for demonstrations; a Retail Talks Studio; the KillerSpin UnPlug N Play table tennis tournament; and extensive educational programming.
---
PGA Show Week Highlights
The 18th annual PGA Show Demo Day was held on an unusually cool and windy day on Tuesday, Jan. 21, where PGA Professionals and golf retailers experienced exclusive testing and education of the latest game technology within 200 hitting bays, multiple putting greens and a golf cart test track at the 42-acre OCN practice facility. More than 100 companies demonstrated and shared key attributes of their newest products to thousands of PGA Professionals and golf industry leaders, creating the world's largest professional golf demo event. Throughout the day, golf coaches learned from the best in their field at multiple range-side golf instruction workshops.
On Wednesday morning, Jan. 22, PGA President Suzy Whaley and PGA of America CEO Seth Waugh paid tribute to the victorious U.S. women's and men's PGA Cup Teams; gave a preview of the 2020 Ryder Cup; and a live band also performed at the PGA Show Opening Ceremony in the Central Lobby of the OCCC.
The doors opened to a busy marketplace among nearly 10 miles of exhibit aisles and plentiful learning opportunities, including the comprehensive PGA Education Conference, PGA Professional workshops in the PGA Member Business Center, the NGCOA Golf Business Conference, the AGM Golf Retail Conference and the Tennis Owners and Managers (TOM) Conference of the co-located Racquet and Paddle Sports Show. PGA Show days were also full of professional learning opportunities during industry and exhibitor presentations. The PGA Forum Stage presented by OMEGA had a full schedule of diverse programming from the PGA of America in collaboration with golf's leading organizations, industry executives, professional athletes and top PGA coaches.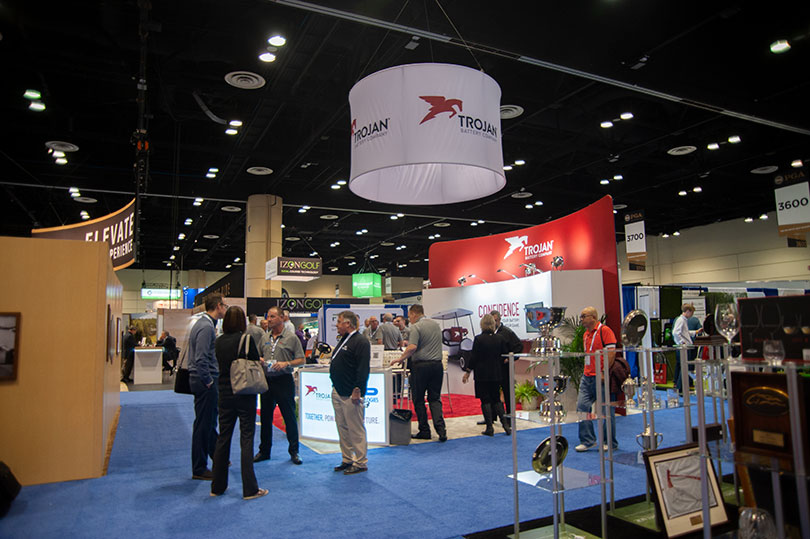 A dynamic PGA Show Floor featured interactive exhibits; hundreds of vendor show specials and promotions; plus 50 equipment testing bays at the indoor Equipment Test Center, sponsored by Insane Impact; the Golf Facility Innovation Center featuring PepsiCo; a centralized New Product Zone for a one-stop shopping of the newest golf merchandise; the Inventors Spotlight exhibitor pavilion for patented products not yet available at retail; the TPI Golf Fitness, Wellness and Instruction area; an Adaptive Golf Center; and numerous specialty exhibitor pavilions, concentrating exhibits in the areas of travel, technology, international exhibitors, women's accessories and new exhibitors.
Many exhibiting companies hosted renowned PGA Coaches, PGA and LPGA touring professionals and celebrities at the PGA Merchandise Show, including Greg Norman, PGA; Jim Nantz, Ron Jaworski, Thurman Thomas, Tania Tare, Nancy Lopez, Chip Beck, PGA; John Daly, PGA; Jamie Sadlowski, Peter Jacobsen, PGA; Brad Faxon, PGA; Donnie Hammond, Grant Fuhr, and top teachers such as Michael Breed, PGA; David Leadbetter, PGA; Jim McLean, PGA; Mike Malaska, PGA; Dave Pelz and Stan Utley, PGA.
More than 1,000 media from some 25 countries attended the 2020 PGA Merchandise Show. Golf Channel broadcast Morning Drive live each day from the PGA Show to a worldwide audience; SiriusXM PGA TOUR Radio network broadcast more than 30 hours of live and recorded programming, and CBS Sports HQ was streaming live each day from the Show Floor. Golf enthusiasts also could follow the latest daily news from the PGA Merchandise Show at PGA.com and GolfChannel.com, and through #PGAShow in social media.
---
PGA Merchandise Show Winners
Award-winning PGA Professionals and top golf buyers voted for the three best new products among the merchandise displayed in the PGA Show New Product Zone.
The 2020 New Product Zone winning products were:
CoolNES – An innovative, two-in-one neck and face mask that prevents sun damage. www.coolnes.com
Tour Striker Inc. – Provides coaches and players with instruction and training aids. www.tourstriker.com
WizPak Golf – The world's first luxury golf bag with premium sound. wizpak.myshopify.com
Organized in partnership with the United Inventors Association (UIA), the Inventor's Spotlight pavilion highlighted golf inventions not yet available at retail.
The 2020 Inventor's Spotlight winning products were:
Logan Golf Ltd (The Pinnacle Award – Best in Show) – The future of golf bags. www.logangolf.com
Kymira Golf (Best Marketing Effort) – Long-lasting INFRARED technology to bring out the best in your game. www.igosports.shop
Safetee (Most Innovative Concept) – Revolutionary golf caps with a protective layer for maximum protection. www.safetee-golf.com
Influential PGA Professionals and golf buyers voted two exhibitors new to the PGA Show as recipients of the Top Buyers Choice Awards.
The 2020 Top Buyers Choice winners were:
Duke Cannon – Superior-quality grooming goods that meet the high standards of hard-working men. www.dukecannon.com
VimHue – Caps Engineered by women, for women. www.vimhue.com
---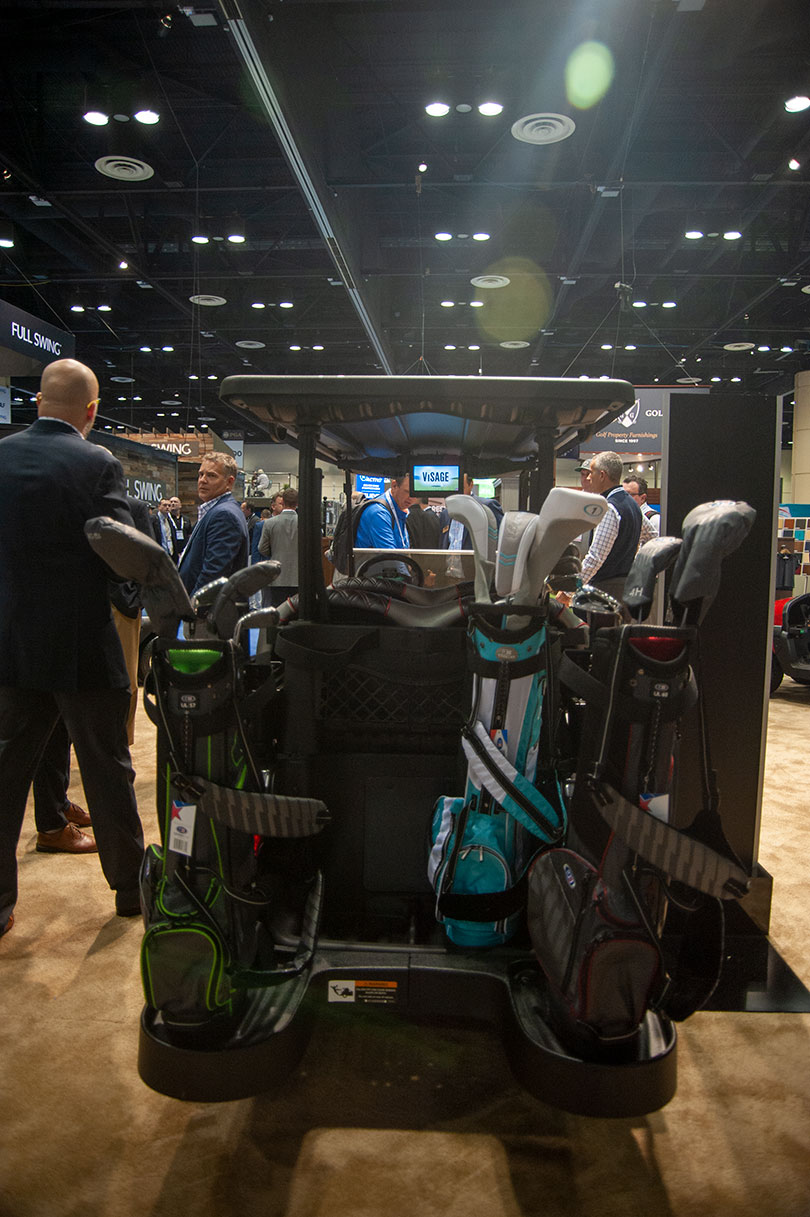 Eagle Parts & Products
Eagle Parts & Products brought its practical, functional range of products. They range from vented windshields to track tops to seat kits to golf ball cages with steel tubing frames. They also do custom graphics for cars, as well as e-coating and powder coating.
The company also introduced a new product, the 736 Single Rider Golf Cart. The car, aimed at drivers with limited mobility or who otherwise need assistance, comes with a battery charger included.
---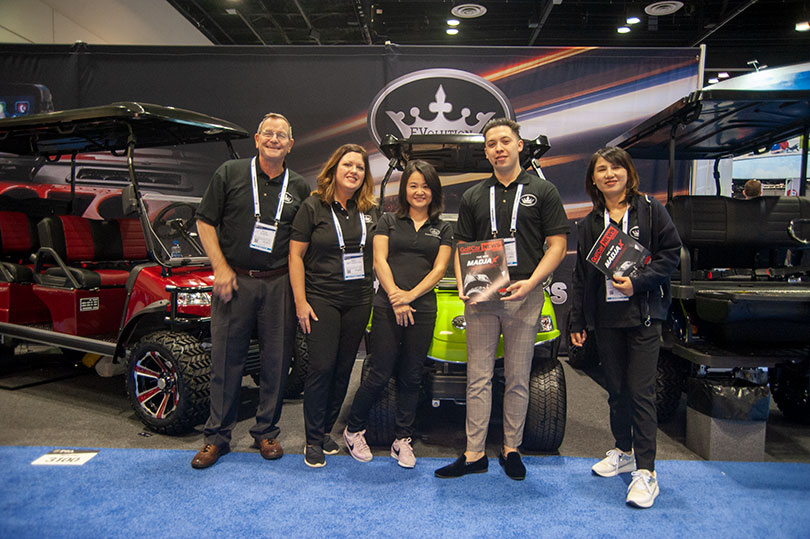 Evolution Electric Vehicles
Evolution Electric Vehicles showed off a product line including its Classic 4 AC, Forester 6 AC and its lithium battery-powered Classic 4 Plus. The California-based company offers a wide range of golf, commercial and personal vehicles, and its Revolution series of enclosed vehicles is, as the name might indicate, revolutionizing the electric vehicle market.
---
E-Z-GO
Golf car giant E-Z-GO brought a huge presence to Orlando. The industry giant represented all sides of its business – everything from parts and accessories to specialty tires and wheels to, of course, its massive fleet of personal and golf cars.
The Textron company continues to grow and innovate; whatever you're looking for, there's a good chance you could find it if you inquired at the E-Z-GO booth in Orlando.
---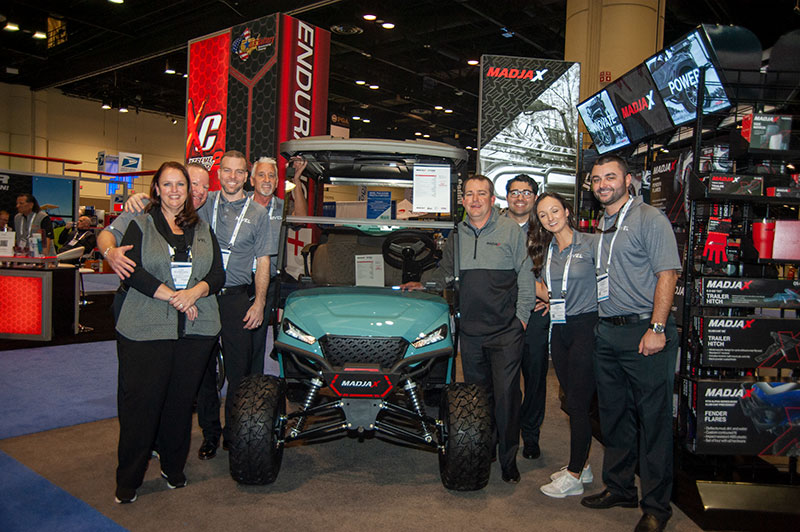 Nivel Parts
What does Nivel Parts do in the golf car industry? It's probably easier to give you a gift of what they don't do. At Orlando, Nivel representatives were on hand to celebrate a brand synonymous with excellence in everything from motors and steering components to tires and wheels to luxury interior and rugged-yet-stylish exterior add-ons.  Light kits, enclosures, seat covers, racks and holders – and that's really just scratching the surface.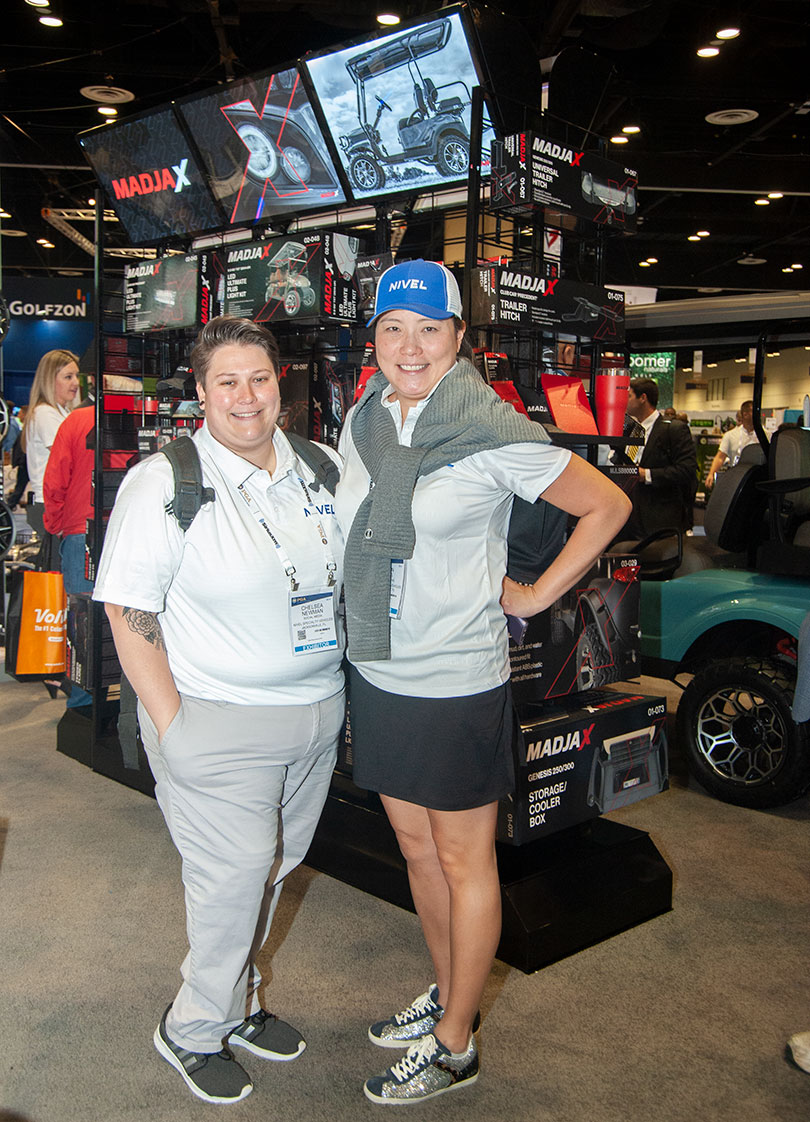 ---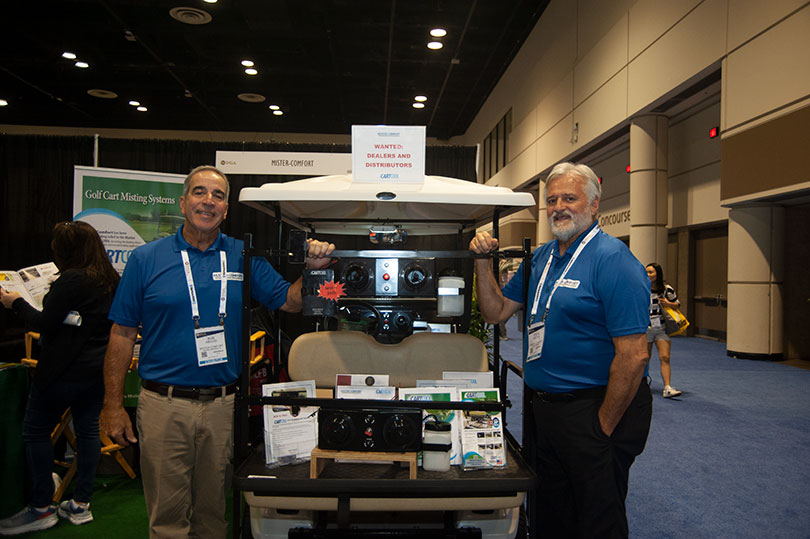 Mister-Comfort
Orlando was probably an excellent place for Mister-Comfort to show off what it does – hot and humid Florida's the perfect spot for products meant to provide refreshing cool.
The company's CartCool system is one of several misting systems. It's a "cool dry" system – think less mist off a waterfall, more an air conditioning-like sensation. The technology involved includes thermal dynamics and evaporative cooling, and removes heat from the air. It can be installed in any car.
---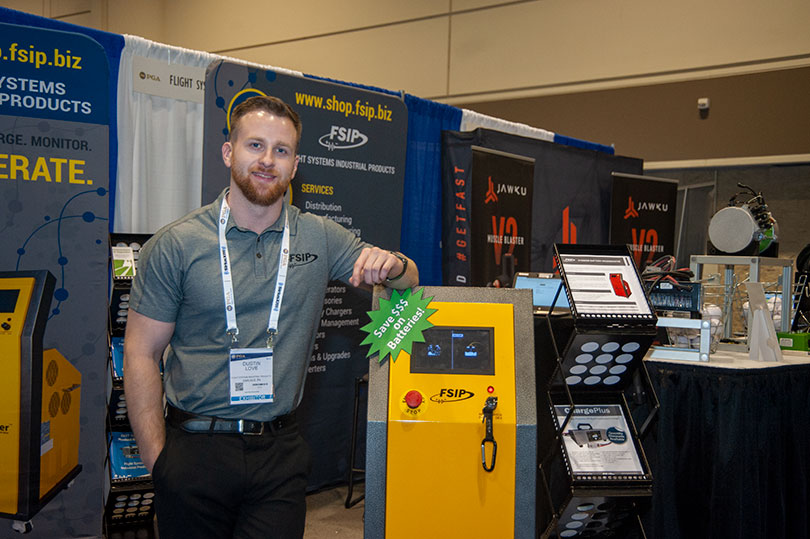 Flight Systems Industrial Products
FSIP stands, of course, for Flight Systems Industrial Products – and if you weren't already familiar, that gives a good clue as to the sorts of high-end products on offer here. In Orlando the FSIP team was answering questions about products such as the Xtender Battery Regenerator, a three-in-one discharging, desulfating and recharging machine for all types of lead-acid batteries. Other battery-related products included FSIP's Battery Monitoring System and its ChargePlus universal high frequency off-board replacement charger. The company also offers performance motors that upgrade on speed or torque and come with a conversion kit. Motor accessories include turf switches, heavy duty solenoids and 4 gauge cable sets.
---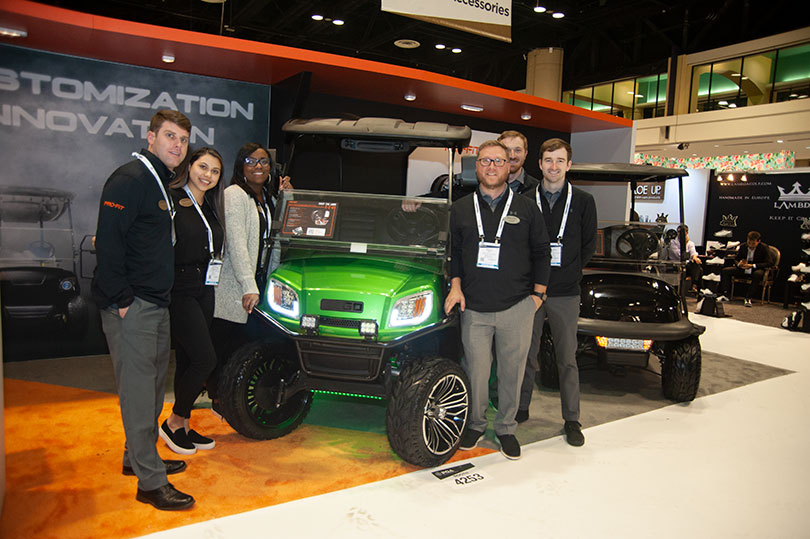 Pro-Fit
If you need it, Pro-Fit probably has it. The aftermarket golf car accessory brand offers high-end products in categories as diverse as enclosures, tires and wheels, windshields, seat kits, tops and more. The Textron company prides itself on innovation and the ability to meet all needs.
---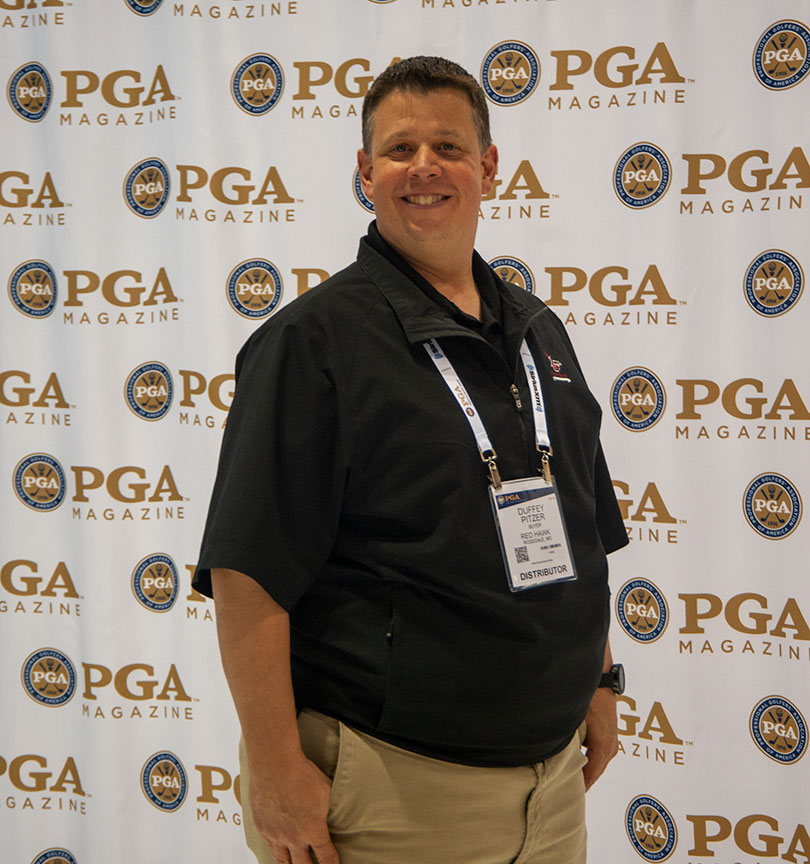 RedHawk
RedHawk is a company that in less than two decades has grown into a big, versatile part of the golf car industry. Visitors to its Orlando booth will have come away with the impression of a company that solves dealer problems and that can provide most kinds of product lines. Simply put, they've got the parts.
---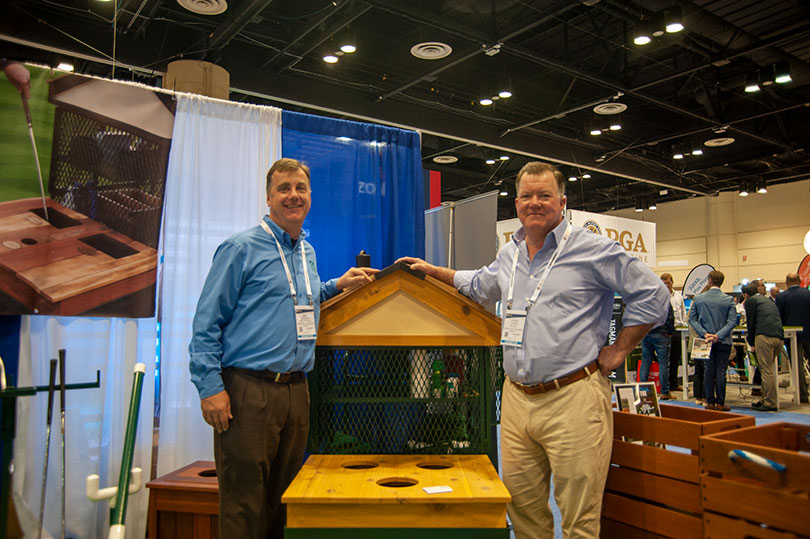 Range Cart
Range Cart is a unique company that makes stylish and functional products for the golf course. Anchoring that is the namesake Range Cart. Constructed partially with wood, the cart offers three cleaning buckets, access from both sides and storage, plus room for a water cooler. The wood gives it the look of a high-end, elegant product. This is a company known for craftsmanship and skill, and at Orlando, people got to see why.
---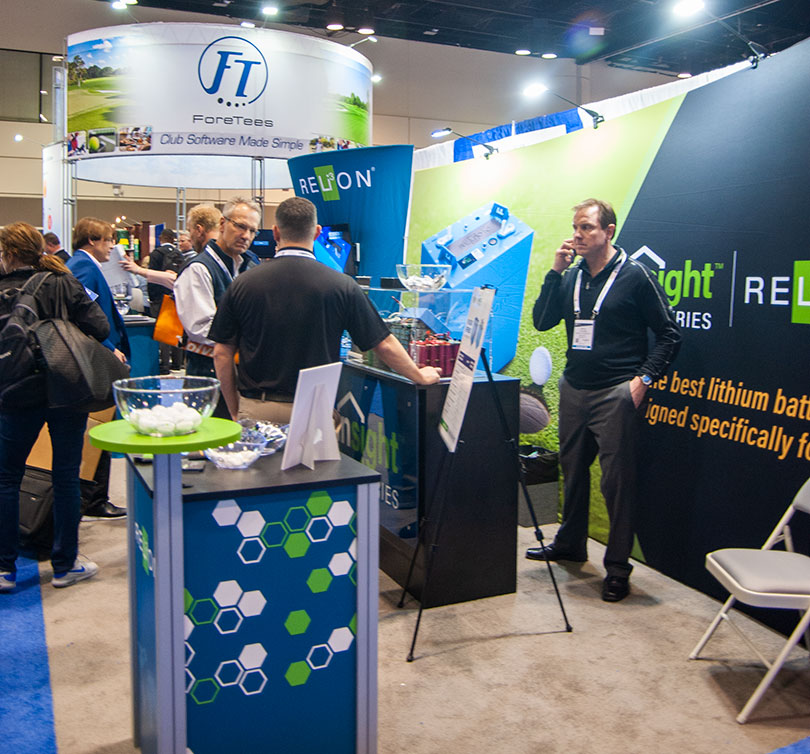 Relion
Relion's Insight Series lithium batteries are a leading player in a massively important and growing part of the golf car industry. In Orlando, the company sought to educate in this increasingly competitive and innovative sector.
Insight Series batteries were thoughtfully constructed by Relion engineers using high quality components. Batteries include an exclusive heat sink, IP67-rated enclosure and UL certification. Each comes with a 7-year warranty.
---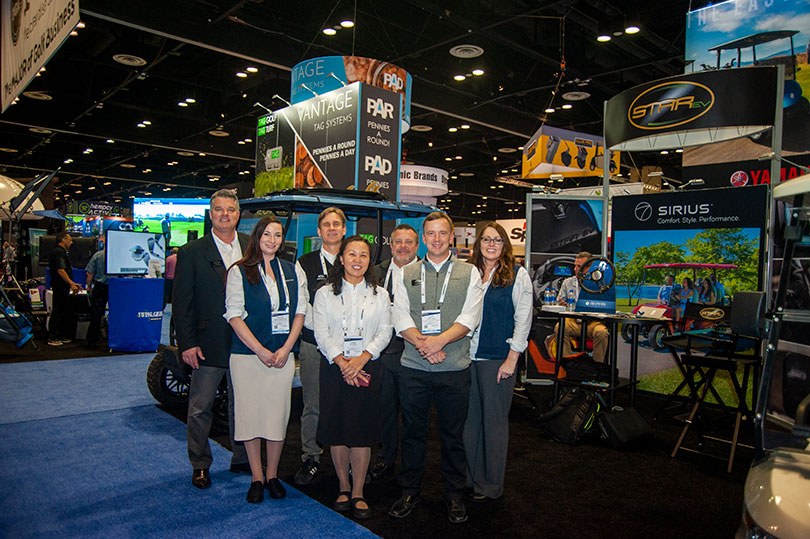 Star Electric Vehicles
Star Electric Vehicles rolled into Orlando with its versatile fleet of golf cars and other electric vehicles. The company has built a reputation for excellence in golf cars, street legal cars, off road and commercial vehicles and people movers. With 50 street legal models alone, Star had plenty to talk about at the show.
---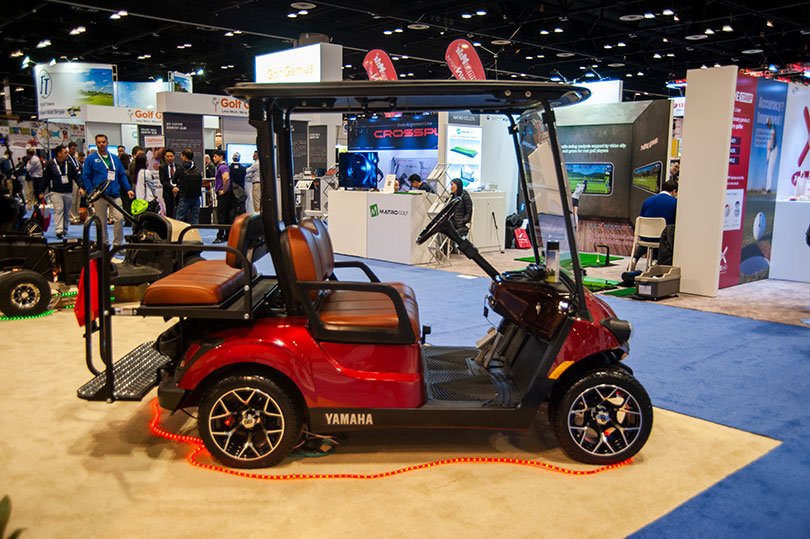 Stenten's Golf Car Accessories
Stenten's Golf Car Accessories is a company that dealers depend on for a diverse array of needs. Stenten's supplies everything from the basics to high-end, hard-to-find products. In nearly three decades in business, the company has built a reputation for competitive pricing and an encyclopedic product offering. They're friendly and helpful – traits that were on display in Orlando.
---
Tomberlin
Tomberlin came to Orlando looking to prove its company motto, "We go farther." Emphasizing personal transport vehicles like the E-Merge E4 SS Ghosthawk and E-Merge E2 SS Coupe, the company emphasized going the extra mile not just on luxury and comfort, but also in areas like safety for street-legal vehicles.
The company also trumpeted its commitment to offering options such as 3-point seat belts, 4-wheel hydrolic brakes and even 7-inch LCD dash displays as standard rather than add-ons.
---
Trojan Battery Company
Trojan Battery Company continues to innovate and push forward in the rapidly developing world of lithium batteries. In Orlando, Trojan trumpeted such advances as its "intelligent lithium ion" batteries that feature electronics like a visual state-of-charge gauge on the battery and a microprocessor that turns the battery off when a problem is detected, then turns it back on when the problem goes away.
The deep-cycle battery manufacturer prides itself on batteries that are functional, industry leaders and environmentally sustainable.
---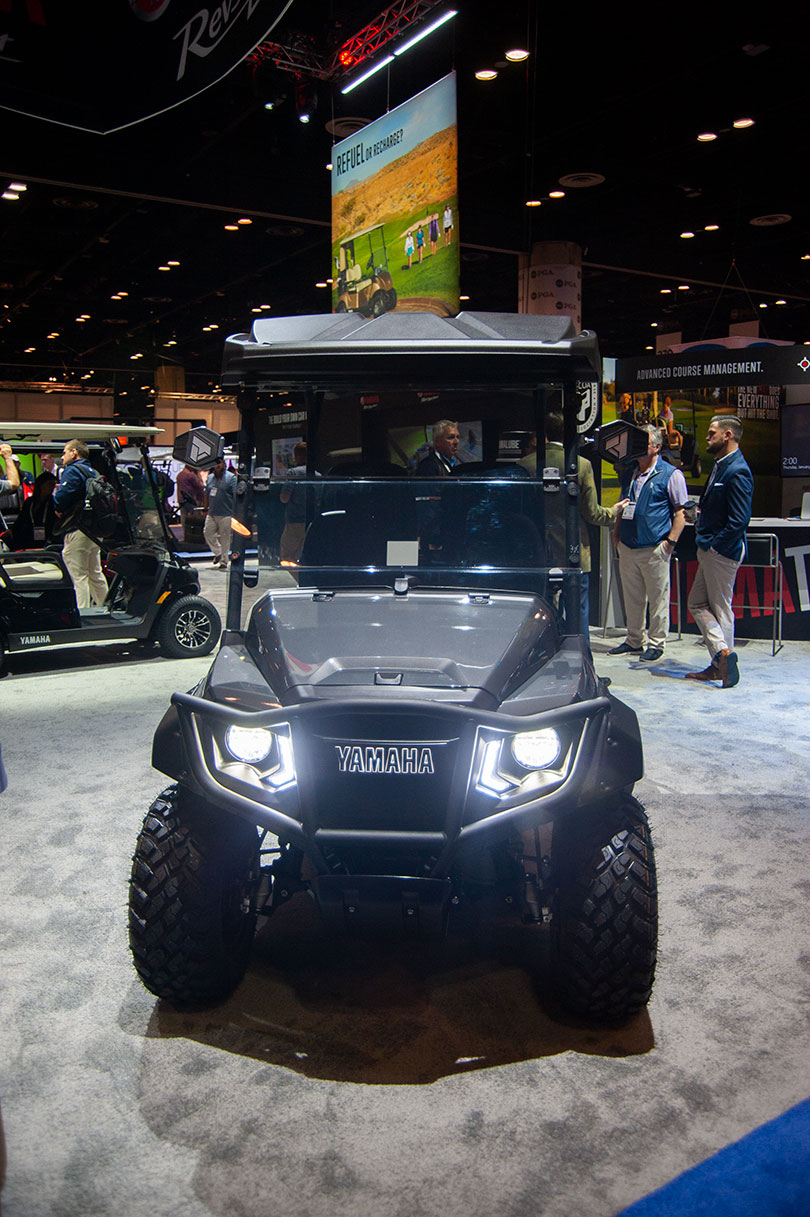 Yamaha
Yamaha needs no introduction, but the industry giant still wanted to make one in Orlando. What did they bring? Oh, a little bit of everything. Commercial light utility vehicles, personal transportation vehicles, fleet golf cars, golf utility cars – plus all the many products and accessories that go with those. Yamaha didn't get where they are by doing just one or two things – in Orlando, the full depth and breadth of one of the biggest players was on display.