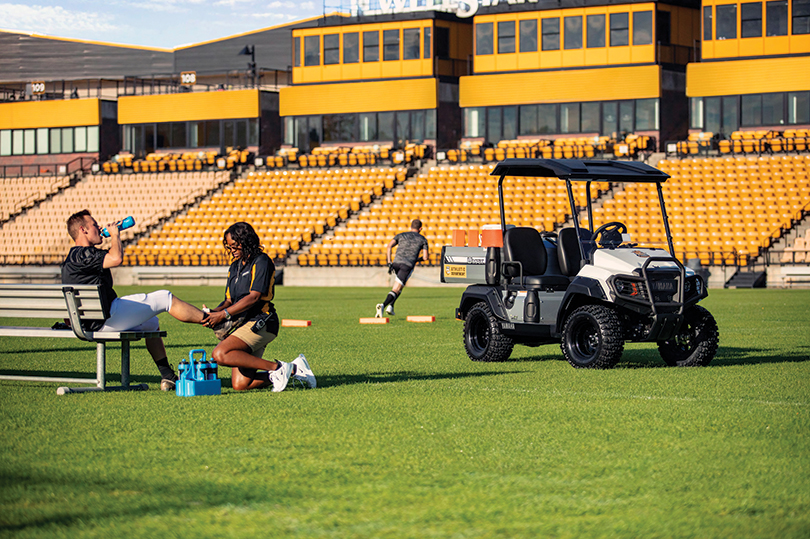 A Massachusetts high school will be able to better look out for the safety and well-being of student athletes thanks to a new golf car.
Scituate High School got the gas-powered 2021 Yamaha UMAX Two utility golf car as part of a grant; the car's $9,945 price tag was fully covered by the grant.
"With an athletic complex as beautiful and large as ours, this cart will allow for us to manage multiple athletic events more efficiently and successfully in many of our sports seasons," athletic director Peter Umbrianna told wickedlocal.com. "We will now be able to set up our fields for games, adhere to any potential medical issue, and check-in on each athletic event that may be happening in a more timely and more efficient manner.
"This golf cart is strong, reliable, and resourceful as it offers a substantial cargo bed which will benefit our athletic department in several ways.
"While I do know that this cart will significantly improve the way we are able to run multiple athletic events at once, the most important benefit by having this cart is the safety and well-being of our student-athletes and spectators," Umbrianna said.
For Jen O'Neill, president of the group that administers the grants, the golf car was a good idea thanks to large facility upgrades at the high school.
"I believe with the beautiful new fields located on the SHS campus, this cart was necessary," O'Neill told wickedlocal.com. "During the presentation, we learned that SHS was the only school in our league that did not have a cart."