ICON'S new economy car means no more refurbished cars. Buy this and save the headache.
Never have enough inventory in stock? Tired of taking on the liability of ensuring a previously owned vehicle is safe for your consumer? Is the prospect of refurbishing carts exhausting and time consuming? ICON® EV solved the problem with ECO by ICON® EV.
The visionaries at ICON® EV are expanding their product line to reach the underserved market of the economically priced or previously-owned golf car buyer budget. With an economical price point of $7,500 MSRP, even the most budget-conscious consumer will be able to purchase a new ICON® for outdoors, recreation and family fun.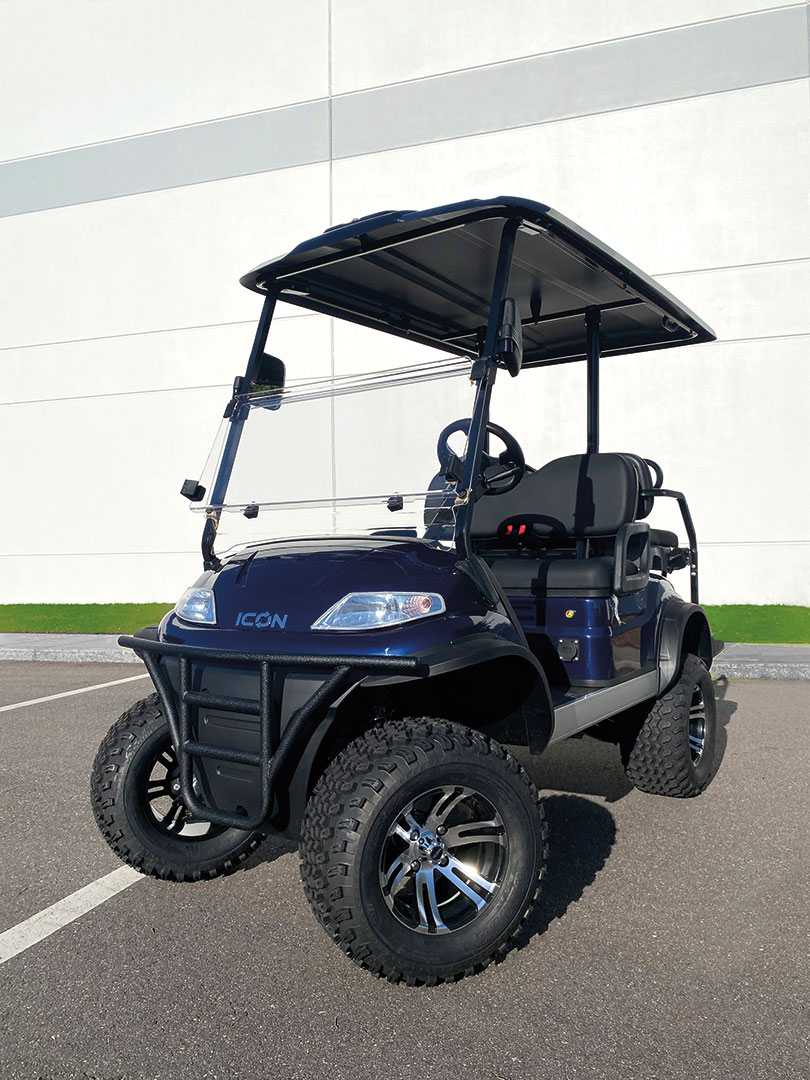 "There isn't another golf car at this price point available in the country today," said Roy Williams, founder of the ICON® EV brand. "Season is coming, so there has never been a better time to get this cost efficient option to offer your customers!"
Clearly Williams is extremely enthusiastic about this new model line, as his vision is to always cater to what his dealer network is craving, and he is confident that this ECO line will exceed expectations. ICON® ECO will offer two models, including a 4-seater lifted and non-lifted. Each will be backed with a 2- year limited warranty from the manufacturer, and two-year AGM battery warranty.
"We're hitting a market that has never been tapped into before," said COO Sean Heatley. "The dealer will be able to make ample profit, with no more refurbishing headaches while creating a happy clientele. This is what the ECO lineup offers."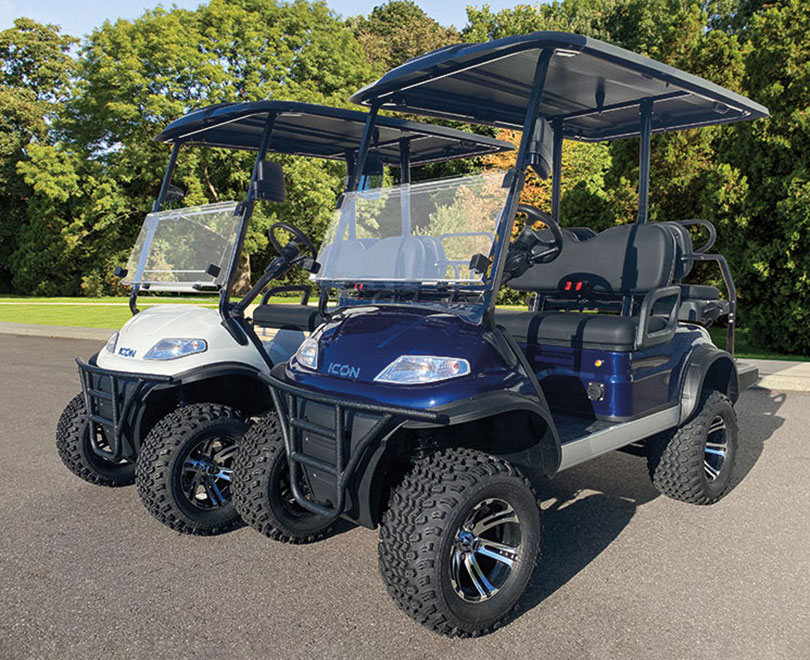 Key features include a 350 amp controller, drum brakes, unique flooring, square tubing, textured matte finish on the windshield post and grab bar, halogen lights, dual sway bar in the rear and dual arm construction on the rear end. Designing the fundamental characteristics for the new line involved making the aesthetics different and distinctive from the other makes and models offered in the ICON® family of brands.
ICON® used the same strategy to dominate the industry when launching the company in 2017. High volume, low prices and an unbeatable value to the consumer is what has propelled the company to a leadership position in the industry. This time ICON® is catering to the cost-conscious or entry-level golf cart buyer, while always keeping the dealer profit a top priority.
"Every dealer in America is going to want this car over any other brand," Williams said. "They'll save time and labor in a tight economy. This car is ready to go."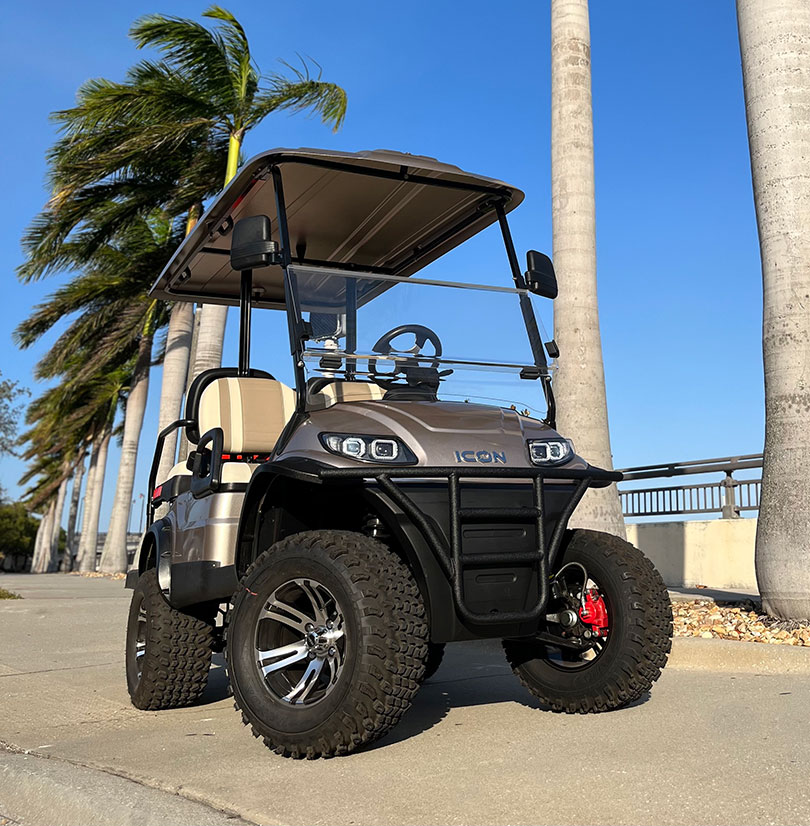 The first order of ICON® ECO carts for the initial rollout is currently in production, and they are anticipated to be on dealers' showroom floors by June 1, 2023. Those interested in being a part of the debut should reach out and place their orders now! Additional inventory will be immediately produced thereafter, and is expected to hit showroom floors by July 1, 2023.
There will be six total colors to choose from in the economy line. Three color options will be available to start, and will include white, black, and indigo blue. The following order will include the remaining colors in this product line, adding forest green, champagne, and a beautiful new shade of ICON® red.
More exciting news… ICON® E-Bikes have proven to be another popular addition to every showroom floor. Dealers' feedback indicates the demand for the E-Bike product continues to increase. In fact, the creation of this superior E-Bike with a bigger motor, larger spokes and a better frame, with an emphasis on quality and durability, was so on-target that dealers are having a hard time keeping inventory in stock.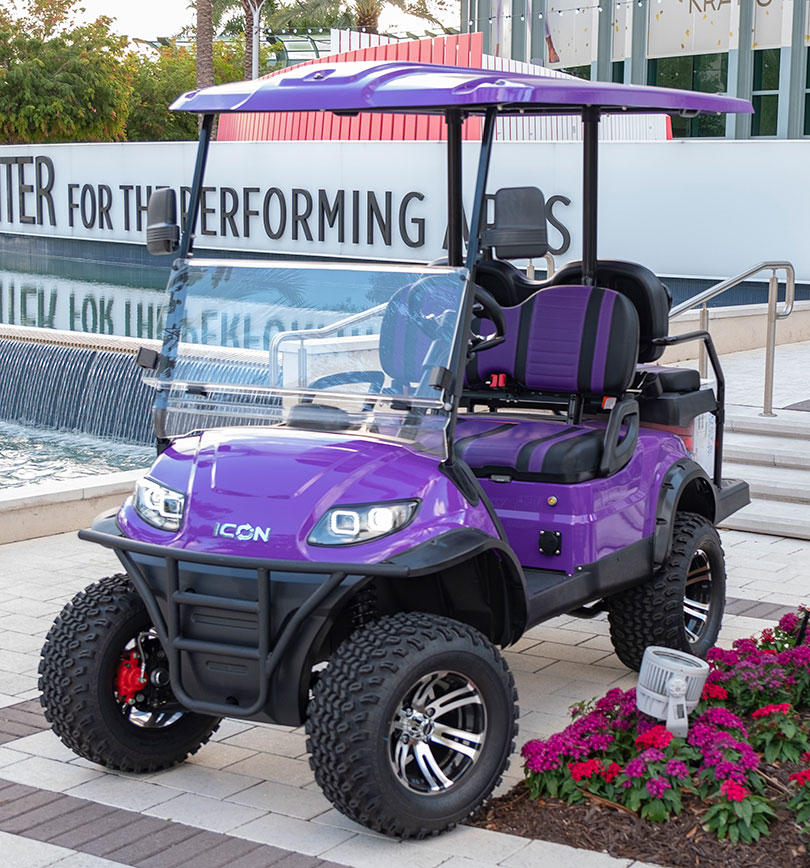 The ICON® EV design team meticulously added feature after feature to make an Electric Bike worthy of the name ICON®. The ICON® E-Bikes are fitted with full suspension (front and rear shocks), active brake lights, LCD gauges, LED headlights and tail lights, daylight sensing automatic lights, and easy to achieve speeds of 25 mph on roadways.
The super-sturdy frame was designed with triple rails, so all wires are fully encased with none exposed to pull or snag. The triple rail 6061 aluminum frame has the added benefit of helping to protect the E-Bike and all of its components from weather exposure as well.
The up-sized 12-gauge stainless steel spokes and alloy rims aid in the weather-proofing of this durable piece of machinery, making it the perfect way to complement an outdoor lifestyle. Your customers can ride to the office, to the store, or to the beach with no fear of the elements taking their toll on their favorite mode of transportation!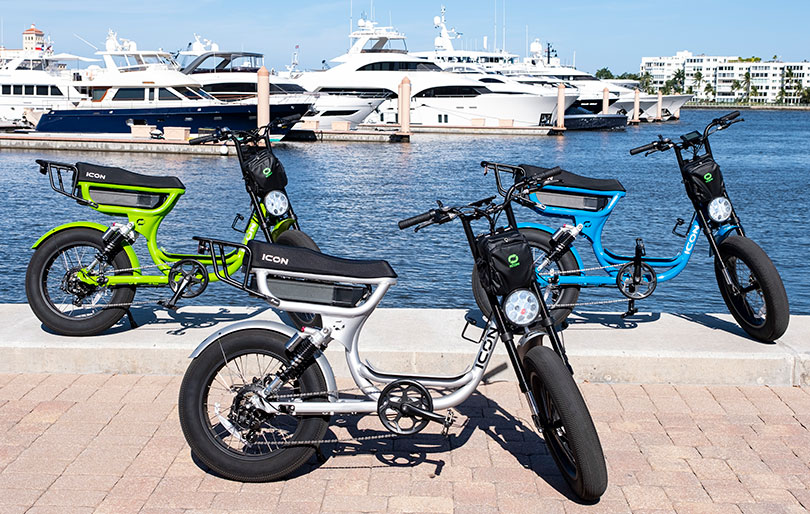 Interested in becoming an ICON® E-Bike dealer? Reach out to sales@iconev.com, or call (760) 895-5002 to get started.
ICON® EV has also announced their brand new loyalty program. "It's all about making 2023 the most profitable year yet, and incentivizing our loyal dealer network," said VP of Sales Ty Gaydish, who has spearheaded this endeavor.
Gaydish explained that dealer partners will fall into three levels of loyalty, Silver Partners, Platinum Partners, and then the elite Presidents Circle, each with increasing incentives based on volume.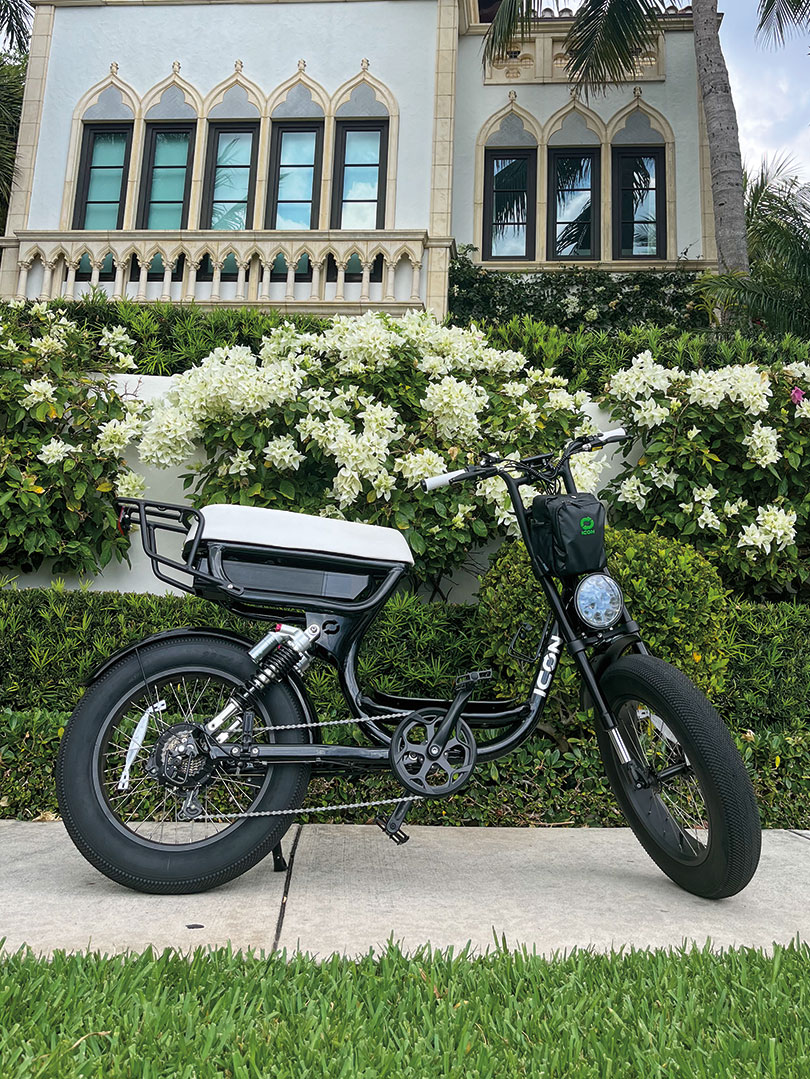 Dealers who are currently partnered with DLL financing will be able to take advantage of an ICONIC floor plan offer of 0% interest for 75 days, 90 days, or 120 days, depending on the volume of sales within the ICON® EV family of brands.
New dealers to DLL will begin at the Silver Partner level, and standings will be evaluated after 6 months. Dealers interested in being a part of this loyalty incentive program should reach out to sales@iconev.com and their representative will help facilitate a relationship with DLL.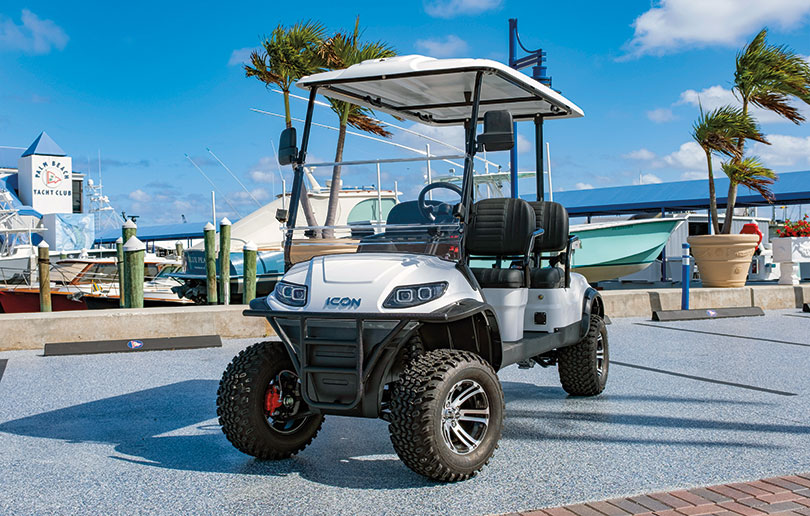 "If that wasn't enough incentive already," said Gaydish, "we are even introducing ICON® EV's Dealer REBATE Program, which will refund $100 per cart purchased for Platinum Partners, and $200 per cart purchased for dealers who achieve the President's Circle tier."
With so many exciting things happening at ICON® EV, there has never been a better time to join the family.