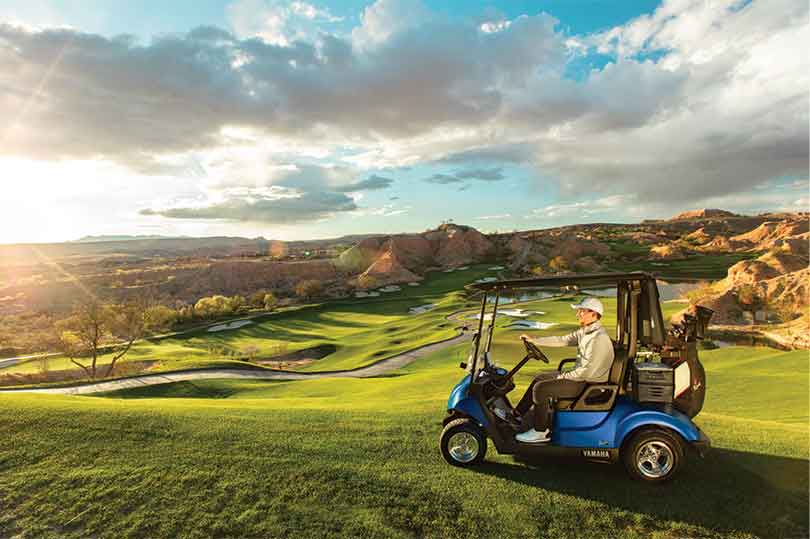 Yamaha introduces a handful of colors never before seen on golf cars.
Kennesaw, GA
Five, new, edgy colors are being introduced to Yamaha's 2020 Drive2 models; the color lineup includes Arctic Drift (the industry's first factory matte finish on a fleet car) and Mica (a bronze metallic) for Drive2 Fleet models, plus Atomic Flame, Graphite, and Mica (all matte finishes) for their Drive2 PTV models.
"These new colors, especially the first-ever factory matte finish on a fleet car, furthers the legacy of innovation that is Yamaha—giving courses and retail customers more ways to stand out than ever before," said Tom McDonald, President of Yamaha Golf-Car Company.
Additionally, the Drive2 PTV model's new matte colors will also be available for the Concierge 4, Concierge 6, and the Adventurer Sport 2+2 models, expanding the breadth of product options even more.
Yamaha's new matte colors marry the growing low- or non-gloss finish trend in the automotive industry with the popularity of customizing vehicles in the golf car industry. By bringing factory matte paint options to the retail market, and a first-ever matte option for fleet cars, customers will get to experience yet another inspiring first with Yamaha's legendary quality, globally known for setting the standard.
For more information, visit yamahagolfcar.com.