By Kaila Stang & Tyuanna Williams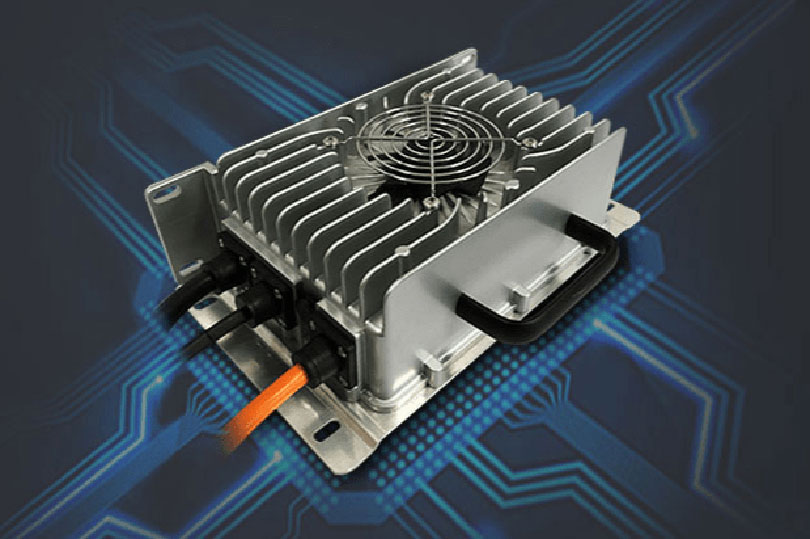 1. Golf Cart Battery Charger by ROYPOW, available at roypowusa.com.
ROYPOW's golf cart battery charger can help to improve your battery lifecycles so that you will be saving yourself money in the long run. It accomplished this by preventing undercharging or overcharging for your ROYPOW LiFePO4 Golf Cart Batteries. After only 2.5 hours to reach a full charge, your battery will automatically shut off on its own so you don't have to. And it is easy to move weighing at only 10.6 pounds.
---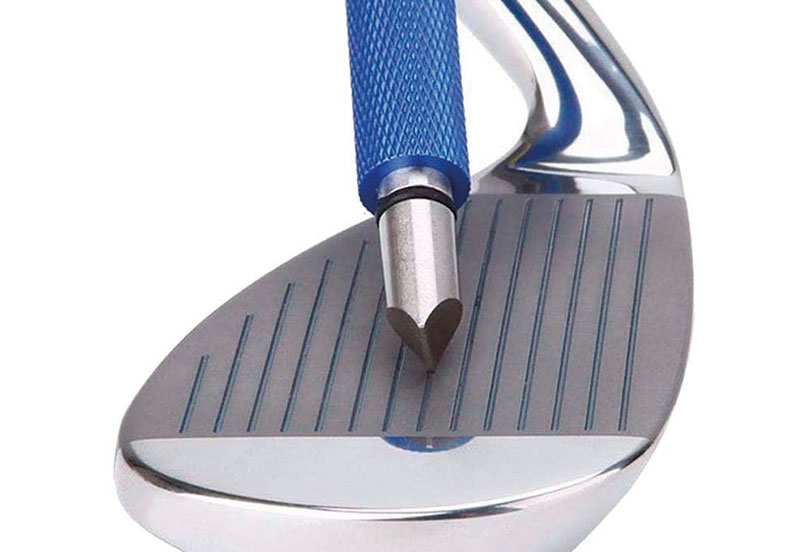 2. Golf Club Groove Sharpener by Bulex, available at amazon.com.
Before buying a new set of clubs, try restoring your old clubs with the Golf Club Groove Sharpener. For less than $20, the groove sharpener will clean out and deepen the grooves. The sharpener fits all types of golf club and grooves including U and V shaped. It's small, weighs 1.3 ounces and can easily be stored.
---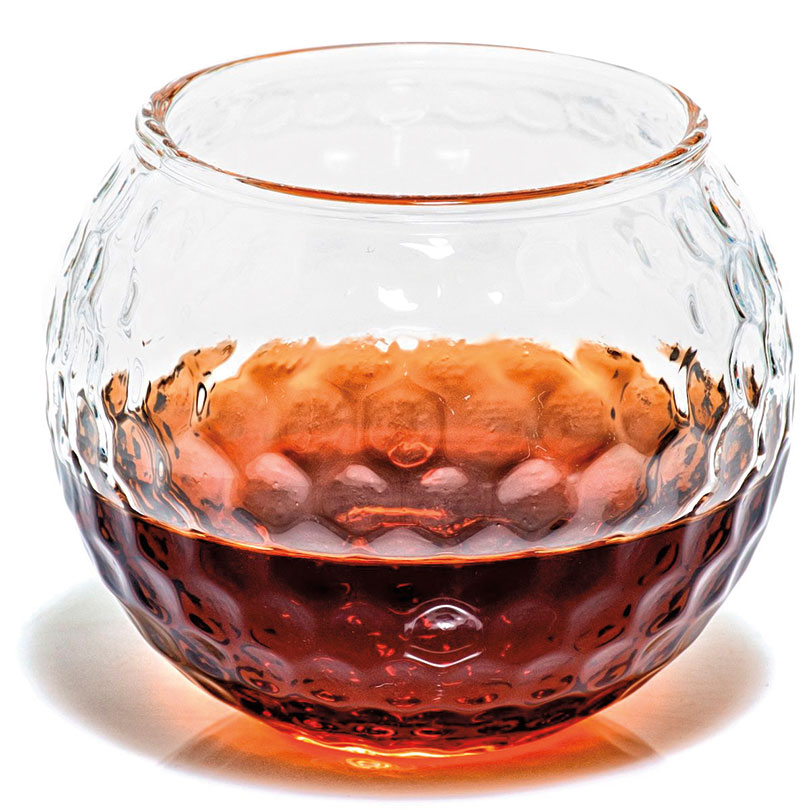 3. Golf Whiskey Glass by Prestige Decanters, available at prestigehaus.com.
The whiskey glasses are available in sets of two or four. Its shape features a round look with dimples, resembling a golf ball. The glass has a heavy bottom and holds 10 ounces of liquid. The glass is hand-blown and lead-free. Safe shipping is guaranteed to protect your order.
---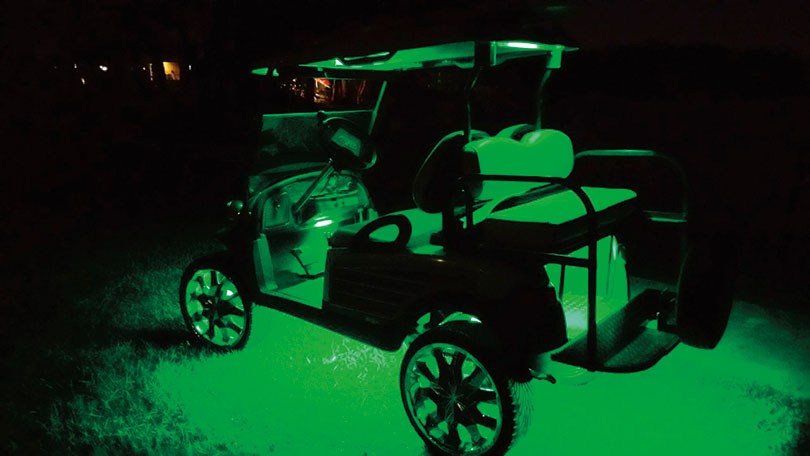 4. Golf Cart Stage 2 Kit Fusion 21 Color LED Lighting Kit by Customize That Ride, available at customizethatride.com.
Their Fusion systems eliminate time consuming wiring of LEDs. You can simply plug into a main control module that can create the wildest flash patterns. They feature A multi-color, three-zone, three lines, plug-n-play CPU with wireless remote. The million color system will display 19 individual colors, plus it has a million colors and seven color features.
---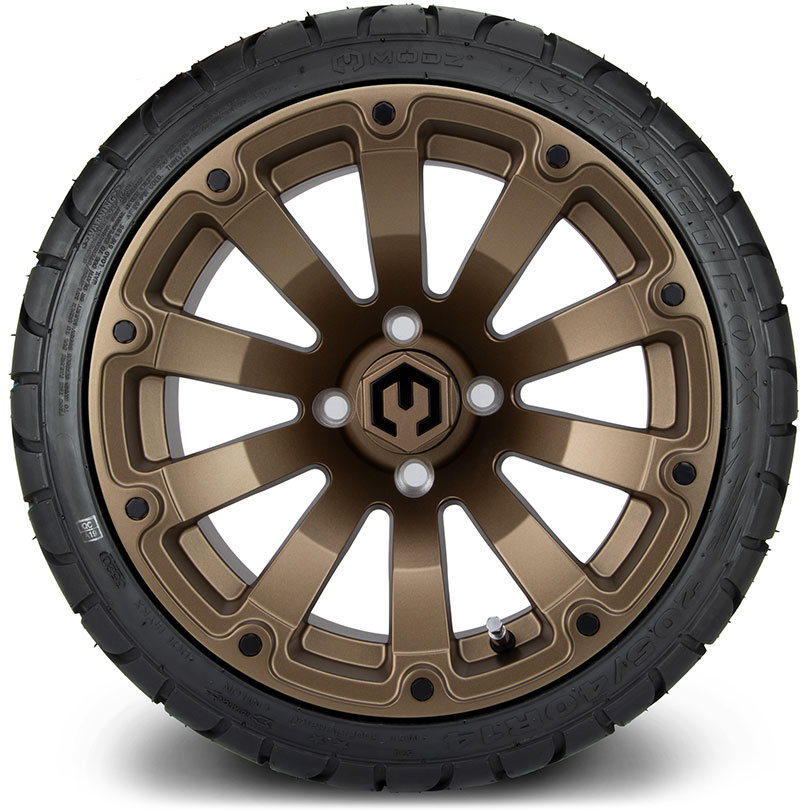 5. 14″ Bomber Matte Bronze – Lowpro Street Tire and Wheels Combo by MODZ, available at golfcartking.com.
MODZ® 14″ Bomber Matte Bronze – LowPro Tires and Wheels Combo include: set of four mounted golf cart tires and wheel assemblies; optional lug nuts in black; and four center caps. The Bomber Matte Bronze Wheels measure to 14×7 with 4×4 bolt pattern, ET -25 offset. Tire options: 205/30-14 Arisun Cruze, 205/30-14 MODZ Guardian or 205/40-14 MODZ Street Fox Radial.
---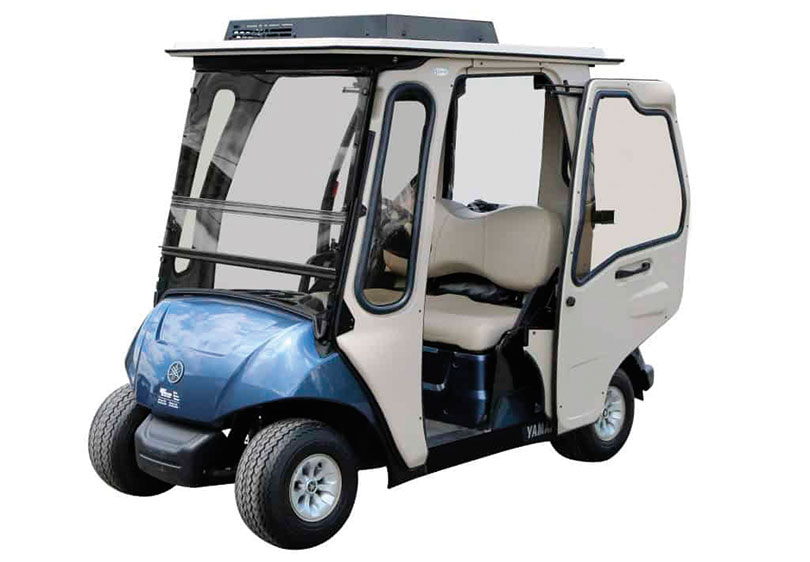 6. AC For 48V Electric Yamaha Drive by Curtis Industries, available at curtisindustries.com.
Real air conditioning for the Yamaha Drive & Drive 2 (48V Electric) models offers users the ultimate in operator comfort with protection from the sun, heat, rain, dust and insects. Features include self-contained system requiring only three wire connections to vehicle (system requires 60 amps @ 12 Volts to operate); a stylish, low-profile design that allows enough clearance to park in most standard garages; overhead console features multi-speed fan control and four 360 degree adjustable louvers; and simple and easy installation in about two hours. It comes pre-charged with refrigerant – no complicated initial set up.
---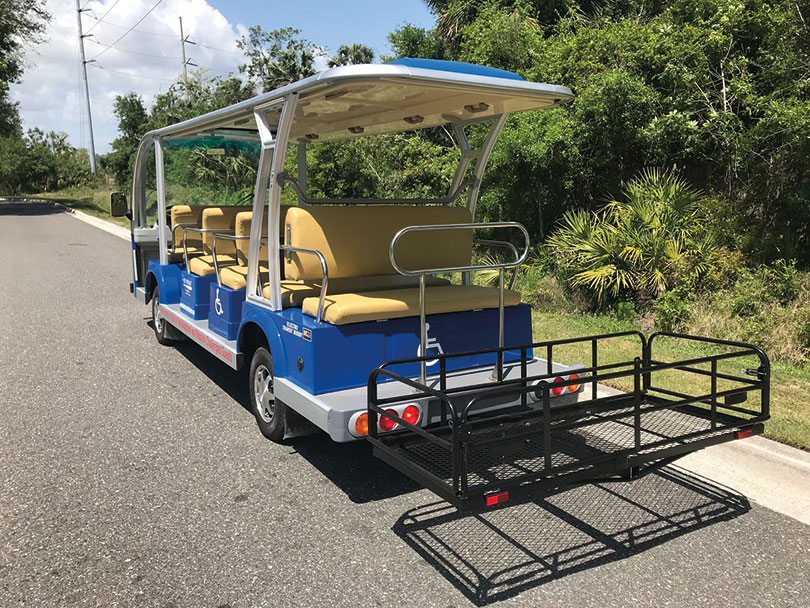 7. Electro Neighborhood Buddy 8 Passenger Street Legal Golf Cart by MotoEV, available at motoelectricvehicles.com.
The MotoEV Electro Neighborhood Buddy 8 Passenger Street Legal Golf Cart has all the required standard features necessary to certify the unit as street legal and thus to drive on roads marked 35 MPH or less! Their vehicles can travel an industry leading 50 miles per charge. The built-in on board chargers not only keep the batteries ready to go but contain amicroprocessor so they will never overcharge. Once a full charge is detected, they simply turn themselves off. You will be able to "opportunity charge" your vehicle at anytime while on a break, shopping or simply at lunch because your charger will be contained right on the vehicle. Their LSV are perfect for courtesy shuttles, security patrol vehicles, parks as well as recreational type vehicles. They are perfect for any commercial or residential application that requires use of a vehicle at speeds of 25 miles per hour or less.