By: Matt Vallez
Here we are late in a year most of us are looking forward to looking back on. We all want to be able to look back and say that was a tough year and remember the lessons it taught us about being frugal and creative. But we still need to have a little fun; this issue is our Commercial and Industrial Vehicle Issue and what would be more fun than to do a head to head comparison of the biggest golf car type vehicle offered by the big two.
Both E-Z-GO and Club Car make formidable four wheel drive vehicles that have impressive load capacity and power, but the nod for biggest and baddest has to go to Club Car for the XRT 1550 SE, available in either gas or diesel. This 4 passenger facing forward monster weights in at just under a ton, 1,786 LBS for the diesel version. It has a 1,600 LBS total vehicle weight capacity and can handle a bed payload of 800 LBS. Yes Club Car gets the nod because E-Z-GO currently does not make a comparable 4 passenger 4 wheel drive vehicle.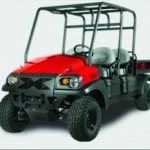 CLUB CAR XRT 1550SE
Now that we have seen the mini pick-up in diesel, that any of us could drive home or have for a mere $13,800 let's do a head to head comparison. We will take two vehicles that are fairly matched and put them side by side. The E-Z-GO ST480 Off Road Workhorse and the Club Car XRT 1550 Gasoline.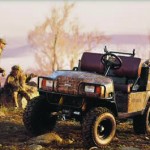 E-Z-GO ST480 OFW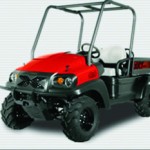 CLUB CAR XRT 1550
 Both cars have gas engines and 4 wheel drive power trains, seat two people and come with a cargo box on the back, so let's dig into the details.
| | | | |
| --- | --- | --- | --- |
|   | EZGO ST480 | XRT 1550 | Nod Goes To: |
| Engine Speck | V-Twin 16HP 4 Cycle (480cc) Air Cooled | Kawasaki 4-cycle twin cylinder (675cc) Air Cooled | CC |
| Frame | Welded tubular steel with DuraShield powder coating | Rust-proof non-corrosive aircraft grade 6061 aluminum | CC |
| Suspension | Leaf springs and shock absorbers | Swing arm or A-arm with coil over shock absorbers | CC |
| Brakes | Mechanical drum brakes | Hydraulic Disc | CC |
| Steering | Self compensating reduction rack and pinion | Rack and pinion | EZGO |
| Dry Weight | 1,100 LBS | 1,430 LBS | EZGO |
| Vehicle Load Capacity | 800 LBS | 1,200 LBS | CC |
| Overall Length | 110.5 inches | 124.6 inches | EZGO |
| Cargo Box Size | 44 x 36 x 10.5 inches | 48 x 49.8 x 10.9 inches | CC |
| Ground Clarence | 6 inches | 7.4 inches | CC |
| Stock Tires & Wheels | Stryker 22×9-10 on steel wheels | Mud 25×11-12 | CC |
| Price | $7,700 | $10,050 | EZGO |
There are several other manufactures in this space that specialize in electric 4X4 golf cars. These products have developed almost a cultish following among a growing number of outdoorsmen and hunters. Stealth 4×4; stealth4x4.com and Bad Boy Buggies; badboybuggies.com are two of the first 4×4 electric and both have developed a much deserved dedicated following among outdoor enthusiasts. These cars are not only capable of going places no ordinary golf car can go they do it with the quiet only an electric vehicle can deliver.
To be honest, the way I play golf any of the above 4×4's would help me speed up my game, because almost anywhere I hit it I would be able to ride right up on the ball for my next shot. I think most superintendents would not be pleased to see me show up to their golf course with any 4×4 golf car with off-road style tires, they just don't have a sense of humor when it comes to their turf.
This is about as much of a side by side as we can do on paper, it is like shopping for mattresses as each company uses different measurements or terminology or simply has a NA for an important category where their car may not be the best. We covered the most important and basic items with this chart above. The type of 4X4 drive train is also a big determining factor with any 4×4 gas vehicle comparison. Other than road test we can't do a proper job of comparing. Unfortunately I do not have either of these cars available for the road test at press time.