If it's this year's top parts and accessories for golf cars you're looking for, you're in the right place.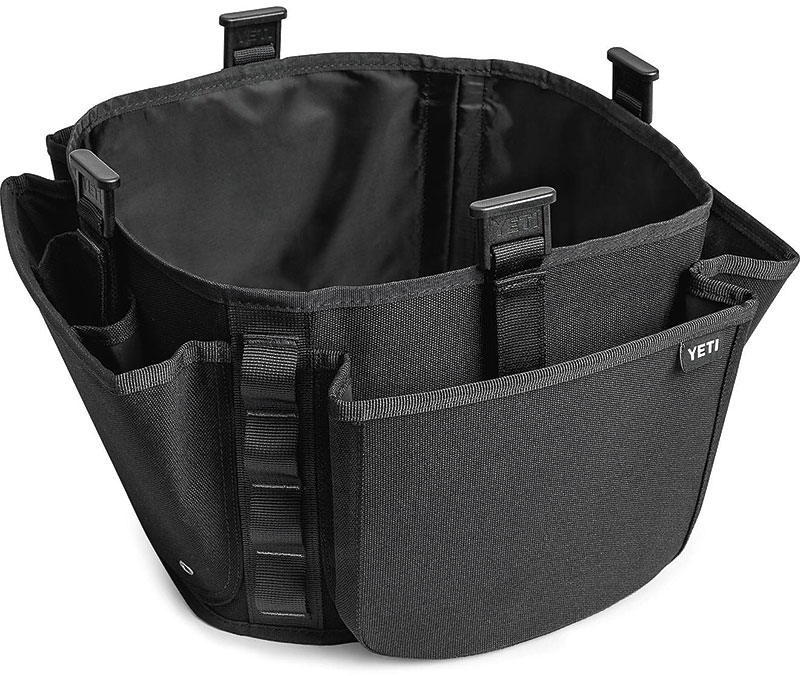 1. Loadout Bucket Utility Gear Bel by Yeti, available at yeti.com.
Use this utility belt to tie around your golf bag or anything on the cart that allows it. This belt keeps your gear organized, protected and in place as you make your way on the green.
---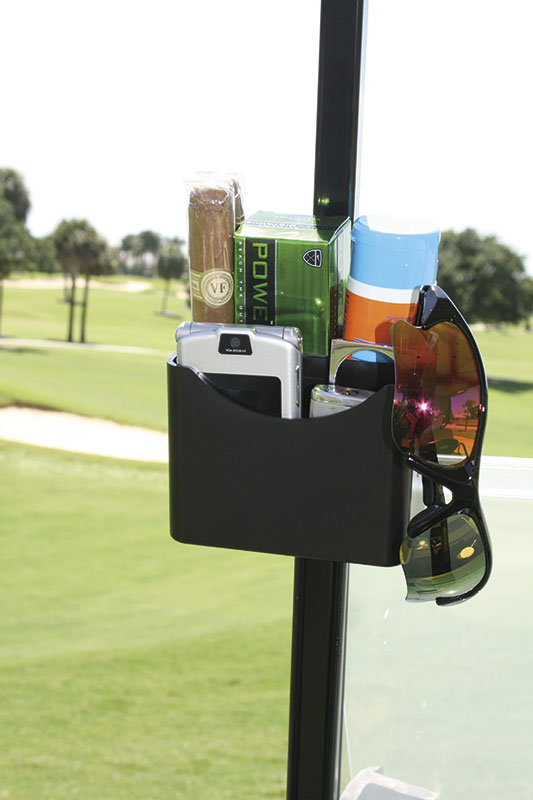 2. Golf Car Accessory Organizer and Caddie Holder by Ready Caddy, available at readycaddy.com.
This organizer features two divided sections and comes with adapters to fit ¾″, 1″ and 1¼″ roof rails to ensure it is compatible with all fleet carts and almost any custom cart. Now you can keep all your items in an easy-to-reach place. Necessities like a smart phone, GPS, rangefinder, sunscreen and even cigars are now easily accessible to you.
---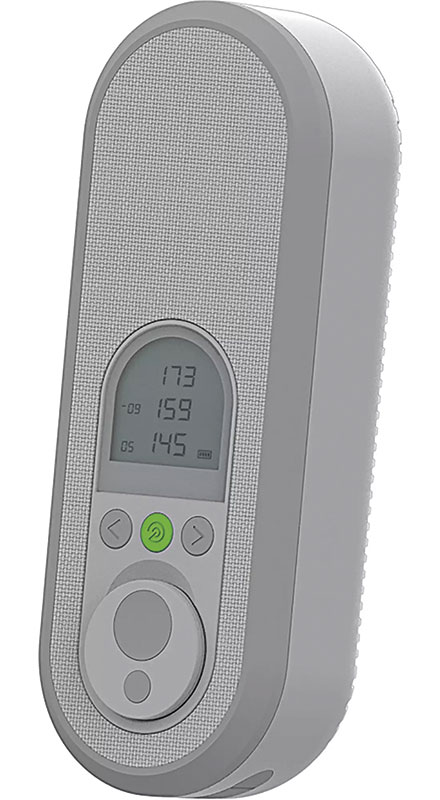 3. Ace Smart Speaker by Precision Pro, available at precisionprogolf.com.
As Precision Pro's motto says, they're a company whose products are made by golfers for golfers. The Ace Smart Speakers does wonders to prove this. This product (powered by the Precision Pro Golf App) helps you: find your slope (customized to you and your game), personal layups (create your own layups for any hole), audible GPS distances (speaks to you with GPS distances) and find my precision pro (rangefinder). The rangefinder features MySlope which consists of groundbreaking technology that combines a player's unique ball data with environmental variables like temperature, humidity and altitude. Plus, you can stream music from your phone to the speaker wherever you are. In addition, it is remote controlled and has a magnetic grip.
---

4. Golf Ball Caddy by Callaway Golf, available at callawaygolf.com.
A golf ball caddy with your logo on it? What a great way to market your business on the green! The ultimate neoprene-like ball sleeve clips to golf bags and features easy release of golf balls. The product includes divot tool with ball marker and four 2 ⅛″ wooden tees. It can hold up to three golf balls and measures to 7 ¼″ H × 2 ⅜″ W × 2″ D.
---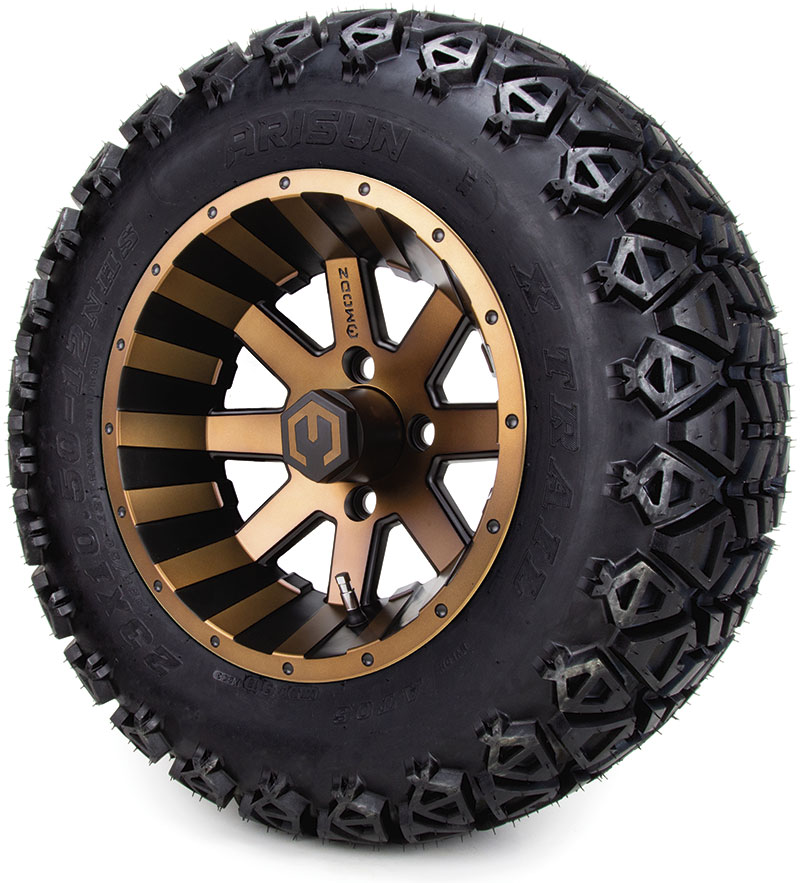 5. Assault Golf Cart Wheels and Terrain Tires by MODZ, available at ridemodz.com.
These 14″ bronze and matte black golf cart wheels and all-terrain and come with a life kit. These are one of the latest styles that MODZ offers which means you'll be riding in style. It also has a 4×4 bolt pattern and includes 16 black lug nuts and four center caps.
---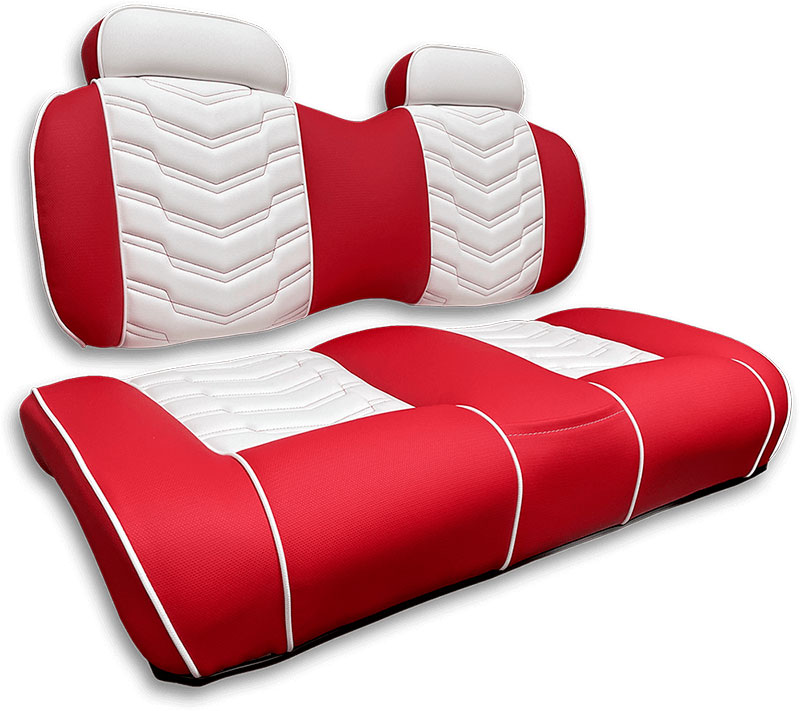 6. Exclusive Luxury Big and Tall Seats by Lazylife Seats, available at lazylifeseat.com.
In addition to being ultra stylish and unique, these seats feature premium stich work and designs that stand out. It includes a phone pocket and piping standard. The big and tall option eliminates seat back lumbar cushion to increase legroom for taller riders. There's a bolt-on headrest option and matching rear assembly sets available as well.
---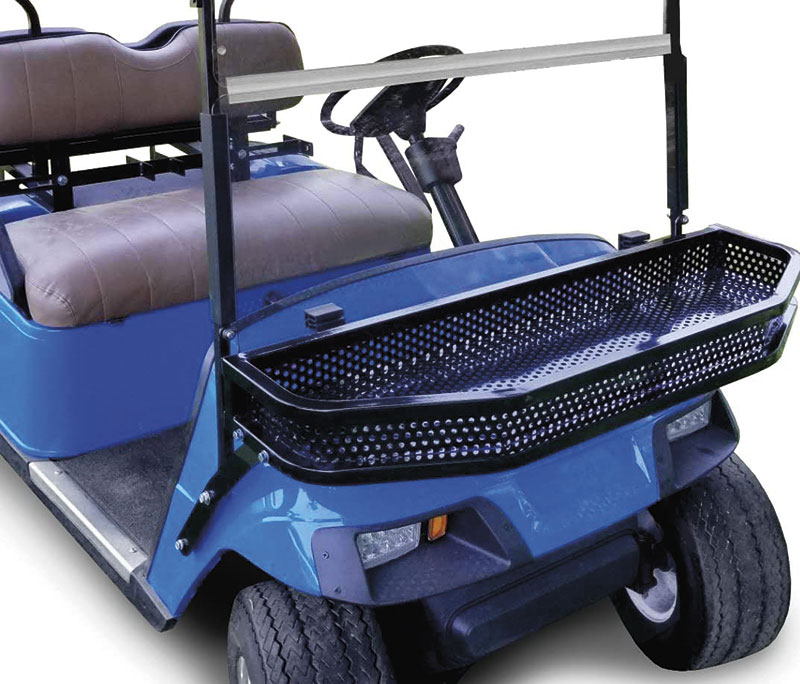 7. Front Clay/Cargo Basket with Mounting Brackets by Huskey Parts Company, available at huskeyparts.com.
These mounting brackets by Huskey Parts are strong and durable. Its design allows for full functionality of fold down windshields. It features a high gloss black powder coating for a long-lasting high-quality look. The maximum weight it holds is 50 pounds. It exclusively works for E-Z-Go TXT carts and measures to 44.5″ wide, 13.25″ long and 4.5″ depth.
---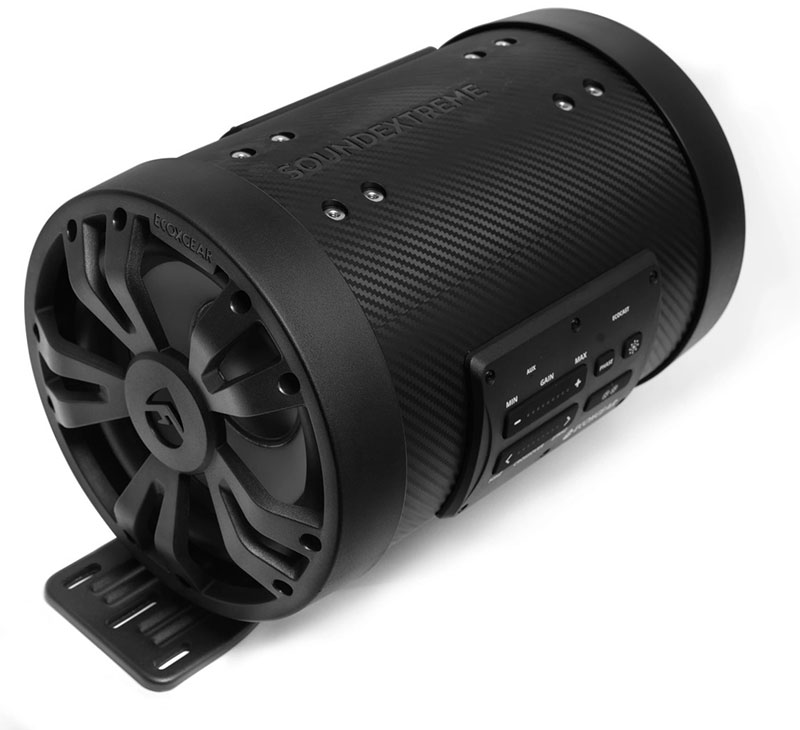 8. SoundExtreme 8″ ES08 Amplified Subwoofer by ECOXGEAR, available at ecoxgear.com.
Amplify the sound coming your ride with this subwoofer. The product is 100% dustproof, sand proof, mud proof, snow proof and shock resistant. It's all about making your time on the green even more enjoyable. It is ECOCAST compatible – meaning you can easily connect wirelessly to other ECOXGEAR soundbars and speakers that have ECOCAST. It also mounts on multiple types of vehicles: ATV/UTV, boats, RVs and more. Also, it includes a wired remote gain switch that automatically powers on and adjusts the volume instantly and has waterproof wired audio connection so you don't need to worry about water damage. For aesthetics purposes, the multi-color LED lights will impress you with various settings such as colors and light effects.
---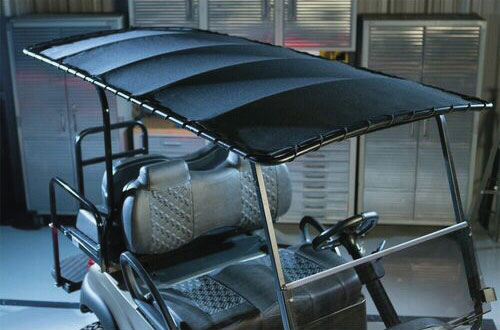 9. Topsail Bimini Style Canvas Golf Cart Roof / Tubular Sun Top by RedDot, available at nivelparts.com.
This canopy is a sun top that offers a unique shade solution that will give your car a customized look. It is perfectly suitable for the beach and even commercial applications. This kit features a full 1″ tubular steel frame with adjustable mounting locations for multiple model configurations. The sunshade is constructed from black exterior grade 600D PVC-Coated poly canvas material for superior weather & mold protection and features a reinforced nylon webbing perimeter. It features 84″ 4 – passenger universal fitment, steel 1″ tubular frame "Bimini" style sun top, an ultra low-profile design, is onstructed from black exterior grade 600D PVC-Coated poly canvas, has high UV resistance/protection and water protection and resistance to mold/mildew and tear.
---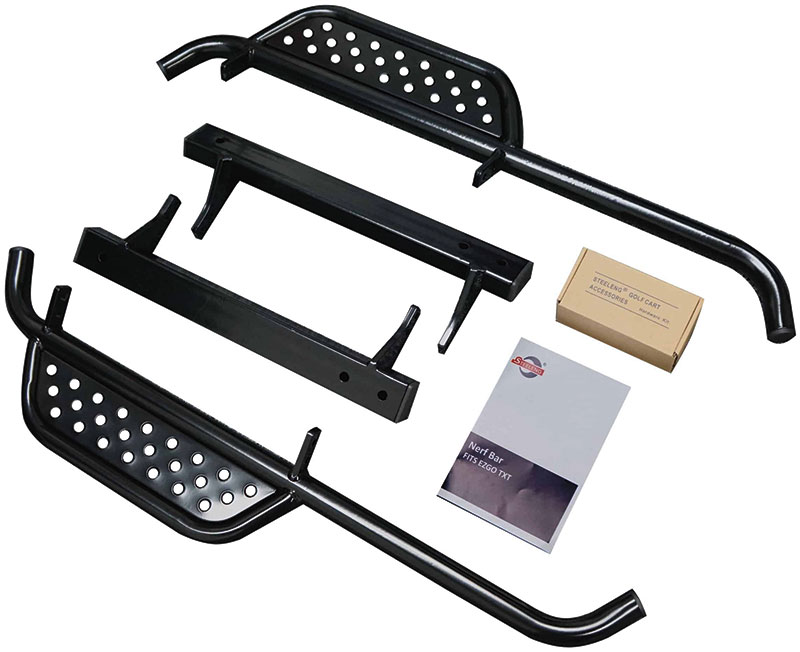 10. NBTX01 – SGC Nerf Bars (Running Boards) for E-Z-Go TXT (Set of Two) by Steeling, available at steelenggolfcart.com.
Get an extra pep in your step with these running boards by Steeleng (short for Steel Engineering). Since 1999, Steeleng has manufactured all kinds of steel, aluminum and plastic parts. These nerf bars consist of extra thick steel made with black powder coating finish. This product is U.S. patent pending.
---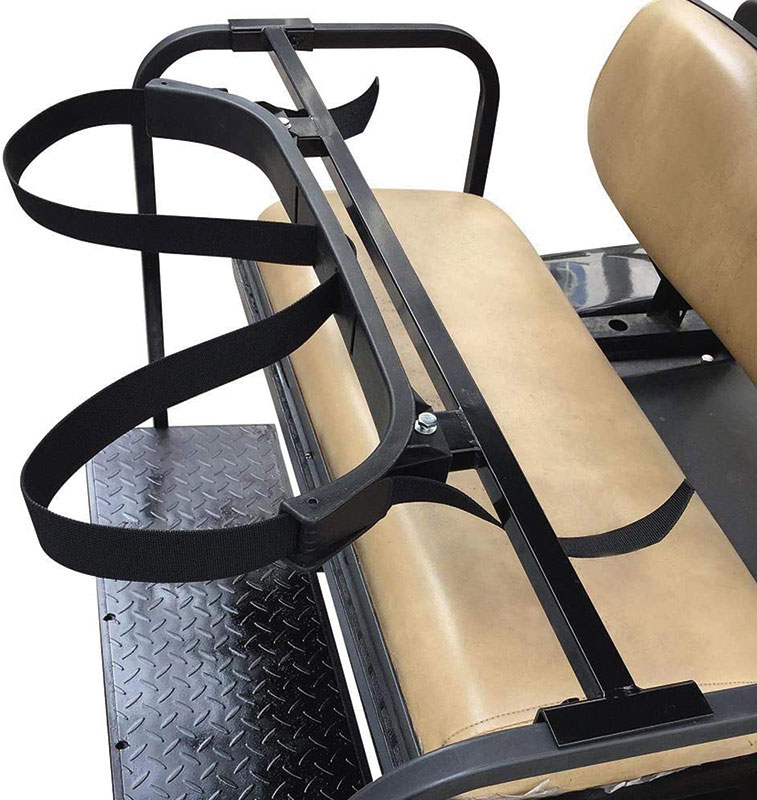 11. Golf Cart Bag Holder by 10L0L, available at 10l0l.com.
This double golf bag holder sits on the rear seat and is universal for most 2+2 golf carts including Club Car, E-Z-Go and Yamaha. It comes complete with a golf bag attachment bar and extra strap. It's compatible with any golf car rear seat width range of 33–49 inches.
---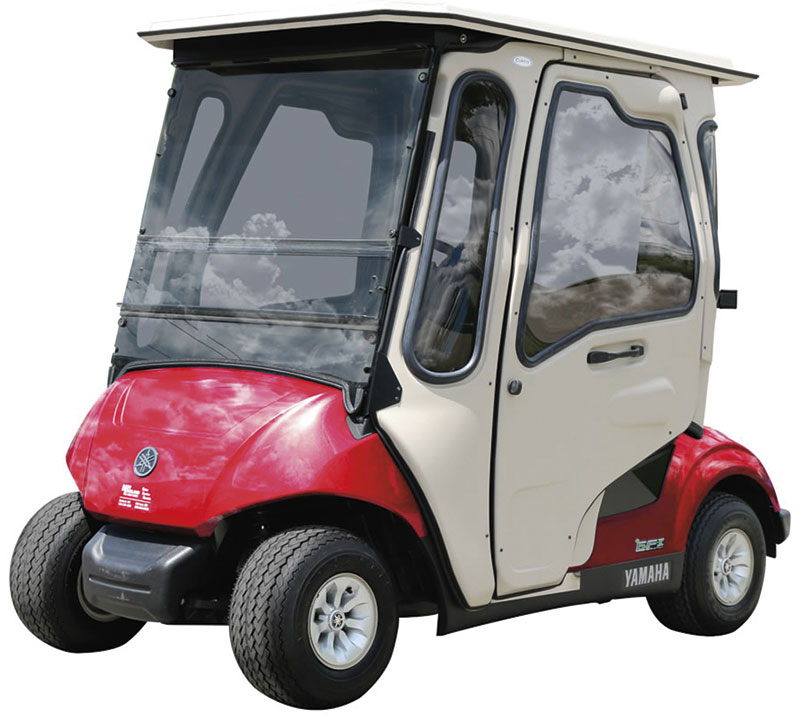 12. Yamaha Drive 2 Cab by Curtis, available at curtisindustries.net.
Get style and protection from this cab available in four colors: sandstone, black, white and black and white. It's lightweight (weighing at 110 pounds) and consists of molded thermoformed panels. It uses Yamaha's existing roof and fold-down windshield. It features acrylic side windows, hinged parallel opening doors, air conditioning (pre-charged with refrigerant; EFI gas vehicles only), roof kit, electric dual dash mount heater units and a swivel dome light kit.
---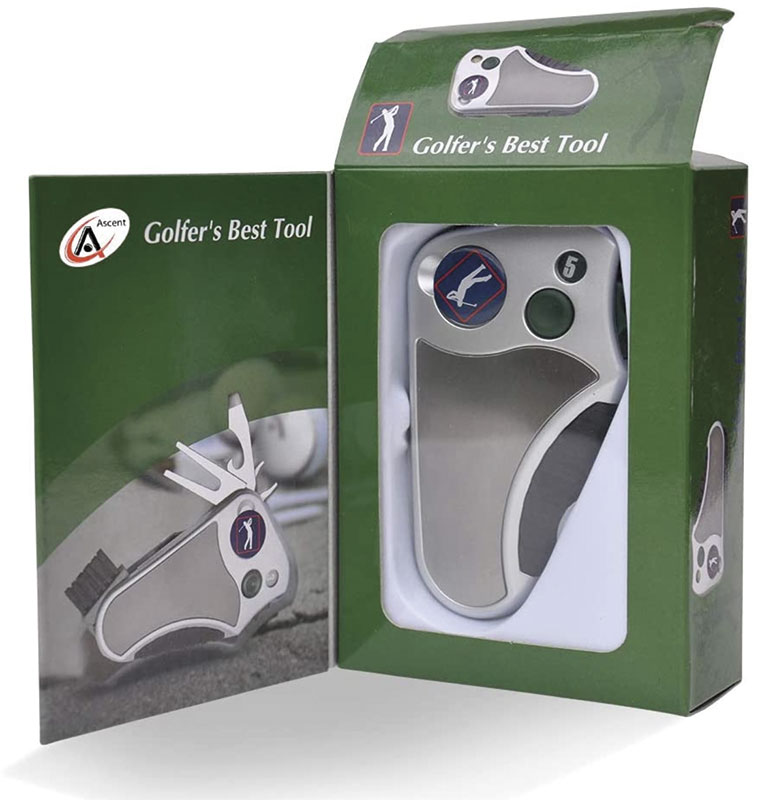 13. Golfer's Best Tool Golf Multitool by Swiss Ascent.
This multitool really is the best when it comes to saving your time and from aggravation. Instead of looking through your bag for various tools, this item holds six main functions that help you during your golf game in one small package and clips right on to your belt. It carries: a magnetic ball marker to mark your ball's spot on the green, club cleaning brush, stroke count clicker with quick reset button, golf shoe cleat tightener, club groove cleaner (which can repair divots) and bottle opener with flat head screwdriver. It's compact and easy to carry, lightweight with stainless steel tools. It has a rubberized non-slip hand grip as well. It can also serve as a great promotional item, souvenir or gift idea for any golf course, corporate event, or tournament.
---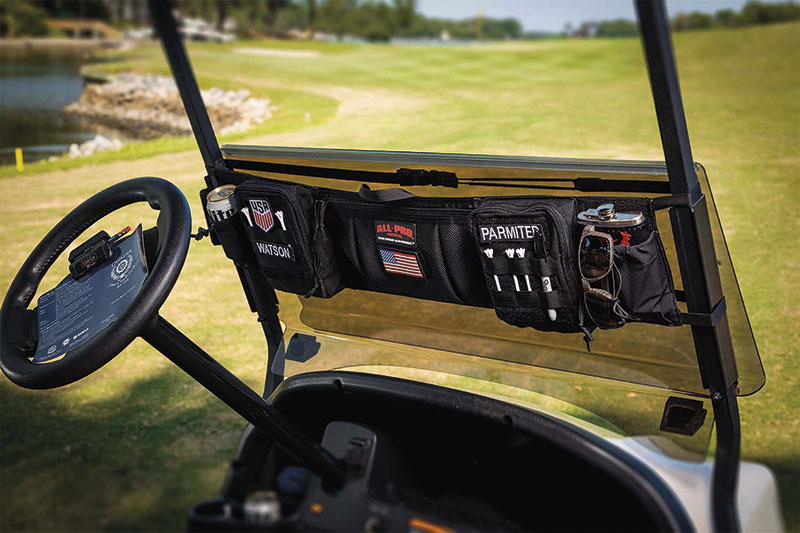 14. Caddie S.A.K. Golf Cart Utility Panel by All-Pro Tactical, available at allprotactical.com.
Create your own dashboard with this organizable pouch with compartments that straps onto your golf car canopy frame (with or without windshield). The utility panel securely harnesses with bungee-loaded strap on your frame. It includes: 13-Inch double pleated see-through mesh center pocket that secures everything from Bluetooth speakers and range finders to car keys and wallets, two 6″ × 8″ × 2″ zippered cargo pouches with elastic retention straps perfect for your golf stogies, sunscreen and golf balls, two cinch-top pockets for quick access to mobile phones, water bottles and sunglasses, and loop panels on the front cargo pouches and back side for name tapes and Rip-n-Stick™ pride patches. It measures to 34″ L × 2″ W × 8″ H.
---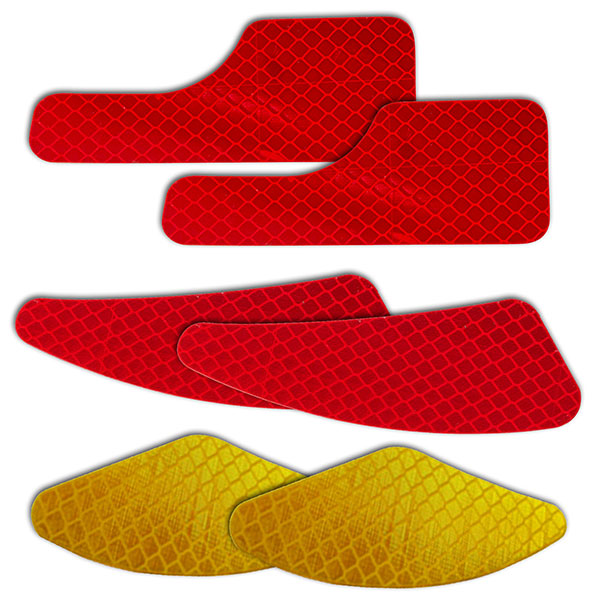 15. Six-Piece Reflector Kit by Golf Cart Accessories, available at golfcartaccessories.com.
Having reflectors on your golf car is so important when driving in the dark. The Shield Family Reflector Kit includes two amber side reflectors and four red rear side reflectors. Each reflector kit meets or exceeds ASTM D 4956-04, which is required by the DOT in order to be street legal. It features pressure sensitive adhesive ensures a secure stick so that they stay put and won't fly off in the wind. These are the only reflectors approved for golf cart street use. Remember: safety always comes first.
---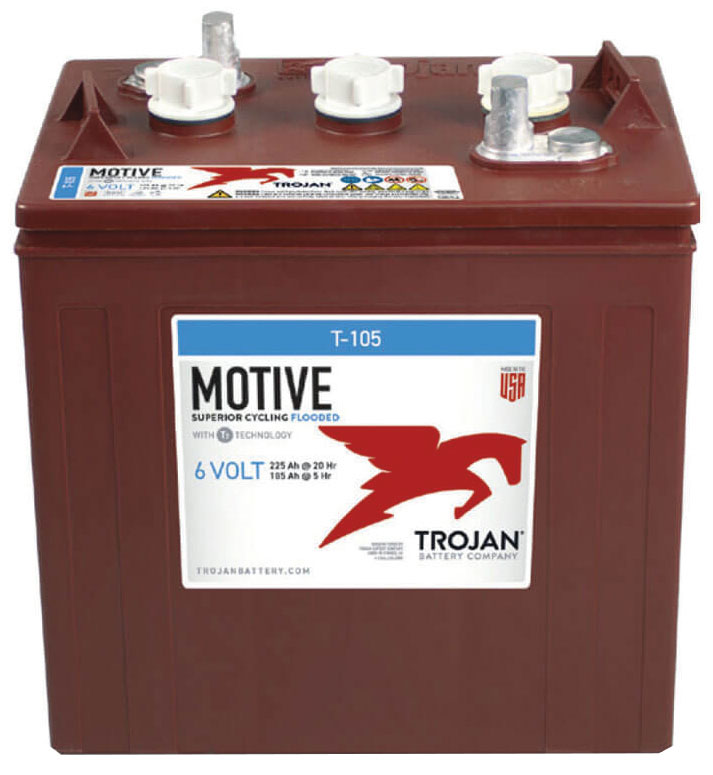 16. T-105 Battery by Trojan Battery, available at trojanbattery.com.
This Trojan Battery is deep-cycle flooded. It weighs 62 pounds and the dimensions are 10.3″ in length, 7.13″ in width and 11.15″ in height.
---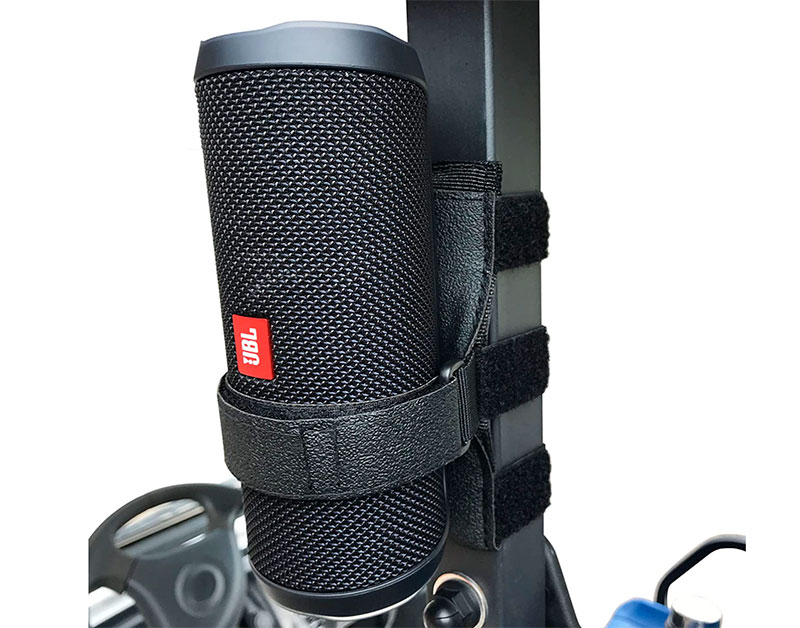 17. Portable Speaker Mount by HomeMount, available at smarthomemount.com.
This portable speaker mount features adjustable straps that fit which allows you to listen to music anywhere you go. The scratch-proof and tight speaker straps keeps the mount and speaker secure on the railing, frame or cross bar. It is compatible with all JBL speakers (except JBL Xtreme, JBL Boombox, JBL Xtreme 2, JBL PartyBox and JBL Xtreme Special Edition). In addition to holding portable speakers, it's also equipped for drinks, towels, sunglasses, hats – get can creative with it. The longest side of the product is 13 inches.
---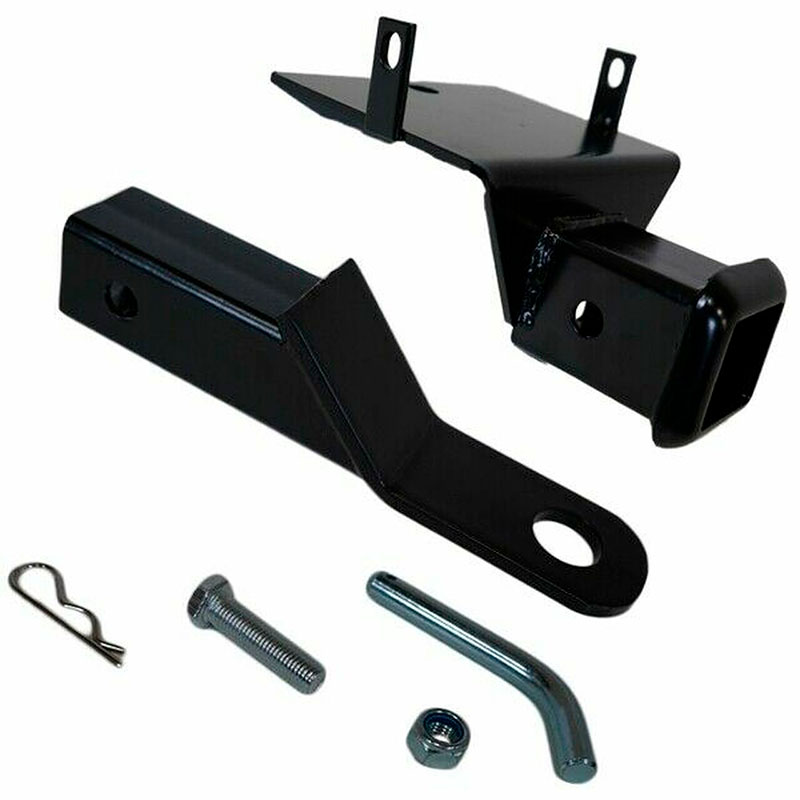 18. E-Z-GO RXV GTW® 2″ Front Trailer Hitch (Years 2008-Up) by GTW, available at nivelparts.com.
This hitch receiver by GTW is complete with a hitch, mounting hardware, ball mount and pin with clip. This kit will allow for installation of front racks & carriers for additional storage, as well as provide enhanced controller when maneuvering trailered items in tight spaces. It fits 2008-Up E-Z-GO RXV gas and electric models. The trailer hitch is great for providing a mounting location for additional storage options and it improves trailer control for tight situations. The best part? It installs easily within minutes.
---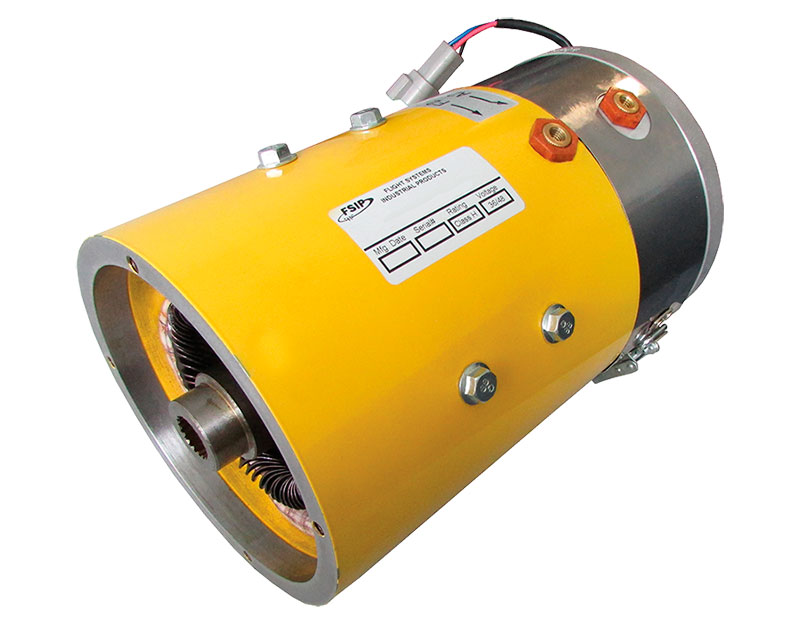 19. 48V Speed Motor by FSIP, available at shop.fsip.biz.
This speed motor is exclusively for Club Car and is designed to be paired with FSIP's 500 amp controller kits or FX controls in order to obtain the speed and torque of the motor's fullest capability.
---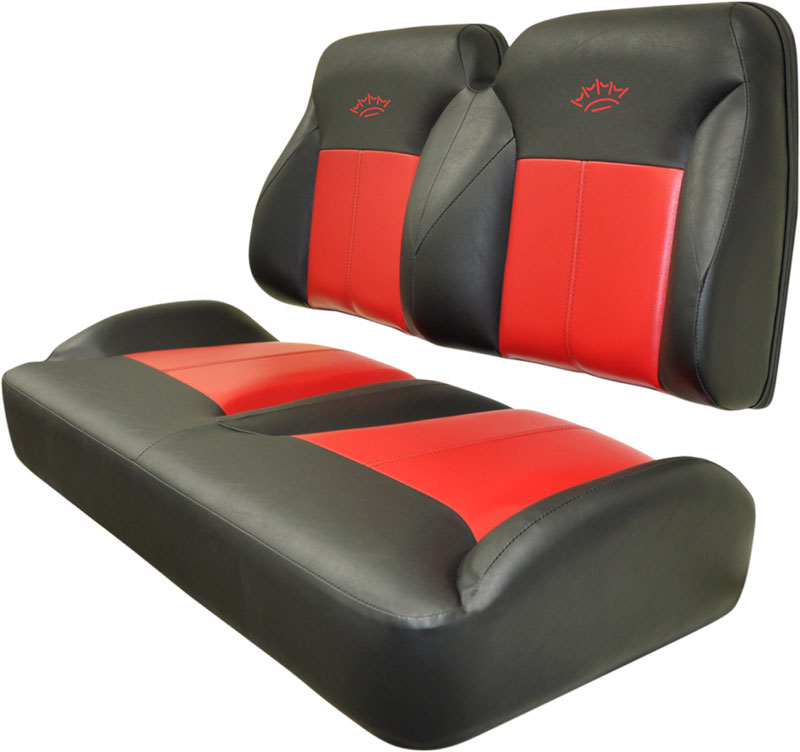 20. Standard Suite Seats by UCU Inc., available at ucuinc.com.
For 12 years, United Custom Upholstery has been making the very first upgraded seats options for golf cars and therefore allowing owners to shine on the golf cars and be proud of their rides. Their seats are fully customizable two-piece bucket style back. The prominent center bolster provides excellent lateral support and stability.
---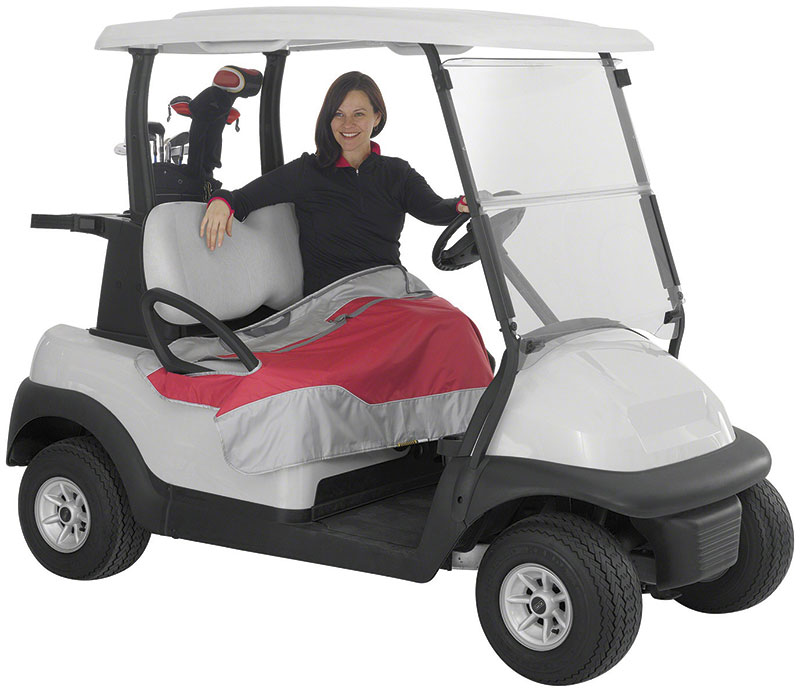 21. Golf Seat Blanket by Classic Accessories, available at classicaccessories.com.
A Seat blanket can do wonders for your comfort in your golf car. It can keep you warm when it's cold or raining, keep the seats cool from the hot sun and it can provide extra cushion. Also, it offers instant protection from cold, damp or dirty golf car seats. The reversible quilted design features water-resistant fabric on one side and plush fleece on the other. The blanket self-packs into a pouch with a carry handle. It quickly secures over golf car arm rests which is very convenient and has an exterior pocket for storage. It fits most two-person cart seats with armrests such as Yamaha, Club Car and E-Z-Go. Bonus: it's machine washable.
---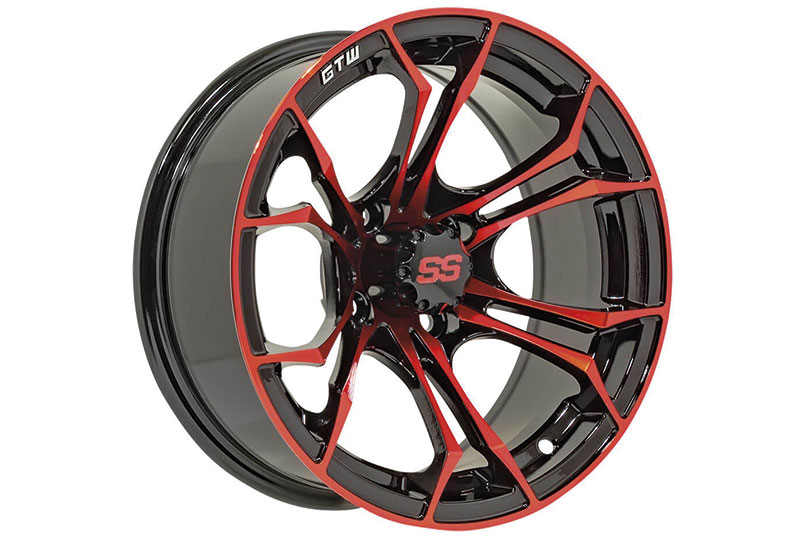 22. 12″ GTW® Spyder Wheel by GTW, available at nivelparts.com.
The latest Spyder wheel in the GTW® line can be clearly distinguished from the many other golf car wheels on the market. The Spyder is a GTW® Exclusive design and features a sharp Y-spoke design with red, blue or machined accents, striking sharp angles, deep concave profile, and dynamically-chamfered outer edge. The wheel is 12×7 in specs with a black finish and red accents.
---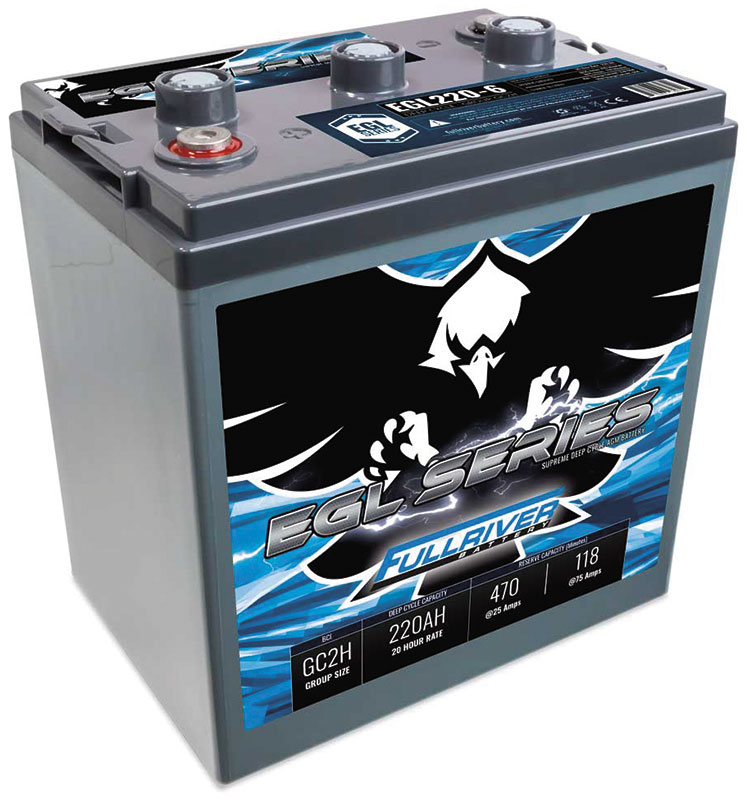 23. EGL200-6 by Full River Battery, available at fullriverbattery.com.
This Supreme Deep Cycle AGM Battery by Full River Battery is part of their EGL series. Its voltage is 6; the dimensions are 10.24 × 7.13 × 10.33 in inches; and it weighs 74.07 pounds.
---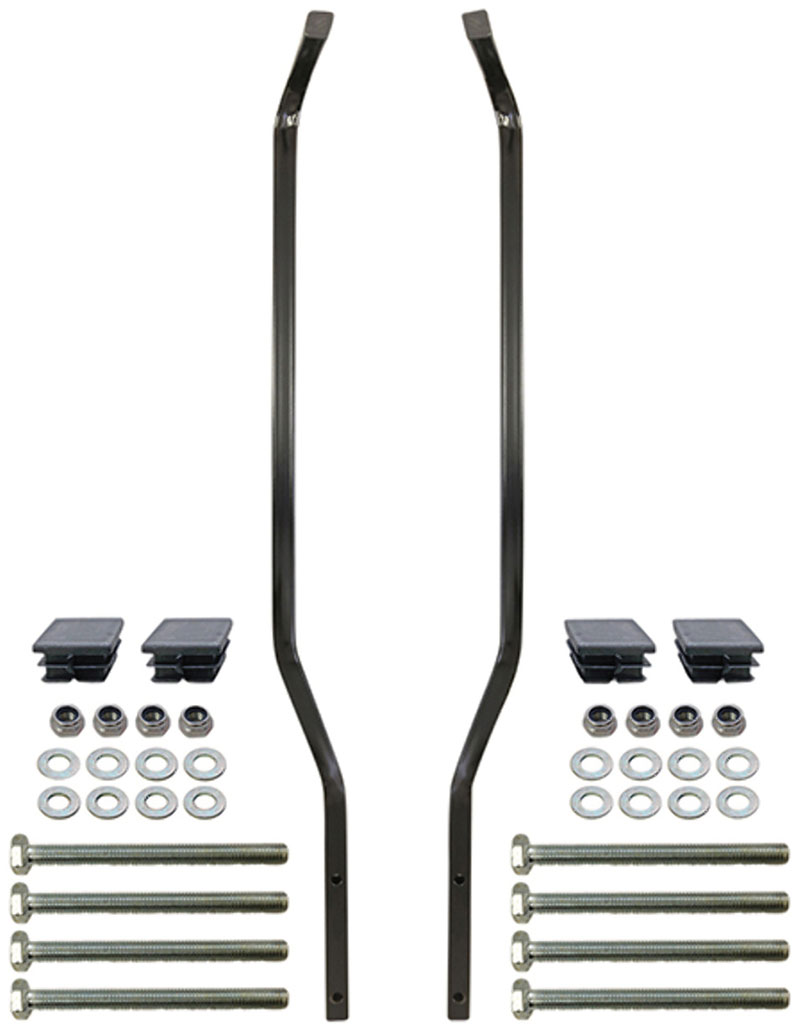 24. Golf Cart Rear Top Strut by RedHawk, available at redhawk.golfcart.com.
RedHawk's golf cart rear top strut measures to 80″ and fits Club Car, E-Z-Go and Yamaha. In addition, it includes two rear top struts and installation hardware.
---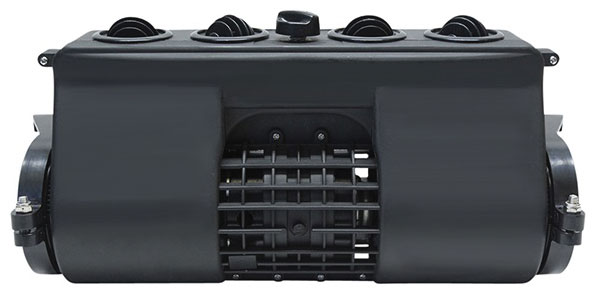 25. 12V Air Golf Cart Cooling Fan by RHOX, available at rhox.us.
With this summer heat, you'll definitely need a way to cool off. This golf cart cabin colling fan is the perfect tool for you. It features a variable speed control, universal mounting brackets and large inlets for airflow. It even puts out 310 cubic feet of air per minute. The fan works on all gas or 36-volt carts including Club Car, E-Z-Go and Yamaha. The easy-to-install product measures to 14.5″ × 7.5″ × 5.5″.
---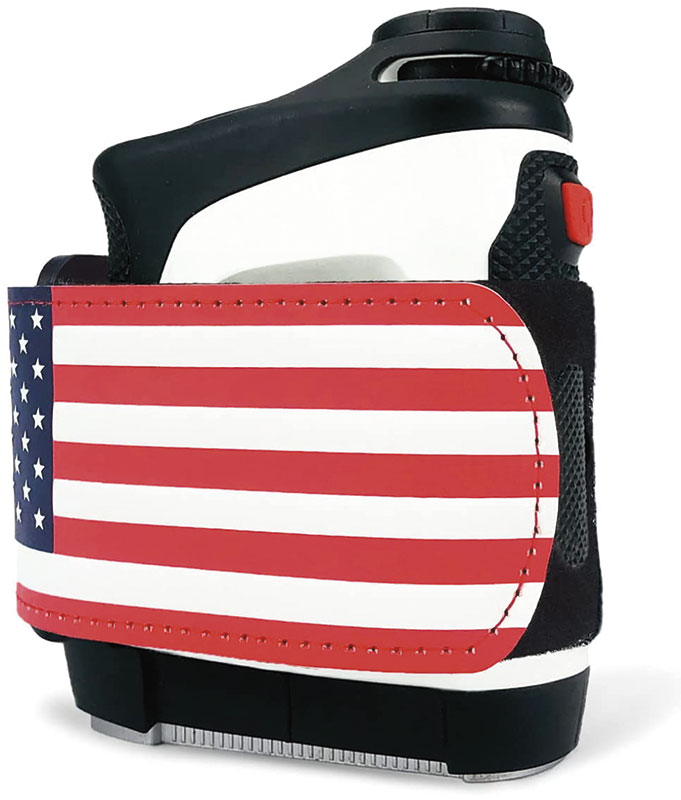 26. Gen3 StickIt Magnetic Rangefinder Strap by Monument Golf, available at monumentgolf.com.
As part of the Gen3 Series, the strap design features a slimmer band, an enlarged bar magnet and a strategically positioned cutout for access to multi-button devices. This makes it the most versatile magnetic strap adjusting to fit over 50 makes and models. They come in a variety of colors: black, blue, grey, red, American flag, Beers N Birdies and elephant.
---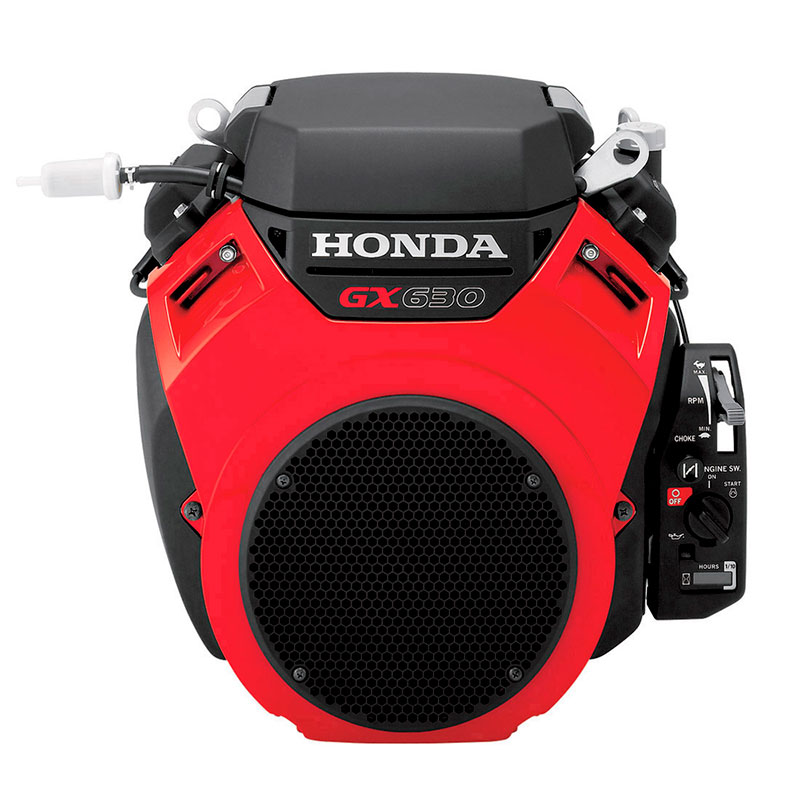 27. GX630 by Honda, available at nivelparts.com.
Honda made this engine specifically for golf carts. The powerful engine will get the job on the green and on the streets. It is gas powered and fit virtually any make of golf cars.