60 years after it began, Cart Mart is growing faster than ever.
When a business journal publishes a "Fastest Growing Companies" list, you might expect to see start-ups and high-tech companies taking the top spots. Cart Mart has defied expectations by making those lists for three straight years and by now celebrating its 60th anniversary while continuing to grow at a rapid pace. The company started in 1959, yet has stayed ahead of changing market conditions to take full advantage of emerging market opportunities, and has plans to do so for the next 60 years.
"When my grandfather Ben Bellman opened Southwest Marketeer in El Paso, TX his goal was simple…to help golfers navigate 18-holes of golf at a much faster pace than the traditional method of walking," said Cart Mart CEO Brian Rott. "His 'Caddie Cars,' as they were called then, were electric and tiller-style steering. His operating philosophy was also simple…hire the best people and deliver a product and service that would keep customers coming back. He was so successful that he moved the company to San Marcos, CA in 1972 to get closer to a larger marketplace."
"The Cart Mart of today has maintained the legacy by hiring exceptional people, partnering with manufacturers of the best vehicles and taking the concept of service well beyond what customers expect," Rott continued. "As times and needs have changed, we have adapted to offer vehicles that are not only used for golf, but also offer solutions for commercial clients and those who simply want to drive around their community or neighborhood. The use for LSV's (Low Speed Vehicles) is growing every day. We feel the future for Cart Mart will be electrifying."
The desire for innovation at Cart Mart does not stop with the vehicles themselves. As the company evolves, it forges into new directions, such as providing mobile service for vehicle owners. Instead of the cart owner bringing their vehicle to the facility, Cart Mart dispatches a trained mobile service technician equipped with enough parts to get most jobs done on the first visit. The company follows through on its philosophy of "Repair Before Failure" by offering a comprehensive preventive maintenance program that stops minor issues before they can become major problems.
Another breakthrough program that has helped the company keep going and growing is its comprehensive rental department. Here, trained and skilled specialists who only handle cart rental needs, draw upon an inventory of over 600 use-ready vehicles and a variety of allied equipment that includes generators, outdoor lighting, scissor lifts and trailers. Their client list, which includes the PGA, NFL, MLB, and countless special events in the Southwest, is testimony to the professionalism of the Cart Mart rental team.
To bolster its ongoing growth, Cart Mart has developed Authorized Dealer status with its brands over the years, which includes Club Car, Garia, Yamaha, Taylor Dunn, Polaris and GEM. These relationships give the company advantages like factory training for sales and service, regional advertising and access to the newest models and preferred pricing that we pass along to customers.
"The past 60 years have been both challenging and exciting," Rott concluded, "but we are already deep into planning that will carry us successfully through the next six decades. We will continue to do business professionally, ethically and with integrity as we move toward a future that will see electric vehicles as a relevant transportation solution. With our four locations and a growing group of dedicated employees we are poised to react to demand. I believe that if you take care of your employees, they will take care of the customers who will take care of our business. Our 60th anniversary is a benchmark that recognizes us as an early adopter of electric vehicles. We will continue to balance and leverage our resources to meet new market conditions and spark future growth."
---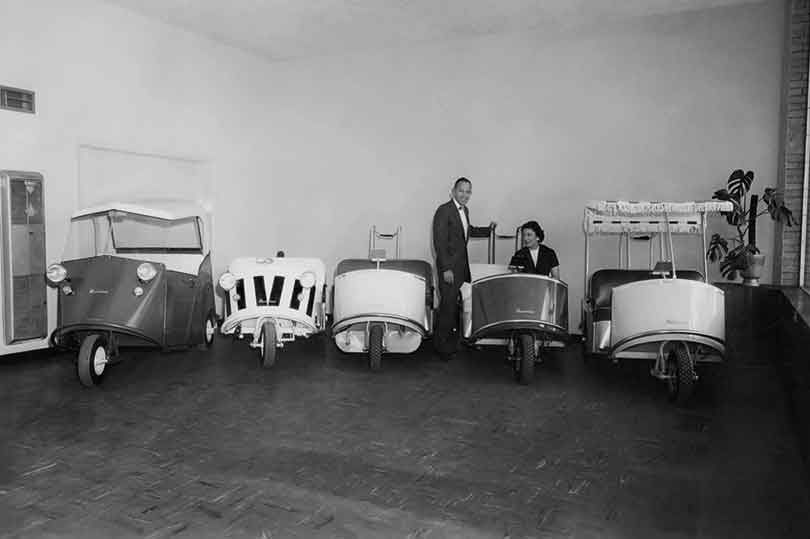 As Cart Mart turns 60, Golf Car News sat down with Brian Rott to discuss not just his own business, but the general state of an industry that has seen so many changes since his grandfather first started the business.
For Brian Rott, the golf car business is fun. "I think it's a cool business," he says. This is my 33rd year in it, I feel like it's a start-up. There's so much coming up, there's so much happening.
"It's super cool and I love to be a part of it. I have seen different life cycles in it."
But it can also be a fractured, regionalized business, where new entrants might not always get what they need to thrive. 'We're a great industry," he says, "but we need support and help."
Rott has always loved the diversity of the industry – how it includes major corporations but also successful mom-and-pop operations.
"You have all walks of life," Rott says.
Much of this has, like Cart Mart, been around for a while. But the golf car industry as, well, an industry – that, Rott says, is newer. And people need help dealing with working in a major industry.
"Our industry is really in its infancy stages," he says. "Our industry has evolved significantly in the last 10 years whereas in the last 40 years or 50 years it just pumped out cars for the golf course. We're all forced to step it up."
Dealers, he says, don't always get a lot of help. Sometimes they reach out to him for industry advice, which he always tries to be obliging with. "Dealer development is a huge opportunity in this space," he says. "That's why people come to us for this help. We really give them an insight that they're not getting. There's a lot of advertising that goes on, there's not a lot of help to make us better."
Supply chain issues are also big. Paying the right price, getting used cars at a fair price, alignment with a new product or brand, how to generally grow a business – there's no one blueprint for this in the growing golf car industry.
Take used cars. Dealers find used cars in different ways.
"We're just all sort of scrambling," Rott says. "That's the reality of our space is that dealers don't have a support system."
When he acts as a consultant, he wants to identify what they need. If you've got a 200-car-a-year business, you and your son can do that. But a 1000-car-a-year business needs sourcing, capital etc.
Some people want to work out of their garage and just cover their neighborhood. Profits of $250,000 a year is fine. Others are mid-level distributors who want to be major.
Expansion and growth by manufacturers is driving growth, which sometimes means dealers get opportunities whether they're ready or not. "They're forcing people who are in business to improve their game," Rott says.
He says to the manufacturers, you're only as good as your servicing dealer.
"The manufacturers are relying on dealers to be better and they're allowing opportunities to those dealers who do invest in systems, people, things that allow you to have success."
Manufacturers have a polished story. But good products still need a servicing dealer; the dealer network still controls the market. Some dealers want to be good but don't know how.
"That's where we come in," Rott says. "You have to have an understanding of business. If a client doesn't know what their market is, I have to fly home and then I have to come back when they know what they're talking about. That forces a business owner to think about the business."
"You're thinking about how do I connect with the customer of the future."
Some of the biggest distributors in the game still struggle to handle certain areas such as staff development, revenue and profitability sales. Some businesses are so laser-focused on fleet that they don't know how to get into anything else. They become paralysed. Fleet is shrinking, but other opportunities are growing – if you can adjust.
In terms of other advice Rott gives, much of it is straightforward and not unique to the golf car business. You buy from people you trust.
"Aligning yourself with really great people, with great suppliers and great customers – it doesn't need to be patented," Rott says. "You could take that into selling coffee mugs.
"Every one of your dealers … is a customer. Then they resell it to another customer." "At the end of the day, my title is customer. Then it's reseller. It's really important that we understand our place in the food chain. When you understand your place in the food chain, you can really grow your business."
Another good-for-any-business piece of advice he offers is this: know every single aspect of your business. That's one he came by honestly, starting in the family business at 14, in charge of sweeping up and cleaning toilets.
"I've held and/or created every position inside my company," he says. "I've driven a truck, I've built cars on the line. I've delivered them, I've sold them. I've sold parts." The list goes on but suffice to say, he has firsthand knowledge of every job at Cart Mart.
In terms of staff, he encourages his people to start at the bottom and work up.
It's something that happens quite a bit at Cart Mart. In 2018, two employees celebrated 40-year anniversaries at the company. But even when people move on, Rott's proud that they often stay in the industry. The industry needs good people, and if he can train workers who then go on to do good work elsewhere, that's great too.
And finally, hey, remember that golf cars are cool.
"You have to enjoy what you do," he says. "You have to have fun."