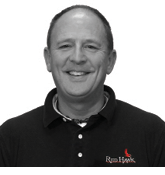 Red Hawk proudly welcomed to their Outside Sales team in April of 2017. Tim's solid industry expertise and relationship-building talents will be a strong addition to Red Hawk's expanding West Coast presence. When asked about his plans for complementing the customer-centric culture of the Red Hawk team, DeWitt states, "I've been in the business for over 25 years (and) worked for some of the biggest suppliers in the industry.
I understand the difficulties faced by dealers, including the need for quality parts, service/repair and accessories at decent prices. I love that Red Hawk is focused on helping the dealers succeed, not on pushing product; it's refreshing and not common in this industry. It is great to be part of the Red Hawk team."
Lending to his unique understanding of dealer challenges and goals, Tim comes to Red Hawk with a decade of experience as the owner/operator of Apache Golf Car Company, a full-service Club Car and Columbia Par Car dealership in Mesa, AZ.
Tim enjoyed hands-on involvement in all technical aspects of the custom, owner-specific builds in which Apache Golf Cars specialized, as well as performed research and development for motor and controller manufacturers. After selling the thriving dealership, Tim got deeper into product R&D and testing, working with several large manufacturers and distributors.
Red Hawk is excited to add Tim's expertise to their growing team of responsive outside sales representatives. ❂