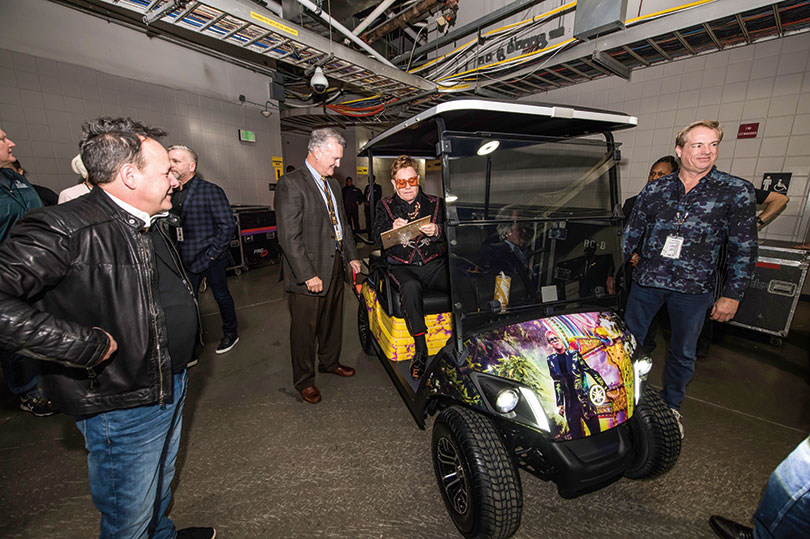 Yahama has donated two special vehicles to Sir Elton John for a great cause.
Yamaha Golf-Car Company, in conjunction with Yamaha Motor Corporation U.S.A. and Yamaha Corporation of America (Yamaha Music), has donated two very special and uniquely customized 2020 Drive2 AC personal transportation vehicles to Sir Elton John and his Elton John Aids Foundation. Both cars were presented during the Atlanta stop of his Farewell Yellow Brick Road Tour.
The first car is customized to resemble the artwork on Elton's new biography Me: Elton John, which currently sits at #1 on the New York Times best-selling list, while the second car is also distinctive as it resembles the look and feel of Elton's Farewell Yellow Brick Road Tour. Both cars will be utilized by Elton on his tour circuit, with one travelling throughout the United States and Europe, with the other even travelling as far as Australia and South America. After the conclusion of his tour, both cars will be auctioned off by the Elton John Aids Foundation with 100% of the proceeds going to this very worthy cause.
"This is just simply a great opportunity for Yamaha Music and our Golf Car team to get together for such a worthy and meaningful cause," said Tom McDonald, President of Yamaha Golf-Car Company. "We truly wish to thank Elton and his Team at the Aids Foundation for making this possible, but most importantly for all their actions to fight for an aids-free world in the future."
"For over 25 years, Yamaha Pianos and Elton John have been extraordinary partners," said Chris Gero, Chief Artist Relations Executive of Yamaha Artist Relations Group/Yamaha Entertainment Group. "This exciting collaboration with Yamaha Golf Cars is a natural extension of our longtime relationship with both Elton and the Elton John Aids Foundation, and we are honored to join forces and contribute to such a worthy cause."