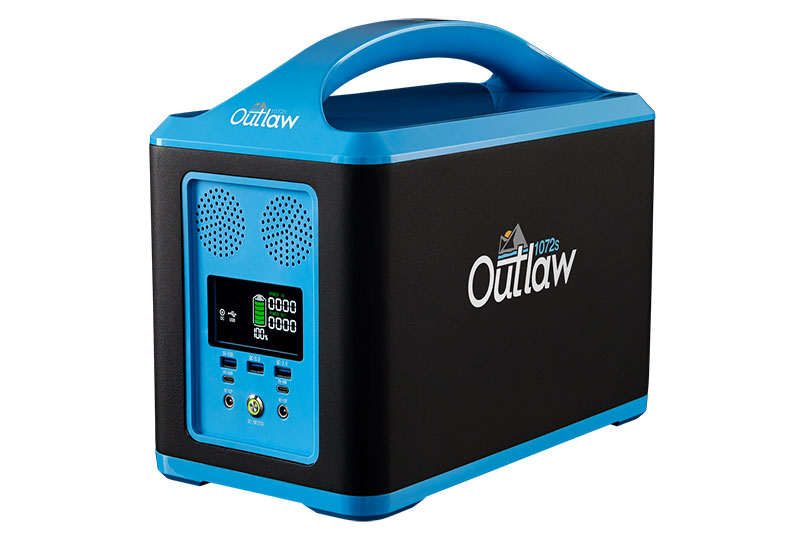 RELiON's new portable power source is safe yet powerful.
RELiON® Battery, a global leader in the development of lithium batteries, recently announced their next generation portable power source, the Outlaw™ 1072s. Developed with the safest and longest lasting lithium iron phosphate (LiFePo4) chemistry, the Outlaw is powerful enough to run or charge essential electronics anywhere.
"The Outlaw 1072s is a safe, reliable option for all of your power needs wherever and whenever you need it – from camping and outdoor parties, to an alternative home power source, or even as an emergency backup," said Eric Lindquist, VP and General Manager, Power Systems at Navico Group. "We are thrilled to enhance RELiON's portfolio in the portable power space, and to continue providing premium lithium battery options for customers looking for long-lasting, convenient solutions."
With a sleek lightweight design and fresh features, the next generation Outlaw 1072s enables adventures of any kind. From laptops and lights to TVs and refrigerators, the Outlaw can power small to medium devices and appliances. The inherently safe LiFePO4 technology delivers seven times longer lifespan compared to other lithium options on the market with 3500 cycles. The portable power solution offers high battery capacity with 1000 watts continuous and 2000 watts peak. Additionally, it can be charged at home or on the go with either an AC wall charger or in the sun with 12-25V/160W max solar input charging.
Designed for a variety of applications, the Outlaw features two AC outlets, three USB-A, two USB-C, two barrel jacks at 12V, 12V car port plug, and an EC5 30amp DC port. The internal Battery Management System (BMS) and UL1642 certified internal cells provide several layers of protection against things like under voltage, over voltage, over current and short circuits. Other features include a built-in LCD screen displaying voltage, watts in/out and remaining run time, as well as a pure sine wave inverter to power sensitive devices.
"The dedicated team behind our products have been in the industry for more than 20 years and have 190 years of combined battery experience," added Lindquist. "We pride ourselves in being the expert in the industry and continue to demonstrate it through the innovative products we develop. As lithium batteries continue to gain traction, we are excited to be leading the way with our portfolio of products that deliver unparalleled power and performance."
Key features of the Outlaw 1072s include:
• Long lasting with 3500+ cycles
• Multiple ways to use with several output ports for a variety of application
• High capacity – 921.6Wh (72Ah) LiFePO4 battery capacity with 1000W continuous and 2000W peak
• Easy to recharge with AC wall charger or solar panel compatible 15-25V 160W (Max)
• No fumes or noise like traditional generators and no maintenance required
The Outlaw 1072s will be on display at the Navico Group exhibit at boot Düsseldorf. For information about RELiON Battery and its lithium battery options, visit relionbattery.com.