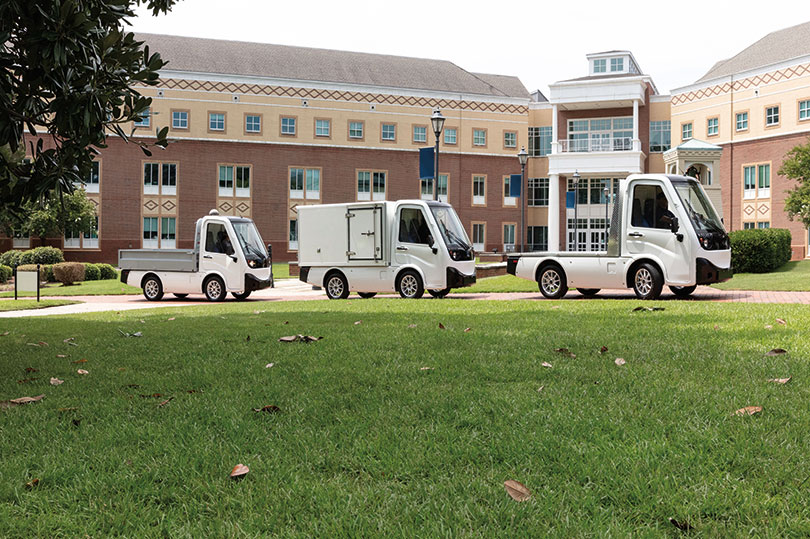 Princeton and Penn State get some new rides.
AYRO, Inc., designer and manufacturer of purpose-built compact, light-duty emissions-free electric vehicles for urban, commercial, consumer and government markets, has announced the company's deployment of vehicles at Princeton University and Penn State University through its strategic partnership with Club Car, Inc. Both higher-ed campuses have taken ownership of all-electric Club Car 411 utility trucks built by AYRO, Inc. at its Texas factory.
Colleges and universities are a great market for electric fleet vehicles like the Club Car 411 plug-in truck. Since 2006, over 600 universities and colleges in the U.S. have pledged to reduce their carbon footprint by signing the Climate Action Pledge.
According to the Association for the Advancement of Sustainability in Higher Education (ASSHE), there are over 1,800 colleges and universities in the U.S. that have fleets of at least 400 vehicles. This represents a base of over 535,000 vehicles that are in need of converting over from gas-powered vehicles to electric vehicles. With an average conversion price of $14,000, this represents a potential market of more than $7 billion.
"From the beginning, AYRO has seen the synergy between our purpose-built electric vehicles like the Club Car 411 and campus-based applications," said Rod Keller, CEO of AYRO, Inc. "The Club Car 411 electric truck is a great option for colleges and universities looking to reduce carbon emissions, operating costs, and increasing access using compact, agile electric vehicles like the 411. Whether the need is for cargo and parcel services, maintenance, food service, logistics, or special events, the Club Car 411's robust and versatile platform is ready-made for specialized tasks in campus-based environments."
Penn State University is comprised of 20 undergraduate and four graduate universities throughout Pennsylvania, encompassing nearly 8,000 acres. Princeton University is located in Princeton, NJ on 600 acres